Introducing a brand new beef jerky recipe that will tantalize your taste buds and leave you wanting more. This irresistible creation is infused with the perfect balance of sweetness and saltiness, ensuring a flavor explosion with every bite. Get ready to say goodbye to store-bought jerky because once you try this recipe, you'll never go back.
The Perfect Cut of Beef
Choosing the right cut of beef is crucial for making delicious jerky. While there are many options available, the eye-of-round has become a favorite for its lean composition and excellent texture. London broil, top round, or bottom round are also great choices. For this recipe, we opted for the eye-of-round.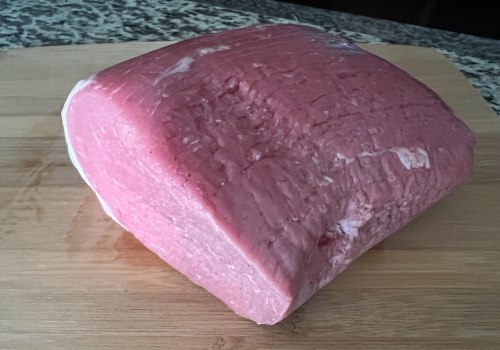 Our choice of beef cut for this recipe: eye-of-round
Once you've selected your beef, it's time to prepare approximately 1 pound of it. Cut the beef into thin, uniform slices, ensuring the removal of any visible fat. Aim for slices that are about 1/8 to 1/4 inch thick. You can also save time by purchasing pre-sliced beef. For softer jerky, cut the meat against the muscle fibers. To make slicing easier, you can place the beef in the freezer for 50-60 minutes to firm it up.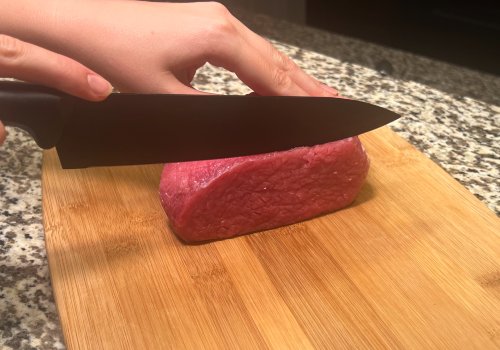 Slicing my beef
Crafting the Marinade
The marinade is the key to infusing your jerky with mouthwatering flavors. Our marinade includes Worcestershire sauce, soy sauce, onion powder, minced garlic, and a mix of fresh red peppers. If you prefer a spicier kick, you can sprinkle extra black or red pepper on the strips before cooking. For those with a sweet tooth, try adding 2-3 tablespoons of brown sugar instead of extra pepper.
Ingredients for Wild Bills Beef Jerky
1 lb of beef
1/4 cup of soy sauce
1/4 cup of Worcestershire
1.5 tsp freshly ground pepper
1 teaspoon of onion powder
1 teaspoon crushed red pepper
6 cloves minced garlic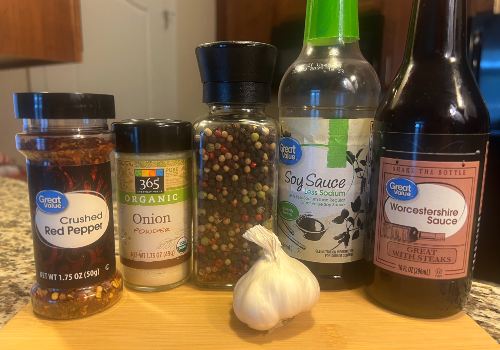 Ingredients
Combine the sliced beef and marinade in a ziplock bag or container, ensuring each piece is thoroughly coated. Place the bag in the refrigerator and let the flavors meld for at least 4 hours, or for even more intense flavor, up to a day.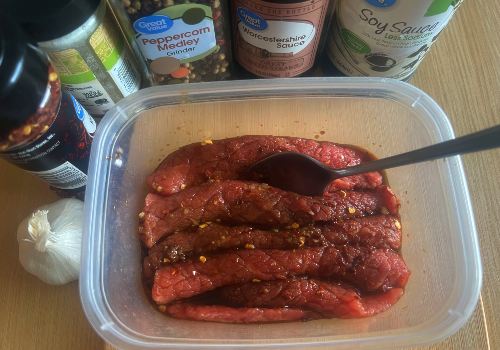 Marinating my beef strips
The Drying Process
While beef jerky can be made in an oven, using a dehydrator yields superior results. A dehydrator cooks the jerky quickly and evenly, ensuring the perfect texture every time. Investing in a dehydrator is worth considering, as it can also be used to prepare a variety of other delectable dishes such as vegetables, fruits, and chips. If you're a beef jerky enthusiast, the NESCO dehydrator comes highly recommended.
Arrange your marinated beef strips on the dehydrator's trays and set it to 160 degrees F. Let the jerky dry for 4 to 7 hours, with occasional checks every 30 minutes after the 4-hour mark. The best indicator of readiness is when the jerky is black and barely bendable. If you prefer a drier texture, leave it longer.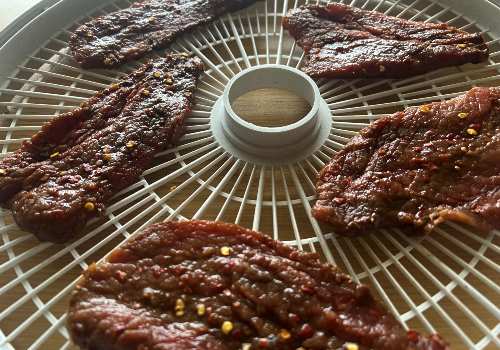 Before dehydration
Remember to check the jerky periodically until it reaches your desired level of dryness.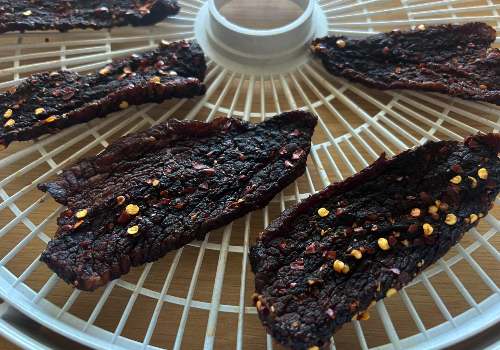 After dehydration
Recipe of Wild Bills Beef Jerky
Makes 5 servings
Preparation Time: 30 minutes
Marinade Time: average 8 hours
Drying Time: 4 – 7 hours
Ingredients:
1 lb of beef
1/4 cup of soy sauce
1/4 cup of Worcestershire
1.5 tsp freshly ground pepper
1 teaspoon of onion powder
1 teaspoon crushed red pepper
6 cloves minced garlic
Total Cost: $8.24/6.6 oz (full cost: meat + ingredients)
Now that you've mastered the art of making Wild Bills Beef Jerky, you'll never settle for anything less. Explore the endless possibilities of flavors by experimenting with different marinades and spices. Whether you're snacking on it during a road trip or enjoying it as a post-workout protein boost, this homemade beef jerky is guaranteed to satisfy your cravings.
Indulge in the ultimate beef jerky experience. Try Wild Bills Beef Jerky and unleash the flavor like never before!
For more mouthwatering recipes and BBQ inspiration, visit Rowdy Hog Smokin BBQ.
Disclaimer: The images and video used in this article belong to their respective owners.