When it comes to creating an unforgettable family meal centered around pork tenderloin, the possibilities are endless! There are plenty of delectable side dishes that beautifully complement pork, ensuring a memorable dining experience. So, if you're wondering what to serve with pork loin, you've come to the right place!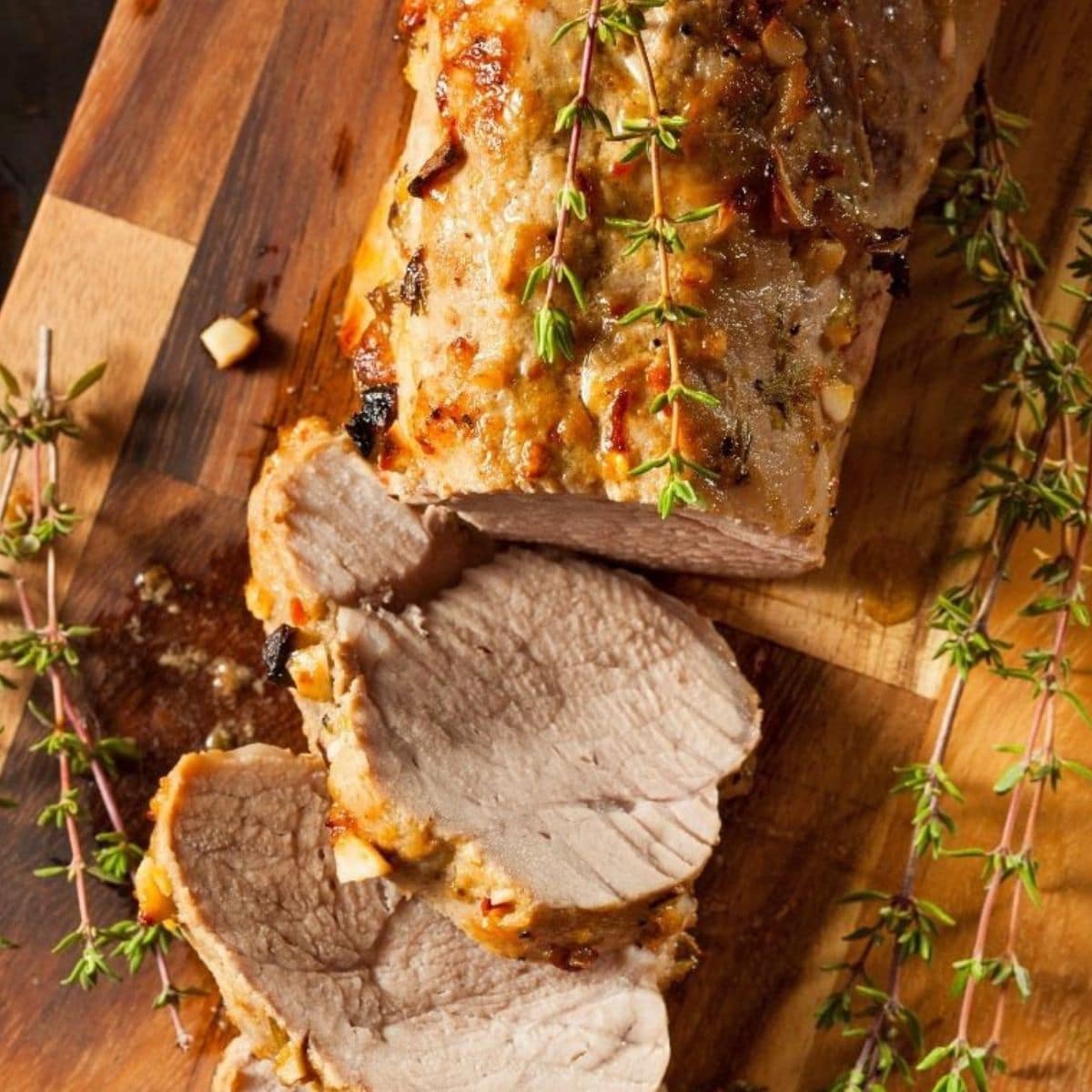 Best Vegetable Pairings for Pork Tenderloin
Are you ready to elevate your pork tenderloin to new heights? Here is a mouthwatering lineup of side dishes that will delight your taste buds and leave a lasting impression.
1. Creamy Red Skin Mashed Potatoes
Indulge in a classic, comforting bowl of mashed potatoes made with cream and cream cheese. The rich and velvety texture of this side dish perfectly complements the succulent roasted pork tenderloin. For an extra burst of flavor, add butter, roasted garlic, and perhaps some smoked cheddar or Parmesan cheese.
2. Savory Dijon Roasted Brussel Sprouts
Roasting brussel sprouts brings out their natural sweetness and flavor. Combine them with crispy bacon and toss them in a delightful sauce made with brown sugar, Dijon mustard, and balsamic vinegar. A pinch of crushed red pepper flakes adds a delightful kick to this delicious dish.
3. Buttery Zucchini Squash Casserole
Transform zucchini into a buttery, cheesy delight topped with crunchy Panko breadcrumbs. The earthy blend of Italian herbs balances out the creaminess, making this casserole an ideal pairing for pork tenderloin.
4. Flavorful Vermicelli Rice
Vermicelli rice, with its salt and pine nuts, is a versatile and flavorful dish that complements practically any main course. This neutral carb adds a delightful touch to your pork tenderloin recipe.
5. Colorful Roasted Peppers and Onions
For a southwestern flair, roast vibrant peppers and onions seasoned with salt, pepper, paprika, and herbs. The result is a colorful and tasty side dish that pairs perfectly with pork tenderloin. You can even slice up the tenderloins and serve them on tortillas with this flavorful mix.
6. Roasted Yellow Squash
Enhance the natural sweetness of yellow summer squash by topping it with Parmesan cheese and roasting it to perfection. Squash is a fantastic accompaniment to any meaty main dish and adds a burst of flavor to your pork dinner.
7. Hearty Crockpot Green Beans and Potatoes
Combine green beans and potatoes in a savory broth, seasoned with minced garlic, bacon, and onion. This classic side dish is filling enough to almost be a meal on its own, and it pairs beautifully with pork tenderloin. You can even cook your pork tenderloin in the crockpot for a convenient and delicious dinner.
8. Sweet and Tangy Instant Pot Braised Red Cabbage
Sweet side dishes, like this braised red cabbage, complement pork tenderloin exceptionally well. In this dish, cabbage is pressure cooked with apple cider vinegar, brown sugar, nutmeg, allspice, onion, and apple, resulting in a tender and mouth-watering vegetable side that takes your meal to the next level.
9. Buttery Peas and Carrots
Elevate simple peas and carrots by adding a butter sauce infused with onions, herbs, broth, or honey. This sweet and savory side dish pairs perfectly with pork tenderloin, adding a touch of indulgence to your meal.
10. Irresistible Baked Bacon-Wrapped Asparagus
Impress your guests with this elegant side dish. Wrap crisp asparagus spears in salty bacon and bake them to perfection. The combination of sweet, tangy, salty, and smoky flavors is a match made in heaven. It may take a bit of effort, but the result is well worth it.
That concludes our flavorful selection of side dishes to serve with pork tenderloin. Experiment with these recipes, and let your taste buds be your guide. What are you waiting for? Delight your family and friends with a perfectly balanced and unforgettable meal!
---
Note: This article is adapted from "What Vegetables Go With Pork Loin" by Bake It With Love.