Are you in search of a simple and flavorful meal that will leave your taste buds dancing with delight? Look no further than this delightful Crockpot Teriyaki Pork Chops Recipe. It's an easy-to-make dish that is packed with rich flavors that will have your family begging for more. Let the slow cooker do all the work while you go about your busy day.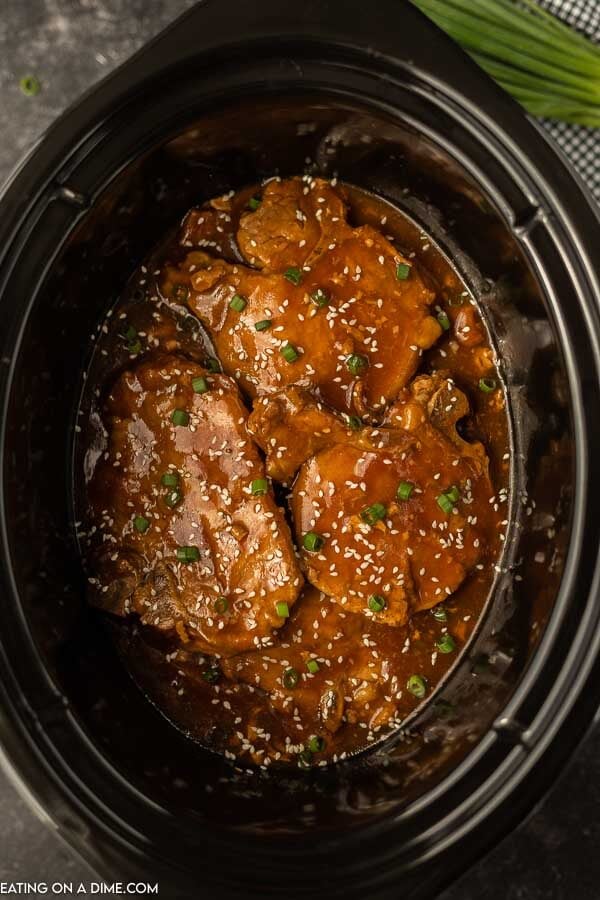 The Perfect Meal for Busy Days
There's nothing quite like coming home to a delicious, homemade meal that's ready and waiting for you. With this Crockpot Teriyaki Pork Chops Recipe, you can enjoy tender and flavorful pork chops infused with the tantalizing flavors of teriyaki sauce and minced garlic. The slow cooker is truly a game-changer when it comes to effortless cooking.
Preparing this meal is a breeze. With just a few simple ingredients, you can create a mouthwatering masterpiece that will please even the pickiest eaters. Whether you're a fan of chicken or pork, this recipe is sure to become a family favorite. We love that it requires minimal effort and delivers maximum flavor.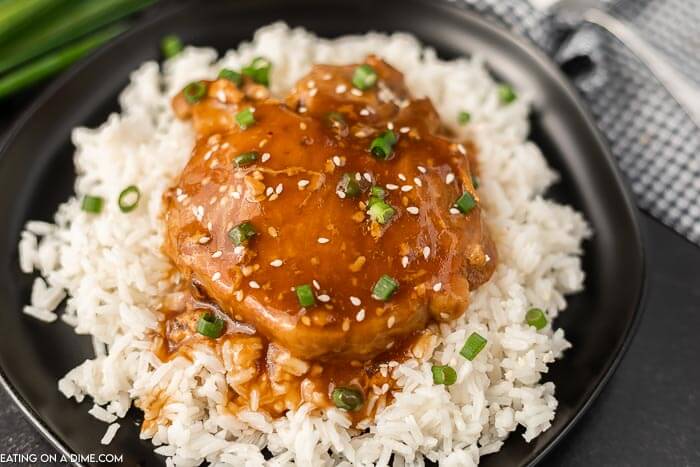 Teriyaki Sauce that Elevates the Dish
What makes these Crockpot Teriyaki Pork Chops truly special is the magical combination of the teriyaki sauce and the meat. The result? Incredibly tender and flavorful pork chops that will melt in your mouth with every bite. We recommend using bone-in pork chops for an extra punch of flavor.
The teriyaki sauce not only enhances the taste of the meat but also adds a touch of sweetness and tanginess that takes this dish to the next level. It's truly a symphony of flavors that will leave you craving more. Serve it alongside a bed of fluffy white rice and a side of your favorite veggies for a complete and satisfying meal.
How to Make Crockpot Teriyaki Pork Chops
Making this delectable dish is a breeze. Simply follow these easy steps:
Place the pork chops in the crockpot, whether they are frozen or thawed.
Season the meat with minced garlic and pour the teriyaki sauce over the top.
Cover and cook on high for 5-6 hours or on low for 2.5-3 hours. Ensure the internal temperature reaches 145 degrees F.
In a small bowl, mix cornstarch with cold water to create a slurry. Stir this mixture into the crockpot.
Cover and cook for an additional 15 minutes to thicken the sauce.
Serve the tender pork chops over a bed of steaming white rice and enjoy!
Variation Ideas for Your Teriyaki Pork Chops
If you're feeling adventurous, here are some fantastic variation ideas to jazz up your Crockpot Teriyaki Pork Chops:
Add in some Pineapple: Amp up the flavor by adding pineapple slices to the dish. The combination of teriyaki sauce and pineapple adds a delightful tropical twist. Sprinkle a little brown sugar on top for an extra touch of sweetness.
Marinate the Meat: For an even more intense flavor, consider marinating the pork chops for about 30 minutes before placing them in the slow cooker. This step will infuse the meat with an extra layer of deliciousness.
Change the Protein: Not a fan of pork? No worries! Substitute it with chicken breast for an equally mouthwatering dish that will satisfy your taste buds.
Use BBQ Sauce: If you prefer a sweet and spicy flavor profile, swap the teriyaki sauce for your favorite BBQ sauce. It will add a delightful twist to the recipe.
Cream of Soups: For a creamy and comforting variation, replace the teriyaki sauce with cream of chicken or mushroom soup. You can also add some chicken broth if you desire a bit more liquid.
Add in Soy Sauce: Love the savory umami flavor of soy sauce? Incorporate it into the dish along with the teriyaki sauce for a delicious Asian-inspired twist.
Perfect Pairings for Teriyaki Pork Chops
Wondering what to serve alongside your Crockpot Teriyaki Pork Chops? Here are some fantastic options:
Rice: Serve the pork chops over a bed of fluffy rice for a classic and satisfying pairing. If you're looking to save time, consider freezing rice in advance for quick and easy reheating.
Vegetable Delights: Steamed or roasted broccoli, cooked carrots, or any of your favorite veggies make excellent companions to the teriyaki pork chops. They add a burst of color, flavor, and nutrition to your plate.
Mashed Potatoes: Indulge in creamy mashed potatoes as a hearty and comforting side dish. The teriyaki sauce poured over the potatoes creates a mouthwatering symphony of flavors.
Tips for the Best Teriyaki Pork Chops
Here are some pro tips to ensure your Crockpot Teriyaki Pork Chops turn out perfect every time:
Choose Thicker Bone-in Pork Chops: Opt for thick bone-in pork chops for incredibly tender and juicy meat. The bone helps retain moisture and enhances the overall flavor.
Boneless Pork Chops: If you prefer boneless chops, make sure they are thick. Thin pork chops tend to cook too quickly and can dry out easily.
Store Leftovers with Care: This recipe is fantastic for leftovers. To store them, place the meal in individual airtight, microwave-safe containers for easy reheating. Reheat in 1-minute intervals until heated through.
Discover More Crockpot Pork Chops Recipes
If you're a fan of crockpot cooking, we have even more delicious pork chop recipes to satisfy your cravings: