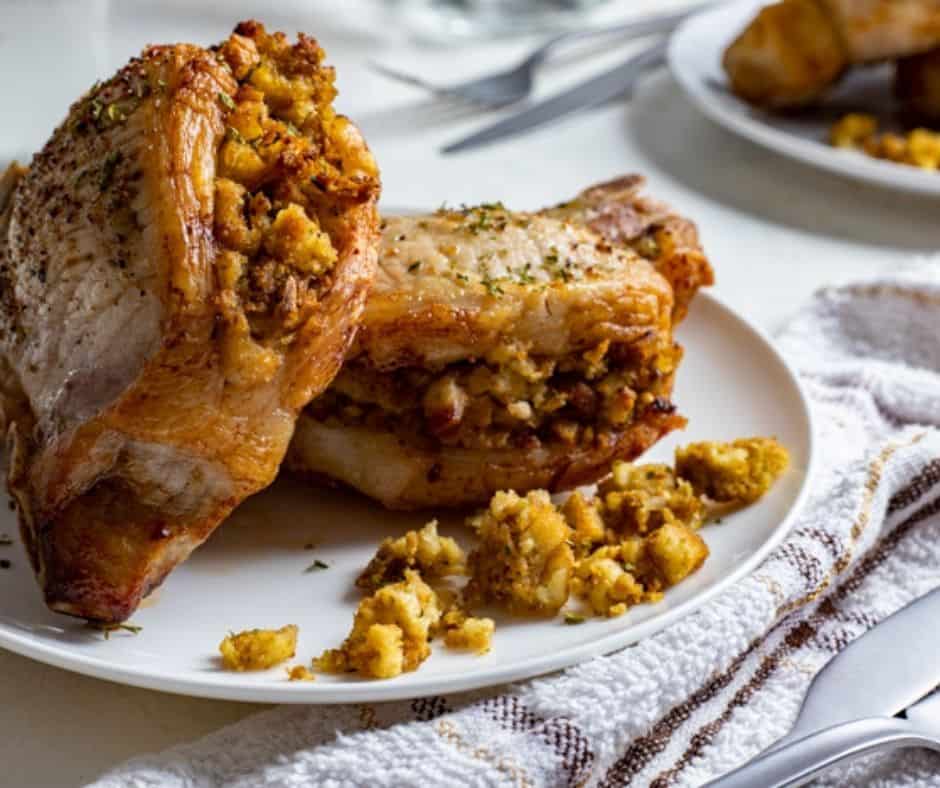 Finding a quick and healthy meal that bursts with flavor can be challenging. But fear not! This recipe for Stuffed Pork Chops in the Air Fryer will soon become your new favorite. With a delicious stuffing and a cooking time of just 25 minutes, these pork chops are perfect for any occasion.
The Magic of Air Fryer Stuffed Pork Chops
Imagine a tender, juicy pork chop stuffed with a delectable mixture and seasoned to perfection. This dish not only tastes fantastic but is also incredibly simple to prepare. It's a quick and easy meal that your whole family will adore and request time and time again.
In this article, we will guide you through the process of making air fryer stuffed pork chops. We'll discuss the best type of chop to use and provide both store-bought and homemade stuffing options that are sure to impress.
Looking for more pork chop recipes? Check out our Air Fryer Ranch Pork Chops, Air Fryer Keto Pork Chops, Air Fryer Chile Lime Pork Chops, and Air Fryer Italian Pork Chops!
Why You'll Love This Stuffed Pork Chop in Air Fryer Recipe
Ready in just 25 minutes
Incredibly easy to make
Utilizes boxed stuffing as a shortcut
Family-friendly and loved by kids
What Are Stuffed Pork Chops?
Stuffed pork chops are a delightful dish that involves filling a pork chop with your favorite ingredients and baking it to perfection. For this recipe, we've prepared a simple and delightful stuffing that complements the flavors of the pork chop beautifully. It's the perfect meal for back-to-school season or a cozy fall dinner.
Ingredients Needed For Air Fryer Stuffed Pork Chops
Pork Chops
Stuffing
Salt
Black Pepper
How To Prepare Stuffed Pork Chops in the Air Fryer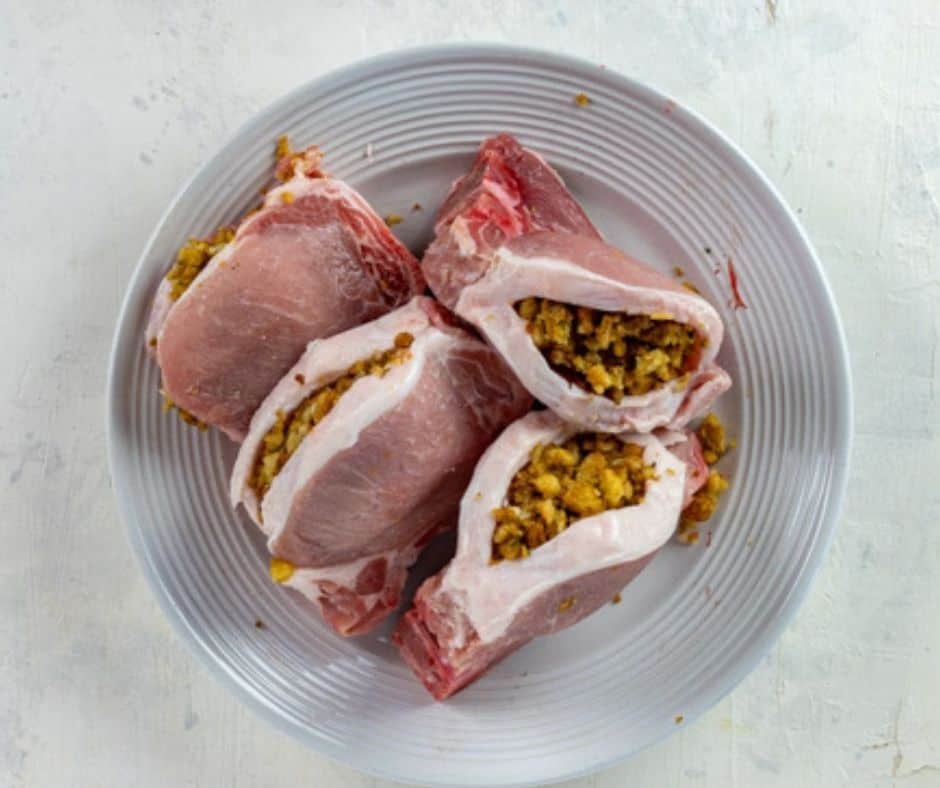 Step 1: Prepare the chops
Before you begin, ensure your air fryer is preheating. Take each pork chop and carefully cut a pocket in the middle, being cautious not to tear the meat.
Step 2: Add the stuffing
Stuff each pork chop with the delicious stuffing, then season both sides with salt and pepper.
Step 3: Air fry stuffed pork chops
Place the prepared pork chops in the air fryer basket and cook for 20-25 minutes. Check the internal temperature using a meat thermometer. Once they reach 145 degrees F, they're ready to be savored!
Serve your hot and delightful air fryer stuffed pork chops and enjoy a truly scrumptious meal.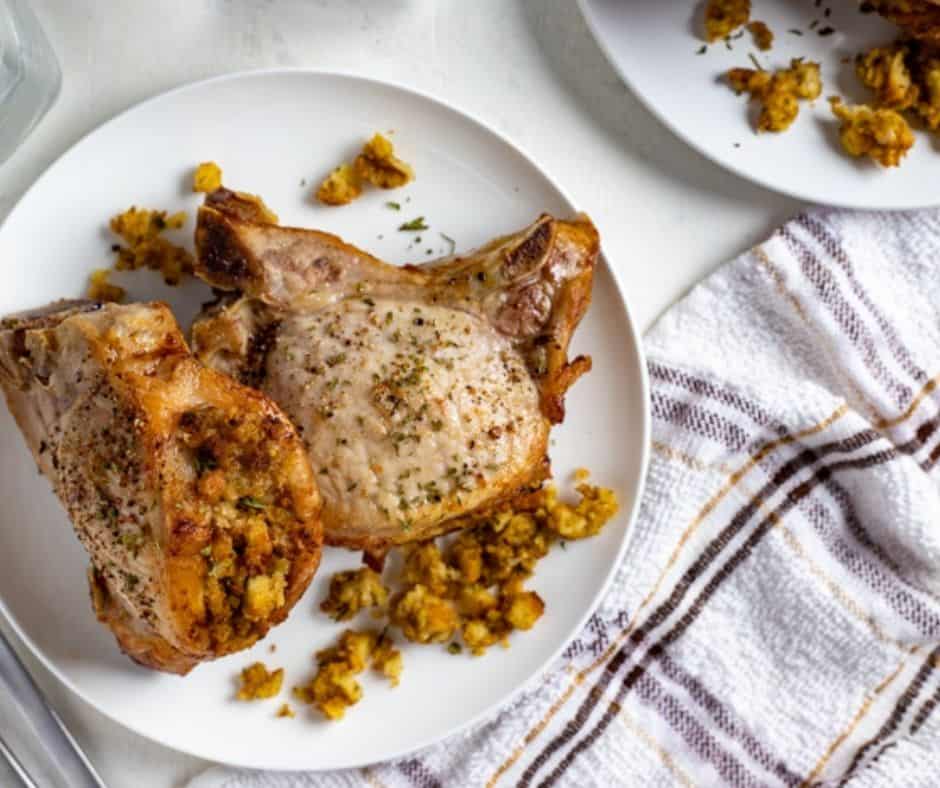 What Type of Pork Chops To Use for Air Fryer Stuffed Pork Chops
When it comes to stuffed pork chops, the cut of the pork chop is essential. We recommend using either blade chops or rib chops for this recipe.
Blade Chop: The fattiest cut from the pork shoulder, with dark and juicy meat and a crisp exterior. It will make your taste buds dance with delight.
Rib Chop: This cut comes from just below the prized loin. It has a bit more fat, but when cooked, the fat coats the pork chops perfectly, adding incredible flavor.
What Type of Stuffing To Use For Air Fryer Stuffed Pork Chops
For this recipe, you have the option of using either boxed stuffing or homemade stuffing. The key is to prepare it according to the instructions and then use it in your pork chops.
Some great boxed stuffings include:
Stove Top Stuffing
Trader Joe's Cornbread Stuffing Mix
Trader Joe's Gluten-Free Stuffing Mix
Some great homemade stuffings include:
Air Fryer Cornbread Sausage Stuffing
Air Fryer Cornbread Dressing
How To Make The Perfect Cut In The Pork Chop
To create the perfect pocket for your stuffing, carefully use a paring knife to cut slits in each chop. Insert the knife horizontally into the fat-covered edge and move back and forth, creating a 1 1/2 – 2-inch-wide opening. Remember not to cut all the way through! If needed, use toothpicks soaked in water to secure the chops and prevent them from opening during cooking.
Can I Put Raw Pork In An Air Fryer?
Absolutely! This recipe is proof that you can cook raw pork chops in an air fryer. Just make sure to cook them thoroughly before removing them from the basket. Use a food thermometer to check that the internal temperature reaches at least 145 degrees F.
Serving Suggestions
One of the best things about this dish is that it already includes a delicious side dish. However, you can also serve it with a fresh garden salad, some Air Fryer Roasted Asparagus, or even some Air Fryer Roasted Broccoli!
Storage Tips
To Store: Place any leftover Air Fryer Stuffed Pork Chops in an airtight container once they have cooled to room temperature. They will stay fresh in the refrigerator for 2 to 3 days.
To Reheat: Reheat the pork chops in the air fryer or microwave until warmed through.
To Freeze: You can freeze the pork chops before or after cooking them in the air fryer. Let them cool to room temperature, then place them in a freezer bag. They will stay good for 2 to 3 months. For best results, thaw them overnight in the refrigerator.
More Pork Chop Recipes
If you can't get enough of pork chops, here are some more recipes for you to explore:
Blackstone Perfectly Grilled Pork Chops
Air Fryer Frozen Pork Chops
Air Fryer Teriyaki Pork Chops
Instant Pot Pork Chops in Mushroom Gravy
Air Fryer Breaded Pork Chops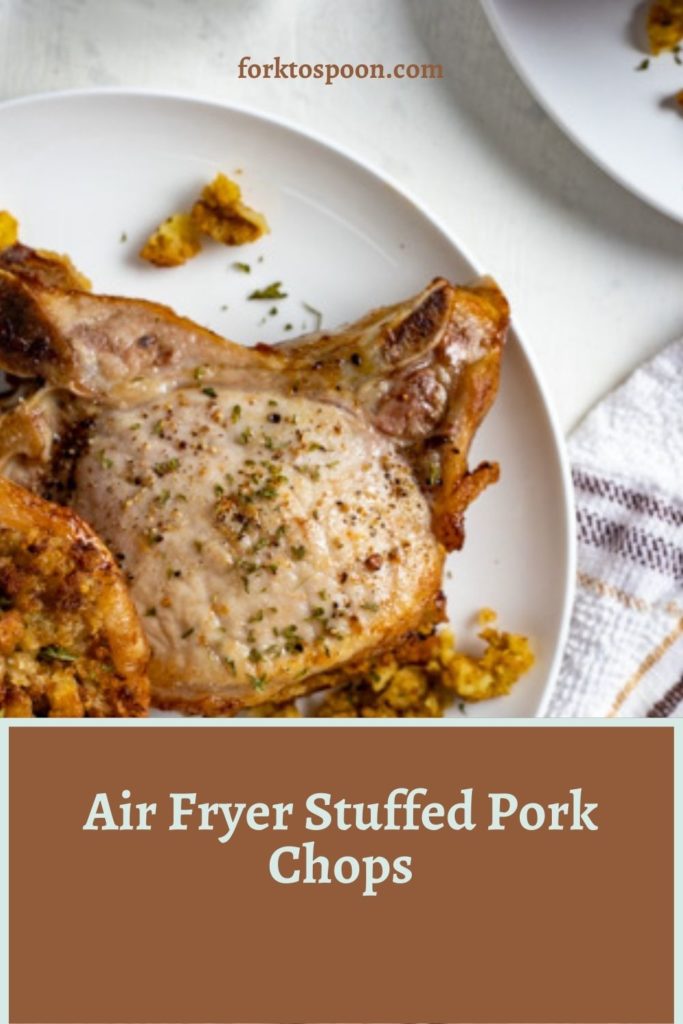 Don't forget to try out this fantastic recipe for Air Fryer Stuffed Pork Chops. Your taste buds will thank you! And for more delicious recipes and cooking inspiration, visit Rowdy Hog Smokin BBQ.