There's something irresistible about the combination of tender steak, gooey cheese, and crispy tortillas that makes steak quesadillas an absolute treat. These mouthwatering delights are easy to prepare and pair perfectly with your favorite Mexican side dishes. So, get ready to indulge in a culinary adventure that will leave you craving for more!
Discover the Perfect Blend of Flavors
If you're yearning for Mexican cuisine, steak quesadillas are your go-to solution. Bursting with flavors from beef taco seasoning and oozing with melted cheese, these quesadillas are a true delight for your taste buds. They offer a delectable experience that can be enhanced further with a variety of dipping sauces. When you're pondering over tonight's dinner, give these steak quesadillas a shot, and trust me, you won't be disappointed!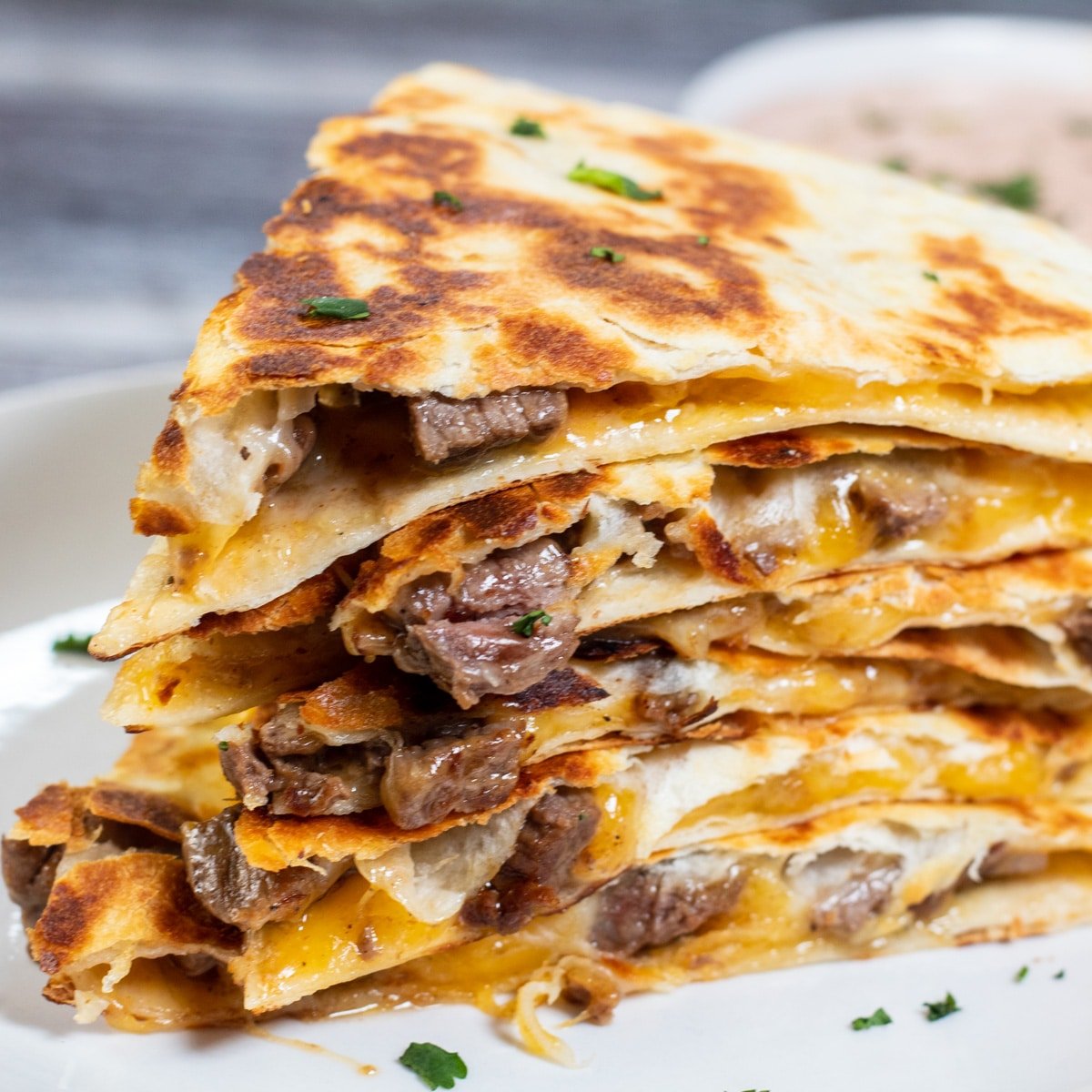 The Recipe in a Nutshell
To create these culinary marvels, you'll need a few key ingredients: olive oil, skirt steak or flank steak, beef taco seasoning, flour tortillas, and Mexican cheese. It's a simple yet magical combination that will transport you to the land of bold flavors.
Bringing the Quesadillas to Life
Preparing these quesadillas is a breeze and will only take you less than 30 minutes. With a knife, cutting board, large skillet, and a wooden spoon or spatula at hand, you're ready to embark on your culinary journey. This recipe yields four full quesadillas (or eight if you use one tortilla per quesadilla and fold it in half). If you have any leftovers, simply refrigerate the cooked steak and save it for another quesadilla day!
Start by heating some olive oil in a large skillet over medium-high heat.
Toss the diced skirt or flank steak with beef taco seasoning in the hot skillet until the steak is nicely browned on all sides. Once done, transfer it to a plate or cutting board and wipe out the pan.
Add a little more olive oil to the pan and place one of the tortillas in the center. Top it with a quarter of the diced steak and a quarter of the shredded cheese. Then, place another tortilla on top, gently pressing it down with your spatula.
Cook the quesadilla until the tortillas turn golden brown and the cheese melts inside, usually taking around 3-4 minutes per side. Repeat this process for each quesadilla.
Slice your quesadillas into wedges if desired and serve them promptly.
For a more substantial meal, accompany your quesadillas with some restaurant-style Mexican rice and refried black beans. These delectable quesadillas also pair perfectly with a cream cheese salsa dip. So, prepare yourself for a delightful feast that will have you savoring every bite!
Tips and Recipe Notes
If you're fond of vegetables, sauté some sliced bell peppers and onions before assembling your quesadillas to add a burst of flavors.
For those who prefer spicier quesadillas, a pinch of crushed red pepper flakes can be added to the beef taco seasoning.
While I prefer using two tortillas for my quesadillas, you can also opt for a single tortilla folded in half after adding the steak and cheese. Just remember to adjust the amount of meat and cheese accordingly.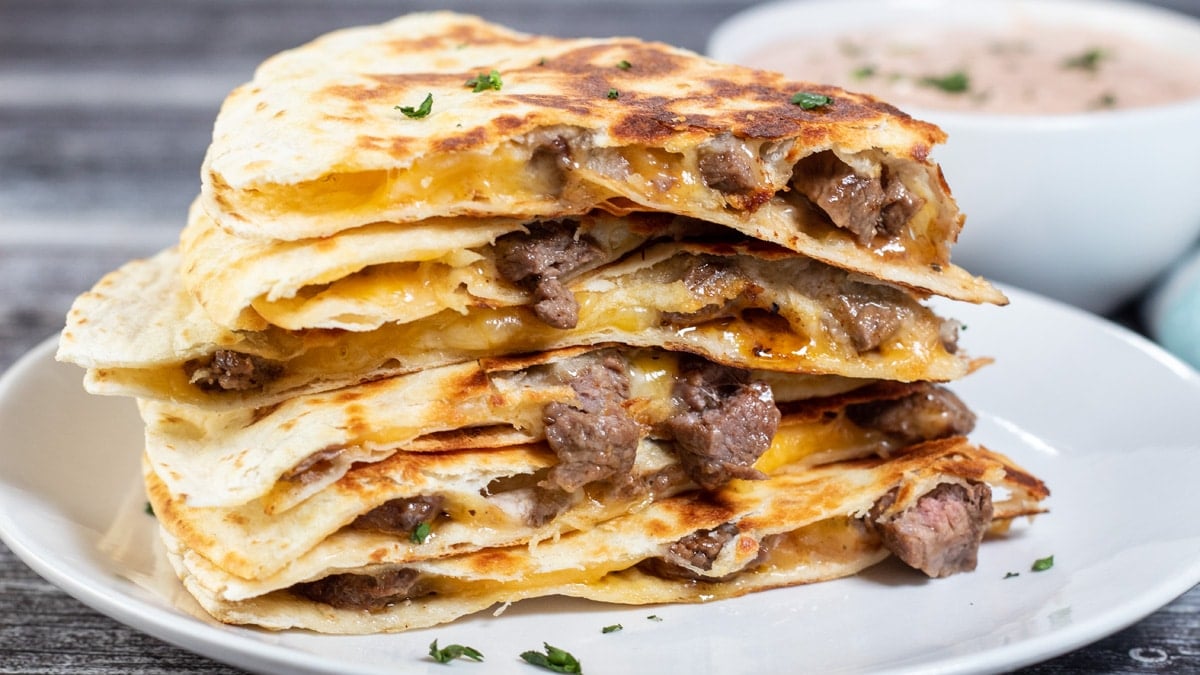 Storing and Reheating
If you have any leftover quesadillas, let them cool before storing them in an airtight container in the refrigerator. They will stay fresh for up to four days. Alternatively, you can freeze them for up to three months by placing them in a heavy-duty freezer bag with the air squeezed out.
To reheat your quesadillas for maximum crispness, use an air fryer at 350°F (175°C) for 3-4 minutes or the oven at the same temperature for about 10 minutes. If you opt for the microwave, be aware that the quesadillas may lose their crispness. Simply stack the slices on a plate and heat them in 30-second intervals until warmed to your liking.
Let Your Taste Buds Soar!
Now that you have the keys to unlock the magic of steak quesadillas, it's time to embark on a culinary adventure. With their tantalizing flavors and indulgent textures, these quesadillas are sure to make your taste buds sing with joy. So, gather your ingredients, don your chef's hat, and let the flavors of Mexico transport you to a realm of pure gastronomic bliss.