This tantalizing Steak Burrito Bowl recipe is the epitome of a quick and easy yet incredibly flavorful dinner. Bursting with juicy steak and an array of fresh, vibrant ingredients, this dish effortlessly rivals the offerings at your favorite restaurant. Whether you're looking for a weeknight meal or a casual gathering, this recipe is sure to impress.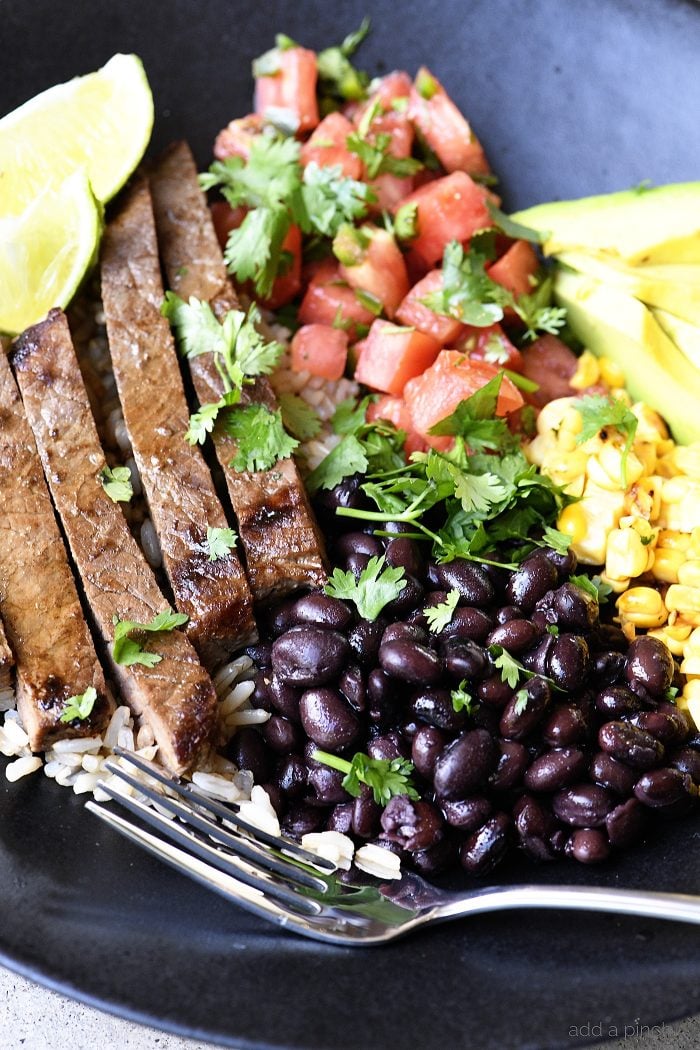 The Ultimate Steak Burrito Bowl Experience
Prepare to embark on a culinary adventure as we unveil the secrets behind creating the perfect Steak Burrito Bowl. With a plethora of options available, you can effortlessly customize this meal to suit your preferences and save valuable time in the process.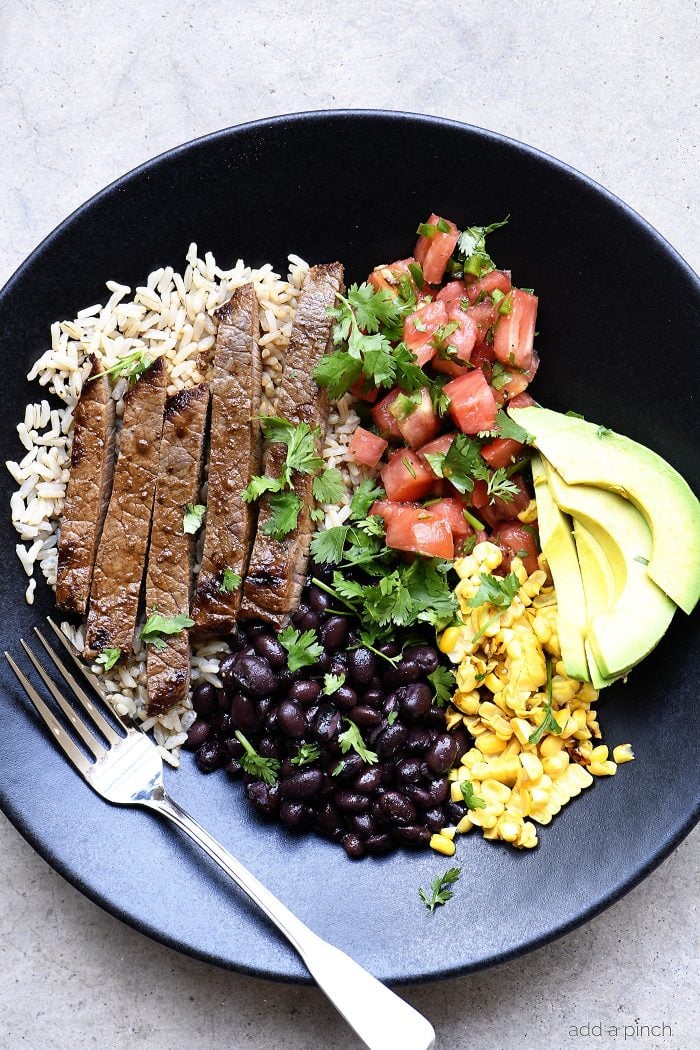 Unveiling the Ingredients
To craft these delightful burrito bowls, you'll need the following:
Flank steak (or your favorite boneless steak)
Limes
Stone House Seasoning (a delightful blend created by the Stone family)
Fresh cilantro
Corn
Black beans (pinto beans can also be used)
Cooked brown rice (white rice can be substituted)
Avocado slices
Pico de gallo or salsa
Optional ingredients: sour cream, shredded cheese, guacamole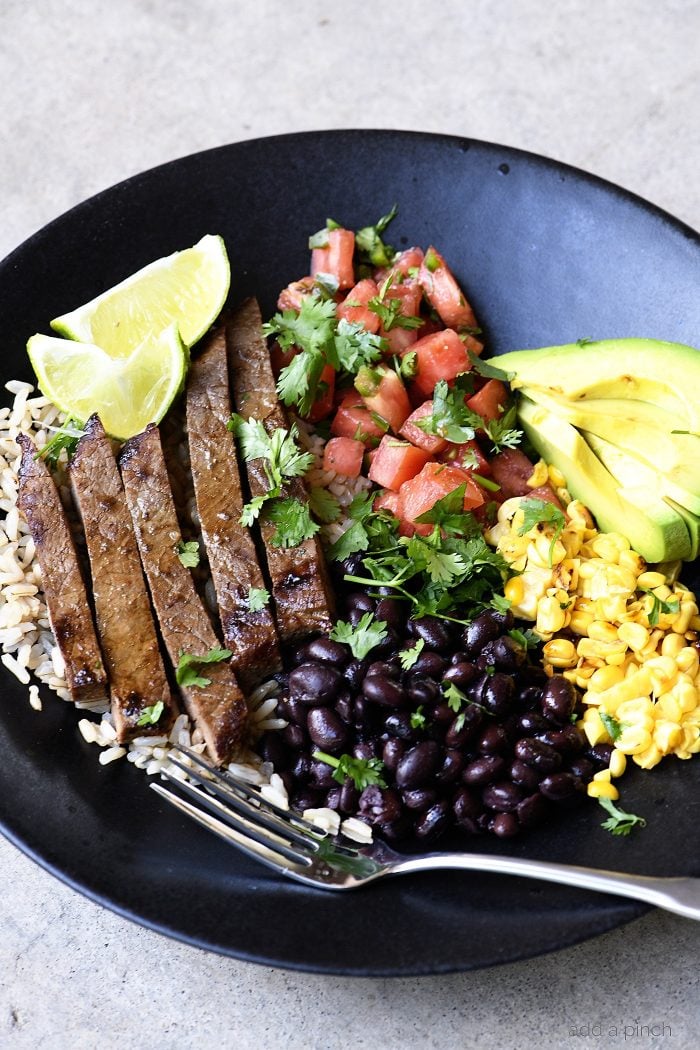 Prep Like a Pro
Take advantage of our time-saving techniques to prepare the ingredients ahead of time. Consider planning your weekend meals to include steak so you can have some leftovers for your burrito bowls during the week. It's a game-changer!
For even more convenience, cook a batch of Instant Pot Brown Rice, which can be easily reheated for use in these flavorful bowls. Some of the other components, such as salsa and Pico de Gallo, can also be prepared in advance to save precious minutes.
A Step-by-Step Adventure
When you're ready to savor this delectable creation, follow these simple instructions:
Season the Steak: Arrange the steak on a parchment-lined baking sheet, squeeze lime juice over it, and generously sprinkle both sides with Stone House Seasoning and freshly chopped cilantro. Let the flavors meld while you prepare the other ingredients.

Add the Rice: Begin assembling the burrito bowls by scooping the brown rice into individual serving bowls. Alternatively, set up a steak burrito bowl bar and let everyone customize their own creations. It's a fun and interactive way to enjoy these delightful bowls.

Cook and Add the Corn: Char the corn on the cob or cook the corn kernels in a grill pan or skillet until golden brown, turning with tongs for even cooking. Once done, add the corn to the pre-assembled burrito bowls or provide a separate bowl for the burrito bowl bar.

Cook and Add the Steak: Cook the steak in a grill pan or skillet with a knob of butter for approximately three minutes on each side. Allow it to rest for five minutes off the heat before slicing it into thin, succulent strips for garnishing the burrito bowls.

Add Other Toppings: Spoon the drained black beans onto the bowls, followed by pico de gallo, sliced avocado, a squeeze of lime, fresh cilantro, and a sprinkle of salt or Stone House Seasoning. Feel free to enhance the experience with optional additions like shredded cheese, guacamole, salsa, or sour cream.

Serve and Savor: Your masterpiece is now complete! Enjoy the Steak Burrito Bowls as they are or indulge in some tortilla chips, extra salsa, and perhaps a dollop of warm queso on the side.
Storage and Make-Ahead Instructions
If you want to get a head start, you can prepare the burrito bowl base (rice, steak, beans, and corn) individually and store them in airtight containers in the refrigerator for up to three days. When it's time to serve, simply reheat and add fresh avocado slices and cilantro. Salsa and Pico de Gallo can also be made ahead and added just before serving.
For even greater convenience, freeze the cooled burrito bowl base in airtight freezer-safe containers for up to three months. Thaw them in the refrigerator overnight, reheat in the microwave, and add fresh toppings as desired.
Other Mouthwatering Recipes
If you're craving more culinary delights, be sure to check out some of our other favorite recipes:
Chicken Enchiladas
Shrimp Tacos
Mexican Street Corn
Steak Fajitas
Easy Barbacoa
As you embark on this gastronomic adventure, we hope you enjoy every flavorful bite of this incredible Steak Burrito Bowl recipe. Bon appétit!
Enjoy!
Robyn xo