Are you ready to tantalize your taste buds with an incredibly delicious dish? Look no further because these Garlic Butter Steak Bites are here to satisfy your cravings! Whether you're hosting an appetizer night, cheering on your favorite team during game day, or simply enjoying a cozy family dinner, these steak bites are sure to vanish in no time.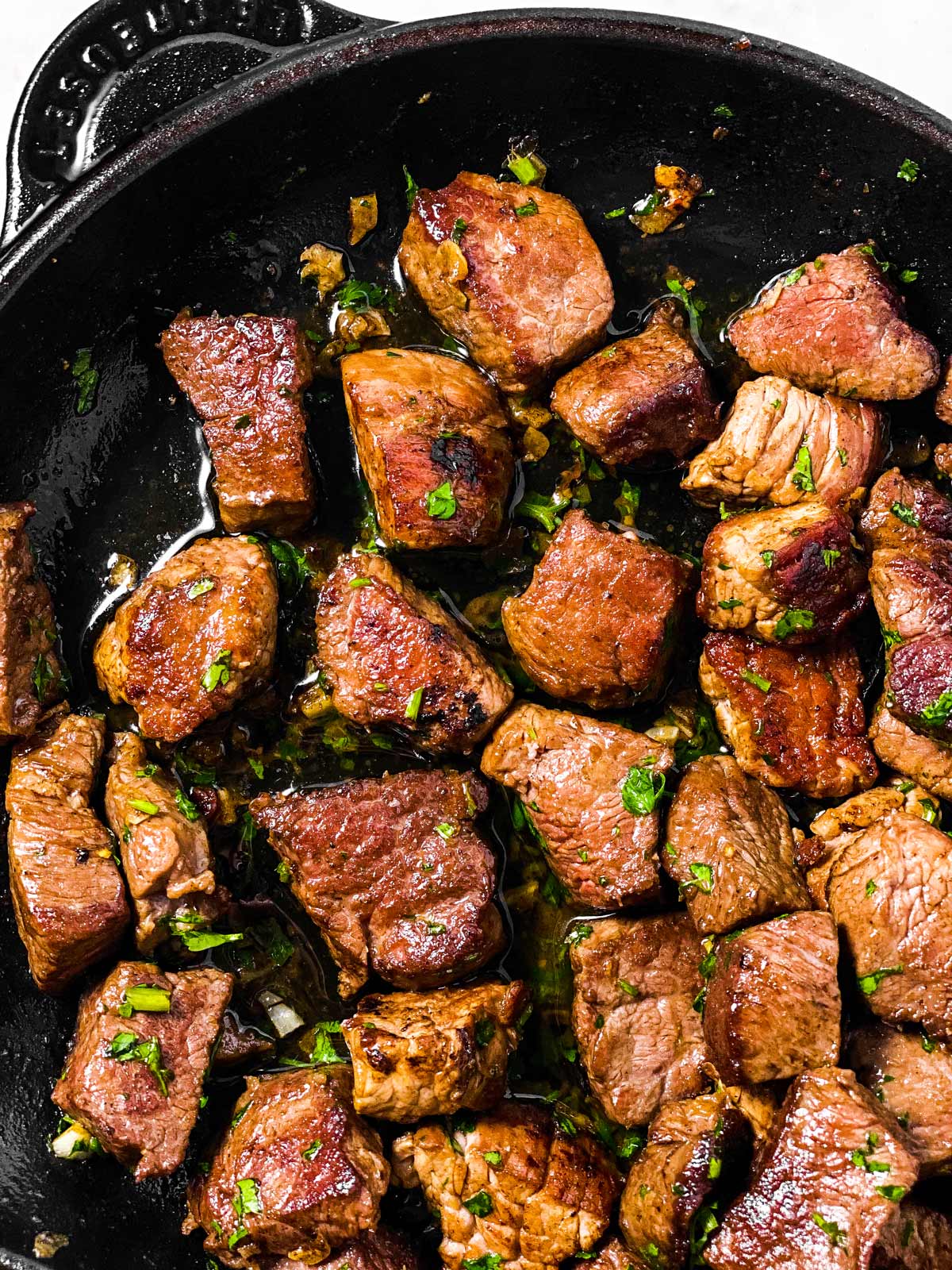 A Steak Lover's Delight
Nothing quite beats the taste of a perfectly cooked steak, and my family wholeheartedly agrees. From Filet Mignon for those extra-special occasions to succulent Air Fryer Steak or a classic seared and oven-baked steak, we can't resist the allure of a juicy piece of meat. But when it comes to the kids, steak bites take the spotlight. While commonly served as an appetizer (hello, Super Bowl!), we enjoy them as a regular meal too. They're incredibly quick and easy to prepare and turn out tender beyond belief.
Ingredients You'll Need
Before we dive into the cooking process, let's take a quick look at the star ingredients of this recipe. For precise quantities, refer to the printable recipe card at the end of this post.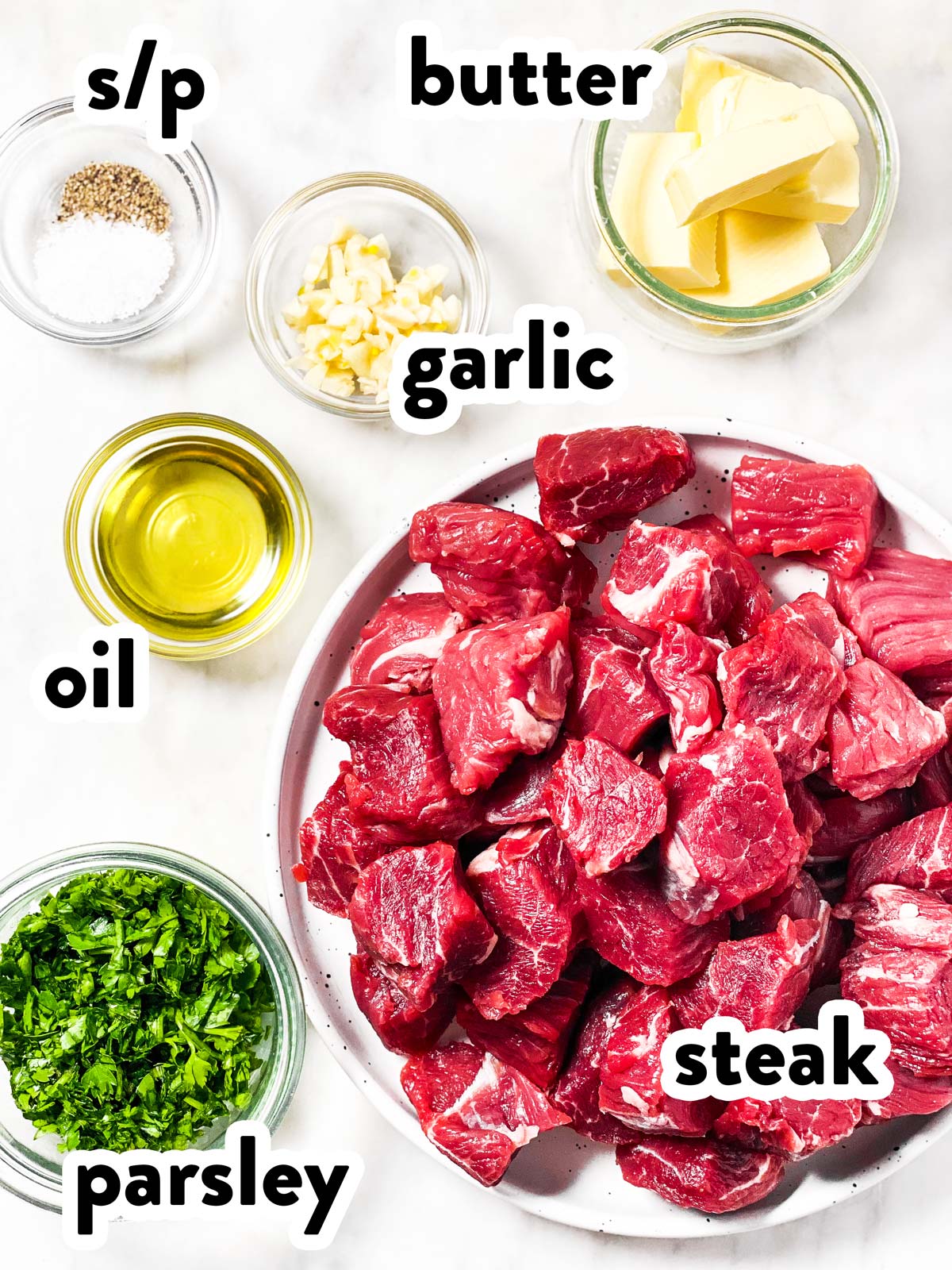 Steak
Butter
Minced garlic
Oil
Salt
Pepper
Optionally, chopped parsley for garnish
Ingredient Notes
When it comes to the steak, feel free to choose any tender, boneless cut you prefer. Sirloin steak, strip steak, and ribeye all work splendidly. If you're in the mood for something extra special and tender, opt for beef tenderloin or fillet, perfect for a memorable Valentine's Day dinner.
Fresh garlic is the way to go here. Trust me, dried or powdered garlic simply won't deliver the same flavor punch. And while parsley is entirely optional, my entire family highly recommends it – except for our picky 5-year-old who believes the green bits are a waste of space. Kids, right?
How to Make Steak Bites
Now that we have our key ingredients sorted, let's get cooking!
Start by removing the steak from the fridge about 30 minutes before you're ready to cook. This allows it to come to room temperature and ensures even cooking. Cut the steak into bite-sized cubes, season them, and let them rest on a plate while you prepare the skillet.

Heat a cast iron skillet over high heat until it sizzles hot. Add a drizzle of oil, carefully place the steak bites in the skillet, and sear them for approximately 2 minutes per side. Be cautious of any splatters and protect yourself with long sleeves and a safe distance. The goal is to achieve a beautifully browned crust, which requires high heat. Adjust the heat if necessary to prevent charring.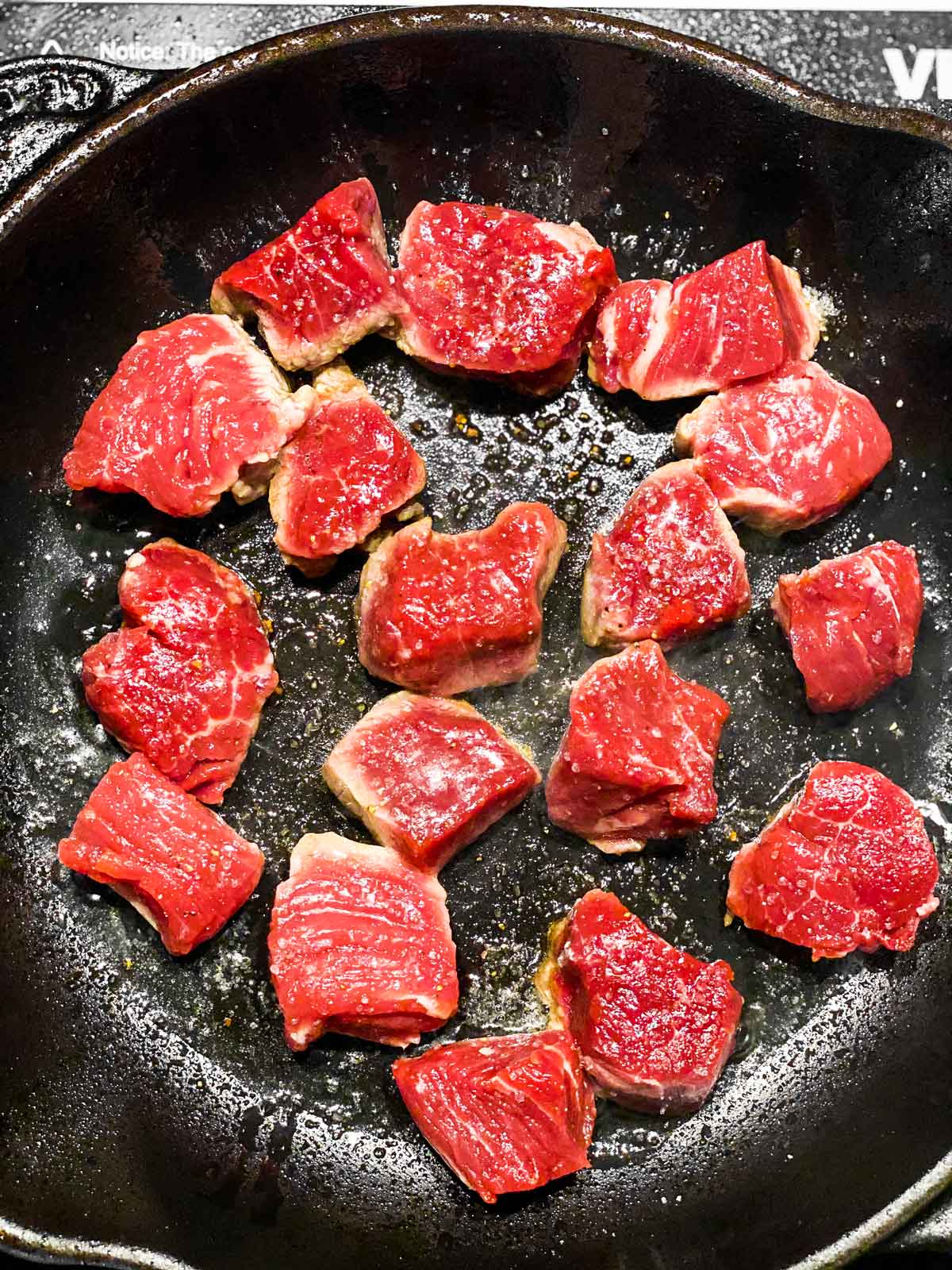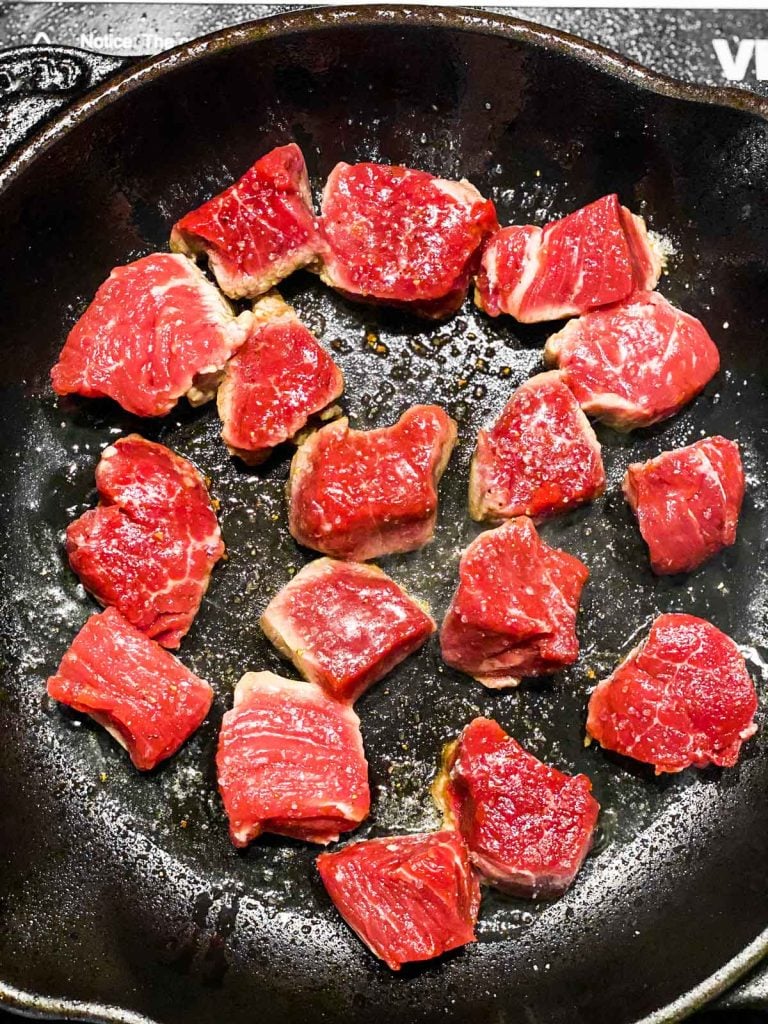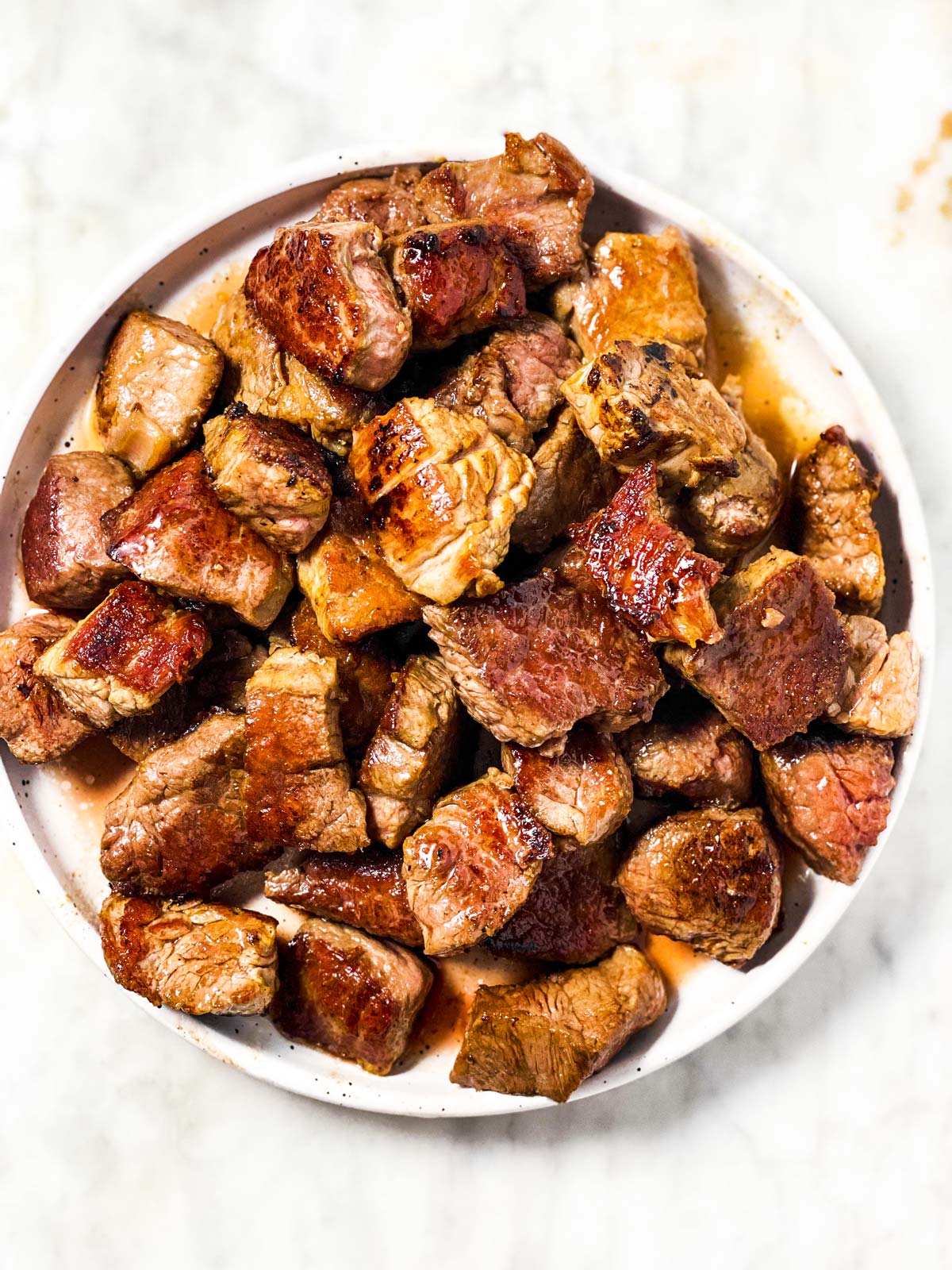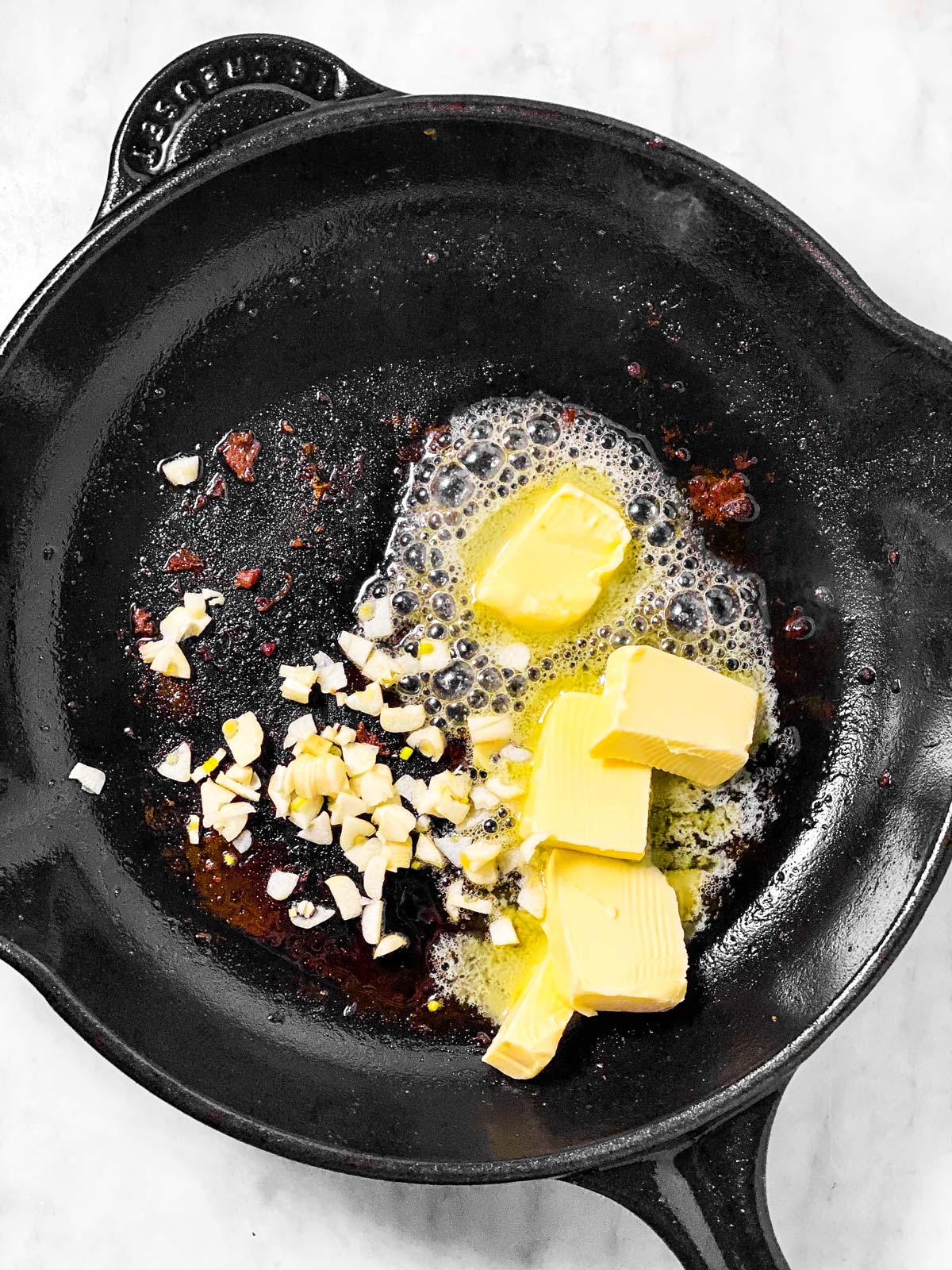 Once the steak bites are seared to perfection, reduce the heat to medium. Add butter and minced garlic to the skillet and heat for 1-2 minutes until the garlic becomes fragrant. Remove from heat.

Add the seared steak bites to the skillet, tossing them in the hot garlic butter for a glorious infusion of flavors. Serve with a sprinkle of chopped parsley, if desired.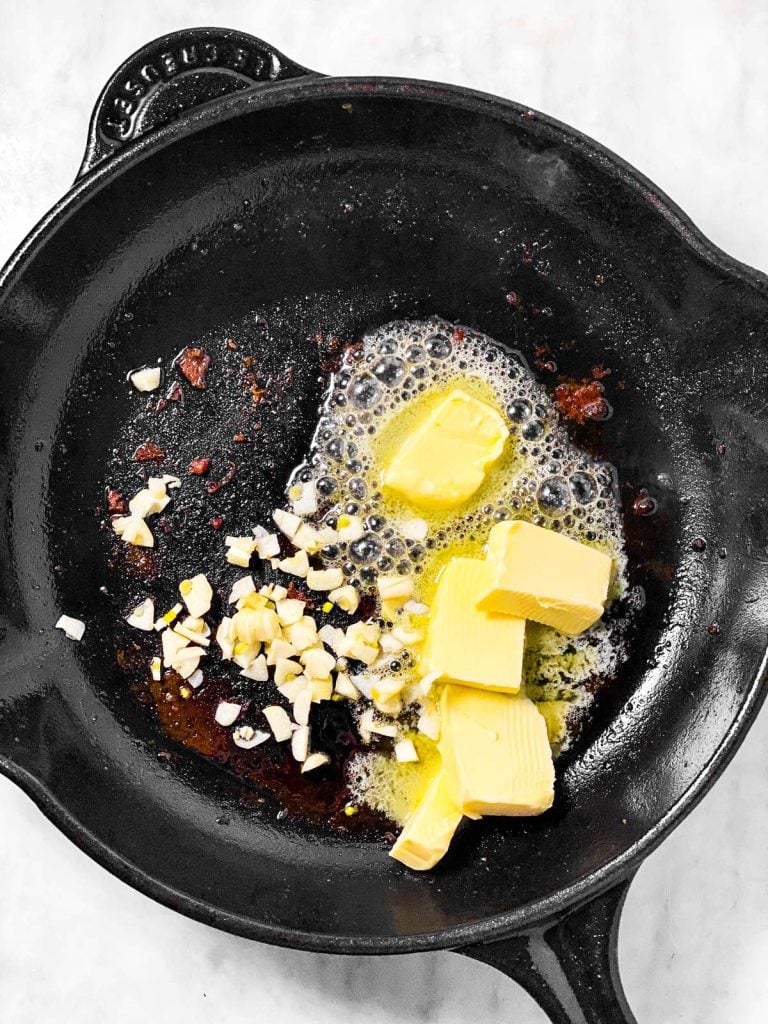 Recipe Tips
To ensure the utmost tenderness and flavor, keep these tips in mind:
Bring the steak to room temperature before cooking. This simple step greatly enhances tenderness.
Adjust the size of your steak bites to your liking. Smaller bites cook faster and have a more well-done center, while larger ones remain tender with a medium doneness.
Searing time matters. For medium-done steak bites, sear them for approximately 4 minutes. If you prefer a rarer center, stick to 1-inch cubes and sear them briefly on high heat.
Avoid overcooking the steak bites to prevent them from becoming chewy. A perfect balance of browning and tenderness is key.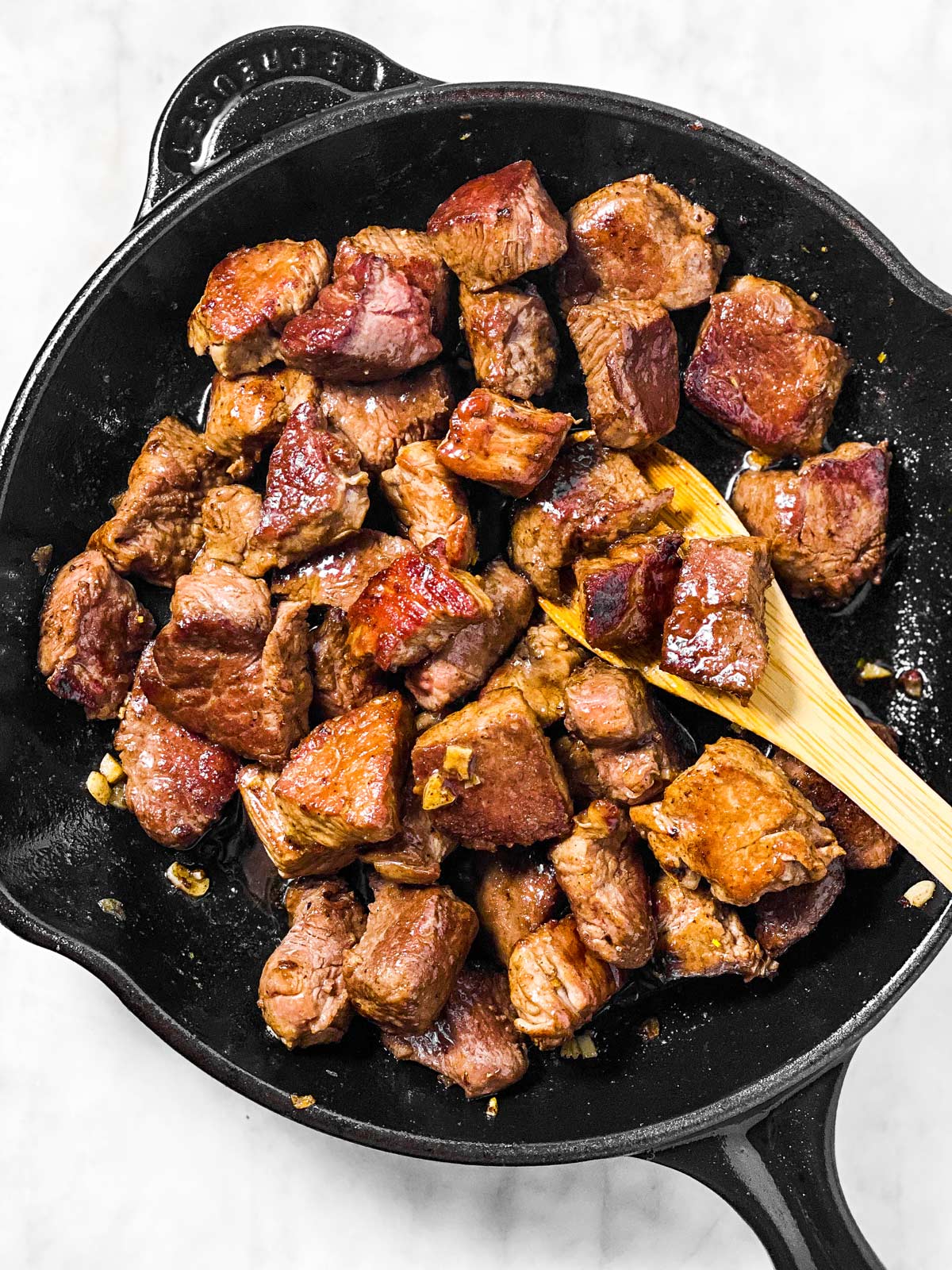 Serving Ideas
These delectable Garlic Butter Steak Bites work wonders as part of an appetizer spread. Pair them with air fryer potato wedges, homemade chipotle mayo, stuffed mushrooms, or zucchini fries for a mouthwatering feast. And if you're in the mood for a satisfying dinner, serve these beauties over rice, mashed potatoes, or crispy air fryer french fries. Accompany them with roasted asparagus, broccoli, sautéed zucchini, or garlic butter baked mushrooms for the perfect finishing touch.
More Easy Appetizers
If you're craving more tantalizing appetizers, be sure to check out the other easy recipes on our menu. And if you give this recipe a try, I'd love to hear your feedback! Leave a review in the comments section and share your star rating with us. Don't forget to follow along on Pinterest, Facebook, or Instagram for more culinary inspiration.
Printable Recipe
For a handy printable version of this recipe, please refer to the recipe card below.
---
I hope this reimagined article captures the essence of the original while giving it a fresh and unique twist. Enjoy your garlic butter steak bites and savor every mouthwatering bite!