If you're looking for the ultimate game day food, this easy Philly Cheesesteak Recipe is sure to impress! Forget those greasy takeout options – with tender sirloin, sautéed peppers and onions, and melted provolone cheese, all cooked up in one skillet and loaded onto toasted hoagie rolls, you'll have a homemade version that beats the rest.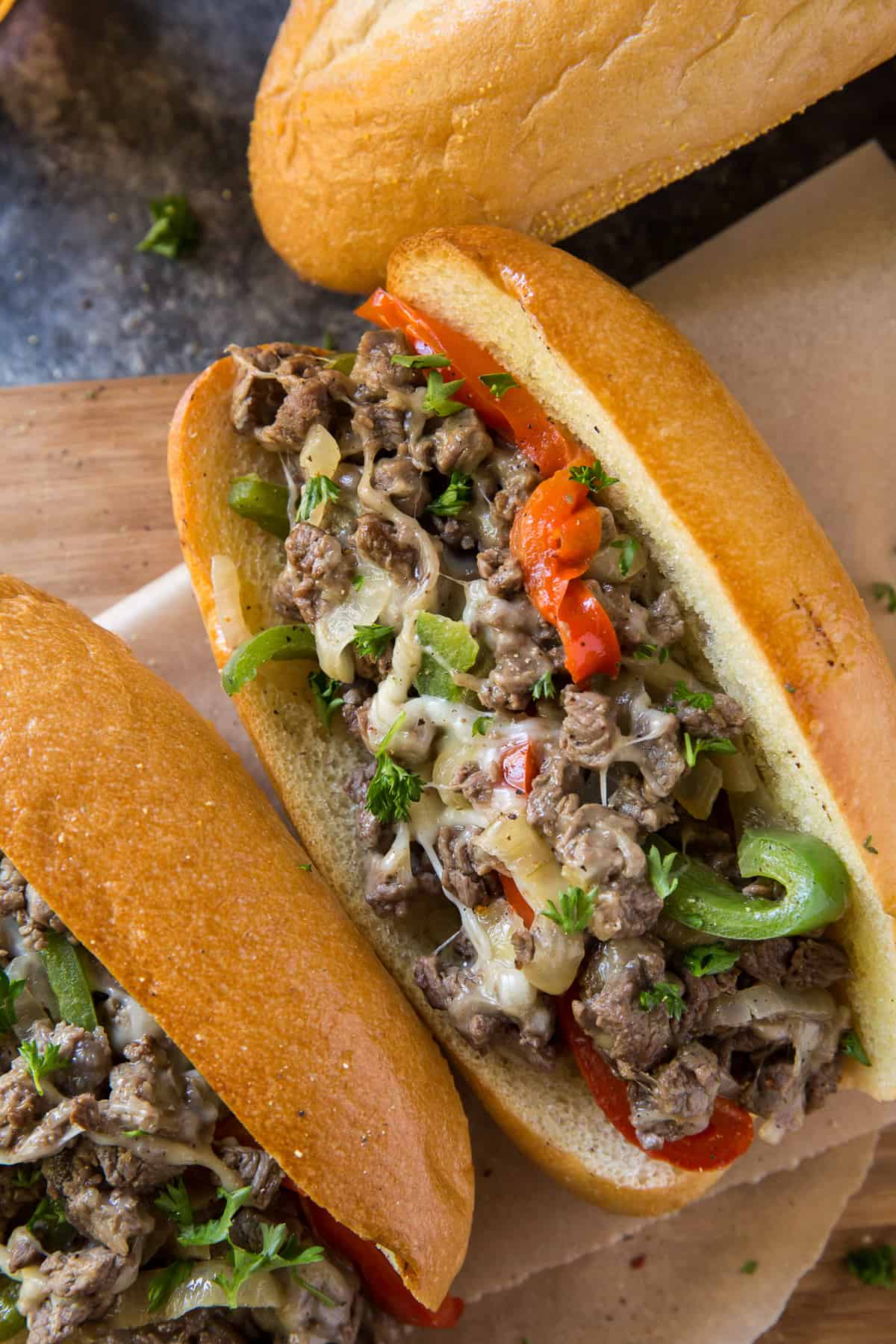 Imagine sinking your teeth into a perfectly toasted hoagie roll, filled with thinly sliced sirloin, juicy peppers, and onions, and topped off with melty provolone cheese. It's a flavor explosion that will leave you craving for more.
Taking the Philly Cheesesteak to the Next Level
Creating this classic dish at home has never been easier. With some smart cooking techniques and a few unexpected twists, you'll be able to enjoy a restaurant-quality cheesesteak right in your own kitchen.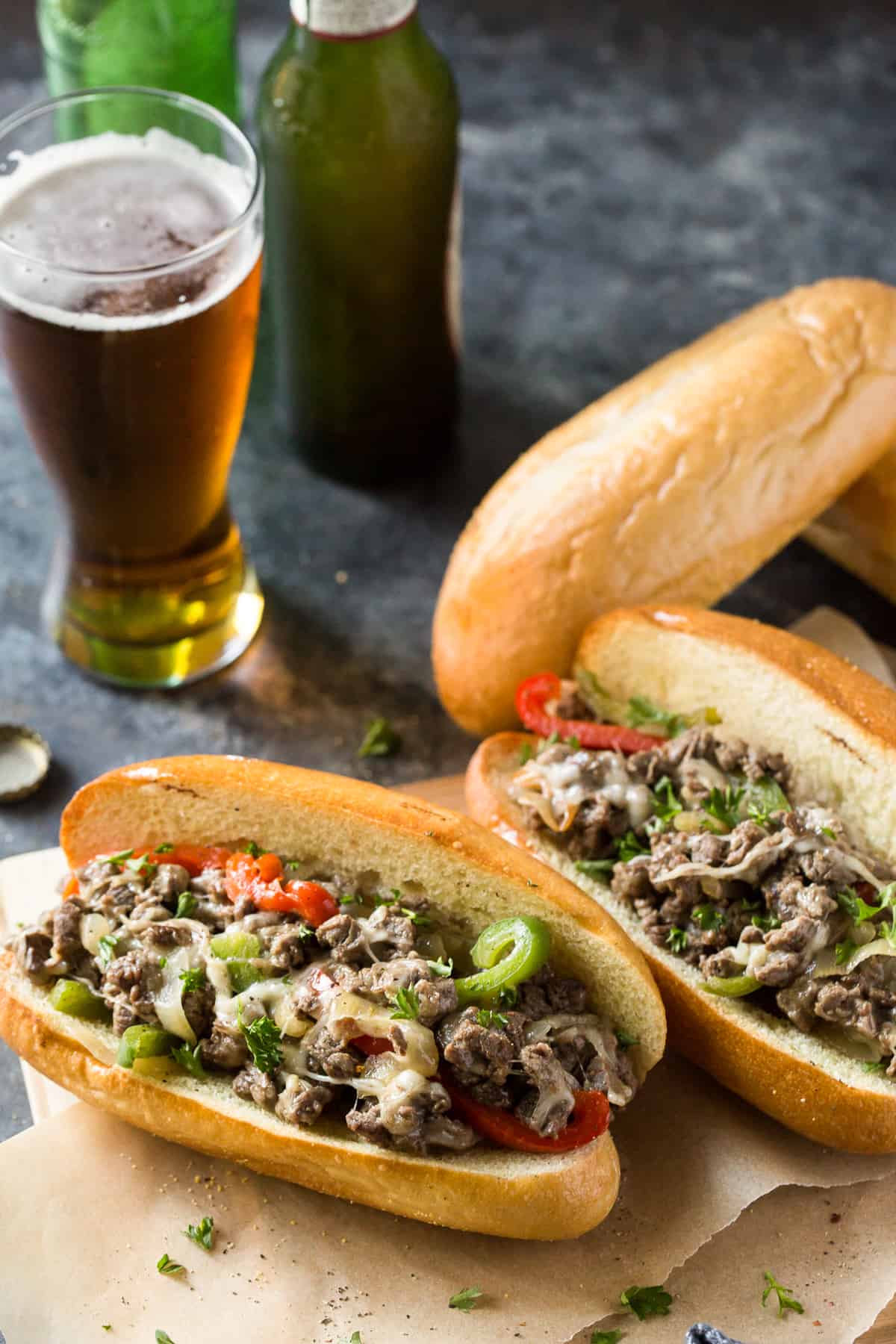 The Best Beef for the Job
Choosing the right cut of beef is crucial for a tender and flavorful result. While ribeye is often the go-to choice, it can be quite expensive. Fear not, because petite sirloin is here to save the day. It's a budget-friendly option that still delivers on taste and tenderness. Plus, thanks to its thinner cut, there's less slicing involved.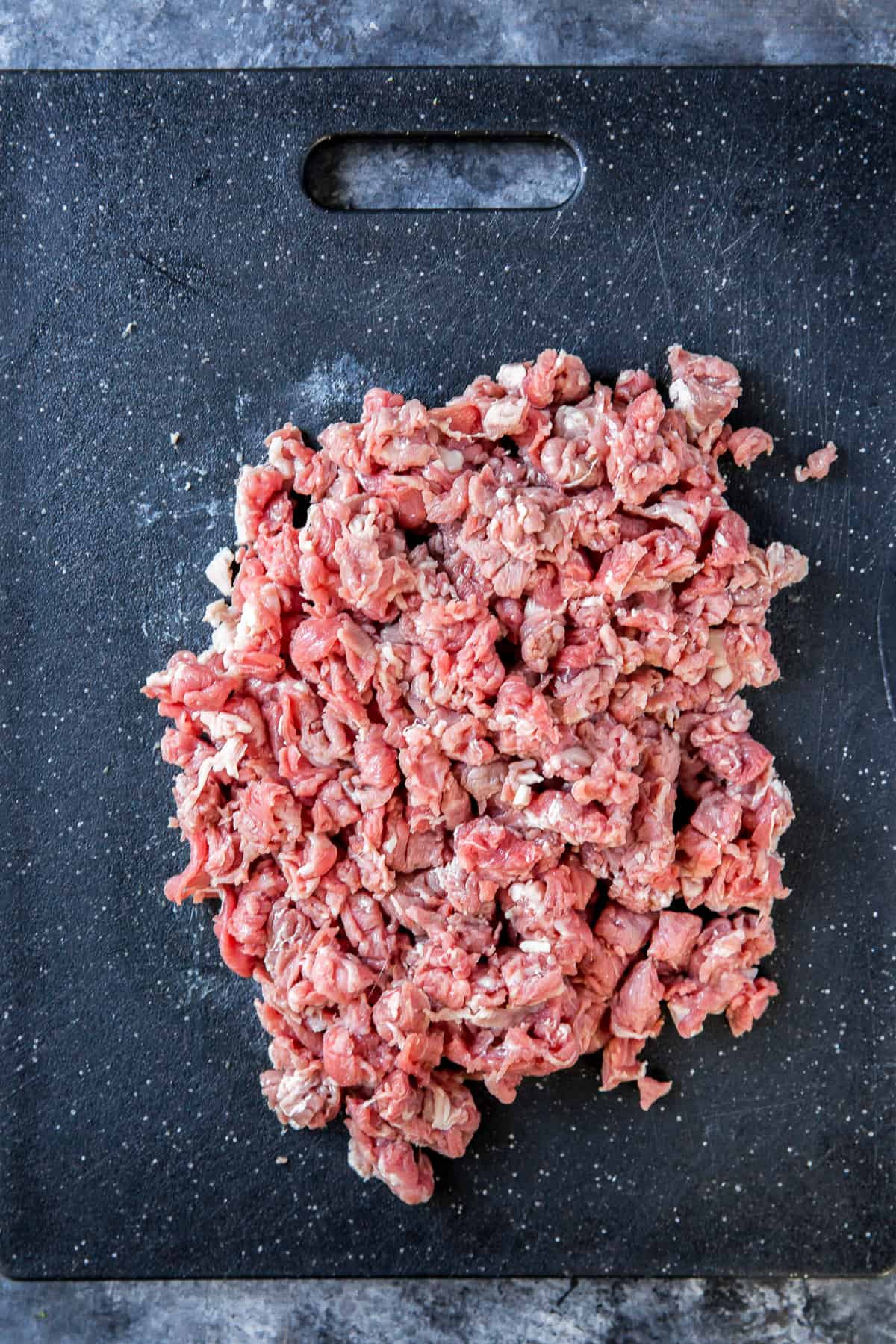 To achieve that perfect texture, make sure to slice the sirloin as thinly as possible against the grain. This will ensure each bite is tender and easy to chew.
A Flavorful Journey
Now, let's get cooking! Start by heating up a large, deep sauté pan or a Dutch oven. This will be your trusty companion throughout the process.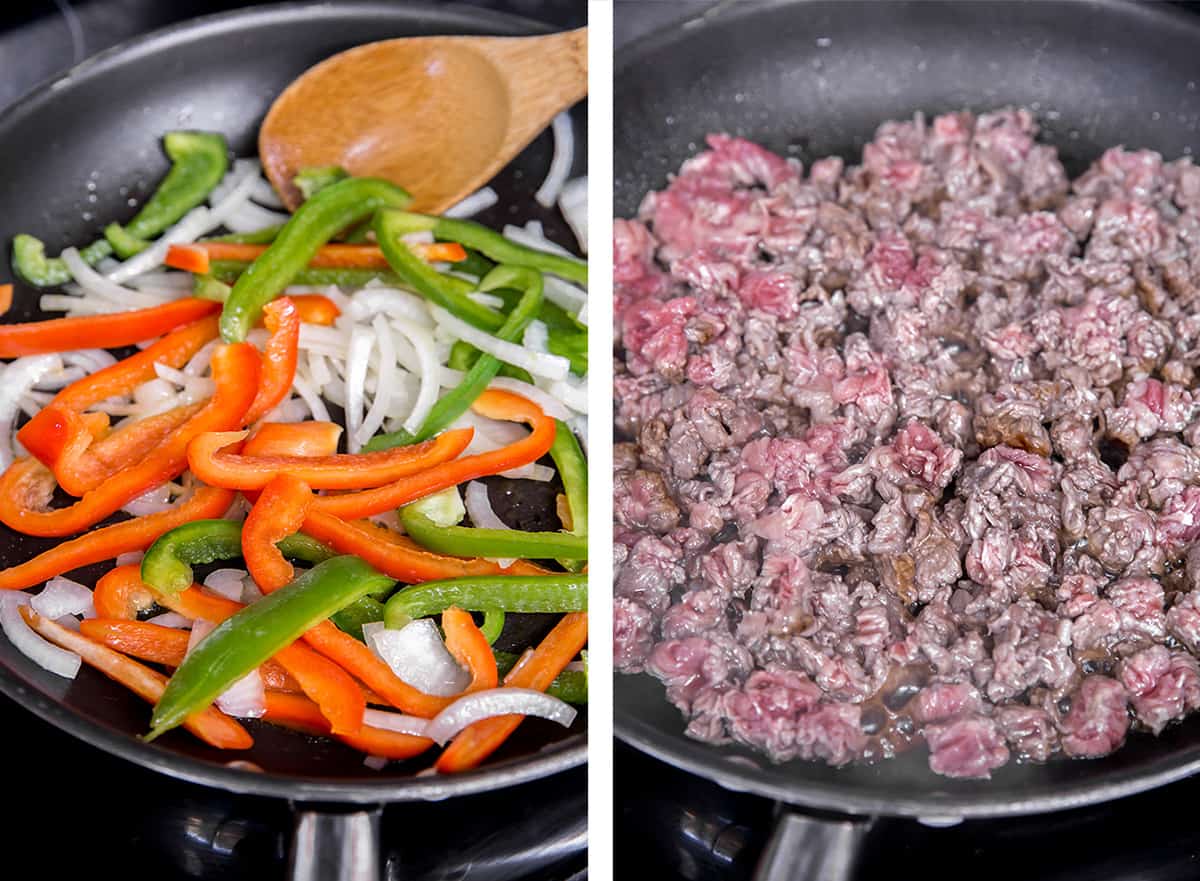 Thinly slice some onions and bell peppers, then sauté them in vegetable oil over medium-low heat. Keep an eye on them to avoid browning – you want them tender and bursting with flavor. Once they're done, set them aside in a large dish.
Add more oil to the pan and introduce the first batch of chopped sirloin. Season it with your favorite all-purpose seasoning and a dash of garlic pepper. Stir and cook until the beef is beautifully browned. Transfer the beef to the dish with the peppers and onions.
Repeat the process with the remaining beef, ensuring it's evenly browned. Once done, join it with the rest of the mixture in the dish.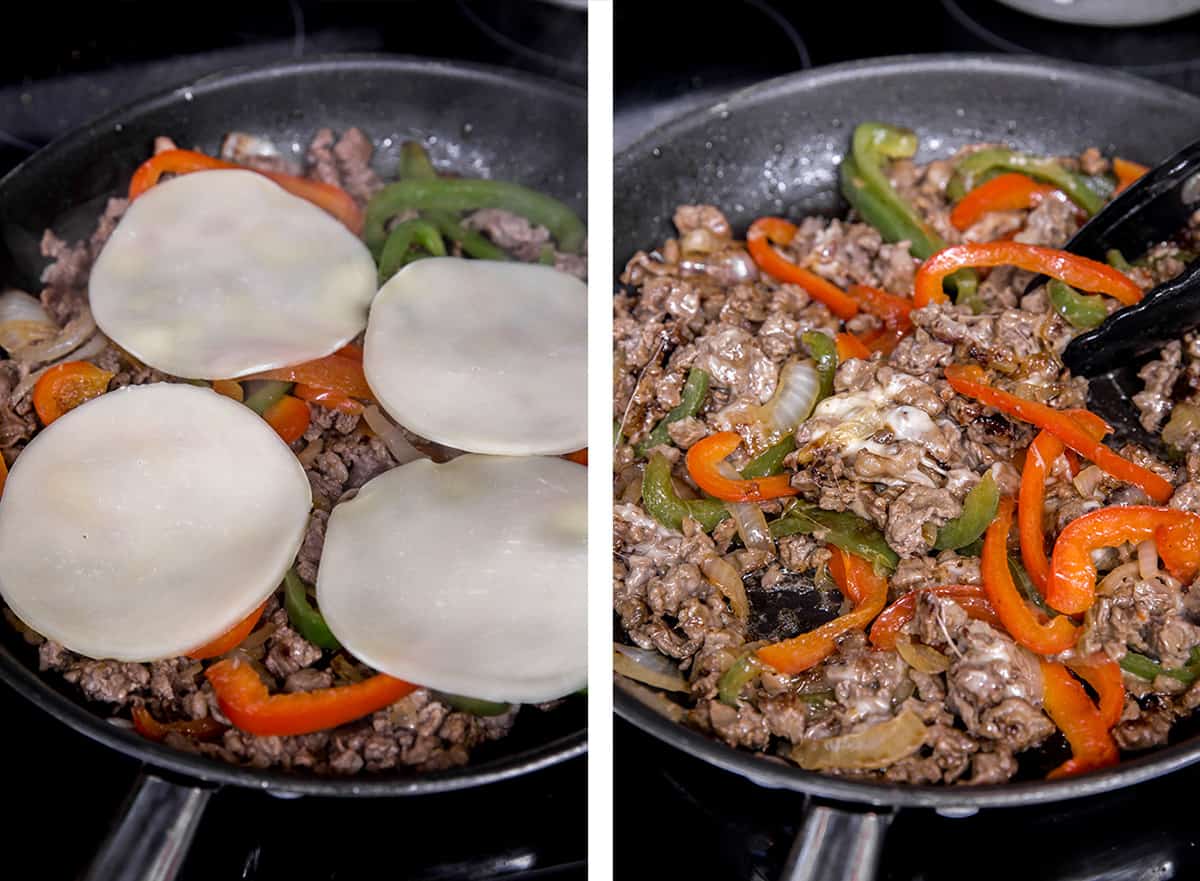 Return the pan to the heat and transfer the cooked veggies and beef back into it. Place some slices of provolone cheese on top and cover the pan to let the cheese melt and mingle with the delicious mixture. Use tongs to mix the melted cheese throughout the beef and veggies.
The Perfect Hoagie Rolls
While the cheese is melting, take a moment to prepare the hoagie rolls. This is a crucial step for achieving the best possible cheesesteak experience.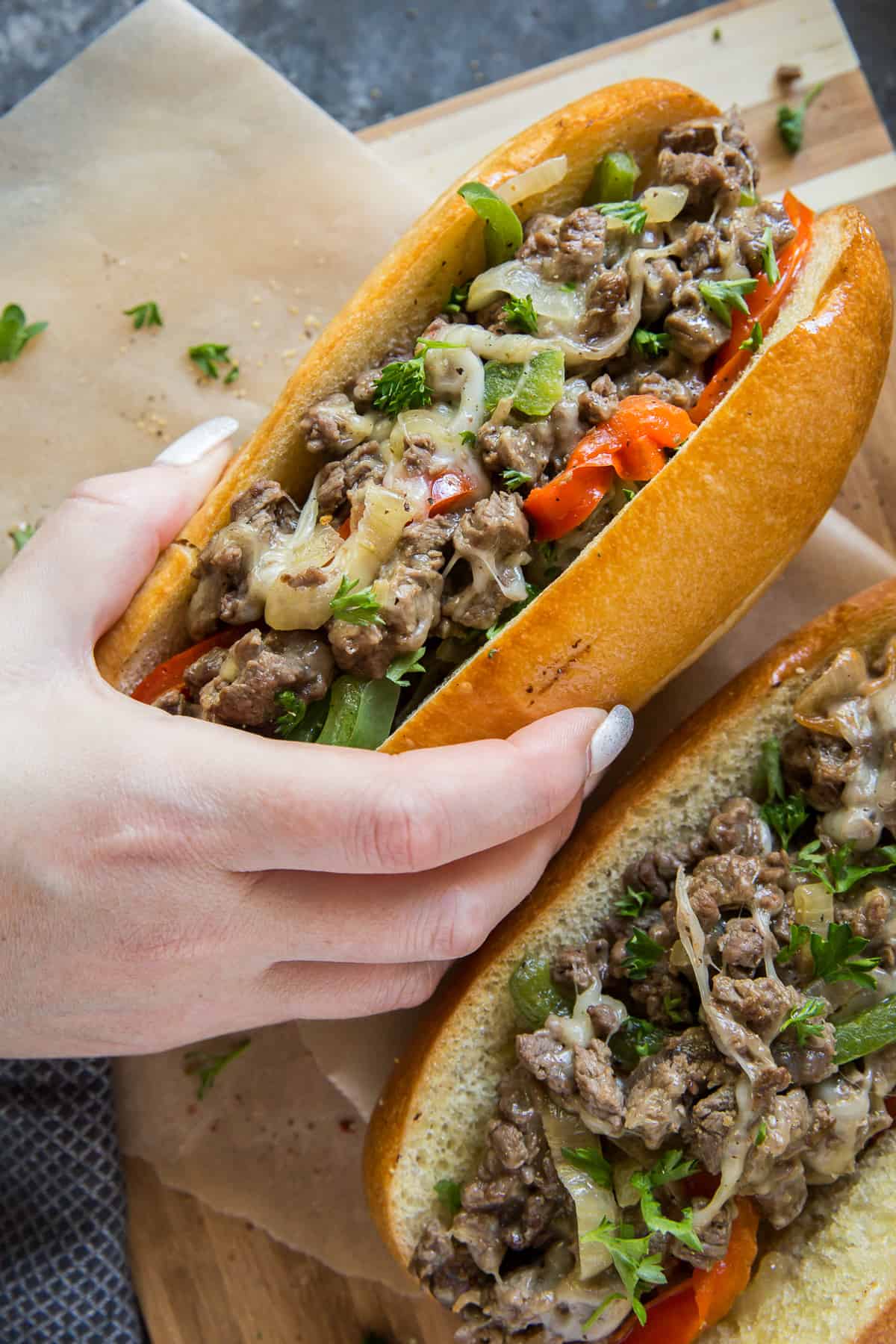 Split the rolls, but make sure to keep them intact. Spread a thin layer of butter on the inside and place them on a baking sheet.
Toast the rolls in a preheated 400°F oven until they're golden and slightly crispy.
Once the cheese has melted into the beef and veggies, it's time to load up those toasted hoagie rolls with the delicious mixture.
A Sandwich Worth Celebrating
These cheesesteaks are not only ideal for game day – they're perfect for any occasion that calls for a satisfying, flavorful meal. Whether you're hosting a Super Bowl party or just craving a delicious sandwich, these Philly Cheesesteaks won't disappoint.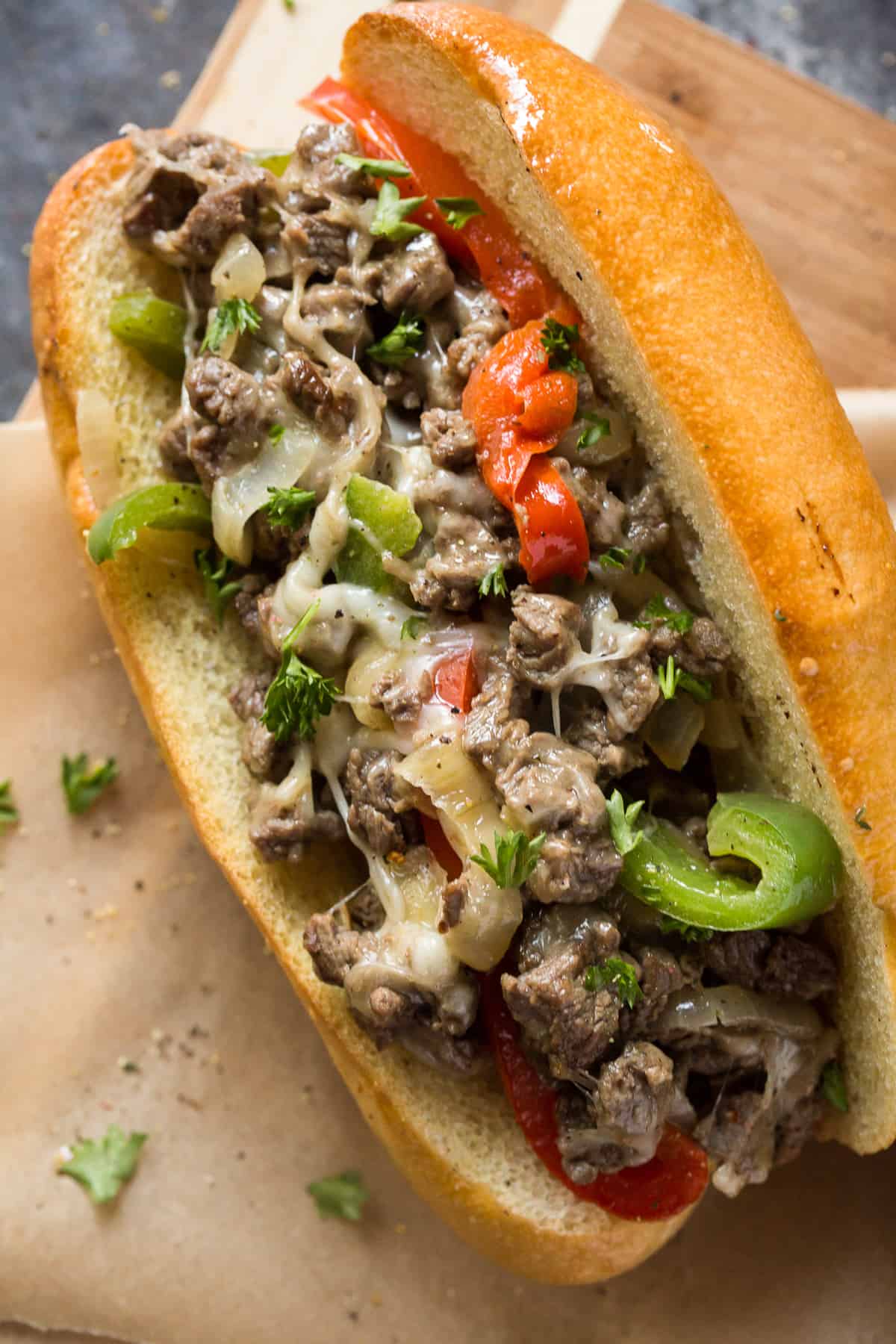 Who needs takeout when you can whip up these mouthwatering sandwiches at home? Plus, with the added bonus of toasting the rolls, your taste buds will be in for a treat.
More Sandwich Recipes to Explore
If you're a sandwich enthusiast like me, you'll love these recipes too:
Slow Cooker Drip Beef Sandwiches
Italian Sausage Sandwich
Chicken Cordon Bleu Sandwiches
Crock Pot Italian Beef Sandwiches
Cuban Sandwich (Cubano)
Italian Turkey Meatball Subs
Sign up for my free newsletter to stay up to date with all the latest recipes. And don't forget to join me on Facebook, Instagram, and Pinterest for more cooking inspiration!
So, what are you waiting for? Dive into the world of homemade Philly Cheesesteaks and elevate your sandwich game today!