Are you ready to embark on a culinary journey that will ignite your taste buds? Get ready for a sensational experience with these Grilled NY Strips with a twist of Garlic Chili Sauce. Brace yourself for a spicy, tangy, and savory explosion of flavors that will leave you craving more. In this recipe, we'll explore the secrets of a simple dry brine, perfectly grilled NY strips, and a unique take on a classic Thai steak sauce known as Crying Tiger Sauce.
Grilled NY Strips with Garlic Chili Sauce Begin with a Brine
To ensure tender and flavorful NY strips, we'll start by giving them an overnight dry brine. If you're short on time, a quick dry brine in the fridge will also work. Place the steaks on a baking sheet, generously coating them with kosher salt. Let the magic happen as the brine works its wonders.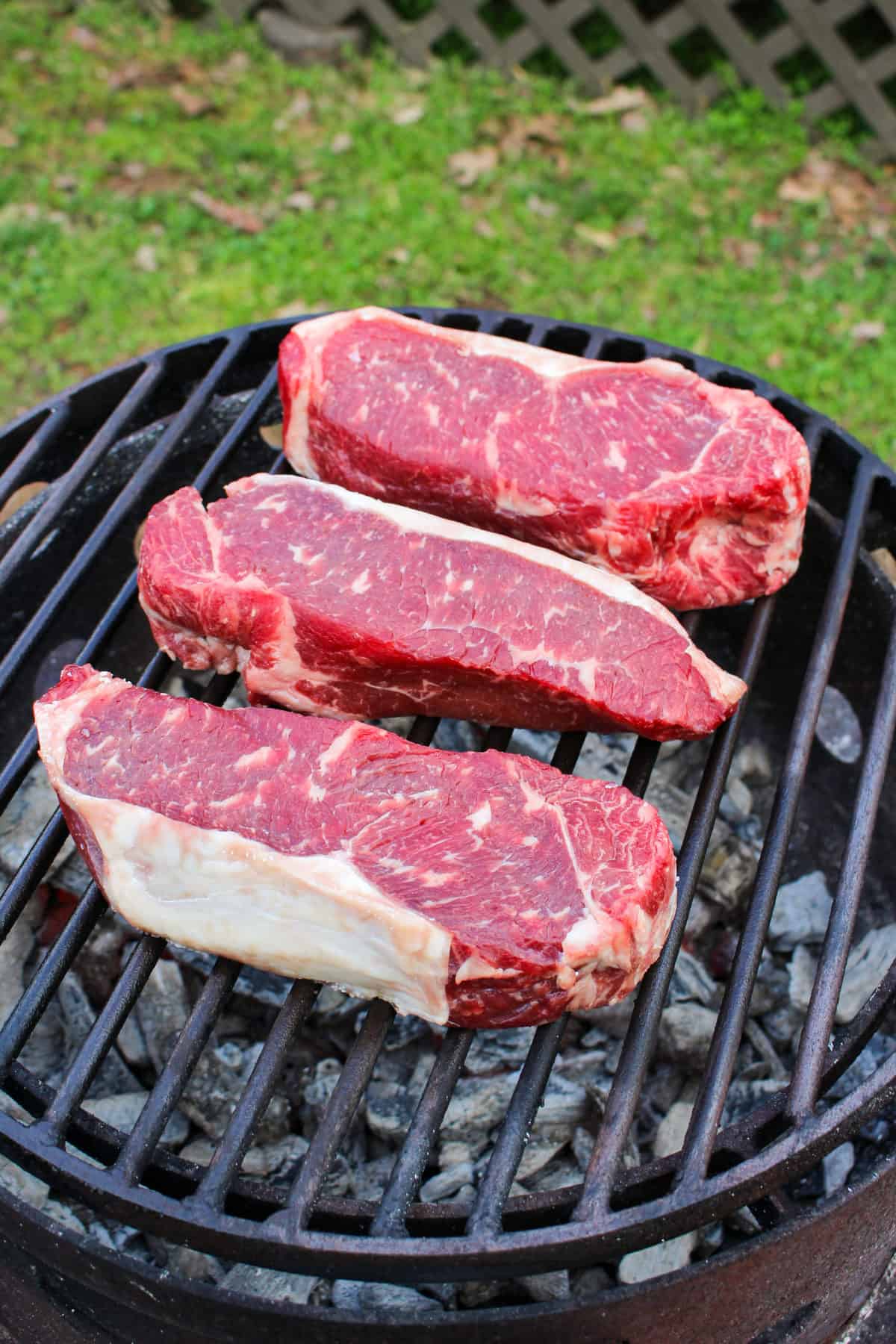 While overnight brining is best, a minimum of 40 minutes will still yield delicious results. The longer you brine, the more tender and flavorful your steaks will become.
Creating the Garlic Chili Sauce for Your Grilled NY Strips
Before we dive into grilling the steaks, let's whip up a quick sweet and spicy sauce. Inspired by the Thai Crying Tiger Sauce, our version utilizes accessible ingredients without compromising on taste. Prepare the Garlic Chili Sauce by mixing together soy sauce, fish sauce, minced garlic, Thai chili paste, honey, chopped cilantro, chopped scallion, and lime juice. It's as simple as that!
For another fantastic recipe using Crying Tiger Sauce, check out Marinated Steak with Thai Chili Sauce.
Grilling Time for our NY Strips!
Now, it's time to fire up the grill and cook the NY strip steaks to perfection. Leave the Garlic Chili Sauce aside for now, allowing the flavors to meld together.
Start by preheating the grill for direct grilling at around 400ºF. Remove the steaks from the fridge, brushing off any excess salt. Place the steaks directly over the heat and cook for 3.5-4 minutes on each side. To ensure they're done, use a probe to verify an internal temperature of 125ºF. Once they reach this temperature, they're good to go.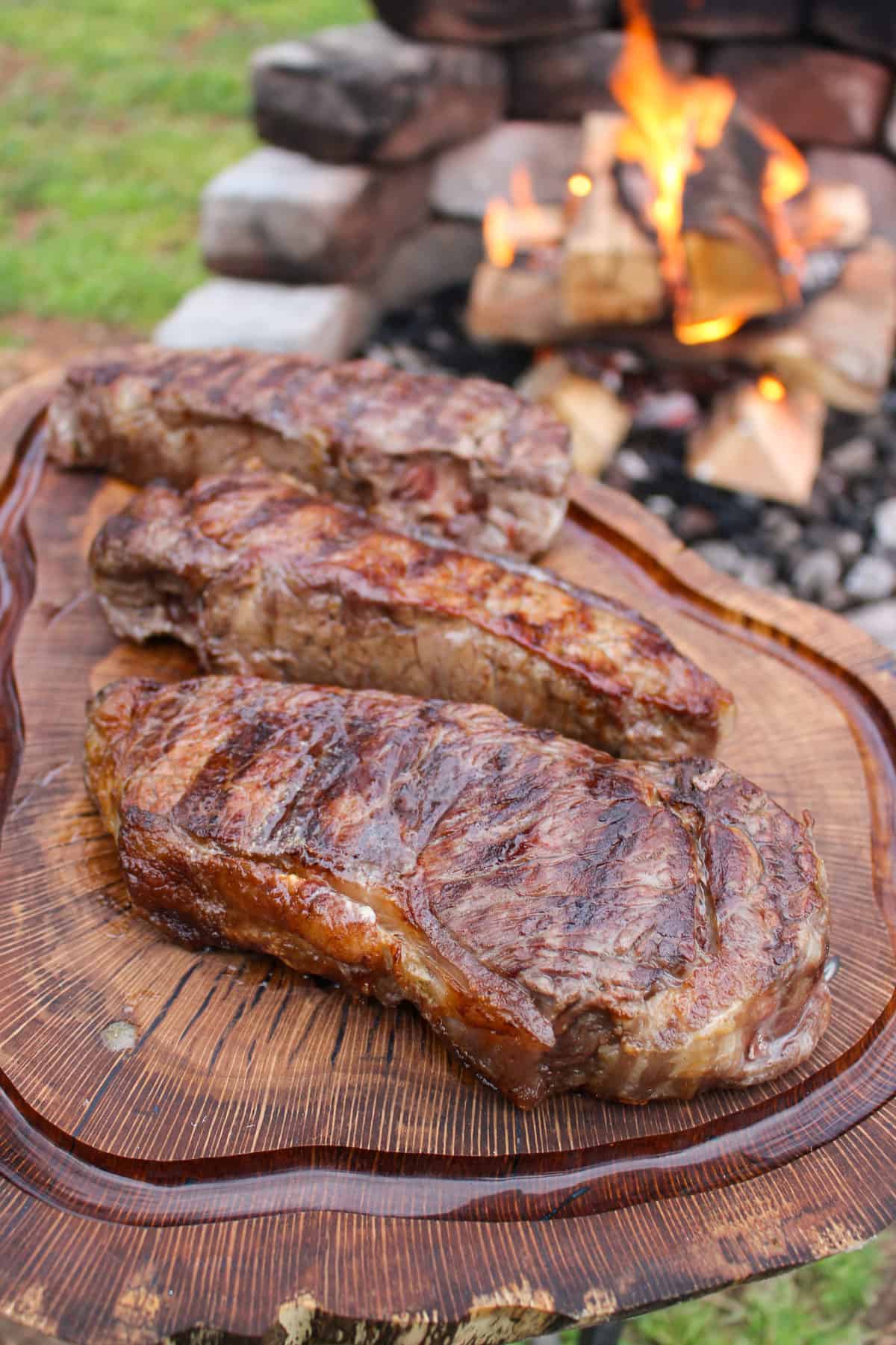 Remove the cooked steaks from the grill and let them rest on a cutting board for 10-12 minutes. This resting period allows the flavors and juices to settle back into the meat, yielding a moist and flavorful steak. Don't rush the process; the result is worth the wait.
For more grilled steak recipes, explore Grilled Steak with Peanut Butter Sauce, Grilled Filets with Chile Vinegar Sauce, and Maui Wowee Grilled Ribeyes.
Let's Serve Our Grilled NY Strips with Garlic Chili Sauce!
It's finally time to savor the fruits of our labor. Slice the steaks and generously drizzle them with the prepared Garlic Chili Sauce. Get ready to indulge in an extraordinary meal bursting with spice, tanginess, and savory goodness. Warning: you might find yourself going back for seconds, or even thirds!
For more delicious recipes, check out my second cookbook Flavor X Fire or my first cookbook Food X Fire. If you're in need of some extra spice in your life, my spice line can help with that! You can find them here.
Enjoy your culinary adventure, and remember, good food is meant to be shared and enjoyed with loved ones. Happy grilling!