Busy families rejoice! Shake and Bake has long been a go-to dinner option for those hectic nights. But why settle for store-bought when you can easily create a homemade version that is not only tastier but also incredibly versatile? Say goodbye to soggy breadcrumbs and hello to crisp, juicy pork chops that will have your family begging for more.
The EASY Way to Homemade Shake and Bake Pork Chops
Let's be honest, we've all reached for that box of Shake 'n Bake at least once. It's convenient, it produces a satisfyingly crispy exterior, and cleanup is a breeze. Well, get ready to take things up a notch with this homemade version. All you need is a bag, some pantry spices, pork chops, and breadcrumbs. It's that simple!
When you make homemade shake and bake pork chops, you not only get a delicious meal on the table but also enjoy the freedom to customize the flavors to your liking. Plus, this versatile mix can be used for chicken, fish, veggies, and more. Talk about a game-changer!
Why I LOVE this recipe!
Let me count the ways…
Super EASY – With just a bag, you can whip up the mix and coat the pork chops. Prep and cleanup don't get much easier than this!
So Versatile! – Feel free to use your favorite cut of pork chops or even swap them out for chicken, fish, or veggies.
3 Cooking Methods – Whether you prefer baking, pan-frying, or using an air fryer, this recipe works like a charm with all three methods.
More Delicious – Customize the seasonings to suit your family's taste buds. Add a little extra of your favorite flavors to make it your own.
Recipe Notes
Prepare to be amazed by how simple and quick this shake and bake pork chop recipe is! In just 15 minutes, you can have a mouthwatering meal ready to enjoy with your loved ones.
In the section below, I'll share some tips and tricks to ensure your pork chops turn out absolutely perfect and bursting with flavor. But first, take a look at these savory ingredients: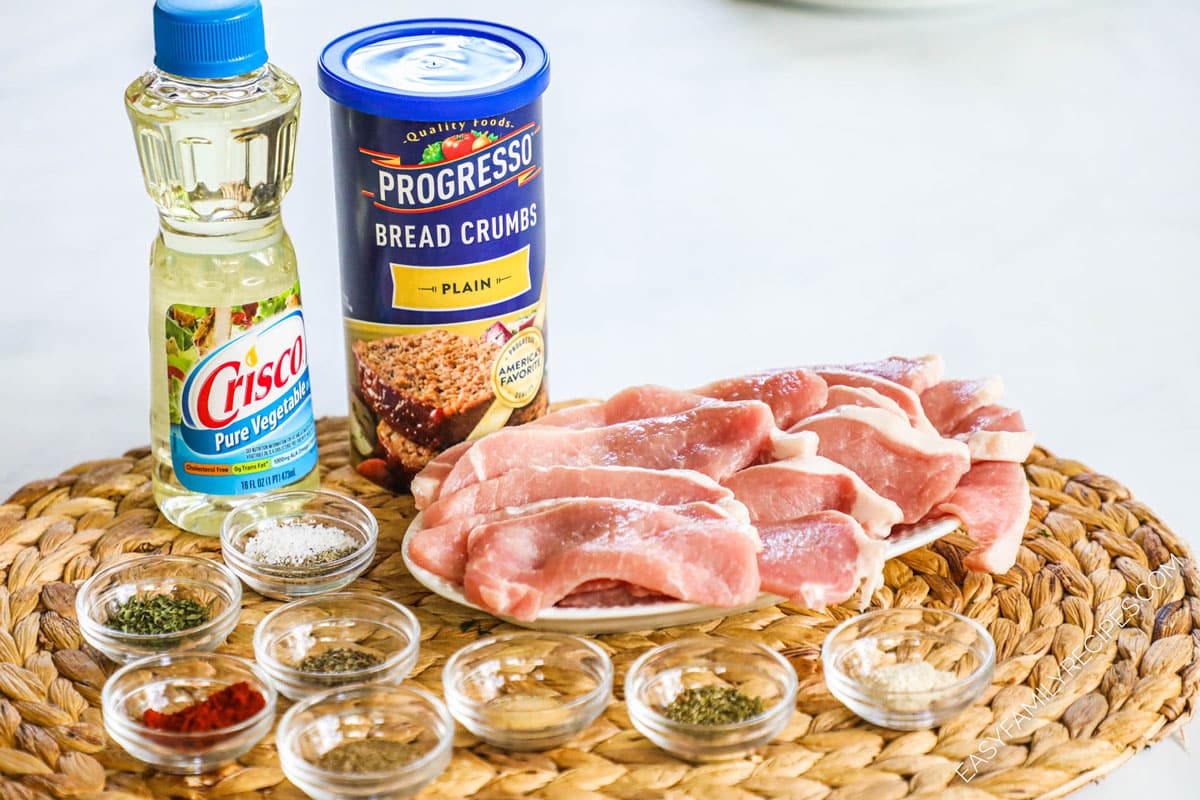 Ingredients + Substitutions
Pork chops – Thin, boneless pork chops work best for this recipe, ensuring a delightful ratio of breadcrumbs to meat. However, feel free to use any type of pork chop you prefer. Just remember to adjust the baking time accordingly if you opt for thicker cuts.
Breadcrumbs – Panko breadcrumbs are our top choice as they create a delectable crunch. However, any unseasoned breadcrumbs will do. We'll be adding plenty of flavor with our own blend of spices.
Oil – Vegetable oil is our go-to, but you can use any neutral-flavored oil such as canola or grapeseed.
Seasonings – Our blend of celery salt, onion powder, garlic powder, and paprika captures the classic Shake 'n Bake taste. To add an Italian twist, incorporate dried parsley, basil, and oregano. Don't forget the salt and pepper!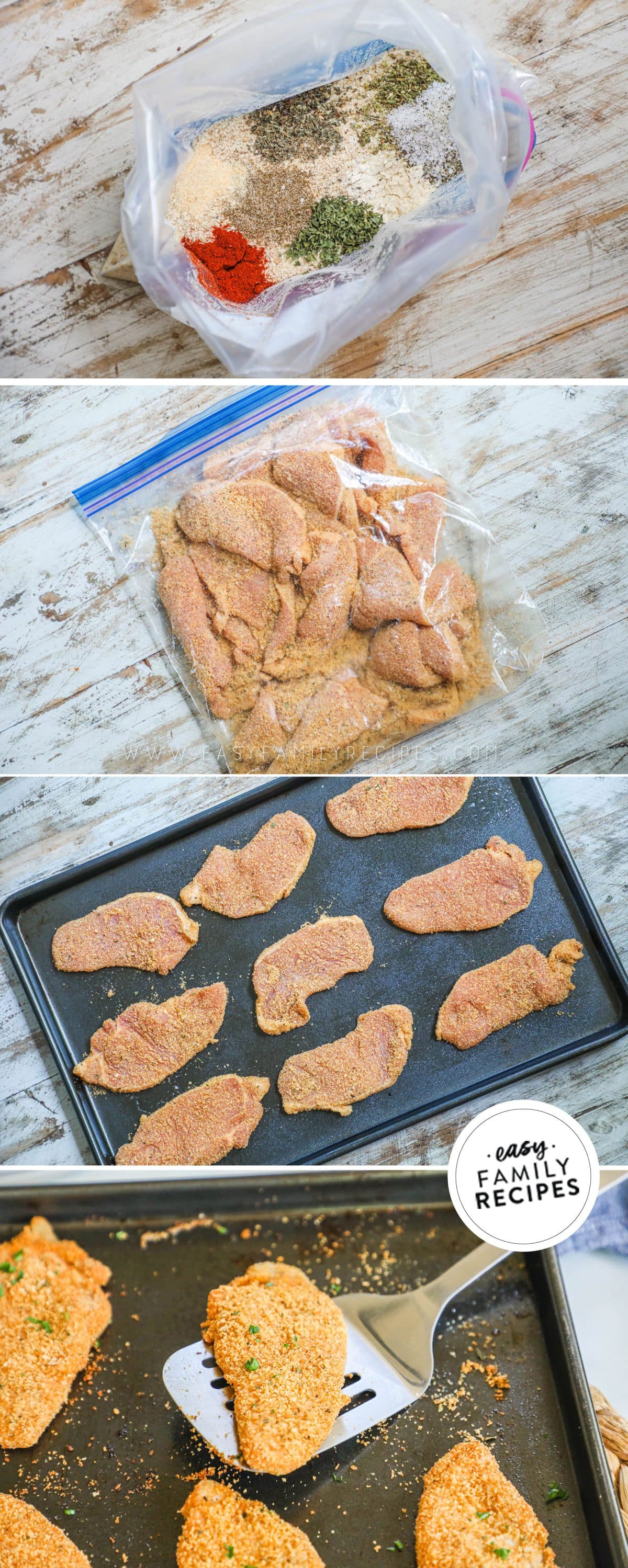 Recipe Tips
Achieving the perfect crunch and juiciness requires some insider knowledge. Here are a few tips to ensure your pork chops turn out absolutely divine:
High heat and thin cuts are essential for crispiness – A hot oven and thinner cuts of meat are crucial to achieve the ultimate crispy texture. Lower heat can make the breadcrumbs soggy.
Be generous with the crumb coating – The more breadcrumbs, the better the flavor! Make sure each pork chop is thoroughly coated, and feel free to add extra shake and bake mix before baking.
Place near the bottom rack – To prevent sogginess, position your baking sheet near the bottom of the oven. This will help the underside of the pork chops get delightfully crisp.
Watch the internal temperature – Overcooked pork chops can be tough and chewy. Keep an eye on the internal temperature to ensure they are perfectly cooked. Investing in a meat thermometer is highly recommended.
Use a cooling rack for frying – If you choose to pan-fry your pork chops, elevate them on a cooling rack placed on a baking sheet lined with paper towels. This helps maintain their crispiness by allowing excess oil to drain away.
Recipe Short Cuts
We all need a little help in the kitchen from time to time. If you're short on time, here are a few shortcuts that will save the day:
Prep homemade shake and bake ahead – Double or triple the recipe with minimal effort. Portion out enough mix for one meal, and store the rest in the fridge for future use. Just remember to discard any breadcrumbs that have come into contact with raw meat.
Use the thinnest cutlets – For a quicker cooking time, slice your pork chops into thin cutlets that will bake or pan-fry in a flash.
Use pre-seasoned breadcrumbs – If time is of the essence, pre-seasoned Italian breadcrumbs can be a lifesaver. Just check if salt is included in the mixture and adjust accordingly.
Recipe Variations
Looking for a little variety? Try these simple variations to give your shake and bake pork chops a mouthwatering twist:
BBQ Shake and Bake Pork Chops – Skip the basil, parsley, and oregano. Instead, add 1/2 teaspoon each of cumin, chili powder, and ginger, along with 1 tablespoon of brown sugar. This will create a BBQ-flavored breadcrumb mixture. Proceed with the recipe and toss with BBQ sauce after cooking for an extra kick.
Cajun Shake and Bake Pork Chops – Replace the seasonings, herbs, and salt with 2 tablespoons of store-bought or homemade Cajun seasoning blend. Follow the rest of the recipe as written.
Shake and Bake Ranch Pork Chops – Swap the Italian herbs, seasonings, and salt with 2 tablespoons of dried store-bought or homemade ranch mix. Proceed with the rest of the recipe as directed.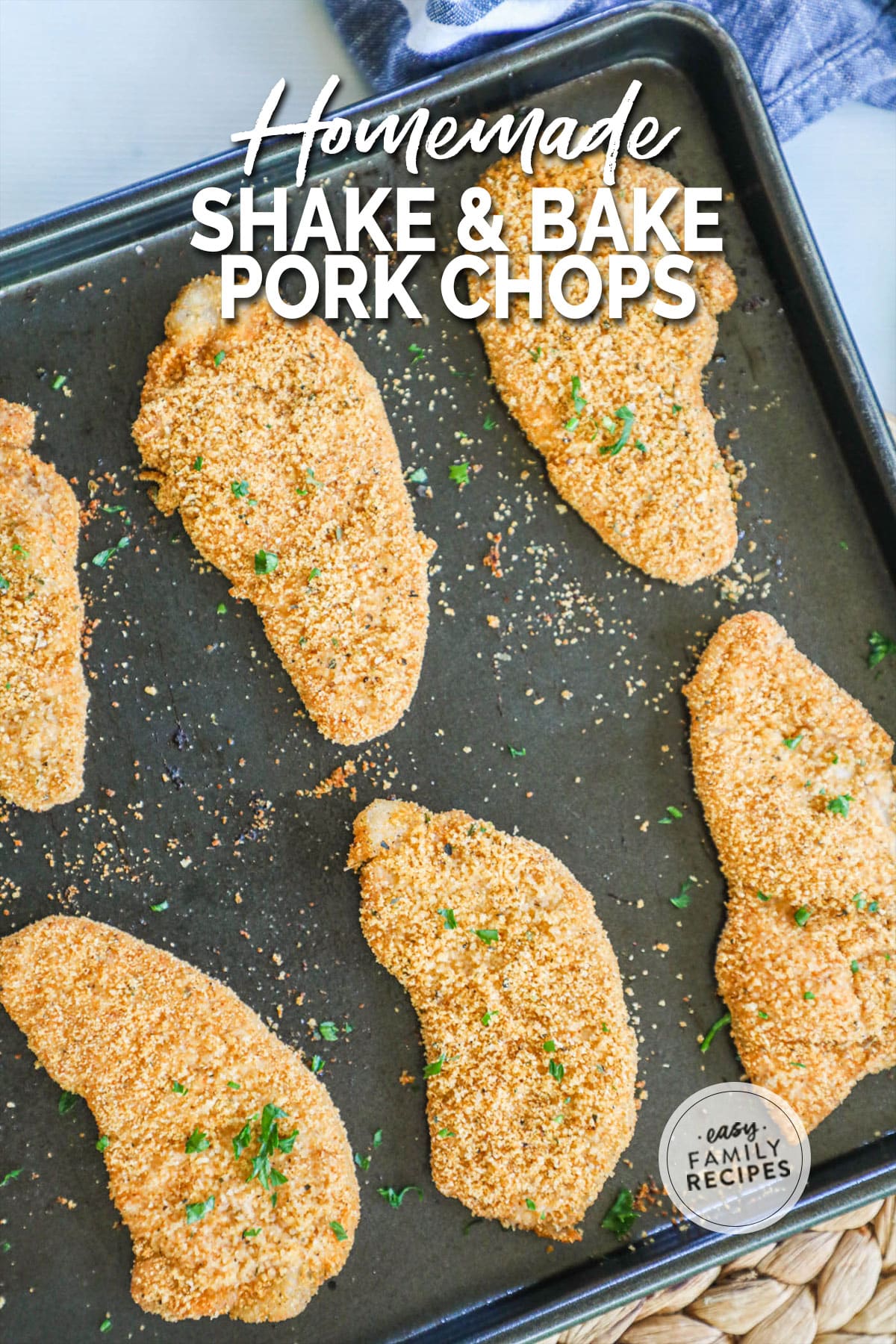 Pork Shake and Bake Leftovers
Lucky you! If you find yourself with leftover shake and bake pork chops, don't fret. They can be easily repurposed into another delicious dish. Here are a few ideas to inspire your culinary creativity:
Crispy Pork Chop Sandwiches – Lightly toast some buns, shred some lettuce, and slice some pickles. Reheat the pork chops in a hot pan to make them crispy again. Place them on the buns and top with pickles, thousand island dressing, and shredded lettuce.
Pork Chop Salad – Toss mixed greens with your favorite toppings like cherry tomatoes, sliced cucumber, and red onion. Add sliced leftover pork chops and drizzle with homemade buttermilk ranch dressing, jalapeno ranch, or creamy Italian dressing.
Crispy Pork Chop Tacos – Warm small flour tortillas and fill them with warm, sliced leftover pork chops. Top with pineapple jalapeno salsa or mango avocado salsa for an explosion of flavors.
More EASY Pork Chop Recipes
If you're craving even more pork chop goodness, here are a few additional recipes to tantalize your taste buds:
Don't miss the opportunity to enjoy a delicious homemade meal that will impress your family and leave them craving more. Give these homemade shake and bake pork chops a try and transform your dinner routine into something extraordinary!