If you're on the hunt for a mouthwatering dish that will leave you craving more, look no further than this recipe for savory pork chops. These delectable chops are pan-seared to perfection and smothered in a rich onion gravy that bursts with flavor. It's no wonder that this dish has become a beloved comfort food recipe in our household.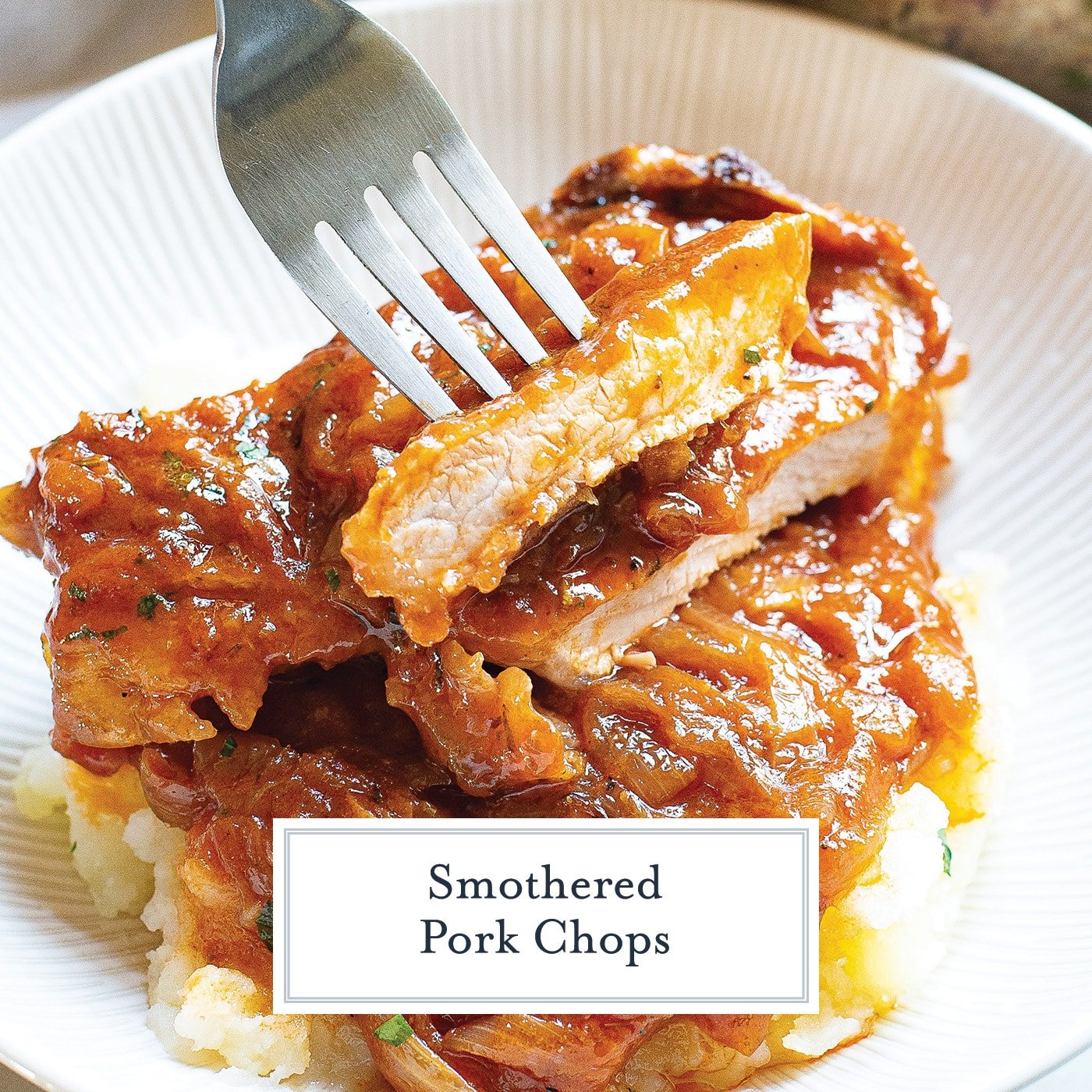 Gone are the days of tough and rubbery pork chops from your childhood. This recipe will show you just how easy it is to create tender and juicy pork chops that will make you forget those unpleasant memories. With a few simple steps, you'll be able to master the art of cooking pork chops like a pro.
So, the next time you're in need of a quick and satisfying dinner idea, give this recipe a try. It might just become your new favorite pork chop recipe.
Why You'll Be Smitten with Smothered Pork Chops
There are countless reasons why these simple pork chops will steal your heart. Let's explore a few of them:
Easy: You'll find all the ingredients needed for this recipe at your local grocery store, and the preparation comes together in a snap.
Saucy: The flavorful onion gravy adds layers of taste and keeps the pork chops irresistibly juicy.
Tender: By using bone-in, 1-inch thick chops and carefully monitoring the cooking temperature, you'll achieve the most succulent pork chops packed with flavor.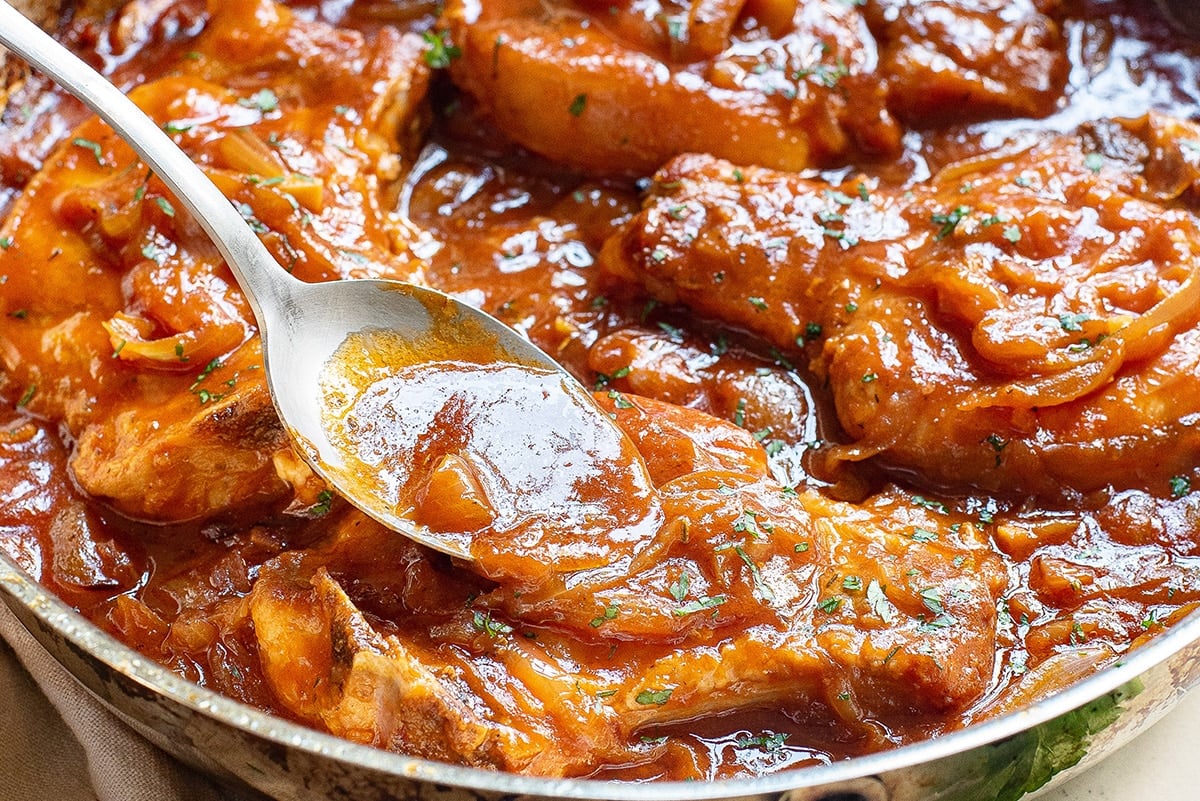 The Must-Have Ingredients
Gather these basic ingredients to create one of the best pork chop recipes you'll ever experience:
Bone-in pork chops: Opt for bone-in chops to ensure maximum tenderness and flavor.
Coarse kosher salt: Enhance the natural flavors of the pork chops and tenderize the meat with a generous sprinkle of salt.
Ground black pepper: Add a touch of fresh black pepper for a subtle spiciness.
Extra virgin olive oil: Use olive oil to achieve a beautiful sear and golden-brown crust on the pork chops.
Large white onions: The caramelized onions perfectly complement the pork chops with their sweet and savory notes.
Minced garlic cloves: Garlic adds a bold and garlicky flavor that pairs wonderfully with the richness of the dish.
Dried thyme: Infuse warmth and earthiness into the dish with dried thyme. You can also opt for fresh thyme if available.
Tomato paste: Intensify the depth of tomato flavor with a touch of tomato paste, adding a hint of tanginess to the gravy.
Cumin: Enhance the sauce's depth of flavor with the warm and aromatic notes of cumin.
Apple cider vinegar: Balance the richness of the sauce with the acidity of apple cider vinegar, imparting brightness to the dish.
Honey: While optional, a drizzle of honey provides a touch of sweetness and balances out the flavors. You can also use agave nectar as an alternative.
Low-sodium beef broth: Create a flavorful sauce using beef broth, choosing the low-sodium option to control the level of saltiness.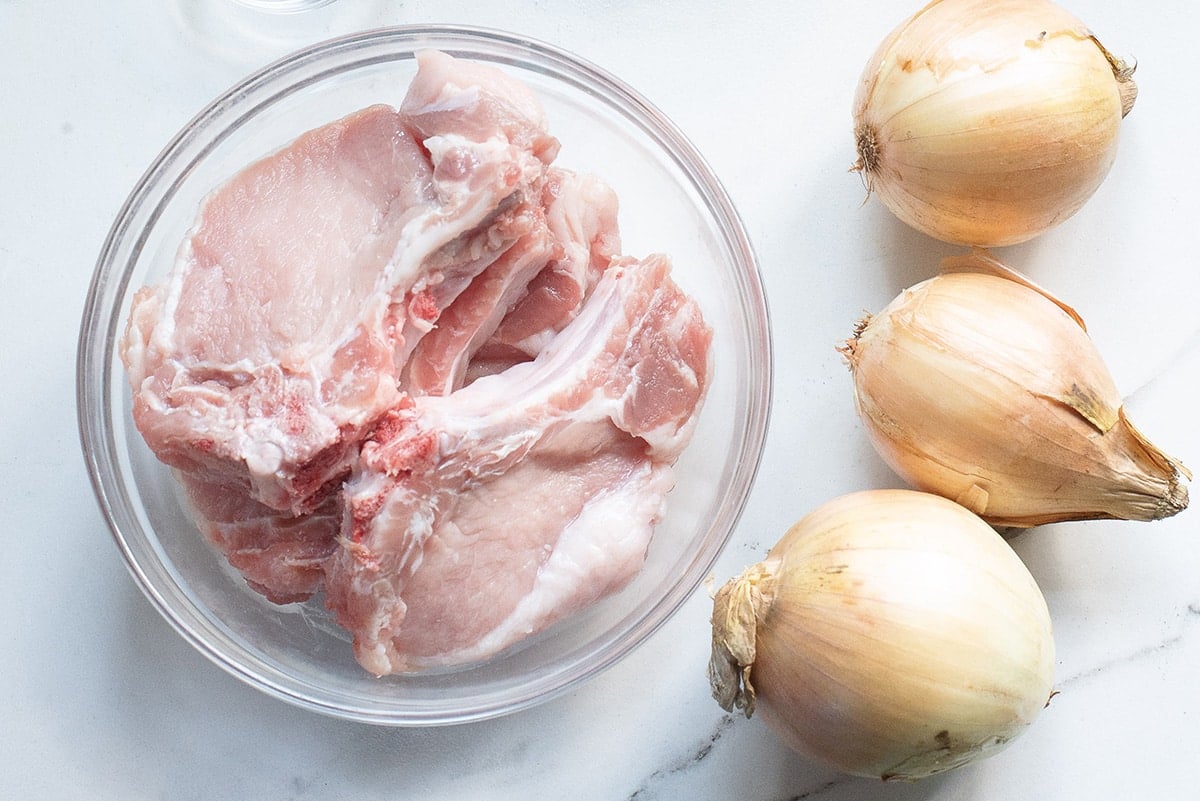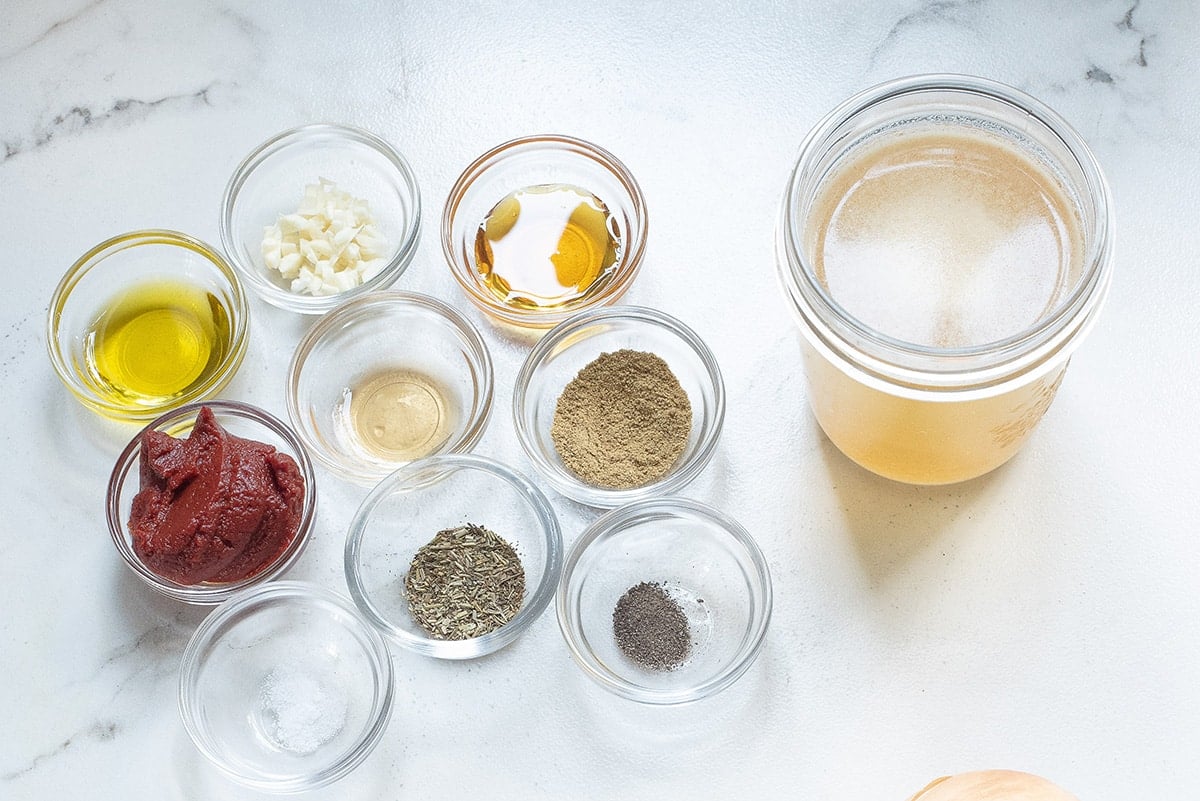 The Art of Making Smothered Pork Chops
Once you've gathered all your ingredients, follow these simple steps to create a dish that will bring joy to your taste buds:
Season: Generously coat both sides of the dry pork chops with salt and pepper. Ensuring the surface is dry will allow for a perfect sear and the development of rich flavors.
Sear: Place the seasoned pork chops in a preheated large cast iron skillet or oven-safe pan drizzled with oil. Achieve a beautiful sear on each side until golden brown, knowing that the chops won't be fully cooked at this stage.
Rest: Transfer the seared pork chops to a covered plate to keep them warm.
Make Gravy: In the same skillet, sauté the sliced onions until they turn golden brown. Add the remaining ingredients and cook briefly, stirring to combine. Be sure to scrape the bottom of the pan to incorporate the flavorful browned bits and onions.
Combine: Return the pork chops to the skillet, submerging them in the sauce, and place the skillet in a preheated oven (or follow stovetop finishing instructions).
Bake: Allow the dish to bake until the broth reduces by half.
Rest: Once the pork chops reach the desired internal temperature, remove them from the oven, let them rest briefly, and then serve.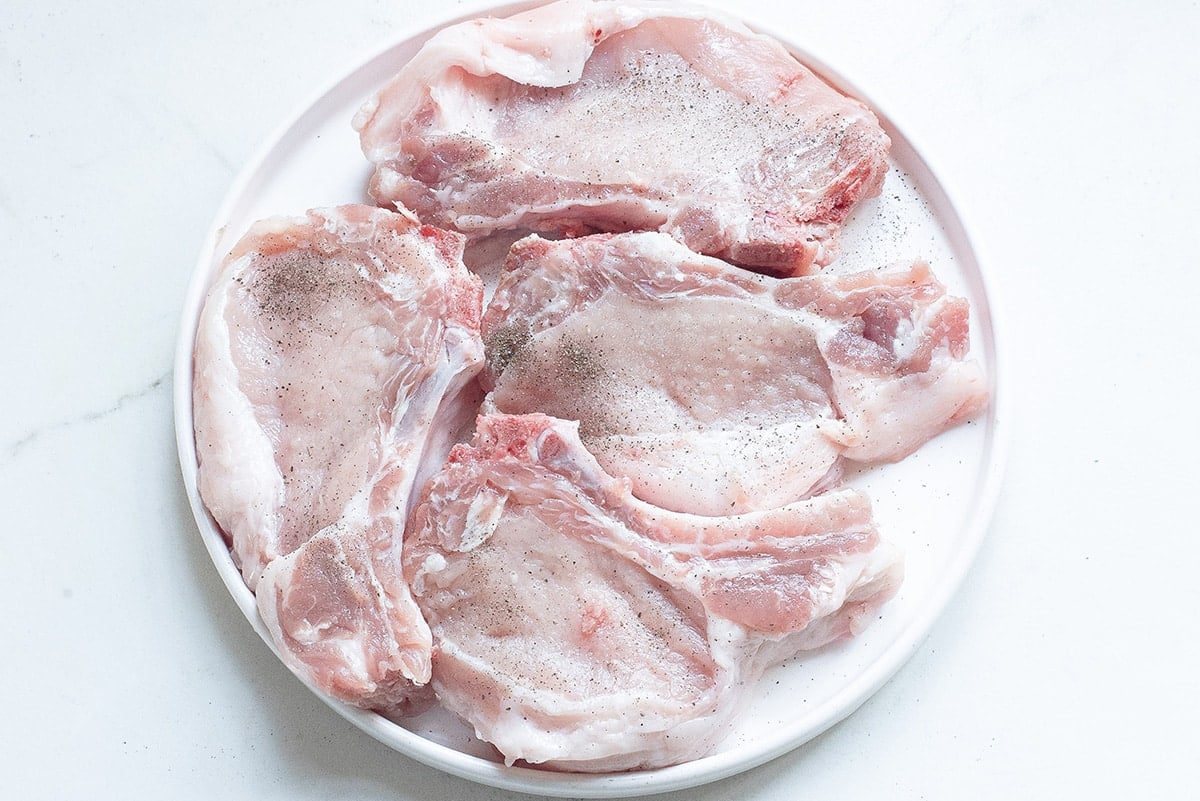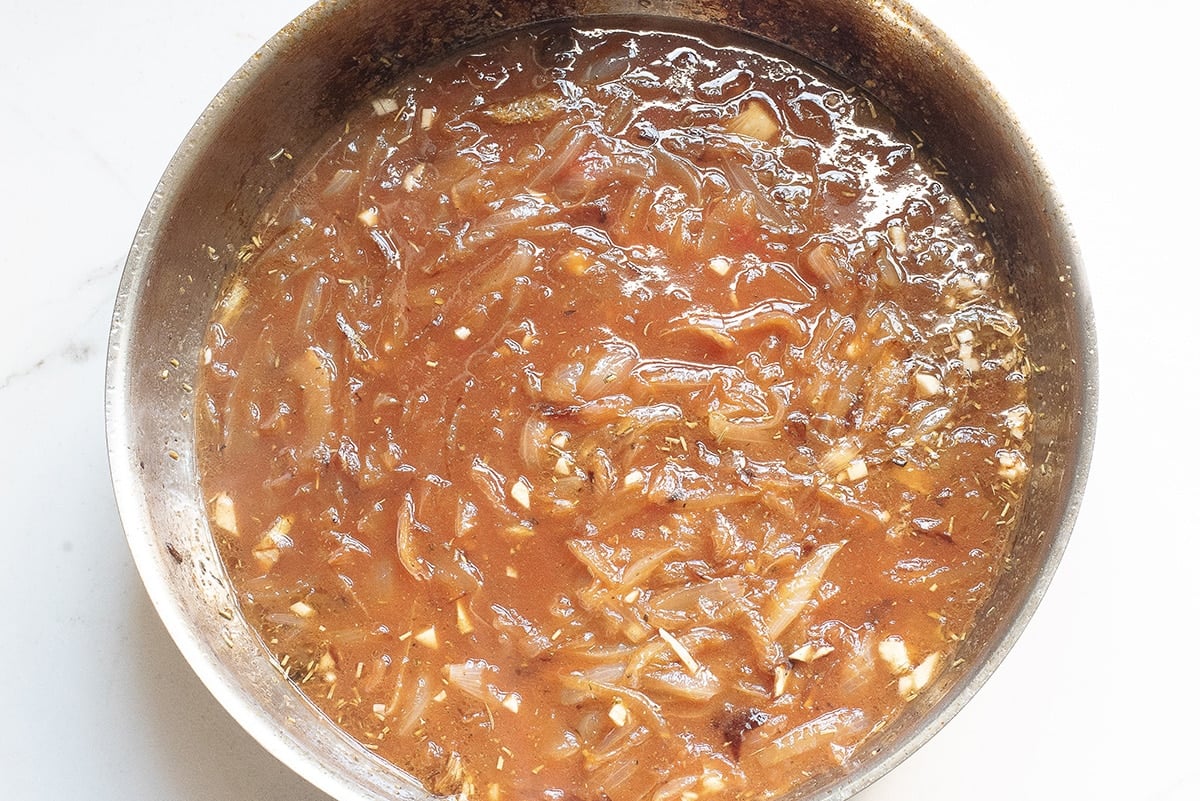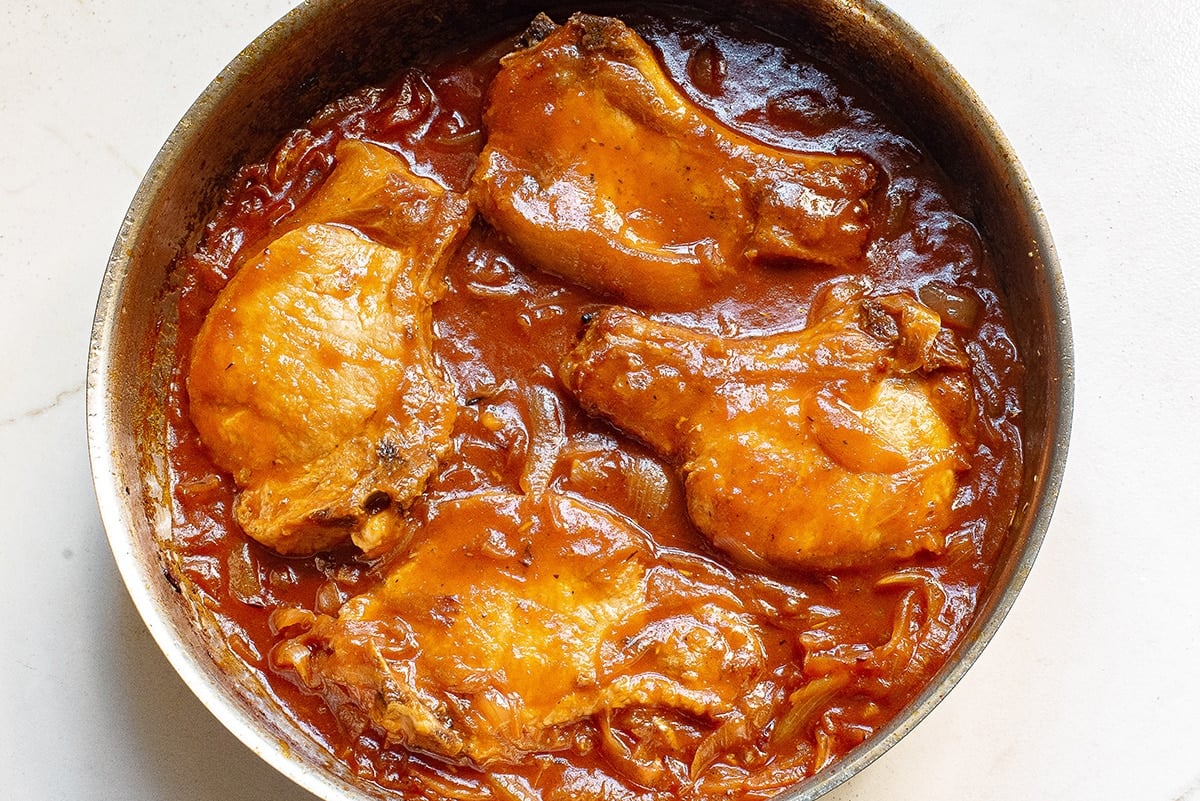 Perfect Pairings for Braised Pork Chops
These easy and tender pork chops are best enjoyed with simple side dishes. Consider serving them with brown or white rice, mashed potatoes, egg noodles, or even cheesy quinoa. Additionally, a hearty bread is an excellent choice for sopping up the delightful sauce.
If you're looking for a low-carb option, try serving the chops over mashed cauliflower or alongside vegetables such as green beans, Brussels sprouts, pan-fried broccolini, or creamed spinach.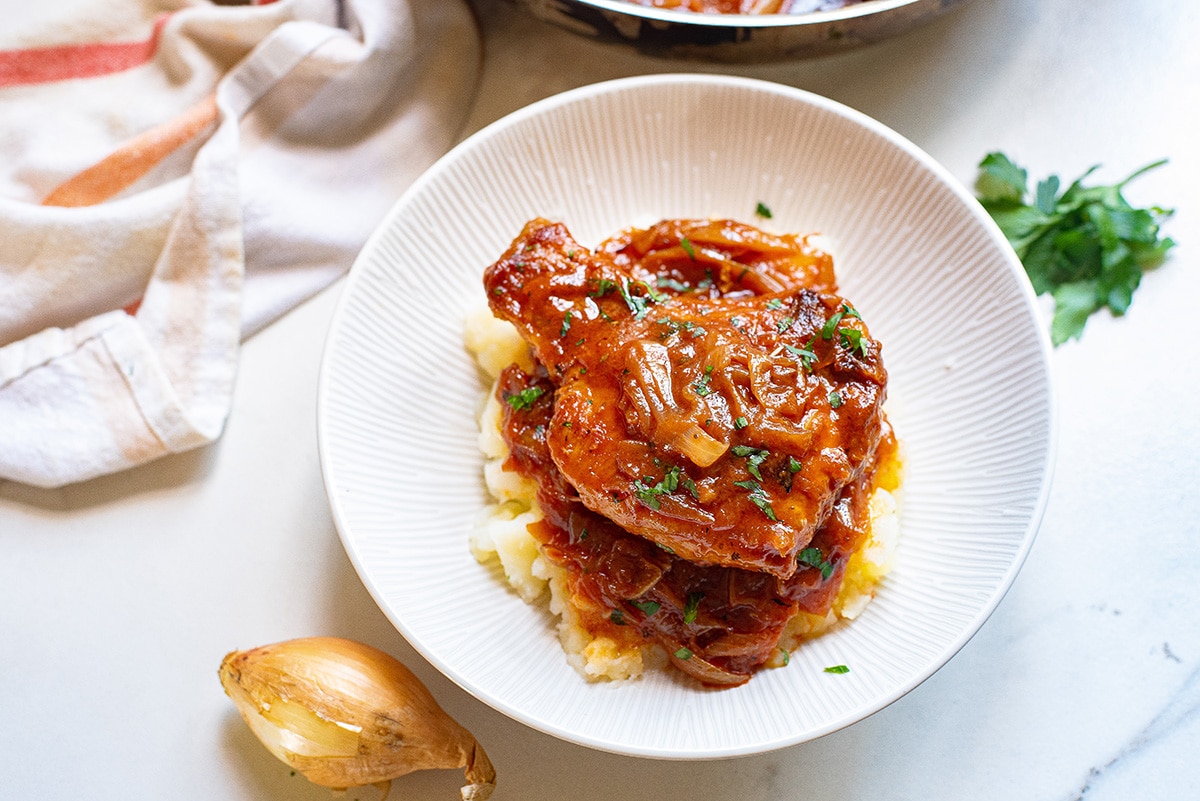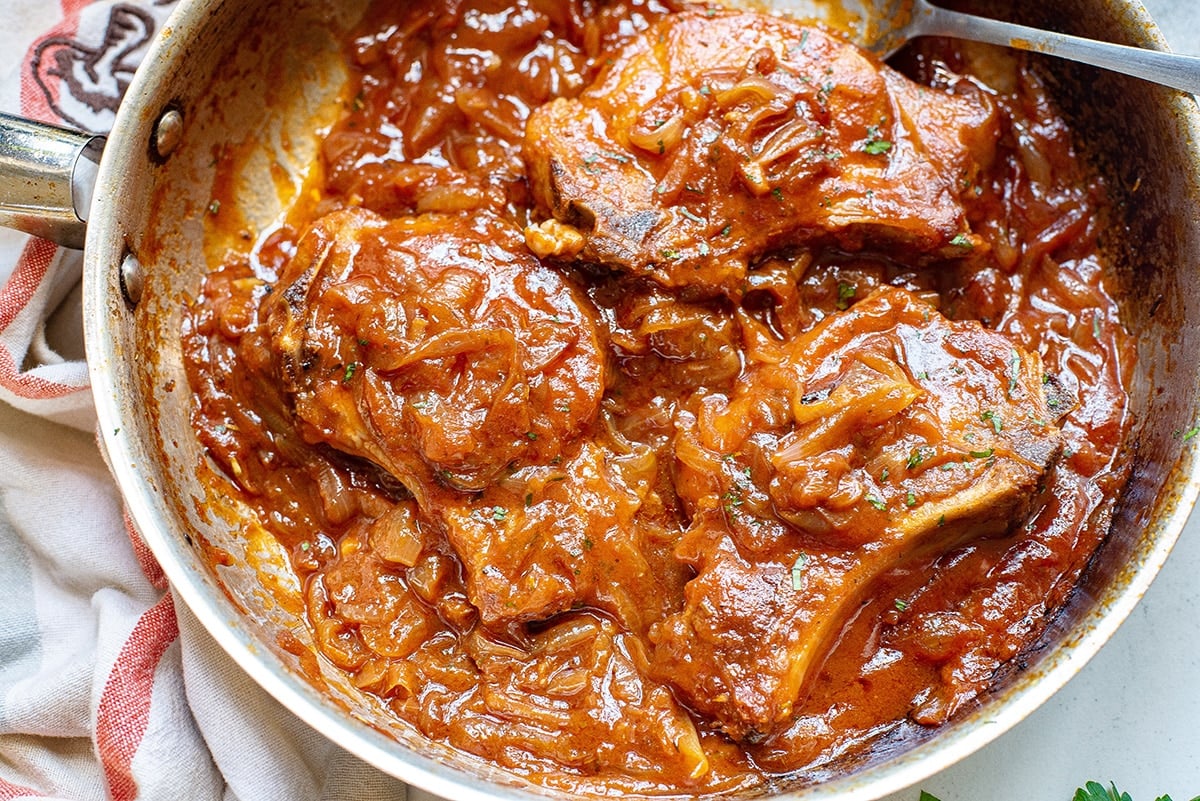 Get Creative with Variations
Put your own spin on this easy smothered pork chop recipe by exploring various options:
Meat: Swap out the pork and try bone-in chicken, turkey, portobello caps, or firm tofu for a delightful twist.
Broth: Experiment with different flavors by using chicken broth instead of beef stock.
Oil: Substitute olive oil with avocado oil or canola oil for a neutral flavor profile.
Cream: Add richness to the gravy by incorporating heavy cream or whole milk. You can also use a cornstarch slurry to thicken the sauce.
Garlic: Opt for store-bought minced garlic or garlic powder instead of fresh garlic cloves.
Vegetables: Enhance the sauce's texture by adding fresh mushrooms or other veggies of your choice.
Heat: Crank up the heat by adding chili powder or crushed red pepper flakes for a subtle kick.
Stove: If you prefer stovetop cooking, lower the heat to low, cover with a lid, and cook for 45-55 minutes until the pork chops reach desired tenderness.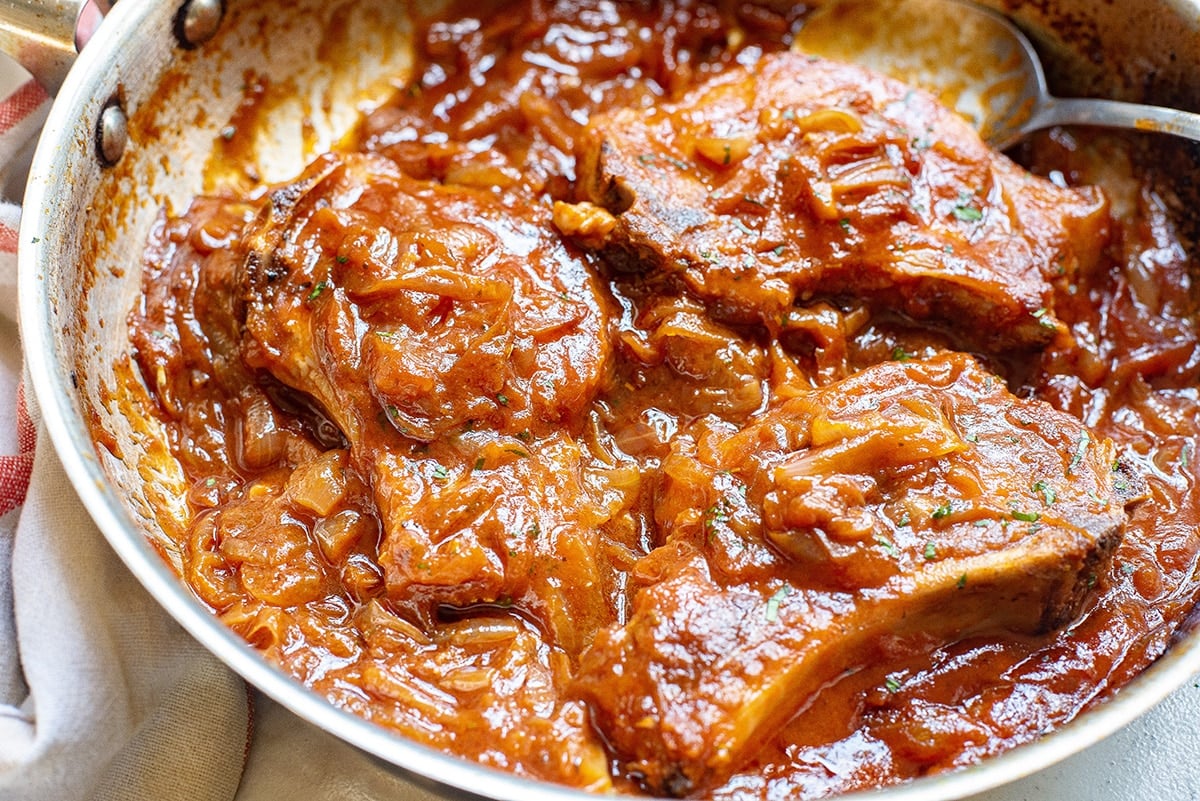 Storage Tips
Once the smothered pork chops have cooled to room temperature, you can easily store them, making this recipe perfect for meal prepping.
Refrigerator: Place the chops in an airtight container and store them in the refrigerator for up to 5 days.
Freezer: If you desire longer storage, freeze the pork chops for up to 1 month.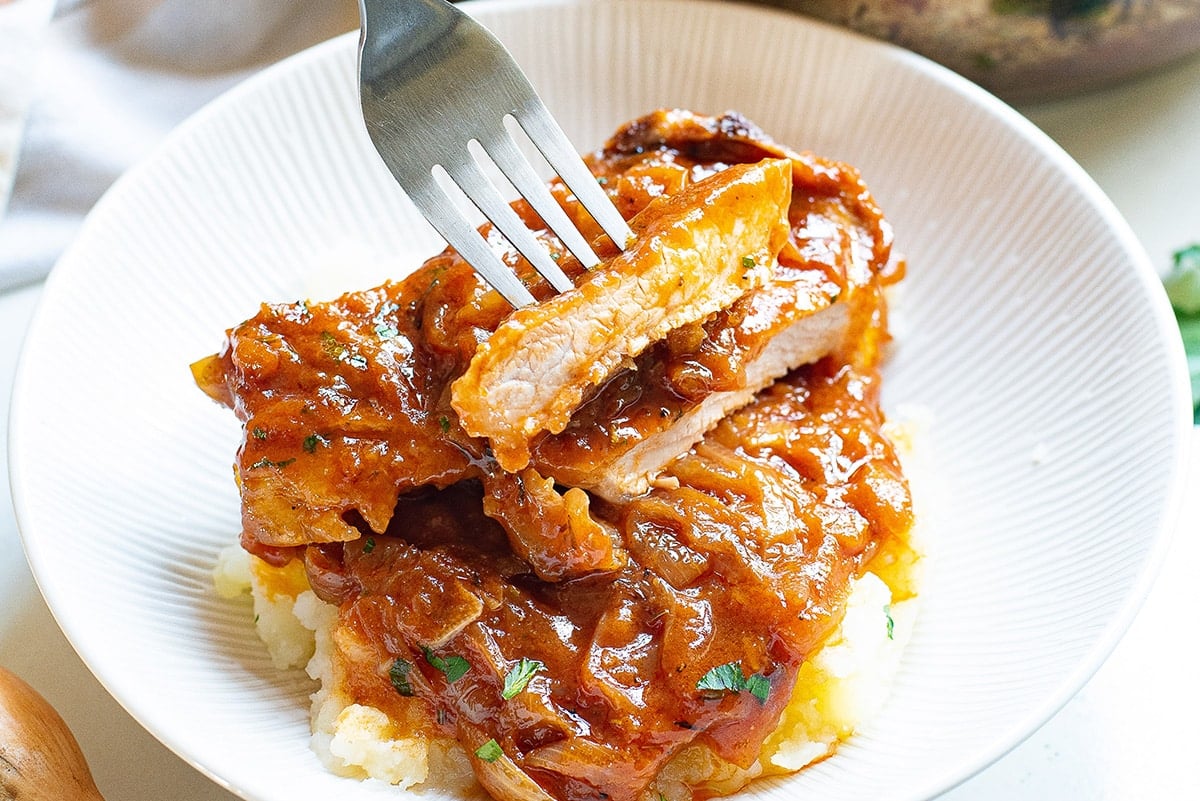 Common Questions About Smothered Pork Chops
For answers to frequently asked questions about smothered pork chops, refer to the following:
More Pork-Based Recipes
If you're a fan of pork-based dishes, here are a few more recipes that you'll undoubtedly enjoy:
Chile Verde Pork
Hawaiian Crockpot Pork Loin
Brined Pork Chops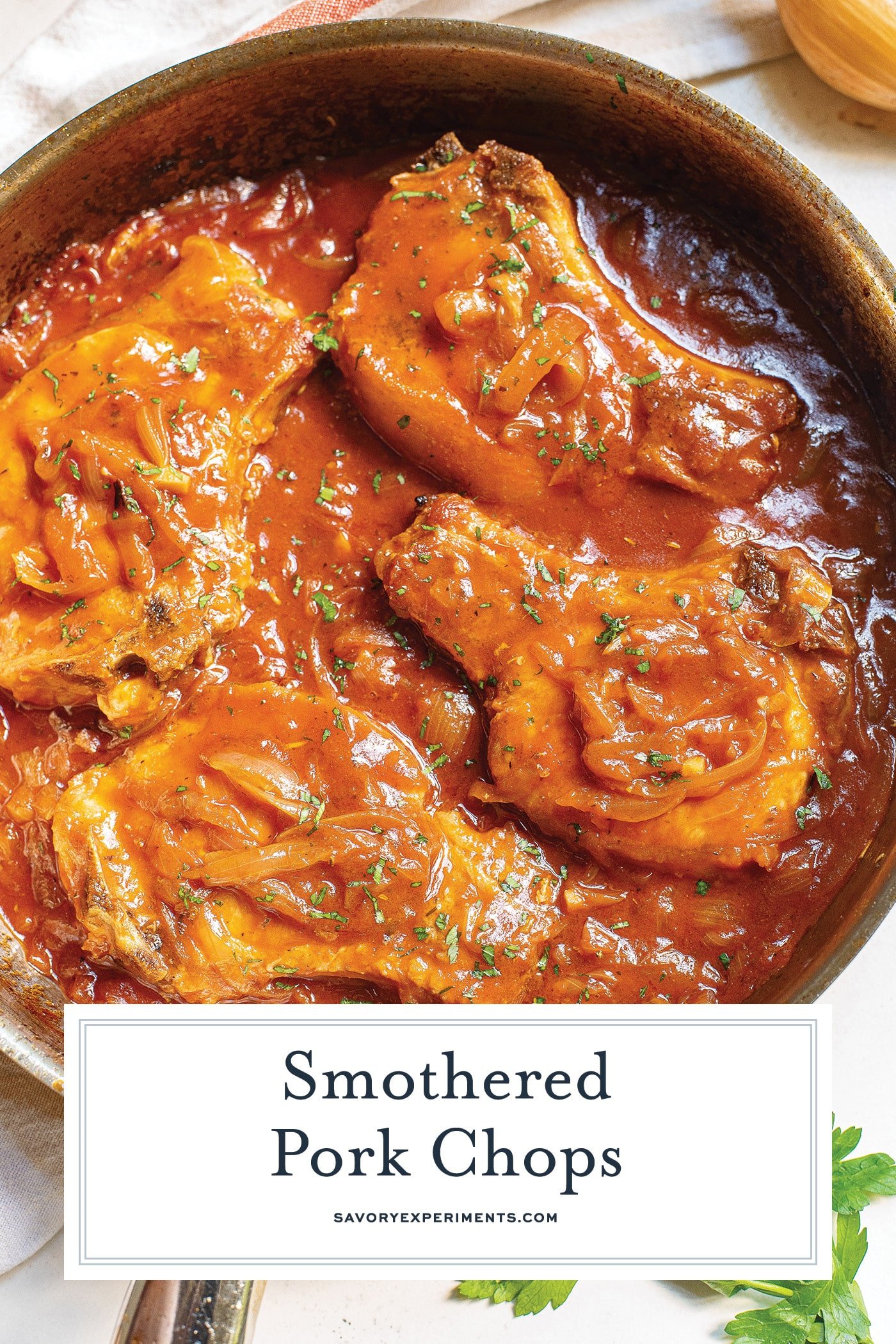 Prepare to satisfy your cravings with these sensational smothered pork chops. With their tender texture, robust flavors, and versatile accompaniments, they're sure to become a favorite on your dining table. So, gather your ingredients, follow the simple steps, and embark on a culinary adventure that will delight your taste buds. Don't wait any longer—dig in and savor the incredible flavors of these savory pork chops.
For more mouthwatering recipes, visit Rowdy Hog Smokin BBQ.