Prepare yourself for the ultimate beef experience! Indulge in the mouthwatering delight that is the Reverse Sear Cowboy Steak. This remarkable cut of beef is a thick, bone-in ribeye that is cooked low and slow in the oven until it reaches a perfectly medium-rare doneness. As a finishing touch, it is seared on a hot skillet, and a delectable garlic-herb butter is generously spooned over the top to create a rich and flavorful crust.
Unveiling the Art of Reverse Searing
The reverse sear is a game-changer, especially when it comes to larger cuts of meat. This technique involves slow-roasting the ribeye in the oven, removing it just before it reaches the desired temperature, and allowing it to rest. Before searing, a brush of oil is applied to the steak. This method provides greater control over the doneness, ensuring even cooking throughout while creating a delightful crust that will leave you craving more.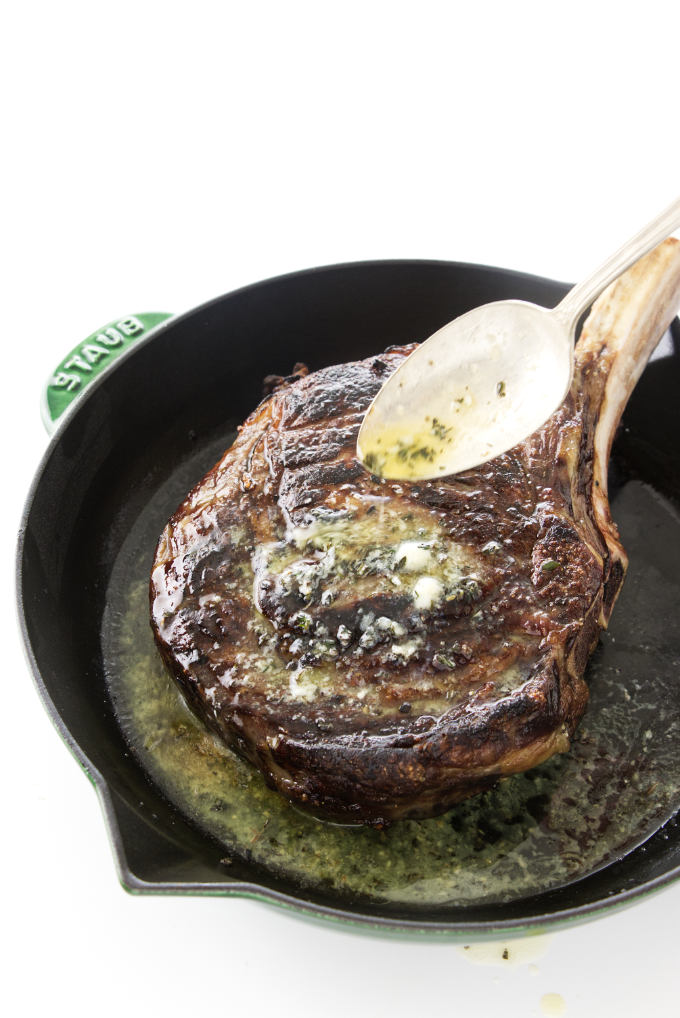 The Ingredients Needed for Success
To achieve the perfect reverse sear cowboy steak, you will only need a handful of ingredients:
Bone-in ribeye steak: This cut is a smaller portion of the prime rib roast, offering the same exquisite taste.
Coarse salt: A touch of salt brings out the rich flavors of the meat.
Canola oil: Opt for an oil with a high smoke point to ensure optimal searing. Canola oil, with its smoke point of 400°F, is an excellent choice.
For a creamy and flavorful garlic-herb butter, gather the following ingredients:
Butter
Garlic
Fresh thyme
Fresh rosemary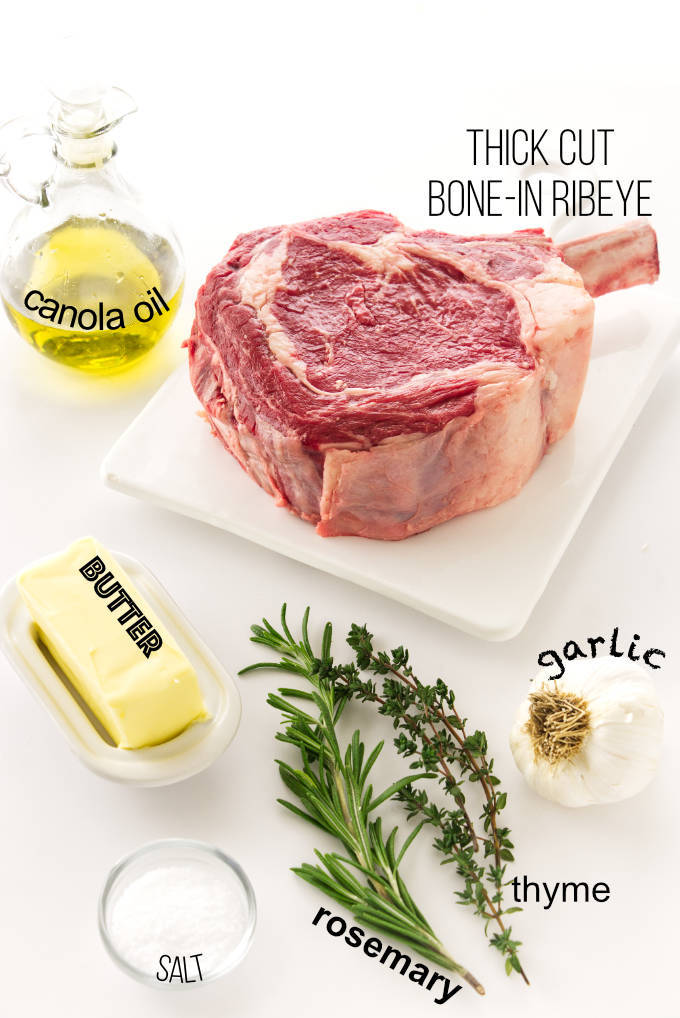 The Art of Crafting the Perfect Reverse Sear Cowboy Steak
Begin by preparing the garlic-herb compound butter, as it will enhance the flavor of your steak. Combine butter, minced garlic, chopped thyme, and chopped rosemary until well mixed. Shape the butter into a log and refrigerate until firm. Allow the butter to come to room temperature as the steak roasts.
Now, let's dive into the steps for reverse searing the cowboy steak:
Bring the steak to room temperature by letting it sit for 1 to 2 hours.
Pat the steak dry and season it with salt.
Place the steak on a wire rack and roast it in the oven until it reaches your desired doneness (refer to the temperature chart below).
Remove the steak from the oven, tent it with foil, and let it rest for 10 minutes.
Brush both sides of the steak with vegetable oil.
Heat a large skillet over medium-high heat.
Sear the steak in the hot skillet for 1 to 1-1/2 minutes on each side.
Remove the skillet from the heat. Add a slice of the garlic-herb butter and crack some black pepper on top. Baste the steak with the melted butter.
Transfer the steak to a cutting board, slice it, and savor every bite.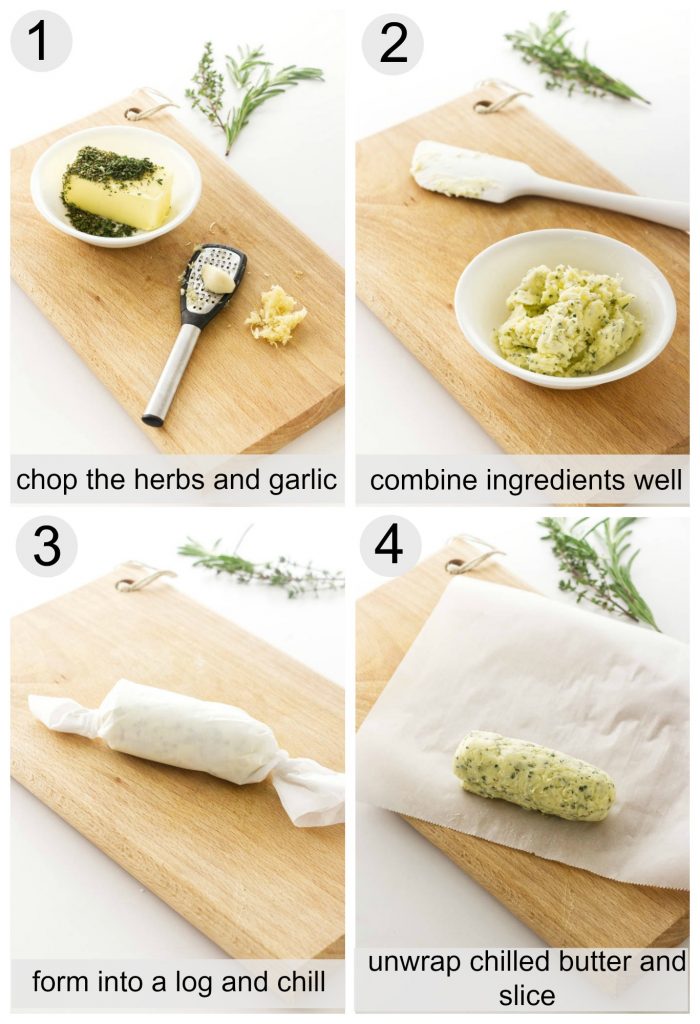 Tips for Success
To ensure your reverse sear cowboy steak is a triumph, keep these tips in mind:
Allow the steak to reach room temperature for even cooking.
Use a meat thermometer to monitor the steak's internal temperature, removing it from the oven a few degrees below your desired doneness.
Account for the continued cooking process during resting and searing.
Be prepared for some smoke when searing the steak, and ensure proper ventilation.
Remove the steak from the oven slightly earlier than your desired doneness, as it will continue to cook during basting and resting.
For precise monitoring, an instant-read meat thermometer or a leave-in meat thermometer will prove invaluable.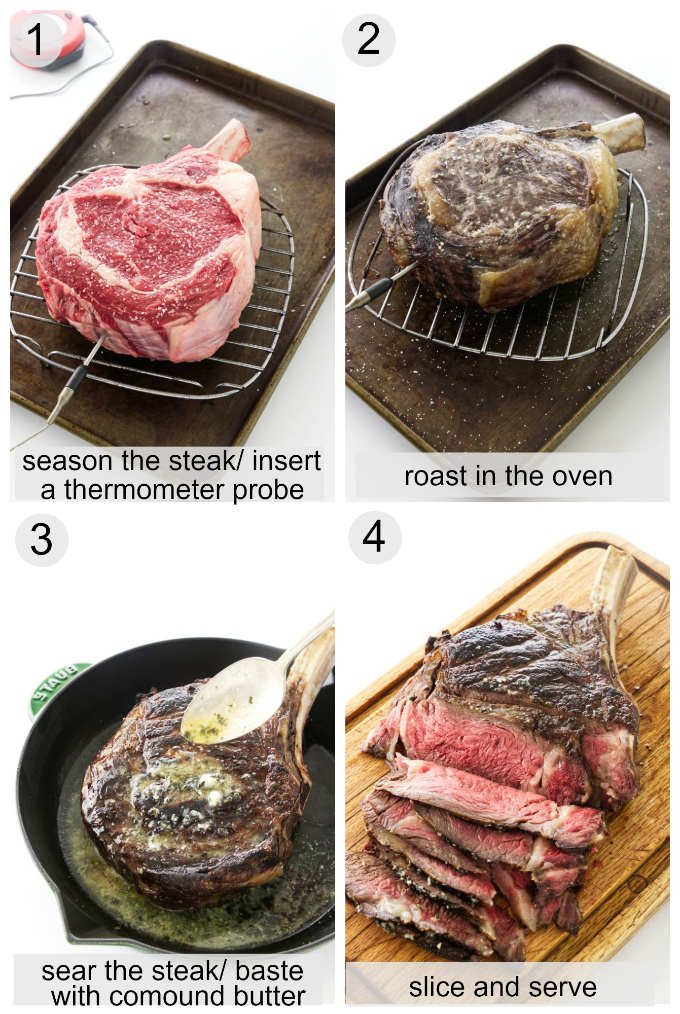 Frequently Asked Questions
To what temperature should the steak be cooked?
For a medium-rare steak, the final temperature should be 135°F. If you prefer a rare steak, aim for a temperature of 125°F.
What cut of meat is a cowboy steak?
A cowboy steak is a bone-in ribeye. It is cut from the same region as a prime rib roast, offering beautiful marbling, a thick bone, and incredibly tender and flavorful meat.
Can you reverse sear other cuts of steak?
Absolutely! The reverse sear method can be applied to any cut of steak. However, cooking times may vary, particularly for boneless and smaller cuts.
How long does compound butter last?
The garlic-herb compound butter can be stored in the refrigerator for up to 2 weeks in an airtight container or tightly wrapped in parchment. Enjoy its versatility with various roasted, grilled, or seared meats and vegetables. You can even spread it on bread for an extra burst of flavor.
How long can you keep cooked steak?
While the reverse sear cowboy steak is best enjoyed fresh, any leftovers can be tightly wrapped in plastic and stored in an airtight container in the refrigerator. Consume within 3 days to ensure optimal taste and quality.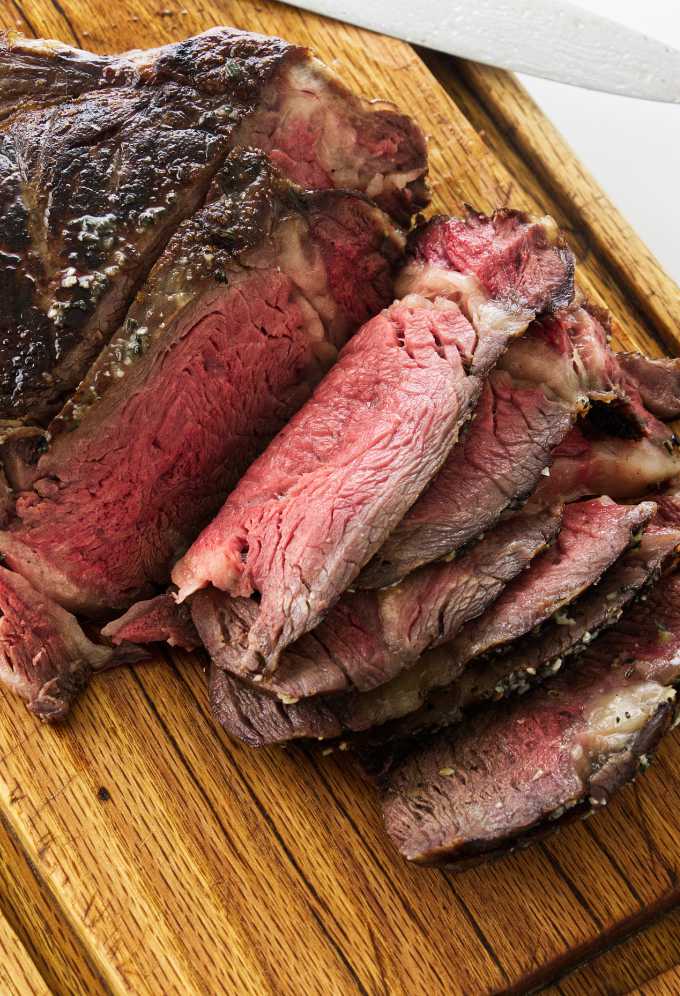 Additional Recipes You Will Love
If you can't get enough of mouthwatering delights, we highly recommend trying these recipes:
Steak and Lobster: Treat yourself to a steakhouse classic with a twist. This easy-to-make dinner for two features a perfectly cooked ribeye steak and sweet, succulent baby lobster tails, accompanied by a garlic butter sauce, fresh horseradish aioli, and lemon wedges.
Ribeye Steak in the Oven: Learn the art of cooking a ribeye steak to absolute perfection. This recipe involves a quick sear on the stovetop, followed by 5 minutes in a hot oven, and finished with a basting of buttery pan juices.
Sous Vide Bison Ribeye Steak with Peppercorn Sauce: Elevate your culinary skills with this tender, flavorful, and juicy bison ribeye steak. Cooked to perfection using a sous vide cooker, it is accompanied by a creamy peppercorn sauce that adds the perfect finishing touch.
Connect With Savor the Best
Stay updated with the latest from Savor the Best by following us on our social media accounts: Facebook, Instagram, Pinterest, Youtube, and Twitter.
Did you try this recipe? We'd love to hear about your experience! Share your thoughts and feedback in the comments below.