Are you a fan of quesadillas? If so, you're going to love this recipe for Steak Quesadillas! Made with tender leftover steak, gooey melted cheese, onions, and peppers, all wrapped in a crispy tortilla, these quesadillas are quick, easy, and absolutely delicious. Skip the takeout and save money by making these flavorful quesadillas at home for a simple lunch or dinner!
We all have leftovers after grilling, and sometimes it's just not enough for a whole meal. But fear not! With this simple steak quesadilla recipe, you can transform that leftover steak into a budget-friendly, satisfying meal that will feed the whole family. Let's dive in and explore how to make these irresistible steak quesadillas.
Ingredients
What do you need for these tasty steak quesadillas? Just a few simple ingredients:
Cooked steak – New York or ribeye works best, about 1 to 2 cups of steak.
Cheese – A blend of Mexican, cheddar, Colby Jack, and Monterey Jack cheese adds the perfect melty goodness.
Onion – Use a yellow or white onion for flavor.
Bell pepper – Opt for a red or yellow bell pepper to add flavor, color, and crunch.
Jalapeño pepper – If you like some heat, add this optional ingredient.
Taco seasoning – Homemade or store-bought, it's up to you!
Large flour tortillas – They work better for quesadillas than corn tortillas.
How to Make Steak Quesadillas
Let's get cooking! Follow these simple steps to make the perfect steak quesadillas:
Start by cutting the steak into bite-sized pieces. Chop the onion, bell pepper, and jalapeño pepper, if using. (Here's a time-saving tip: Keep chopped onions in the freezer for easy prep!)

Sauté the onion, jalapeño pepper, and bell pepper in a large skillet over medium heat until slightly soft.

Add the steak and taco seasoning to the skillet and cook until the steak is just heated through. Be careful not to add too much liquid, as it can make the quesadilla soggy.
Set the meat mixture aside. Heat a griddle or skillet with a little bit of oil (olive oil, avocado oil, or vegetable oil) and rub it over the surface using paper towels.

Place a tortilla on the skillet for a few seconds, then flip it over. This helps the cheese melt faster.

Add about half a cup of cheese to half of the tortilla. Spoon a third of the meat mixture over the cheese, and top it with a little more cheese.
Carefully fold one side of the tortilla over so that the ends meet. Gently press down with a spatula to help the cheese melt.

Flip the folded tortilla over to crisp up the second side.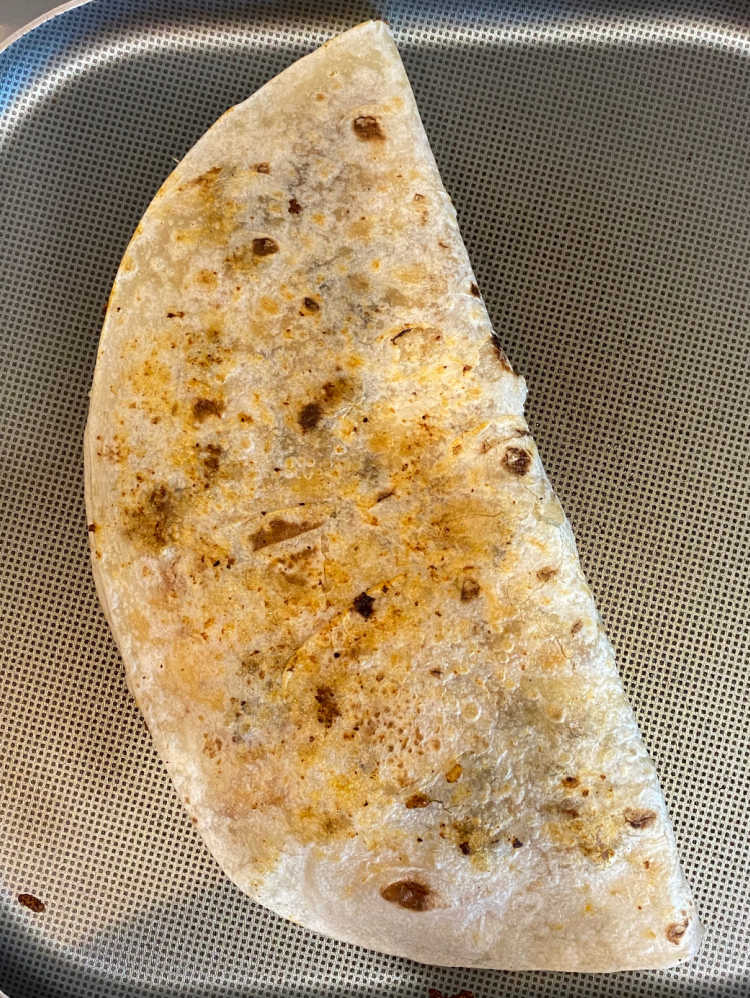 Once both sides of the quesadilla are brown and crisp, and the cheese is melted, remove it from the skillet and serve immediately or keep warm in the oven.

Repeat the process for the remaining tortillas and meat mixture. You should have enough to make 3 delicious quesadillas.

Use a pizza cutter or a sharp knife to slice the quesadillas into thirds or fourths.
Quesadilla Toppings
While these beef quesadillas are delicious on their own, you can take them to the next level with some mouthwatering toppings. Try homemade salsa, guacamole, pico de gallo, queso, and sour cream. The combination of flavors will leave you craving more!
How to Store and Reheat
If you have any leftover steak quesadillas, store them in an airtight container in the refrigerator for up to 4 days. You can also freeze them for up to 3 months. To reheat and maintain their crispy texture, warm them up in a pan on the stovetop. But if you don't mind sacrificing some crispiness, you can reheat them in the microwave.
Recipe Variations
Feel free to get creative with this steak quesadilla recipe! Here are a few variations to try:
Use your favorite type of steak, such as flank steak or skirt steak, if you don't have any leftovers. Just cut the meat into thin strips and cook them in a large skillet. You can also grill the steak indoors if you have an indoor grill.
To stretch your steak leftovers further, add black beans, corn, and more fresh veggies to the quesadillas.
If you don't have taco seasoning, season the steak with garlic powder, black pepper, salt, and ground cumin.
Conclusion
These mouthwatering steak quesadillas are a fantastic way to repurpose leftover steak. With their delicious blend of flavors and textures, they are sure to satisfy your cravings. Whether you're looking for a quick lunch or an easy weeknight dinner, these quesadillas are a fantastic choice. So gather your ingredients, fire up the skillet, and enjoy the best steak quesadillas you've ever had!
For more mouthwatering recipes and cooking inspiration, be sure to visit Rowdy Hog Smokin BBQ. Happy cooking!