Imagine enjoying a mouthwatering steak dinner without the hassle of going out to a fancy restaurant. With this simple and delicious Sizzle Steak recipe, you can create a family-friendly meal that will satisfy both adults and kids. The best part? It only takes a few minutes of cooking time, making it the perfect option for busy weeknights. So, let's dive in and discover how to make this juicy and flavorful steak.
Sizzle Steak – A Time-Saving Delight
Recreating the experience of a steakhouse meal at home can be time-consuming. But fear not! Our Sizzle Steak recipe is here to save the day. In just 6 minutes of actual cooking time, you can enjoy all the juicy and seasoned flavors of a steakhouse dinner. The secret lies in a flavorful marinade that transforms affordable cuts of beef into a sizzling steak delight. Plus, you only need one pan for this recipe, making cleanup a breeze.
Why You'll Love This Recipe
Hands Off – Once you marinate the beef, your work is done until it's time to cook. This gives you plenty of time to prepare some easy and delicious side dishes to complement your Sizzle Steak.
SUPER Quick – Even if you marinate the beef for just 15 minutes, you'll still end up with tender and delicious meat. With a quick 6-minute cooking time, you'll have a satisfying meal on the table in no time.
Tender & Juicy – The marinade acts as a tenderizer, turning potentially tough cuts of beef into a magnificent dining experience. The flavors from the marinade, with its mix of acids and salts, create a burst of taste that you'll love.
Versatile – There are so many ways to serve this steak. Whether you want to make sizzle steak sandwiches or feed the whole family with a single dish, the options are endless.
Easy Cleanup – By marinating the beef in a bag, you can simplify the cleaning process. Once you're done cooking, you'll only have one pan to wash.
Delicious Pairings for Sizzle Steak
The seasoning in this Sizzle Steak recipe goes wonderfully with a variety of traditional side dishes. Here are a few ideas to inspire you:
Side Dish Ideas
Potatoes – Creamy Mashed Potatoes or Oven Baked Wedges make for a classic and comforting side.
Green Salad – A fresh green salad with tomatoes, shredded carrots, and croutons, dressed with Balsamic Vinaigrette, Italian dressing, or Blue Cheese Dressing, adds a healthy touch to your meal.
Roasted Vegetables – Whether it's Perfectly Roasted Mixed Veggies, Crispy Brussels Sprouts, Baked Asparagus, or Roasted Green Beans, roasted vegetables are always a crowd-pleaser.
Bread – Garlic Bread, Pesto Cheese Bread, No Yeast Rolls, or Garlic Cheese Bread are all perfect accompaniments to a simple steak dinner.
Easy Casserole – For a heartier side, consider Jiffy Corn Casserole, Southern Squash Casserole, or Green Bean Casserole to add classic flavors to your meal.
You can choose one or combine a few sides to create a wholesome and satisfying dinner.
Tips and Tricks for the Perfect Sizzle Steak
To ensure your Sizzle Steak turns out perfect every time, here are a few tips and tricks:
Marinade means tenderness – Let the beef marinate for at least 15 minutes, allowing the flavors to penetrate the meat. If you have more time, marinating it overnight in the fridge will result in even more delicious flavors.
Separate the Meat – Since thin cuts of beef tend to stick together, be sure to work the marinade around the slices, ensuring they are fully immersed and coated in the flavorful mixture.
Remove from liquid to cook – When it's time to cook, resist the temptation to pour the marinade into the pan with the steak. Instead, use tongs to remove each slice from the marinade and place it in the pan. This will allow the steak to caramelize and develop a lovely sear.
Use a large pan – Opt for a large sauté pan or skillet to cook your Sizzle Steak. Cooking the steak in a single, uncrowded layer will result in better caramelization. If your pan isn't large enough, cook the steak in batches to avoid steaming it.
Cook over high heat – Start with high heat and hot oil to quickly sear the beef without overcooking it. This will develop a flavorful crust while keeping the center tender and juicy.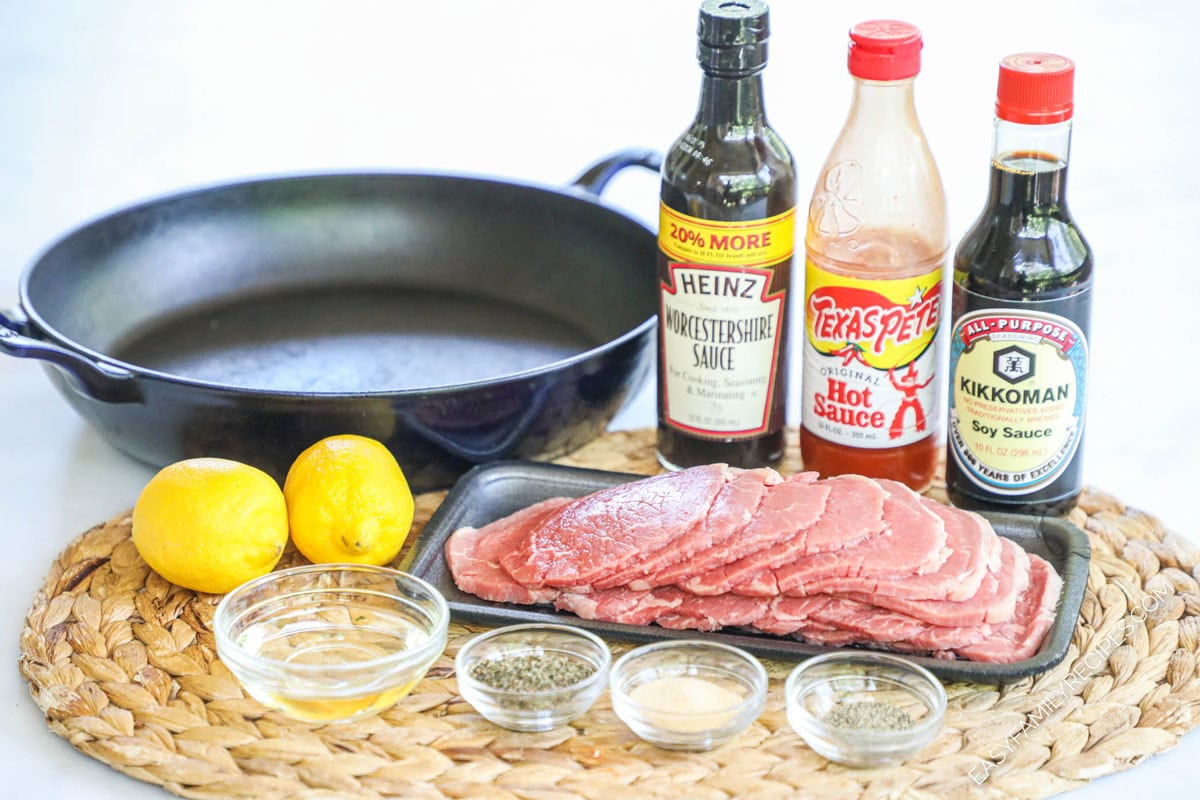 Recipe Shortcuts
For those times when you're short on time, here are a couple of shortcuts to make the Sizzle Steak recipe even quicker:
Marinate the night before – If you marinate the beef the night before, you'll only need a few minutes to get this sizzling steak on the dinner table. The extra marinating time allows the flavors to intensify, resulting in an even more delicious meal.
Recipe Variations
If you're looking to add some variety to your Sizzle Steak, here are a few easy variations:
Sizzle Steak Stir Fry – Thinly slice bell peppers and onions, add crushed garlic and green beans, and cook them together in a hot pan for 4-5 minutes until tender. Then cook the steak as directed in the recipe. Finally, combine the cooked steak and vegetables, and serve over rice.
Sizzle Steak Sandwiches – Lightly toast bread or buns, spread with mayonnaise, and cook the steak as directed. Sprinkle shredded cheddar or Monterey jack cheese over the steak while it's still hot to let it melt. Spoon the cheesy steak onto the bread, add lettuce and tomatoes, and serve.
Sizzle Steak with Mushrooms and Onions – Caramelize sliced mushrooms and onions in a hot skillet with a pinch of salt and pepper. Set them aside, cook the steak according to the recipe, and then add the mushrooms and onions back into the pan in the last minute of cooking. Stir to combine everything.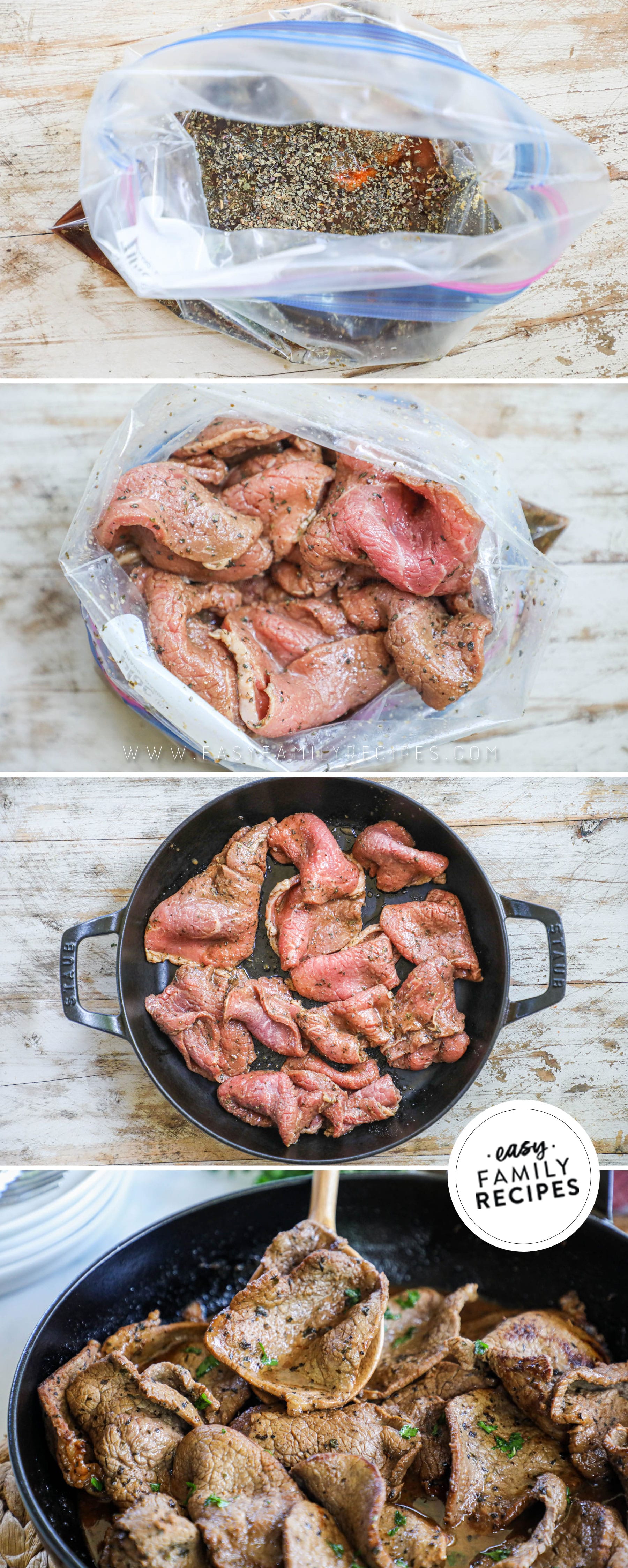 Freezer Meal Instructions
Did you know that you can turn this Sizzle Steak recipe into a freezer meal? Here's how:
Make the marinade in a freezer-safe bag or container.
Add the steak, ensuring that the pieces are separated and coated with the marinade.
Seal the bag or container and lay it flat in the freezer.
When you're ready to cook, thaw the steak in the fridge overnight.
Cook as directed in the recipe.
Leftover Ideas
If you find yourself with leftover Sizzle Steak, don't worry. They can be easily transformed into another delicious dish. Here are a few ideas:
Sizzle Steak Pasta – Boil pasta, prepare a pot of homemade alfredo sauce or heat up your favorite store-bought brand, and toss the cooked pasta, sauce, and chopped leftover Sizzle Steak together for a delightful pasta dish.
Sizzle Steak Salad – Combine lettuce, sliced leftover Sizzle Steak, tomatoes, shredded cheddar cheese, corn, and avocado chunks in a bowl. Serve with a homemade buttermilk ranch or blue cheese dressing for a refreshing salad.
Sizzle Steak Fajitas – Sauté onions and peppers, make a quick guacamole, warm up some flour tortillas, and gently reheat the steak. Assemble everything inside the tortillas and serve with Mexican rice on the side.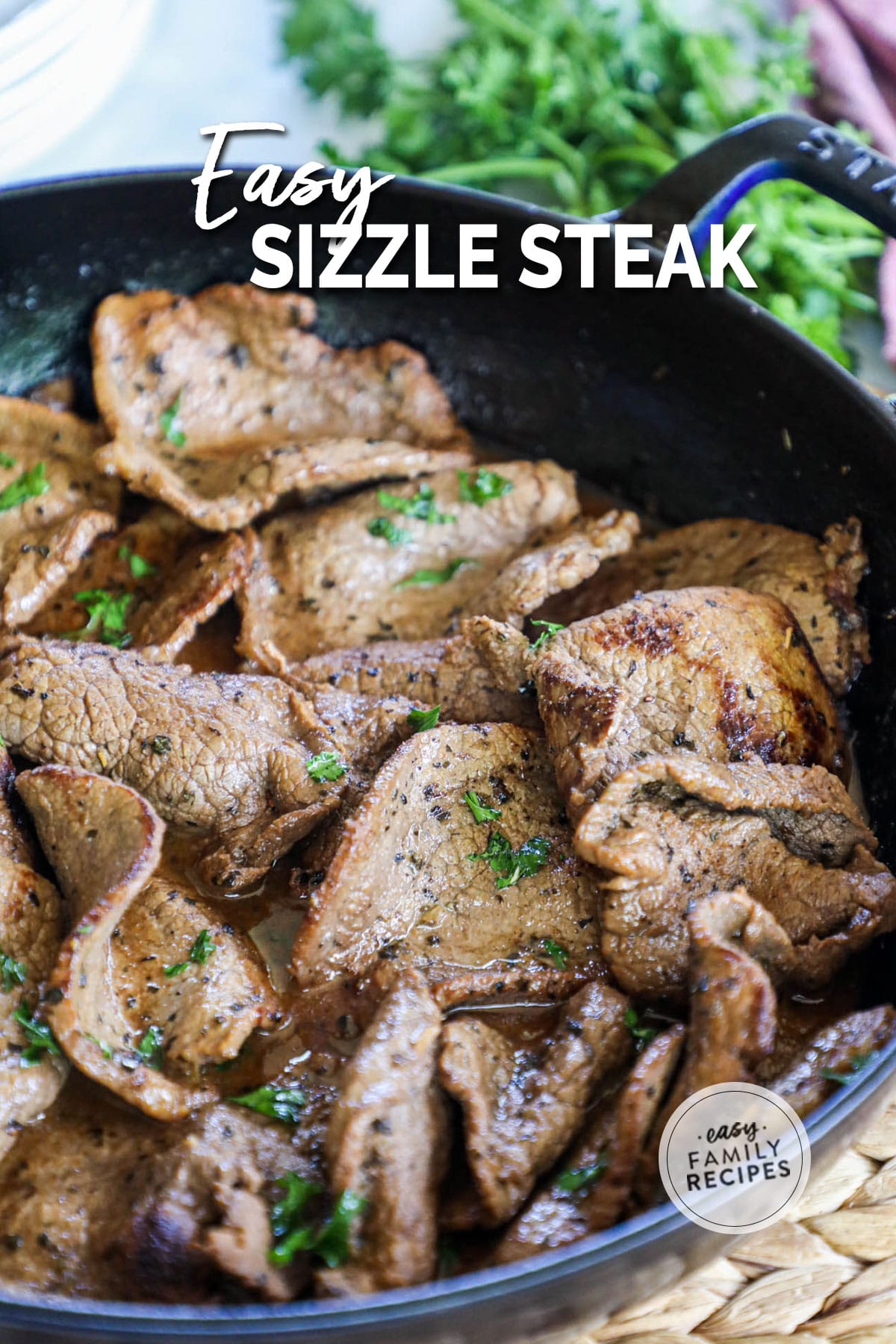 More Beef Dinner Recipes
If you loved this Sizzle Steak recipe and are looking for more easy and delicious beef dishes, here are a few recommendations:
Baked Crispy Ground Beef Tacos
Sheet Pan Southern Meatloaf
Brisket Grilled Cheese Sandwich
Ground Beef Enchilada Casserole
Now you have all the tools and inspiration to create the perfect Sizzle Steak dinner. So, grab your apron, fire up the stove, and get ready to enjoy a quick, easy, and flavorful meal with your loved ones.
Remember to visit Rowdy Hog Smokin BBQ for more delicious recipes and barbecue inspiration.