If you're tired of spending hours in the kitchen and want a delicious meal that can be prepared in no time, then look no further. These mouthwatering ranch pork chops require just two simple ingredients – cream of chicken soup and dry ranch seasoning. The ranch dressing mix infuses each pork chop with its distinctive flavor, leaving your family craving for more. So, the next time you're searching for a quick and hassle-free weeknight dinner, this recipe is your answer!
Why You Should Try This Irresistible Ranch Pork Chops Recipe
If you struggle with weeknight dinner ideas, you'll absolutely love this enticing meal option. With only four ingredients on your grocery list, including the fresh parsley garnish, you won't have to worry about breaking the bank. Plus, the preparation and cooking times are incredibly quick and easy. Although the baking time might seem short, you can simply toss the ingredients into a crockpot and be on your way. This recipe is a hit for the whole family, even the little ones. Leftovers are unlikely, but if you happen to have any, they make a delightful next-day meal.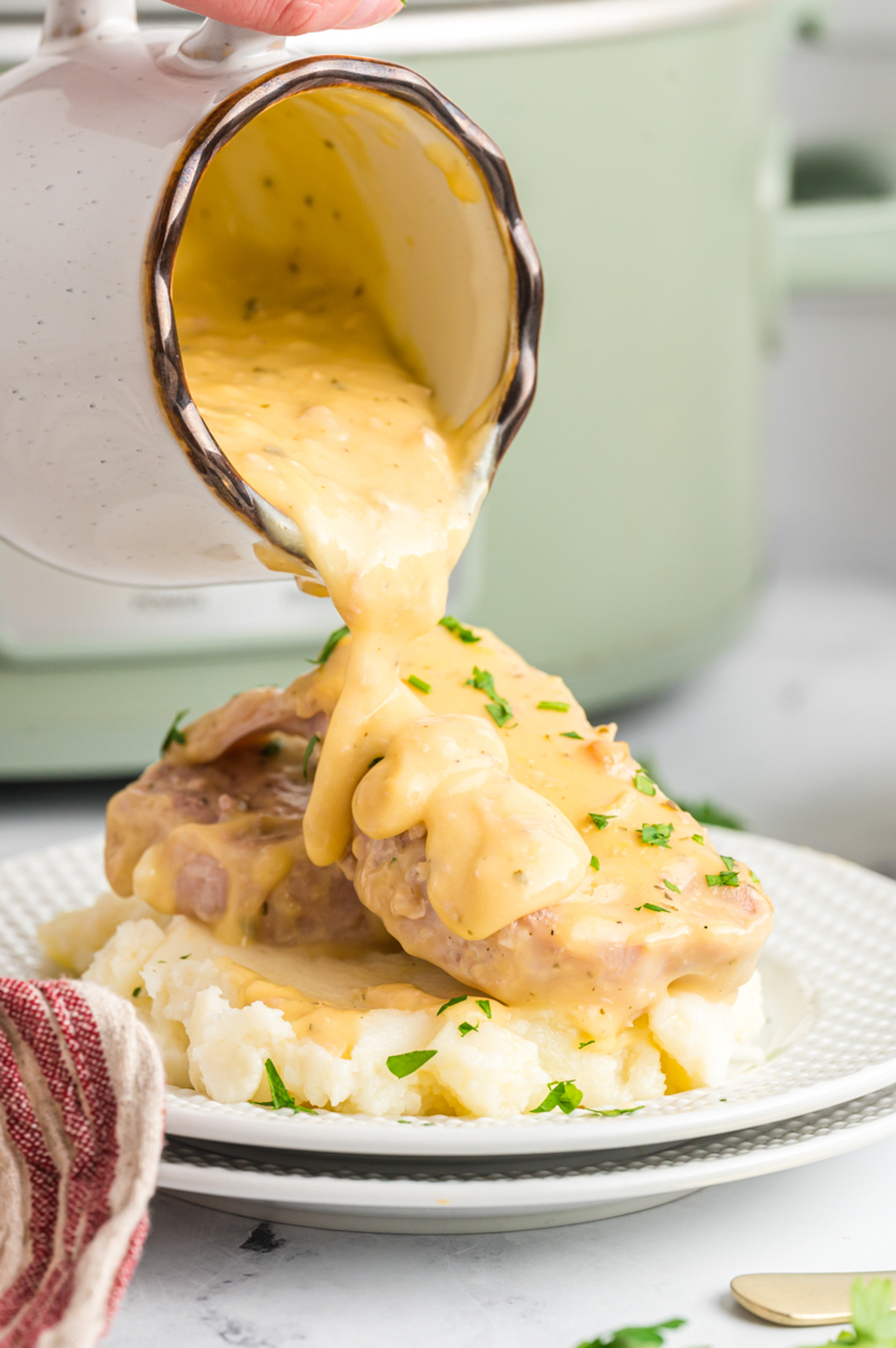 Recipe Ingredients
To make these heavenly ranch pork chops, you'll need the following ingredients:
Pork Chops: Opt for center-cut pork chops, with at least 2 pounds if serving a small family.
Cream of Chicken Soup: Two cans of soup will ensure the chops are completely covered. No need to add water or milk.
Ranch Seasoning: I prefer Hidden Valley Ranch, but feel free to use any brand you prefer.
Garnish: Finely chopped fresh parsley adds the perfect touch to these chops and any accompanying side dishes.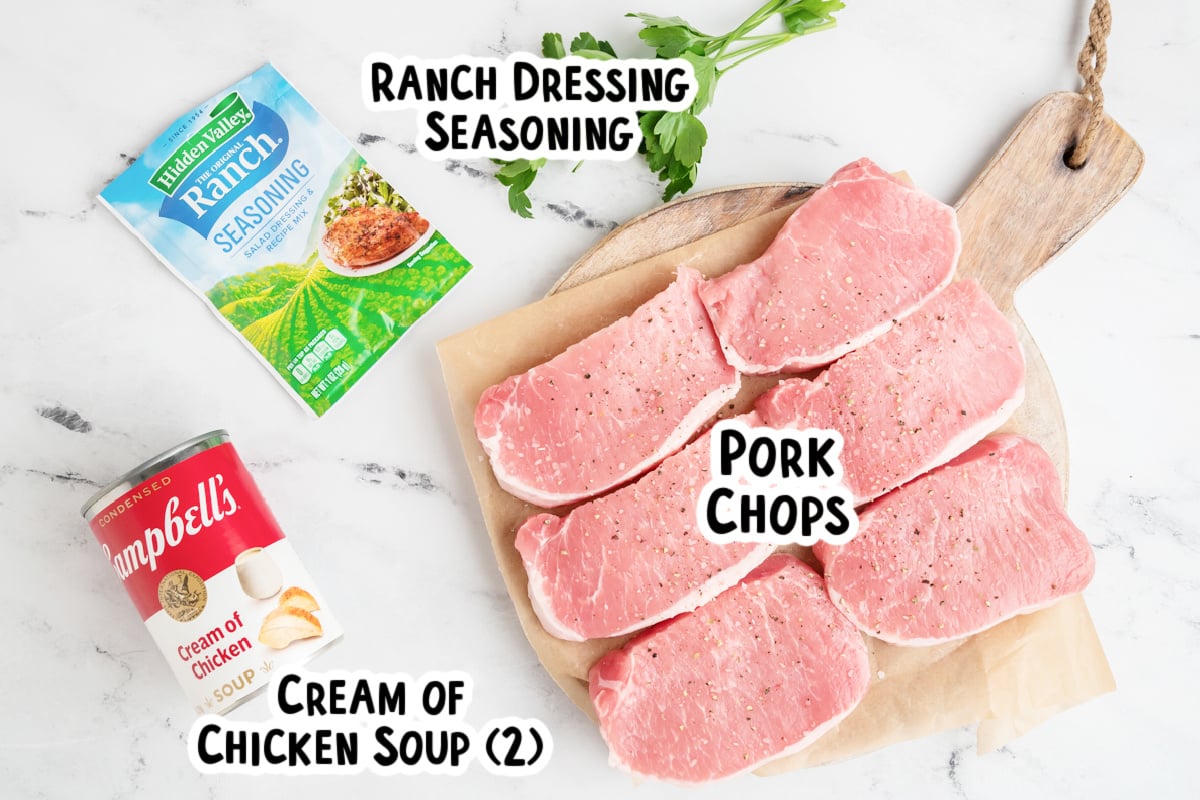 Step-by-Step Directions
Preparing these delectable ranch pork chops is a breeze. Just follow these simple steps:
Step One – In a medium-sized bowl, combine the ranch seasoning mix and cans of chicken condensed soup.
Step Two – Arrange the pork chops in your slow cooker, ensuring they lie flat. It's perfectly fine if they touch.
Step Three – Evenly spread the ranch dressing mix over the pork chops, ensuring they are completely covered.
Step Four – Cover and cook the chops on HIGH for 3 hours or LOW for 4-5 hours. Once cooked, remove the pork chops from the slow cooker and mix the sauce well. Serve immediately with your choice of sides and savor the flavors!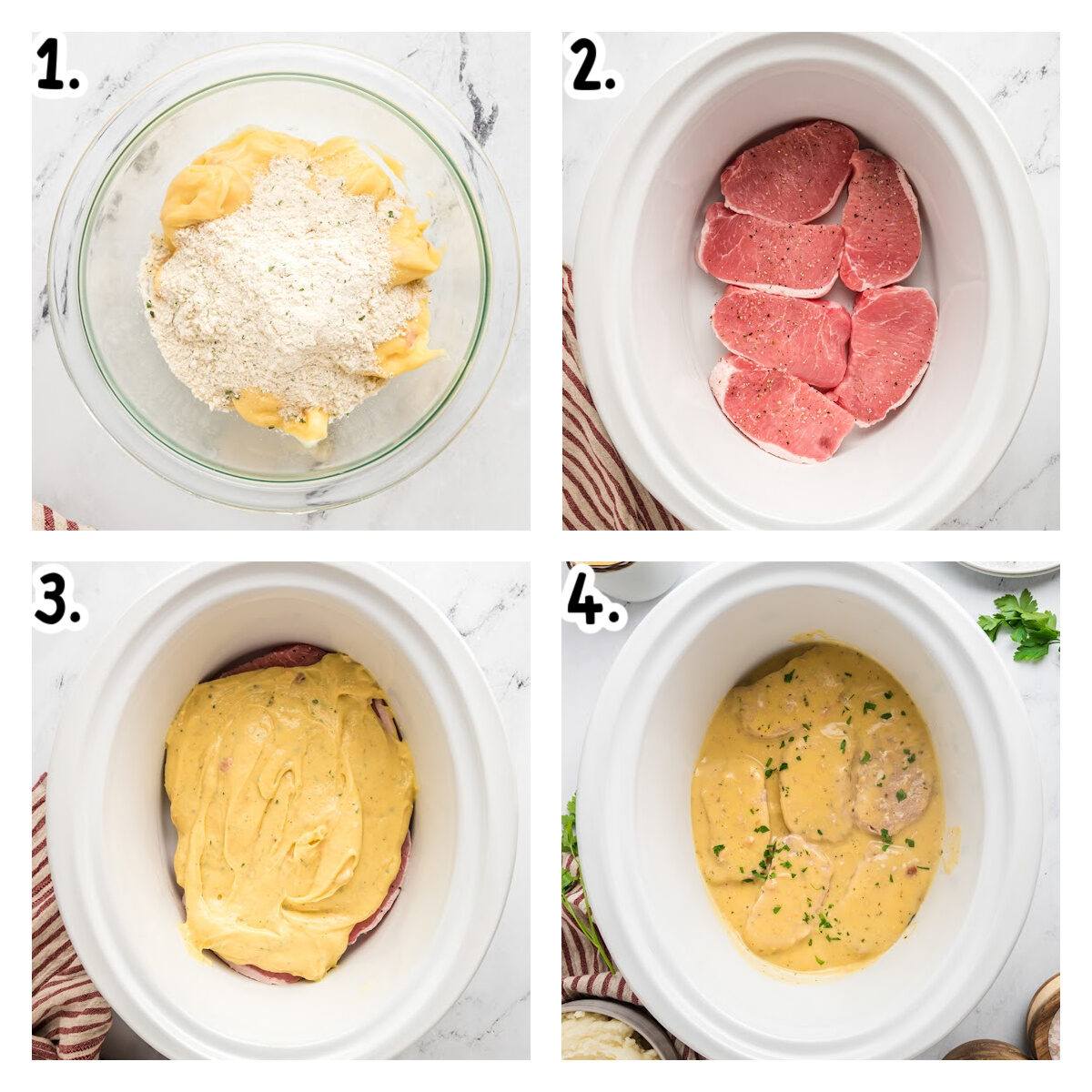 How to Serve
There are several delightful ways to serve these succulent ranch pork chops:
Serve the pork chops with the sauce and garnish with fresh parsley.
Accompany them with mashed potatoes or rice for a complete and satisfying meal.
For a lighter option, pair them with a crisp side salad and steamed fresh vegetables.
Indulge in the irresistible combination of dinner rolls slathered in honey and butter.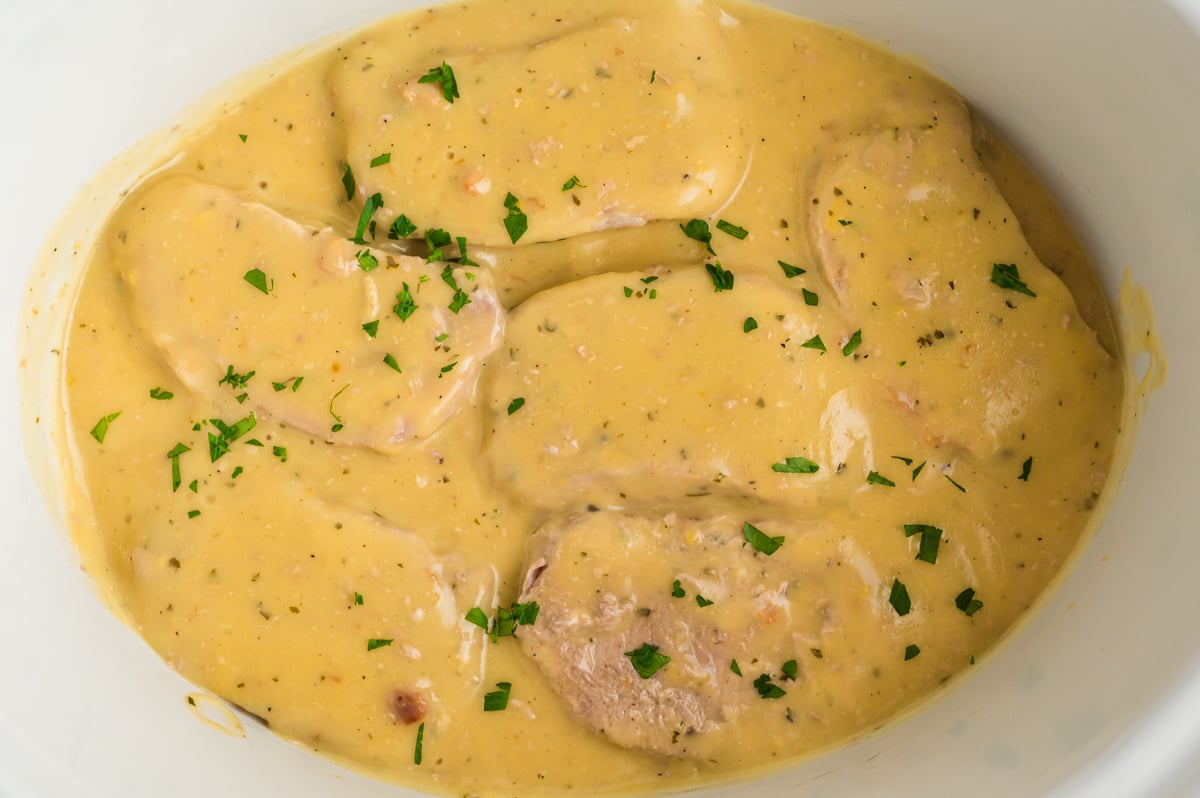 Recipe FAQs
To discover more magical slow cooker recipes and stay updated, subscribe to the newsletter and follow along on Facebook, Instagram, Pinterest, TikTok, and YouTube.
More Slow Cooker Pork Chop Recipes
In case you're craving more slow cooker pork chop recipes, here are some fantastic options to try:
Slow Cooker Pork Chops and Onions
Slow Cooker Herbed Pork Chops and Potatoes
Slow Cooker Apple Butter Pork Chops
Slow Cooker Pork Chops and Apples
Don't miss out on the succulent goodness of these ranch pork chops. Treat yourself and your loved ones to a memorable weeknight dinner that is both effortless and incredibly delicious.