When it comes to preparing a delicious and hassle-free dinner, slow cooker ranch pork chops are a game-changer. This recipe guarantees tender and mouthwatering pork chops that will leave you craving for more. If you're a fan of our baked pork chops with dry rub recipe, be prepared to be blown away by the simplicity and incredible flavors of this dish.
The Magic of Slow Cooker Pork Chops
In the past, we shared a delectable crockpot pork chops and apples recipe that leaned towards the sweeter side. This time, we're taking a different approach with minimal preparation. All you need is a package of dry ranch dressing mix to infuse the pork chops with savory flavors and create a luscious gravy.
Forget about complex dinners—this 2-ingredient marvel is an absolute winner. If you're in search of a remarkable pork recipe, start with this one. It requires minimal effort but promises maximum satisfaction.
FIRST – You should sign up for my free newsletter so you get new posts emailed to you twice a week and never miss out on anything! Let's talk a little bit about slow cooking, shall we? First off, I have a few different varieties, and I love them all. Each one has an occasion to be used like…
This is my favorite 6-quart programmable slow cooker with a locking lid, making it perfect for potlucks.
If you want to serve a few appetizers, this side-by-side slow cooker is a great choice.
I prefer not to use liners but instead, I spray olive oil inside for easier cleanups.
Now, let me show off my recent kitchen addition—a fabulous slow cooker that complements my kitchen decor, allowing me to proudly display it on my countertop all the time. 😉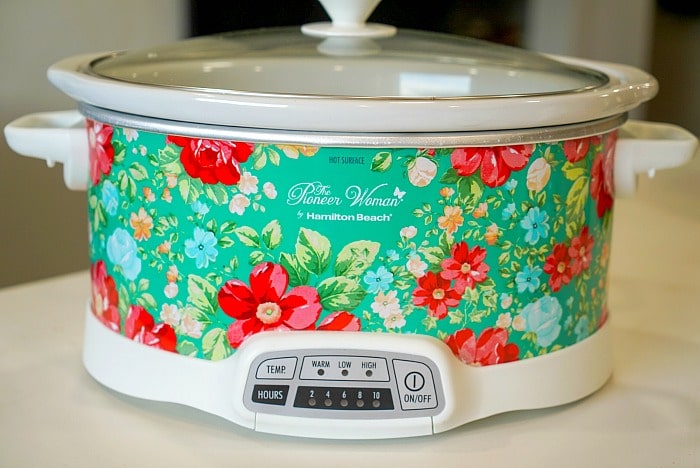 Discover the Delight of Ranch Pork Chops
When I have a bit more time on my hands, I enjoy creating a dry rub for my pork chops. It involves blending a variety of seasonings, and in just 12 minutes in the oven, the result is heavenly. This is another option you should consider if you stumble upon a great deal and purchase a large tray of pork chops.
The beauty of pork chops is the endless options they offer. You could savor a different delightful meal every night for a week without experiencing repetitive flavors. You can choose between bone-in or boneless chops, each offering its own unique taste and texture. Bone-in chops tend to be more affordable, while boneless ones are smaller and slightly pricier. The decision is yours to make.
Recipe for Pork Chops in Crockpot
For this recipe, we'll be using thawed meat. However, if you only have frozen pork chops on hand, check our slow cooker frozen pork chops temperature and timing guidelines here.
Now, let's gather the ingredients you'll need to whip up this delectable dish: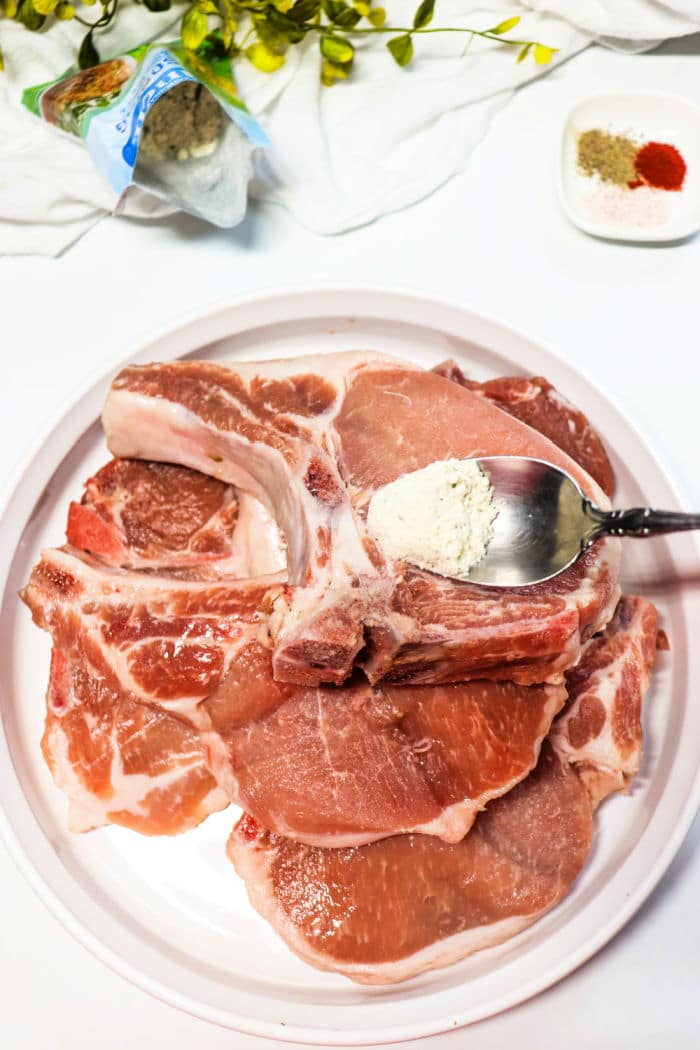 Ranch Pork Chops Recipe
With only 2 main ingredients, slow cooker ranch pork chops are incredibly easy to prepare. However, we'll also be adding 3 additional ingredients to elevate the flavors. If you buy meat in bulk, this is a golden opportunity to try out some of our other creations. Here's what you'll need:
A few bone-in pork chops (preferably fresh or defrosted from frozen)
1 ounce of dry Hidden Valley Ranch dressing mix
Salt, pepper, and a bit of paprika
Optional: Whisk in 1 can of cream of mushroom soup with broth before adding the meat for a thicker gravy.
If you have multiple slow cookers, consider making a batch of mashed potatoes to complement this dish perfectly. To thicken the resulting drippings, pour them into a saucepan and whisk in a few tablespoons of cornstarch. Once bubbling, this mixture will transform into a delightful gravy. Season it to perfection, adjusting the flavors until it reaches your desired taste. Alternatively, whisk in 1/2 to 1 can of cream of chicken soup to thicken the liquid and enhance the overall flavor, similar to our slow cooker pork chops and gravy recipe.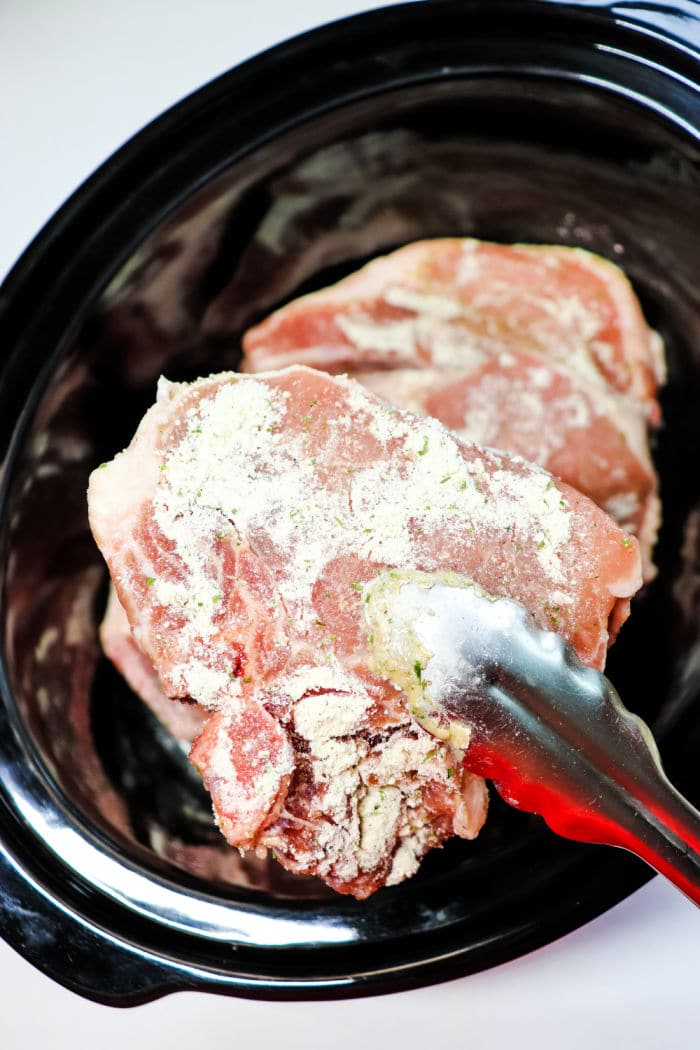 Slow Cooker Bone-in Pork Chops
I prefer not to use plastic liners in my slow cooker. Instead, I spray the inside with olive oil for easy cleanup. Just like when using a baking sheet or line, non-stick foil works perfectly. While you can use bone-in pork chops for this recipe, regular-sized ones are best.
Sprinkle the dry ranch seasoning mixture on all sides of your defrosted or fresh pork chops.
Arrange the chops in the slow cooker, overlapping them as little as possible.
Sprinkle the remaining seasonings on top.
Close the lid tightly and set your desired cooking time.
Cook on low for 7-8 hours, or until the thickest portion of the chops reaches an internal temperature of at least 145 degrees F. Remember, as they rest, the temperature will rise by 5-10 degrees.
When selecting pork chops for this recipe, ensure that they are not more than approximately 1 inch thick. Thicker chops will require a longer cooking time to reach a safe internal temperature. Keep this in mind to avoid the disappointment of finding your dinner unfinished at 6 PM. Pair your delicious slow cooker ranch pork chops with easy 20-minute side dishes such as green beans, a side salad, or Instant Pot potatoes and carrots.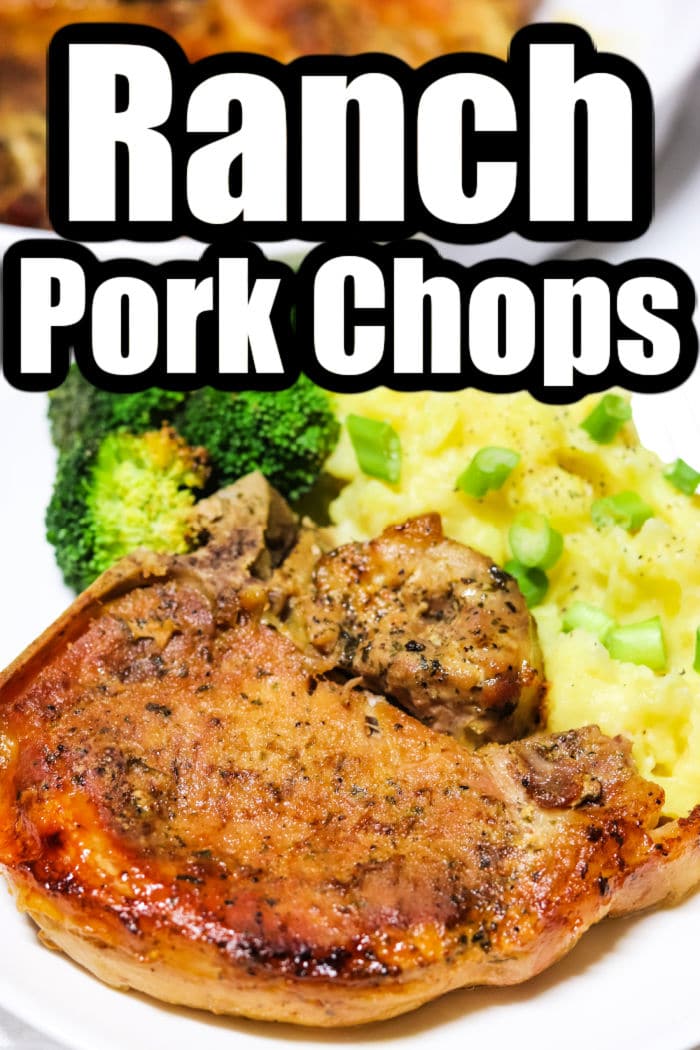 Enhance the Flavors with Ranch
For an extra burst of flavor, top your slow cooker ranch pork chops with a dollop of homemade apple butter. Kids adore recipes that combine savory and sweet elements, making this dish a delightful choice. Doesn't it look amazing? We utilize our slow cookers for everything—you name it! Despite being considered "old-fashioned" by some, as long as I remember to load it up in the morning, it's a game-changer.
Even if I forget to defrost the meat overnight, I can still cook frozen meat in the slow cooker. One family favorite that never fails to impress is our Crockpot frozen chicken breasts. Here's how it works: throw the frozen chicken breasts into the slow cooker with some broth and let them steam away during the day.
After a few hours, the chicken falls apart, becoming tender and easy to shred.
Drain the liquid away and shred the chicken using two forks.
Add a bottle of barbecue sauce and toss until well-coated.
This dish, along with our Smithfield pork loin in the oven, is a budget-friendly crowd-pleaser. Serve it on sweet bread rolls or slider buns for a fun finger-food experience that kids will adore. Top it off with a bit of coleslaw for some crunch and to incorporate vegetables into the overall dish. Oh boy, my mouth is already watering at the thought of this delightful combination.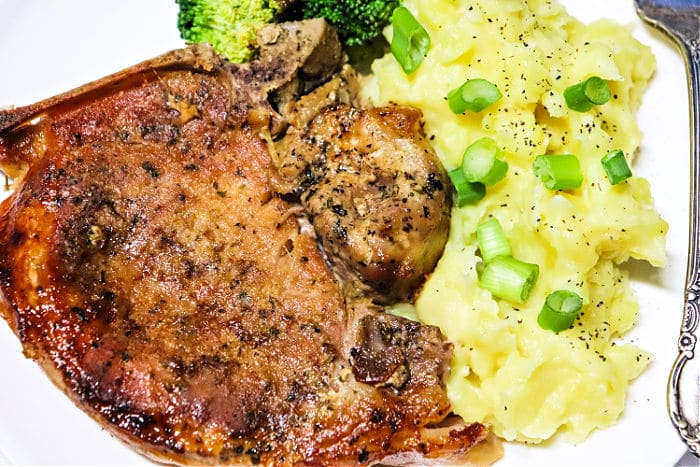 Preserving Leftover Pork Chops
Saving food is essential, especially when it comes to items as delicious as slow cooker ranch pork chops. To ensure you enjoy them at their finest, follow these steps:
Allow the pork chops to cool completely before storing them. Don't discard the sauce—it's crucial for maintaining moisture during refrigeration. Seal the chops inside a freezer bag or a container with a lid, pouring any remaining gravy on top.
If you plan to consume the leftovers within 3 days, warm them covered in the microwave or on the stovetop. Otherwise, freeze them. Label the container with the date and store it in the freezer for up to 3 months. When you're ready to enjoy the pork chops again, thaw them in the fridge overnight and then reheat.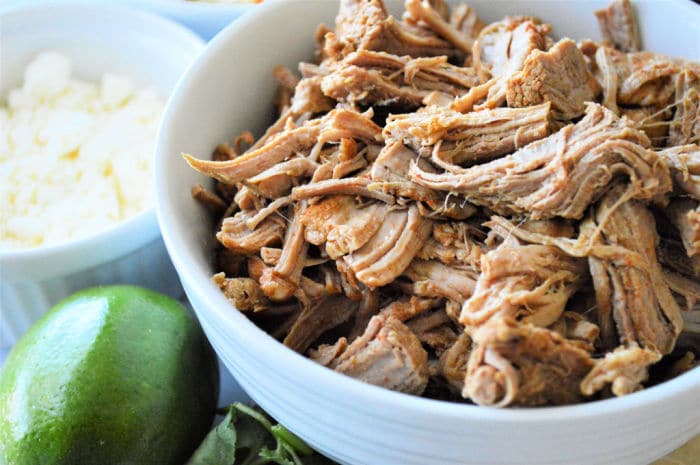 If you're reheating pulled pork shoulder from the slow cooker, add some sauce to make it moist again before heating.
This recipe ensures your pork chops remain delicious even when saved for later. I hate wasting food, so I always provide tips on reheating leftovers, the best storage methods, and easy pork recipes to create using them. Now you have all the secrets to savoring every last bite of these slow cooker ranch pork chops.