If you've never smoked a Boston pork butt before, don't let the thought of a lengthy cooking process intimidate you. Achieving the ultimate pulled pork perfection takes time, but it's a simple and straightforward process that yields incredible results. Once you experience the tenderness of slow-cooked smoked pork, you'll wonder why you didn't try it sooner. It's amazing how a recipe with humble ingredients can deliver such deep and complex flavors.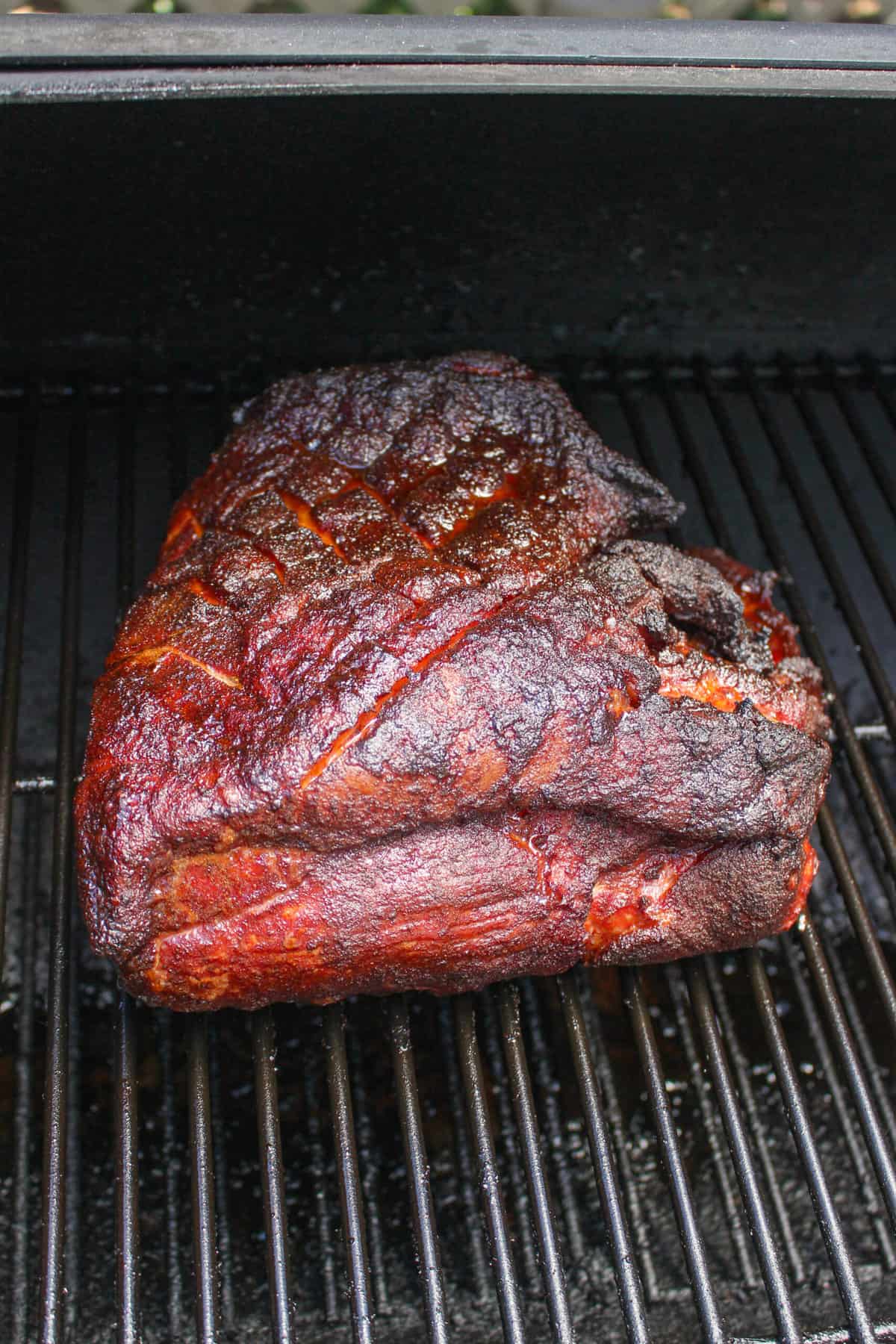 Image: A whole pork butt in a smoker
Ideal for large gatherings and family dinners, chipotle BBQ pulled pork is a classic recipe that never disappoints. It provides plenty of shredded pork for sandwiches and leftovers that can be used in tacos, burritos, or nachos. Moreover, this recipe is an opportunity to make your own easy homemade barbecue sauce infused with the smoky depth of chipotle peppers. If you're a fan of chipotle's rich flavor, you'll love this recipe.
Why You'll Fall in Love with This Pulled Pork Sandwich Recipe
The secret to a deeply satisfying flavor in this sandwich is Lone River Ranch Water, a refreshing hard seltzer made with agave nectar and a hint of lime. It adds the perfect touch of sweetness and acidity to the smoked pork. So what are you waiting for? Don't hesitate to ask your local butcher for the best boneless Boston butt and let your smoker work its magic.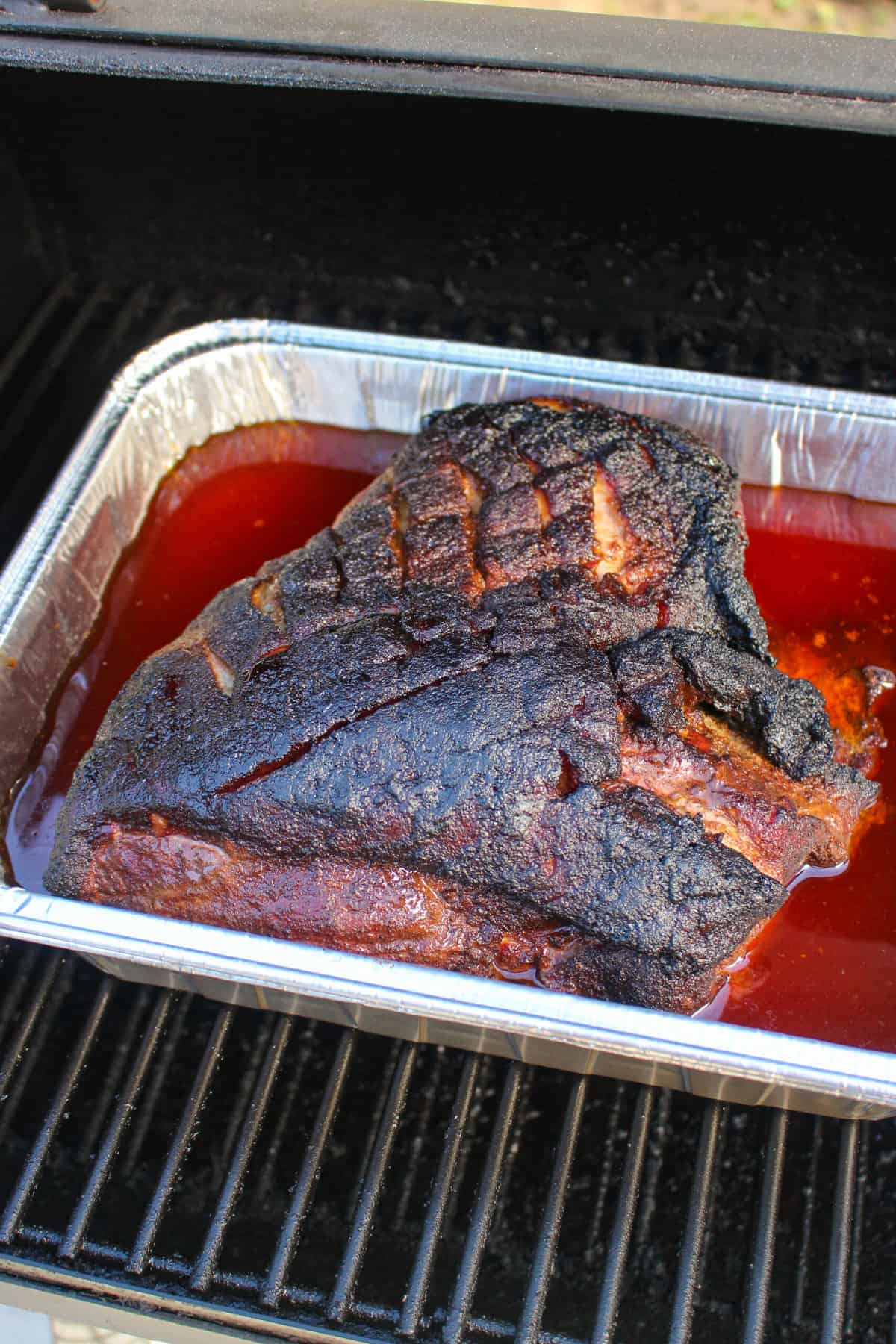 Image: Overhead of a smoked pork butt in a foil bin with liquid
Pulled Pork Sandwich Recipe Ingredients
The Main Stars:
Pork Butt: Contrary to its name, a pork butt is not actually a pig's butt. It's the upper shoulder, where the most flavorful and fatty meat is found. It's perfect for slow-cooking on the smoker.
BBQ Seasoning: With a wide variety of pork rubs and BBQ seasonings available, feel free to experiment until you find your personal favorite. Alternatively, you can create your own blend using paprika, salt, black or white pepper, chipotle powder, garlic powder, onion powder, cumin, and cayenne for heat, all to your desired taste.
Yellow Mustard: Don't underestimate the depth of flavor a good yellow mustard can bring to your favorite BBQ recipes.
The Faithful Sidekicks:
Burger Buns: Whether you opt for basic hamburger buns or level up with brioche buns, your pulled pork sandwiches will taste amazing.
Lone River Ranch Water: This hard seltzer crafted with agave and lime is a match made in BBQ heaven. It adds a refreshing tequila-inspired element to complement the sandwiches.
Apple Cider Vinegar: A versatile ingredient in every cook's pantry, apple cider vinegar is used to tenderize and flavor the meat and is an essential component of the BBQ sauce.
Beef Broth: Made from simmering beef bones and vegetables, this savory liquid helps steam the pork after its slow cooking.
Ketchup: A classic condiment made from tomatoes, vinegar, and seasonings, ketchup adds a sweet and tangy element to the BBQ sauce.
Local Honey: No homemade BBQ sauce is complete without a touch of honey for finger-licking goodness.
Brown Sugar: This pantry staple adds the right amount of sweetness with hints of molasses to the barbecue sauce.
Chipotle Puree: A smoky and spicy blend of chipotle peppers, vinegar, and salt.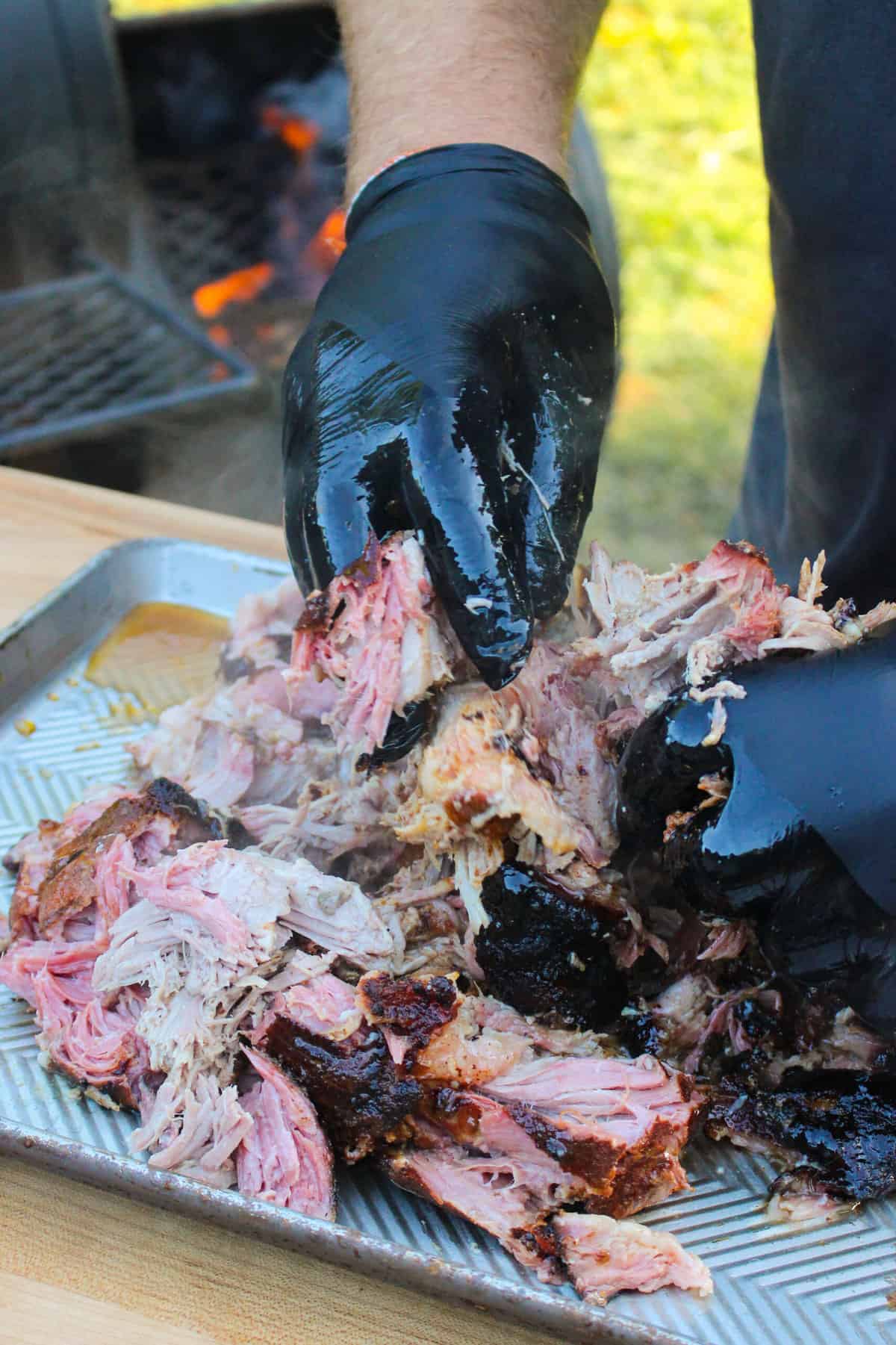 Image: Closeup of a man shredding pork on a baking sheet
How to Create the Perfect Pulled Pork Sandwich
Get ready to create the most delicious pulled pork sandwich recipe ever! Here's how:
Place your pork butt on a baking sheet. Slather it with yellow mustard and generously season all sides with your favorite BBQ seasoning. Let it sit uncovered in the fridge for at least 4 hours, or ideally overnight for the best results.
Preheat your smoker to around 250F. If you desire an extra smoky kick, add some hickory wood chips or chunks.
Remove the pork butt from the fridge and place it on the smoker. Let it cook until it reaches an internal temperature of 165F (approximately 6 hours). To keep the meat juicy, spritz it every 20-30 minutes with a mixture of Lone River Ranch Water and apple cider vinegar until it reaches the desired temperature.
When the pork butt reaches 165F, transfer it to a large aluminum foil bin. Pour in some beef broth and Ranch Water, enough to reach halfway up the pork butt's height. Adjust the amount of liquid as necessary. Seal the bin tightly with foil and place it back on the smoker at 250F for another 3-4 hours, or until the meat is tender and easily shreddable.
Allow the pork butt to rest for at least 30 minutes, or preferably an hour. This gives the flavors time to develop, so resist the temptation to dive in immediately.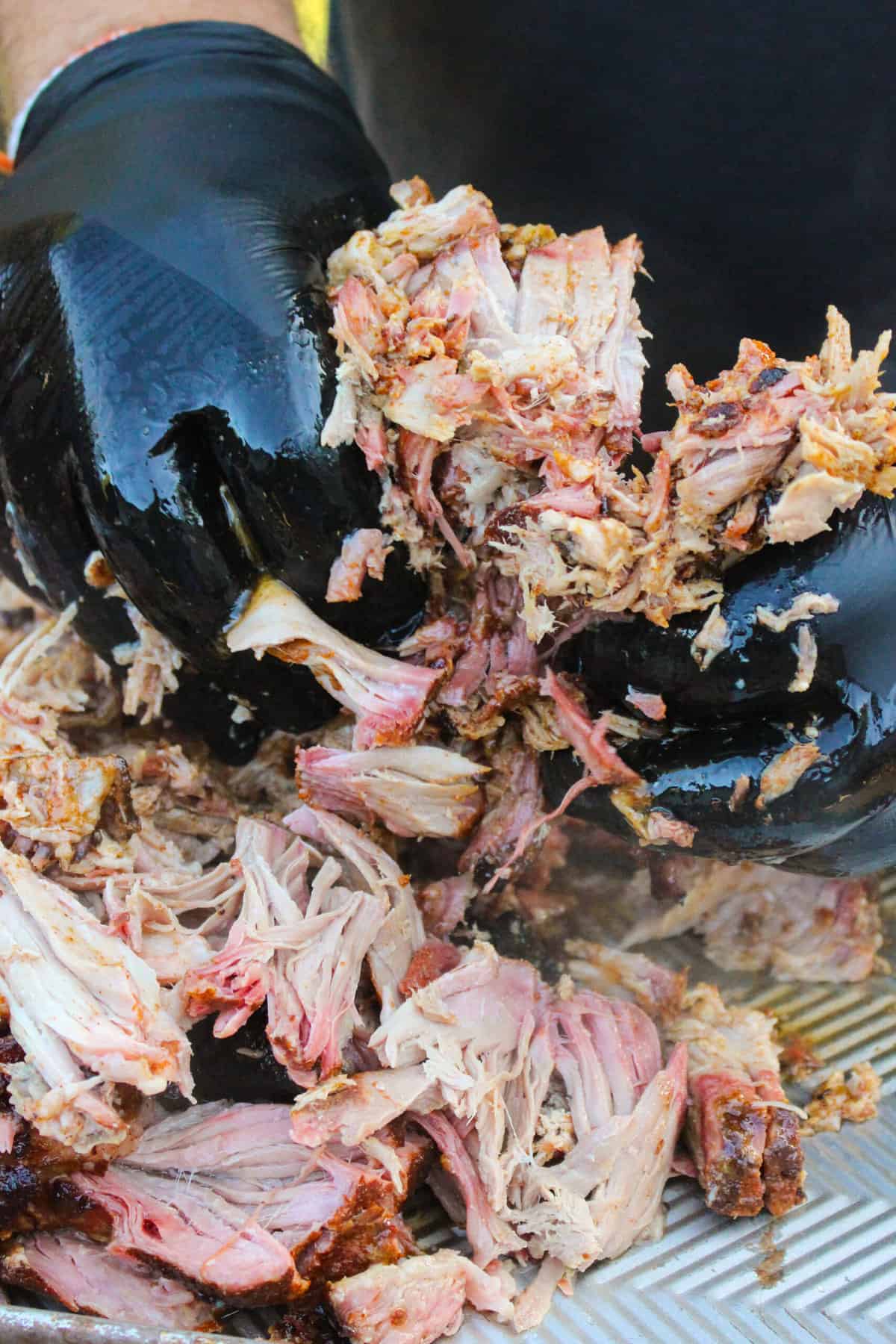 Image: Closeup of pork being shredded
While the pork is resting, it's the perfect time to prepare the chipotle BBQ sauce. Heat a cast-iron skillet over medium-high heat and add all the sauce ingredients. Stir until the mixture simmers, then reduce the heat and let it simmer for approximately 20 minutes, or until the sauce thickens. Once done, set it aside to cool.
After the rest, it's time to shred the pork like a pro. Load up a toasted burger bun with a generous heap of shredded pulled pork and top it off with the lip-smacking Chipotle BBQ Sauce. Can you already taste the deliciousness of this pulled pork sandwich?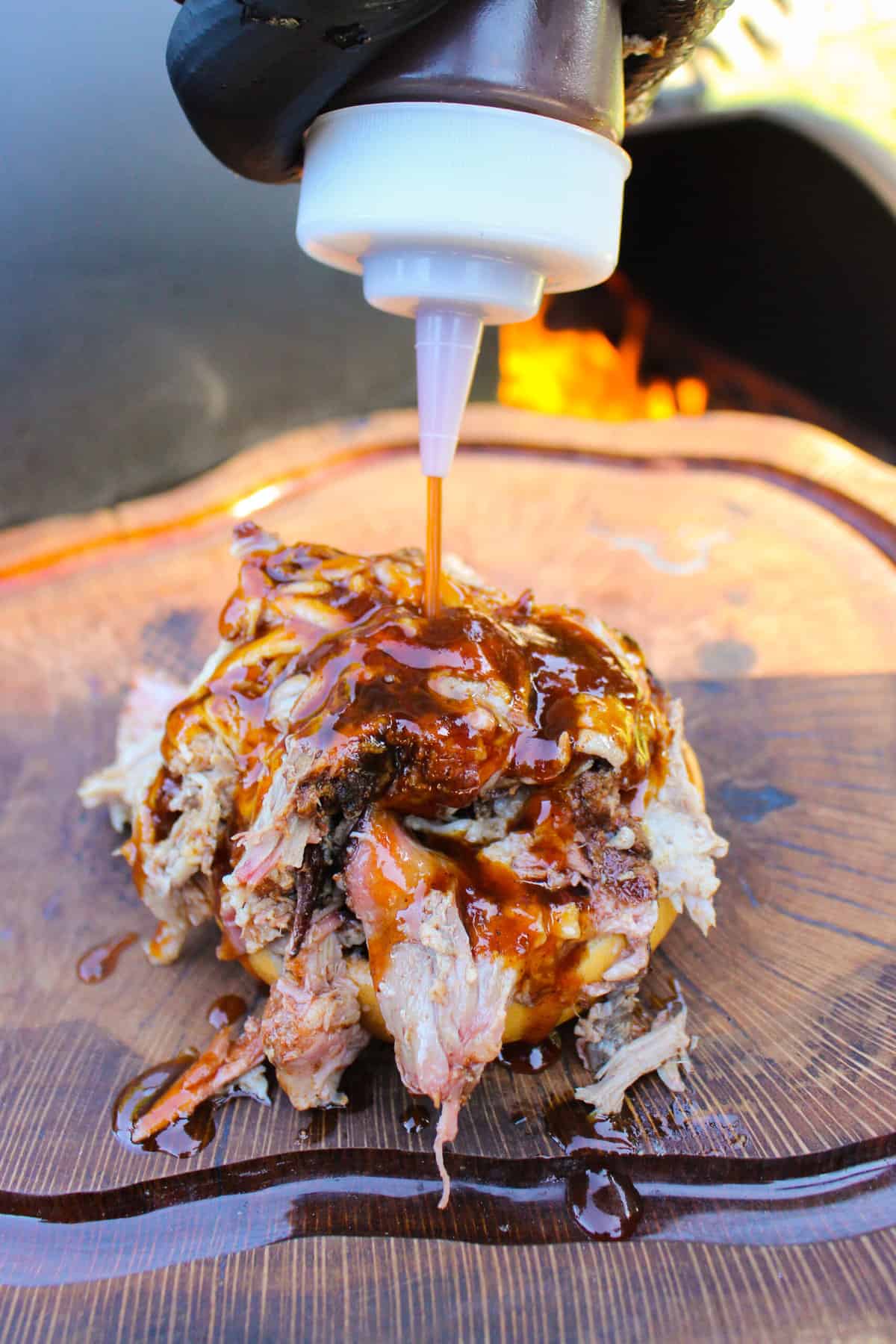 Image: Chipotle BBQ sauce being drizzled over a pulled pork sandwich
Don't forget to grab a cold Ranch Water to complement your meal and indulge in the pulled pork sandwich of your dreams!
Love pulled pork? Check out my other recipes: Pulled Pork Loin Nachos, Al Pastor Pulled Pork Sandwich, Loaded Pulled Pork Quesadillas, or Pulled Pork BBQ Nacho Table!
Storing Leftovers & Reheating
Store any leftover pulled pork in an airtight container in the fridge for 3-4 days. When you're ready to reheat, preheat your oven to 350F. Place the pork on a baking pan and heat for approximately 10-15 minutes. Alternatively, you can heat it in a large skillet over medium heat.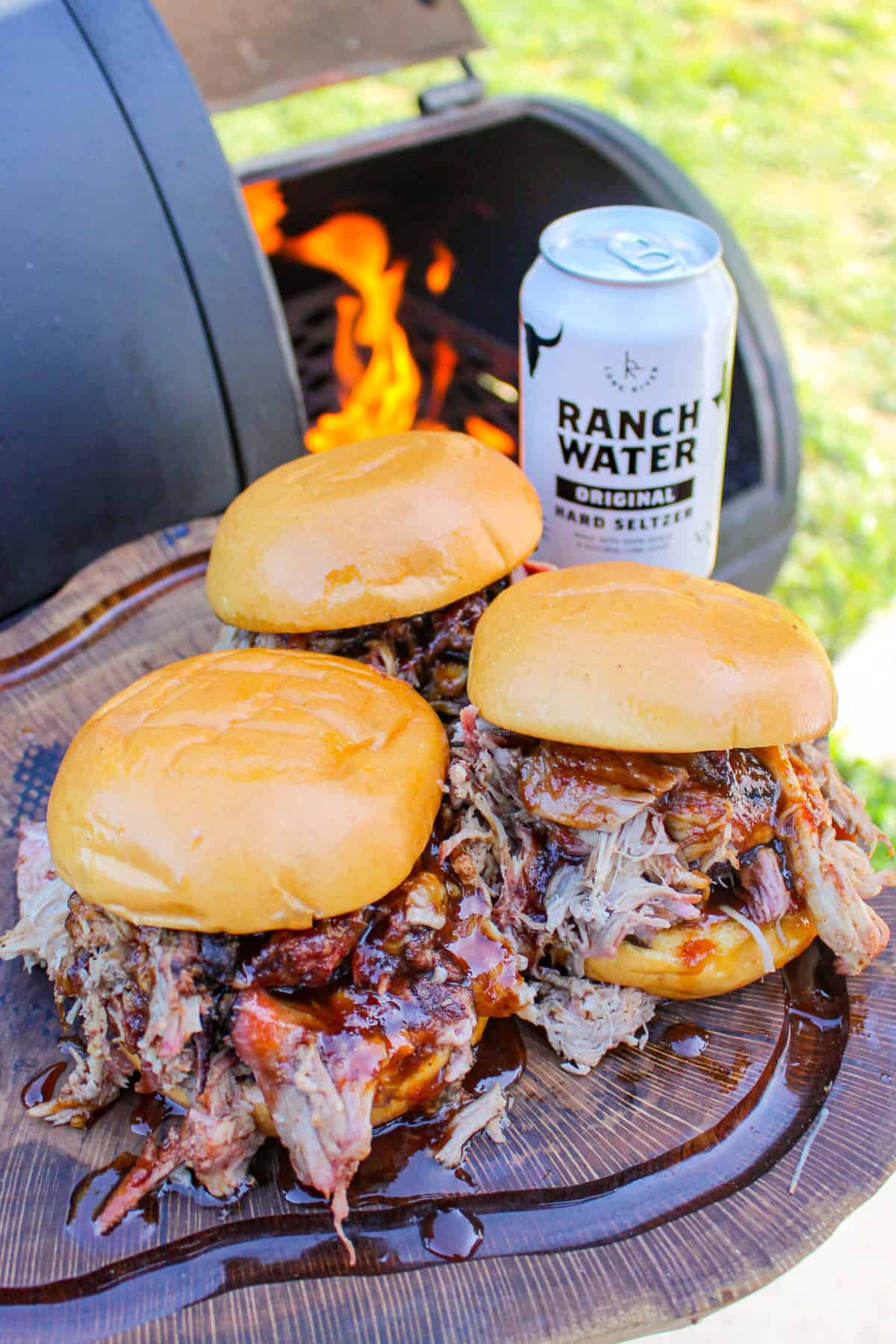 Image: Overhead of three pork sandwiches next to a smoker
Ideal Side Dishes for Pulled Pork Sandwiches
When serving pulled pork sandwiches, I recommend pairing them with baked beans. You can enhance the flavor by adding a touch of maple syrup to the beans in a cast-iron skillet alongside the pork. Grilled corn on the cob seasoned with your BBQ seasoning is another fantastic side dish idea.
Recipe FAQs
Q: What's the difference between boneless pork shoulder and pork butt?
Although both cuts come from the pig's shoulder, the pork butt comes from the fattiest and most flavorful part of the shoulder.
For more spice in your life, check out my spice line here.
And if you'd like to watch the full-length video, head over to our Facebook page!