Are you looking for a quick and budget-friendly recipe to use up that leftover pork tenderloin? Look no further! We have the perfect solution for you – a mouthwatering twist on the classic Roast Pork and Garlic Sauce. Get ready to tantalize your taste buds with a burst of flavors that will leave you craving for more!
Rediscovering an Irresistible Favorite
Every neighborhood has that one Chinese restaurant, the go-to place that leaves a lasting impression. But what happens when your favorite eatery suddenly disappears? The craving for that special dish becomes even more pronounced.
Inspired by our missing culinary gem, we embarked on a journey to recreate our beloved Roast Pork and Garlic Sauce. And guess what? We succeeded! Brace yourself for a delightful recipe that is not only scrumptious but also a breeze to make. Plus, it's an excellent way to utilize leftover pork tenderloin while keeping your wallet happy.
Unleash the Fantastic Flavors
Now, let's get into the nitty-gritty of this incredible recipe. Gather your ingredients and let the magic begin!
Ingredients:
Leftover pork tenderloin (or pork roast), thinly sliced
Garlic cloves, minced
Soy sauce
Oyster sauce
Brown sugar
Sesame oil
Green onions, chopped
Broccoli florets, steamed
White rice
Instructions:
In a bowl, whisk together minced garlic, soy sauce, oyster sauce, brown sugar, and sesame oil. This aromatic marinade will infuse the pork slices with an explosion of flavors.

Add the leftover pork tenderloin slices to the marinade, ensuring they are well-coated. Let the pork soak up the goodness for about 15-20 minutes, allowing the flavors to meld together.

In a hot skillet or wok, stir-fry the marinated pork over medium-high heat until it is heated through and slightly caramelized. The tantalizing aroma will have your taste buds tingling with anticipation.

Serve the succulent pork slices on a bed of steamed broccoli florets and white rice. Garnish with fresh green onions for an added burst of freshness and vibrant color.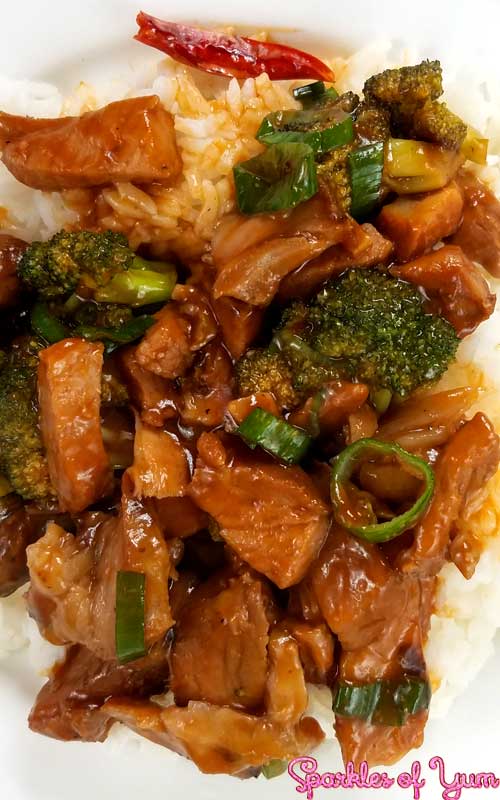 Elevate Your Culinary Experience
The versatility of this dish allows for numerous delectable pairings. Here are some delightful suggestions to elevate your Roast Pork and Garlic Sauce experience:
White rice: As a classic staple found in virtually every Chinese restaurant, white rice is the perfect accompaniment to this flavorful dish.

Asian-style noodles: Explore the wide variety of noodles available in the Asian section of your local grocery store. Our personal favorite is lo mein, but feel free to experiment with your preferred variety.

Frozen delights: The freezer section is a treasure trove of delectable options that complement Roast Pork and Garlic Sauce. Think egg rolls, fried rice, or dumplings – the possibilities are endless!
Tips for a Flavorful Masterpiece
To ensure your Roast Pork and Garlic Sauce Using Leftover Pork Roast is an absolute triumph, keep these handy tips in mind:
Marinating for extra flavor: While it may seem unusual to marinate already cooked meat, this step infuses the pork with an extra layer of deliciousness.

Stir-in sensations: Enhance your dish with water chestnuts and baby corn, two fantastic stir-in options. Simply drain the cans and add them during the final step of the recipe for a delightful crunchy texture.
Conclusion
Unlock the incredible potential of your leftover pork tenderloin with this sensational Roast Pork and Garlic Sauce recipe. Indulge in the harmonious blend of flavors, the tender pork slices, and the vibrant colors of this dish. Whether it's a weeknight dinner or a special occasion, this recipe is guaranteed to impress.
Don't let your taste buds wait any longer – experience the magic of Roast Pork and Garlic Sauce Using Leftover Pork Roast today!