Are you looking for a mouthwatering dish that will impress your family and friends? Look no further than these grilled pork steaks! These juicy and tender steaks are generously seasoned and seared to perfection, making them the perfect dinner option for any occasion. Whether it's a backyard barbecue or a cozy meal at home, grilled pork steaks are sure to be a recipe that your loved ones will request again and again.
Easy Grilled Pork Steaks: A Beginner-Friendly Recipe
Don't consider yourself a culinary expert? No worries! This recipe for grilled pork steaks is perfect for even the most novice of cooks. It's simple to make but packs an impressive amount of flavor that will have everyone asking for seconds.
You won't need any fancy ingredients or complicated kitchen tools for this recipe. All you need is your trusty grill and a few basic seasonings that you probably already have in your pantry. It's a fuss-free dish that delivers on taste and satisfaction.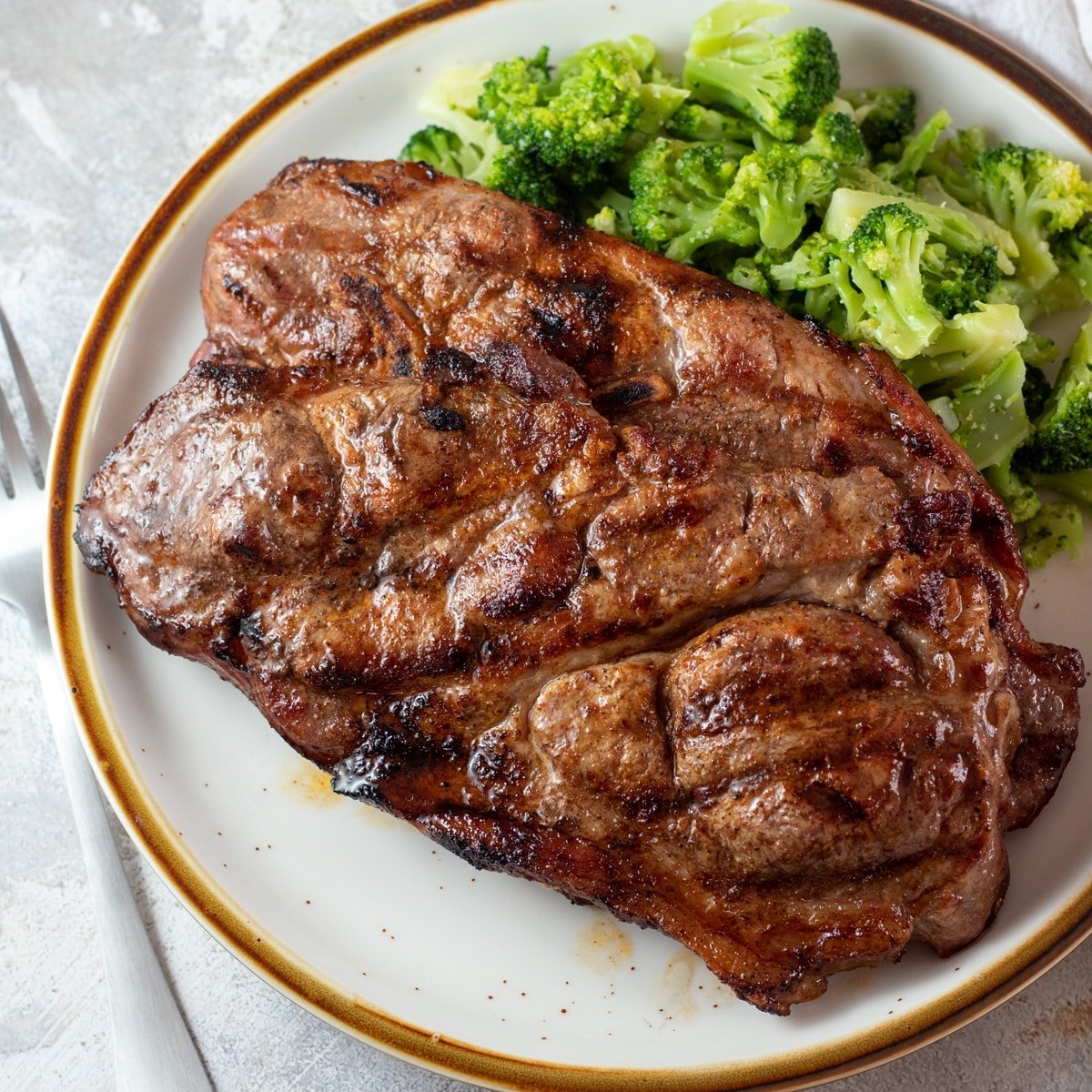 These flavorful and juicy grilled pork steaks are an easy dinner the whole family will love!
🥘 Ingredients
The best part about this recipe? The ingredients are pantry staples, so you most likely already have them on hand. Just make sure to grab some pork steaks before you get started!
Salt: ½ tablespoon
Paprika: ½ tablespoon
Black Pepper: 1 teaspoon
Garlic Powder: 1 teaspoon
Onion Powder: 1 teaspoon
Apple Cider Vinegar: 2 tablespoons
Water: 2 tablespoons (to combine with the vinegar)
Pork Steaks: 2 pounds (about 4 pork butt shoulder blade steaks)
Be sure to see the recipe card below for detailed instructions!
🔪 How To Make Grilled Pork Steaks
This recipe for grilled pork steaks is foolproof and easy to follow. Even if you're new to grilling, you can master these steaks with confidence. All you need is a grill, grilling utensils, and a basting brush.
This recipe is designed to serve four, making it perfect for a family dinner. However, feel free to double the recipe if you want leftovers or if you're hosting a larger gathering.
Preheat & Season
Preheat your grill to medium heat (350-400°F or 177-205°C) after cleaning and oiling it. In a bowl, combine salt, paprika, black pepper, garlic powder, and onion powder. Set aside for later use.
In a small bowl, mix apple cider vinegar and water. Brush the mixture over the pork steaks, ensuring they are fully coated. Season generously with the seasoning blend on both sides.
Grill, Rest & Serve Your Pork Steaks
Place the seasoned pork steaks on the preheated grill and cook for 8-10 minutes on each side. Flip as needed to achieve a perfect caramelized sear and desired doneness.
Transfer the cooked pork steaks to a plate or cutting board and loosely cover them with foil. Let them rest for 5 minutes before serving.
For a complete meal, serve your grilled pork steaks with roasted potatoes and sautéed asparagus. These steaks also pair well with roasted vegetables or twice-baked potatoes. Get creative and enjoy!
💭 Angela's Tips & Recipe Notes
Here are a few tips to ensure your grilled pork steaks turn out perfectly every time:
The USDA recommends cooking pork to an internal temperature of 145°F (63°C) for juicy, slightly pink meat. You can cook it up to 160°F (71°C) for well-done.
Remember that pork steaks continue to cook even after being removed from the grill due to carryover cooking.
Resting the steaks is crucial as it allows the meat to reabsorb its juices, resulting in tender and flavorful pork.
🥡 Storing & Reheating
If you have any leftovers, simply refrigerate them in an airtight container and enjoy within 3-4 days. For longer storage, freeze the cooled steaks in a heavy-duty freezer bag or airtight container for up to 3 months. Thaw them in the fridge overnight before reheating.
To reheat grilled pork steaks, preheat your oven to 350°F (175°C). Place the steaks in a baking dish with a few tablespoons of broth or water, cover with foil, and bake for 10-15 minutes or until heated through.
More Tasty Pork Recipes
If you're a fan of pork, be sure to check out these other delicious recipes:
BBQ Baked Pork Spareribs
Air Fryer Stuffed Pork Chops
Pork Belly Ramen
Pork Ribeye Roast
Baked Pork Steaks
Sweet & Sour Pork
Now that you have the recipe, it's time to fire up that grill and start cooking some mouthwatering grilled pork steaks. Get ready to impress your loved ones with a dish that's packed with flavor and perfectly cooked. Enjoy!
---
This article was prepared with the help of Rowdy Hog Smokin BBQ.