Picture this: a succulent pork roast, perfectly cooked and bursting with flavor. Now imagine it crowned with a luscious pork gravy that takes your meal to new heights. That's the magic of pork gravy – a rich and tantalizing addition that elevates any pork dish. Say goodbye to store-bought gravy packets and prepare to be blown away by the depth of flavor you can achieve in just 15 minutes!
The Ultimate Homemade Pork Gravy Recipe
Prepare to be amazed by the simplicity and taste of this homemade pork gravy. The secret lies in utilizing the pork fat drippings from your roast, infusing the gravy with an irresistible pork essence.
You'll only need 15 minutes from start to finish, allowing ample time for your roast to rest while you prepare this delightful gravy. It's a match made in culinary heaven!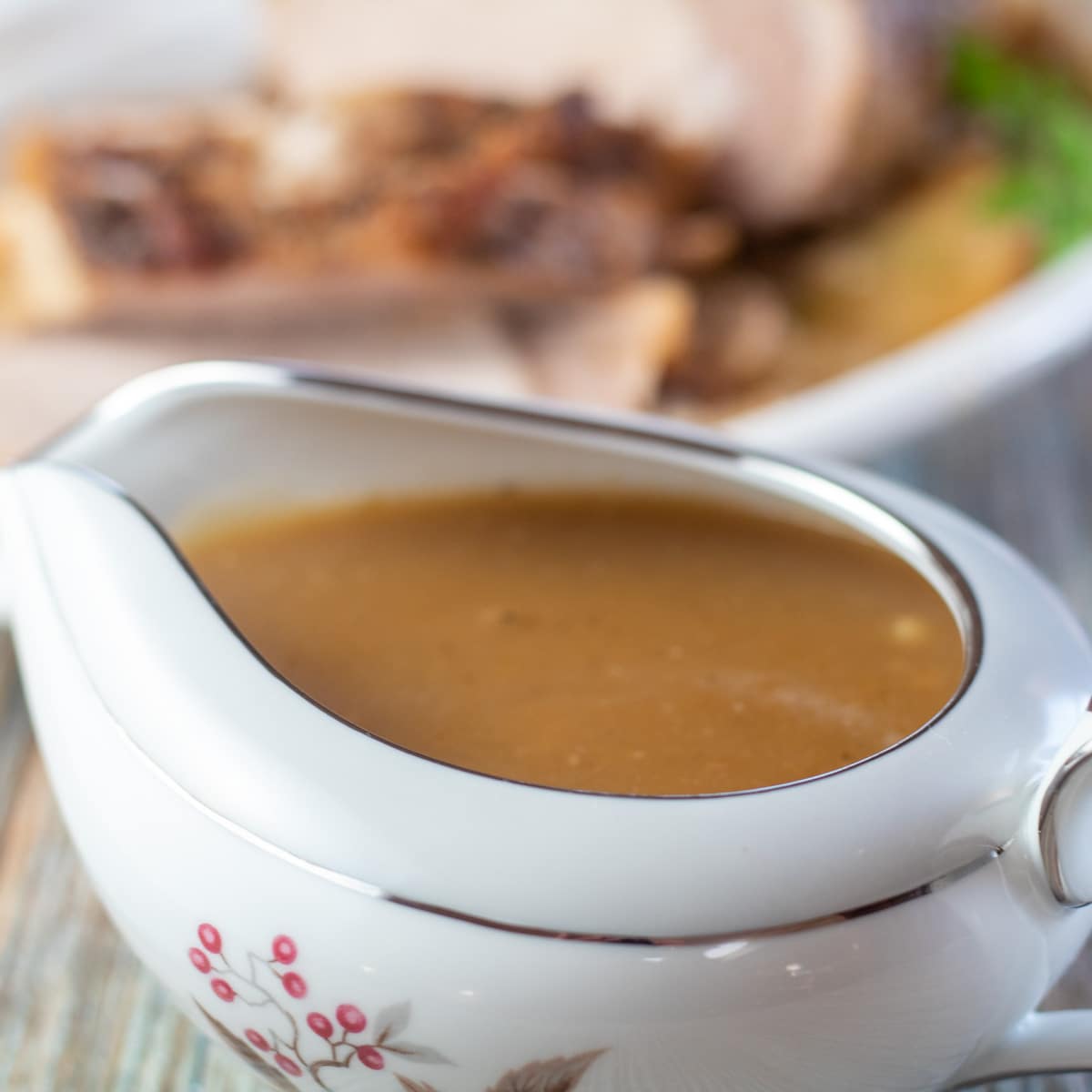 Unveiling the Ingredients
Creating this gravy requires just a handful of simple ingredients. If you find yourself without pork drippings, don't panic. Head over to my guide on making chicken gravy without drippings for an easy alternative.
¼ cup pork drippings from a delectable pork roast (*refer to the note).
1 cup chicken broth (*refer to the note).
Salt and pepper to taste.
¼ cup cool water.
3 tablespoons cornstarch.
Navigate to the printable recipe card below for a detailed list of ingredients, exact measurements, and helpful tips!
Mastering the Art of Making Pork Gravy
With a mere 5 minutes of prep and 10 minutes on the stovetop, you'll have a velvety gravy ready to impress. Grab a saucepan, a wooden spoon, and a whisk, and let's dive right in.
This recipe yields approximately 6 servings, but don't hesitate to double it if your family loves their gravy!
Scrape the fond: Collect all those irresistible brown bits (fond) from the bottom of the roasting pan. Pour ¼ cup of pork drippings into a medium saucepan.

Bring it to a boil: Add 1 cup of chicken broth to the drippings in your saucepan and bring it to a rolling boil.

Let it simmer: Reduce the heat and allow the mixture to simmer for 4-5 minutes, intensifying the flavors to your desired level. Taste the gravy and season with salt and pepper accordingly.

Whisk in the slurry: In a small bowl, whisk together ¼ cup of cool water and 3 tablespoons of cornstarch to create a slurry. Gradually whisk the slurry into the gravy until it reaches your desired consistency.

Savor the moment: Serve the gravy immediately while it's still warm, generously drizzling it over your succulent pork roast.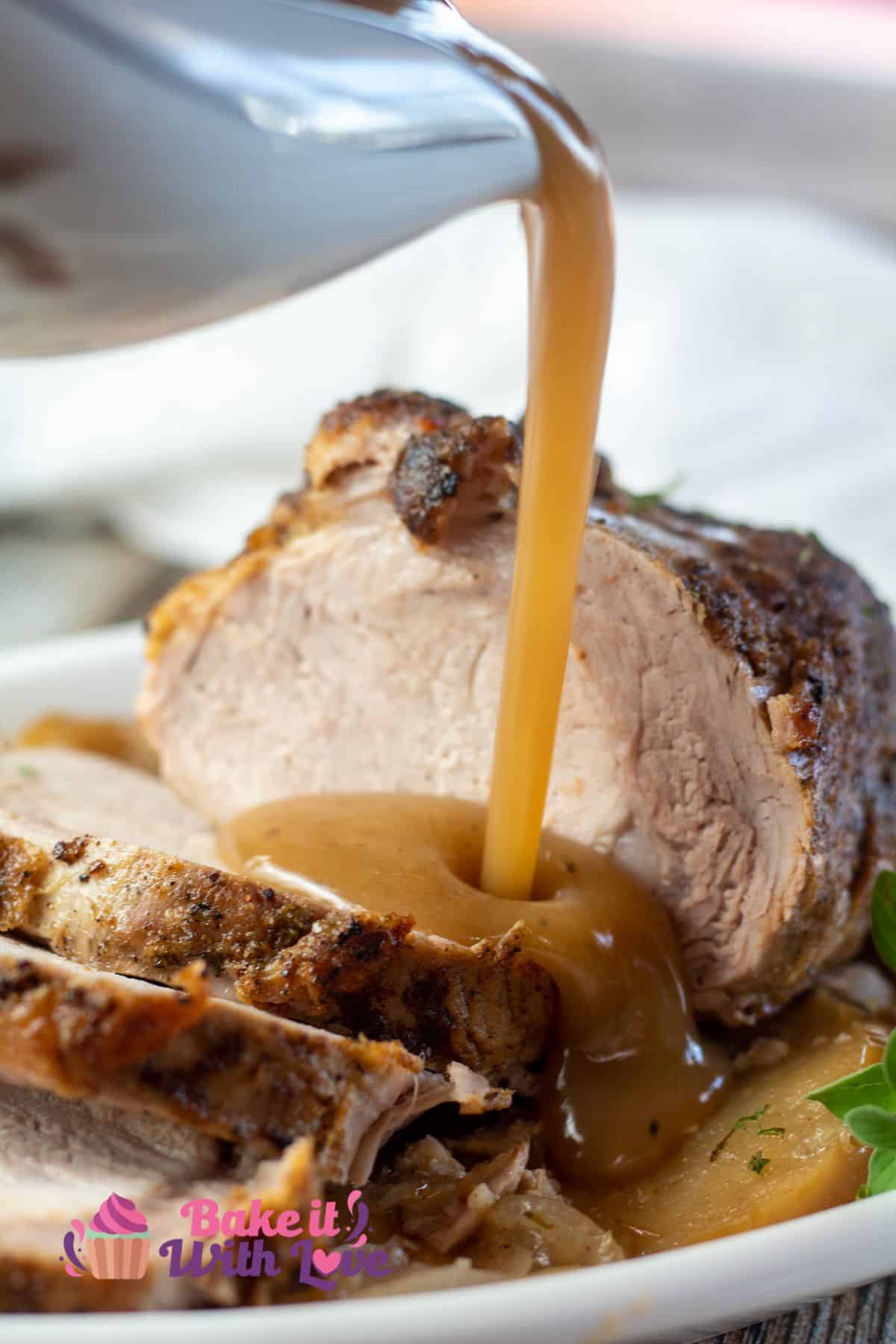 Angela's Divine Tips & Recipe Notes
Let's delve into some expert advice to take your pork gravy game to the next level:
Enhance the flavor: For a bolder taste, use a bouillon base or cubes to intensify the chicken broth.
No pork drippings? No problem: Try using Better Than Bouillon pork base as a substitute. It captures the condensed essence of pork drippings and enhances the richness with a touch of butter.
Storing and reheating: Once cooled, store the gravy in an airtight jar or container in the refrigerator for up to 4 days. Properly sealed, it can also be frozen for 3 months. To reheat, simply warm it in a saucepan on medium heat for 10-15 minutes, or until it reaches your desired temperature.
Exploring Beyond Pork Gravy
Now that you've discovered the wonders of pork gravy, why not explore the delectable possibilities? Here are a few sensational pork recipes that pair perfectly with this tantalizing gravy:
Instant Pot Pulled Pork: Effortlessly create a mouthwatering pulled pork sandwich.
Roasted Rack of Pork: Indulge in the visual and gastronomic delight of a perfectly roasted rack of pork.
Asian Roasted Pork Belly: Experience the irresistible sweetness and tenderness of this sticky Asian delight.
BBQ Baked Pork Spareribs: Prepare to have your fingers licked clean as you savor the deliciousness of these BBQ spareribs.
Air Fryer Thick Cut Pork Chops: Learn how to achieve flawlessly cooked, thick-cut pork chops with ease.
Air Fryer Shake & Bake Pork Chops: Relive the childhood joy of crispy Shake & Bake pork chops with this simple recipe.
Let's Get Cookin'!
Ready to embark on your pork gravy journey? Find the complete recipe below and unleash your culinary prowess!
---
Make your pork dinner truly unforgettable with a heavenly pork gravy that elevates every bite. Harness the power of pork fat drippings and whip up a batch of this mouthwatering gravy in just 15 minutes. The key lies in the simplicity and quality of the ingredients. Serve it steaming hot over your favorite pork dishes and prepare to be transported to flavor paradise. Get ready to savor the richness and depth of this homemade pork gravy, taking your pork dinners to new heights!