Are you in the mood for a warm and hearty sandwich that combines the rich flavors of medium rare sirloin steak, peppery arugula, creamy goat cheese, and balsamic caramelized onions? Look no further than this sensational twist on the classic Panera Steak and Arugula sandwich. With just a few simple ingredients, you can prepare a mouthwatering meal that will leave you satisfied and craving more.
A Sandwich for Every Taste
Steak sandwiches come in all shapes and sizes, each with its own unique take on the bread and meat combo. From the iconic Philly cheesesteak to the flavorful Italian beef sandwich, there's something for everyone. Even renowned establishments like Panera have their own version of the beloved steak sandwich.
But let's dive into this particular creation. Picture this: a soft and hearty focaccia bread sliced down the middle, generously smeared with creamy goat cheese. On top of that, a bed of balsamic caramelized onions adds a touch of sweetness and depth of flavor. Thinly sliced sirloin steak, cooked to perfection, is then layered on top. Finally, a handful of fresh baby arugula is added to complete the ensemble.
The Perfect Solution for Leftover Steak
Not only is this sandwich a delightful treat on its own, but it also provides a convenient way to use up any leftover steak from a previous dinner or weekend BBQ. By incorporating the meat into this fresh and flavorful sandwich, you'll find a new and exciting way to savor your leftovers. It's a win-win situation!
To craft this delectable masterpiece, start with a round focaccia loaf from Panera Bread. The texture and hearty nature of focaccia make it the ideal choice for this sandwich. Slice the loaf down the middle, creating two rounds, and then quarter them for the perfect sandwich base.
Looking for More Sandwich Inspiration?
Are you hungry for more sandwich ideas? Here are a few of my beloved recipes that are sure to satisfy your cravings:
The Ultimate Club Sandwich
Caprese Panini with Fresh Mozzarella and Pesto
Tangy BBQ Pulled Pork Sandwich
Crafting the Perfect Sandwich
Now, let's walk through the steps of creating your very own Panera Steak and Arugula sandwich.
Balsamic Caramelized Onions: Start by preparing the balsamic caramelized onions. In a skillet, melt some butter or olive oil over medium heat. Add thinly sliced onions and cook for approximately 10 minutes, stirring frequently to prevent burning. Sprinkle some salt halfway through the cooking process. Once the onions are nicely caramelized, deglaze the pan with balsamic vinegar and let it cook for an extra minute before turning off the heat.

Building the Layers: Lay the bread on your prep surface and spread a thin layer of goat cheese onto each cut side. Next, add a spoonful of the balsamic onions and top it off with slices of sirloin steak. To add a touch of freshness, sprinkle a generous handful of baby arugula on top. Finally, complete the sandwich with the other half of the bread.

Savor the Flavors: This recipe yields four mouthwatering sandwiches, each brimming with flavor and texture. Sink your teeth into this delectable creation and relish the perfect harmony of ingredients.
A Tip for Fresh Steak Preparation
If you don't have any leftovers and prefer to use fresh sirloin steaks, fear not! Here's a simple method to prepare the meat for this recipe. Season the steaks with salt and pepper, and cook them in a cast iron skillet or on the grill for about 3-4 minutes per side. Aim for an internal temperature of around 130-135 degrees Fahrenheit for medium-rare perfection. Let the steaks rest before slicing them up for the sandwich.
Luscious Variations and Substitutions
While this recipe is already a culinary delight, there's always room for experimentation and personalization. Here are a few variations and substitutions to consider:
Steak Panini: Transform this sandwich into a warm and toasty steak panini by following the recipe as instructed, and then placing it onto a preheated panini press for approximately 2 minutes, until the sandwich is warmed through.

Roast Beef Alternative: If you don't have cooked steak or prefer not to use it, opt for high-quality roast beef lunchmeat as a delicious alternative. Brands like Boar's Head offer a delectable roast beef that pairs perfectly with the other ingredients. Give it a try, just like in our Roast Beef and Arugula Crostini!

Spinach Substitute: If the peppery taste of arugula isn't your preference, try using baby spinach instead. It provides a milder flavor that complements the other ingredients beautifully.

Cheese Swap: Experiment with different types of cheese to find your favorite combination. Boursin cheese, Swiss cheese, provolone cheese, or even white cheddar all make excellent choices to enhance the flavor of the steak.
A Delicious Make-Ahead Option
Whether you're preparing a quick lunch or planning ahead for a picnic, these sandwiches can be made in advance and stored for up to 2-3 days. Wrap them in tinfoil or stasher bags, and you'll have tasty meals that are easy to grab and go.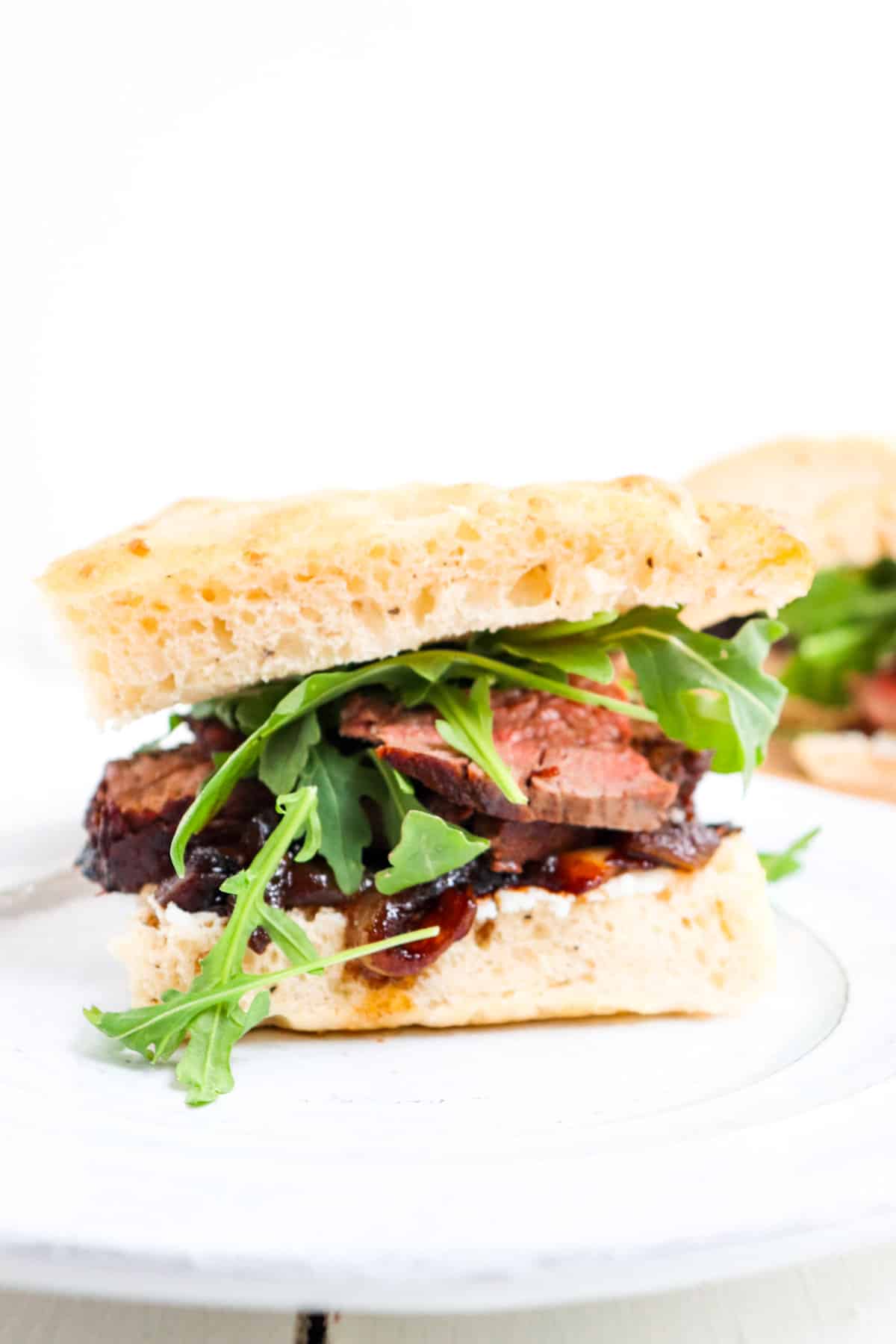 Indulge in the delightful simplicity of this Panera Steak and Arugula sandwich. With its exquisite flavors and easy preparation, it's the perfect choice for a quick and satisfying meal. So why wait any longer? Head to your kitchen, gather the ingredients, and embark on a culinary adventure that will leave you craving another bite!