Are you looking for a healthy and delicious meal that will satisfy your cravings and save you time? Look no further! This paleo ground beef stir fry is packed with flavor and can be made quickly in just one skillet. With its vibrant combination of vegetables and a savory stir fry sauce, it's a perfect choice for a weeknight dinner. Plus, it's Whole30 approved, paleo-friendly, and low in carbs. Let's dive into the mouthwatering details!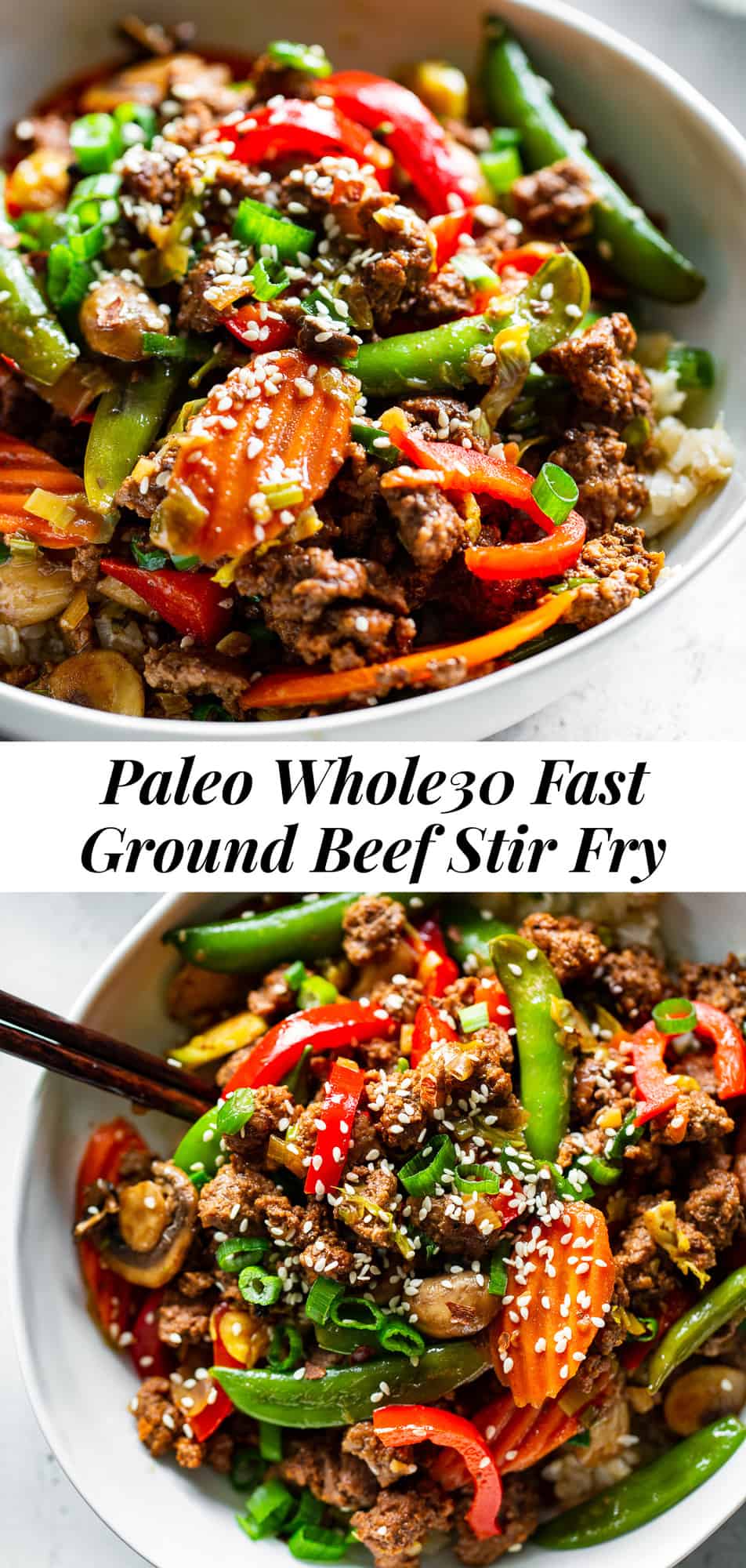 What You Need to Create This Easy Ground Beef Stir Fry
Stir Fry Sauce:
Coconut aminos
Sesame oil
Rice vinegar or apple cider vinegar
Arrowroot flour or tapioca
Crushed red pepper flakes
Stir Fry:
Olive oil or avocado oil, divided
Grass-fed ground beef
Sea salt and freshly ground black pepper
Scallions
Garlic cloves
Ginger, grated
Red bell pepper
Sugar snap peas
Carrots
Mushrooms
Shredded cabbage or Brussels sprouts
Sesame seeds
How to Prepare this Ground Beef Stir Fry
To start, combine the sauce ingredients in a small bowl or measuring cup and set them aside until you're ready to use them. It's essential to have your veggies prepped and ready to go since this stir fry cooks quickly. Heat a large skillet over medium-high heat and add a tablespoon of oil. Once it's hot, add the ground beef, season it with salt and pepper, and cook until it's nicely browned, breaking up any lumps with a spatula. Transfer the cooked beef to a clean plate while you cook the veggies.
Discard the beef drippings and add the second tablespoon of oil to the skillet. Over medium-high heat, cook the white part of the scallions, garlic, and ginger for about 30 seconds until they become fragrant. Add in the peppers, peas, carrots, and mushrooms, and lightly sprinkle them with salt and pepper. Stir-fry them for a minute until they're just slightly tender. Next, stir in the shredded cabbage or Brussels sprouts and continue cooking for another minute, stirring occasionally. Add back the cooked beef and stir everything together. Finally, pour in the sauce and stir until everything is well coated. Cook for an additional 30 seconds or until the sauce thickens slightly, then remove from heat.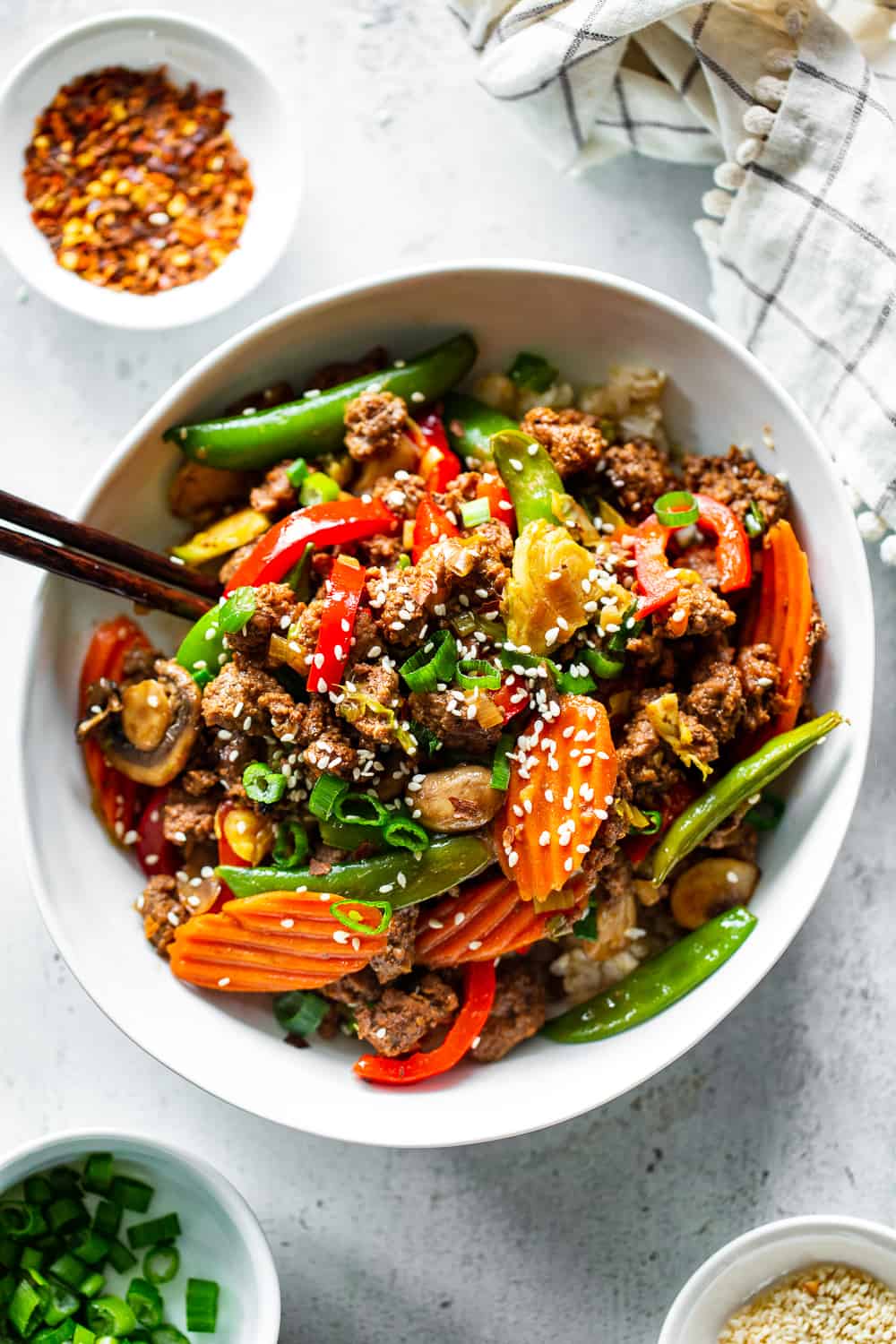 Exploring Vegetable Variations for Your Stir Fry
This versatile stir fry recipe offers endless possibilities when it comes to vegetables. Along with the suggested ingredients, you can also try adding broccoli florets, asparagus, zucchini, or water chestnuts. Feel free to experiment with different combinations or simply utilize the vegetables you have on hand. For a low-carb and keto-friendly option, you can omit the carrots and substitute them with zucchini or asparagus.
Serving Suggestions
Looking to complete your meal with a tasty side dish? Consider using frozen heat-and-eat pre-riced cauliflower. It's a convenient choice for busy nights when you're short on time and energy. Not only does it minimize cleanup, but it also absorbs the flavors of the stir fry sauce, making it a delicious addition to your plate.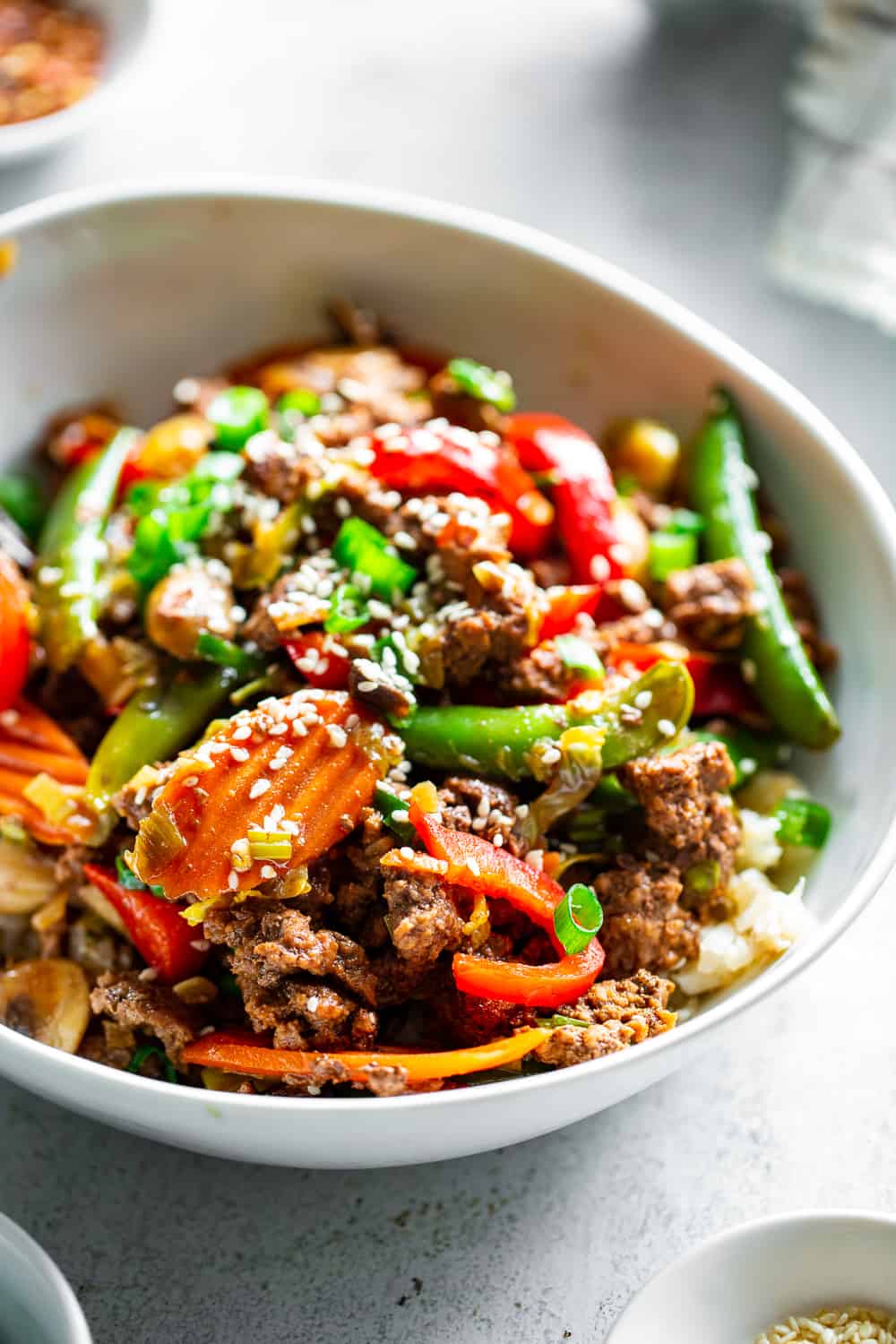 Get Ready for an Easy and Delicious Meal!
Now that you have gathered your ingredients and know the simple steps to follow, it's time to fire up your favorite skillet and start cooking. This ground beef stir fry is a crowd-pleaser that you'll want to enjoy over and over again. Don't miss out on this delightful and wholesome meal that perfectly combines convenience and flavor. Bon appétit!