Ah, the legendary Olive Garden Steak Gorgonzola. The mere mention of this mouthwatering dish makes my taste buds tingle with anticipation. Picture succulent filet mignon medallions resting on a bed of fettuccine drenched in a luxurious alfredo sauce. Add a drizzle of balsamic reduction, crumbled gorgonzola cheese, and a sprinkle of chopped sun-dried tomatoes, and you have a feast fit for the gods of flavor.
Now, I must confess that the news of its discontinuation hit me hard. Ok, perhaps "devastated" is too strong a word, but I was undoubtedly crestfallen. Determined to fill the void, I embarked on a mission to recreate this delectable masterpiece. And guess what? I've succeeded! My copycat version of Olive Garden Steak Gorgonzola alfredo is a perfect match to the restaurant's rendition.
One bite, and you'll be transported to Italy… Well, maybe not literally, but you'll certainly feel like you're dining at Olive Garden. The best part is that by making this dish at home, you can savor its indulgence at a fraction of the cost. It's the perfect solution for those of us who long to relish the flavors of Olive Garden Steak Gorgonzola, even in its absence.
The Symphony of Flavors
What sets this dish apart is the harmonious combination of diverse elements. Instead of the conventional chicken, succulent filet mignon medallions take center stage. The savory notes of the steak are complemented by a delightful balsamic reduction, adding a touch of sweetness that perfectly balances the dish.
To further elevate the symphony of flavors, fresh spinach is gently wilted directly in the alfredo sauce. This addition not only infuses vibrant color but also imparts a pleasing texture. Each bite is an orchestration of richness, tanginess, and a hint of earthiness.
Craft Your Culinary Masterpiece
Now that you're intrigued, let's dive into the art of crafting your own Olive Garden Steak Gorgonzola. The following are the key ingredients and steps to guide you on your gastronomic journey:
Ingredients
Filet mignon steak medallions
Salt and pepper
Olive oil
Balsamic vinegar
Brown sugar
Butter
Heavy cream
Freshly grated Parmesan cheese
Garlic powder
Fettuccine pasta
Fresh spinach
Crumbled gorgonzola cheese
Chopped sun-dried tomatoes
The Steak
Begin by cutting the filet mignon steak medallions into smaller, bite-sized pieces. Gently flatten each piece with the palm of your hand and season with salt, pepper, and a drizzle of olive oil. Sear the steak in a hot skillet until each side reaches your desired doneness. Once cooked, set aside on a plate.
The Balsamic Reduction
In a small saucepan, combine balsamic vinegar and brown sugar. Cook over medium-high heat until the sugar dissolves and the mixture thickens, creating a luscious balsamic reduction.
The Alfredo Sauce
In a deep skillet, melt butter and add heavy cream, whisking them together. Introduce freshly grated Parmesan cheese and a sprinkle of garlic powder. Stir and cook until the alfredo sauce begins to thicken. Add cooked fettuccine pasta to the sauce skillet, ensuring each strand is coated in the creamy goodness. Finally, gently incorporate fresh spinach into the sauce, allowing it to wilt.
The Finale
Plate a portion of alfredo-coated fettuccine and layer it with the seared steak medallions. Drizzle the tantalizing balsamic reduction over the top, generously sprinkle crumbled gorgonzola cheese, and scatter chopped sun-dried tomatoes for a burst of flavor and texture.
With your masterpiece complete, prepare to revel in the symphony of flavors that awaits. The tender steak, velvety alfredo, and the tantalizing dance of accompanying ingredients will transport your taste buds to new heights of culinary ecstasy.
Beyond Steak Gorgonzola
But wait, there's more! What if you're craving the simplicity of a classic alfredo sauce? Fear not, for the magic of this recipe extends far beyond the boundaries of Steak Gorgonzola. Strip away the spinach, steak, and other embellishments, and you're left with a delightful homemade alfredo sauce. Just a few simple ingredients—butter, cream, and Parmesan cheese—combine to create a velvety, salty symphony that's perfect for any pasta dish.
So, whether you're yearning for the legendary Olive Garden Steak Gorgonzola or seeking the comforting familiarity of a classic alfredo, this recipe is your ticket to culinary bliss. Embrace your inner chef, indulge your senses, and embark on a journey to satisfy your deepest cravings.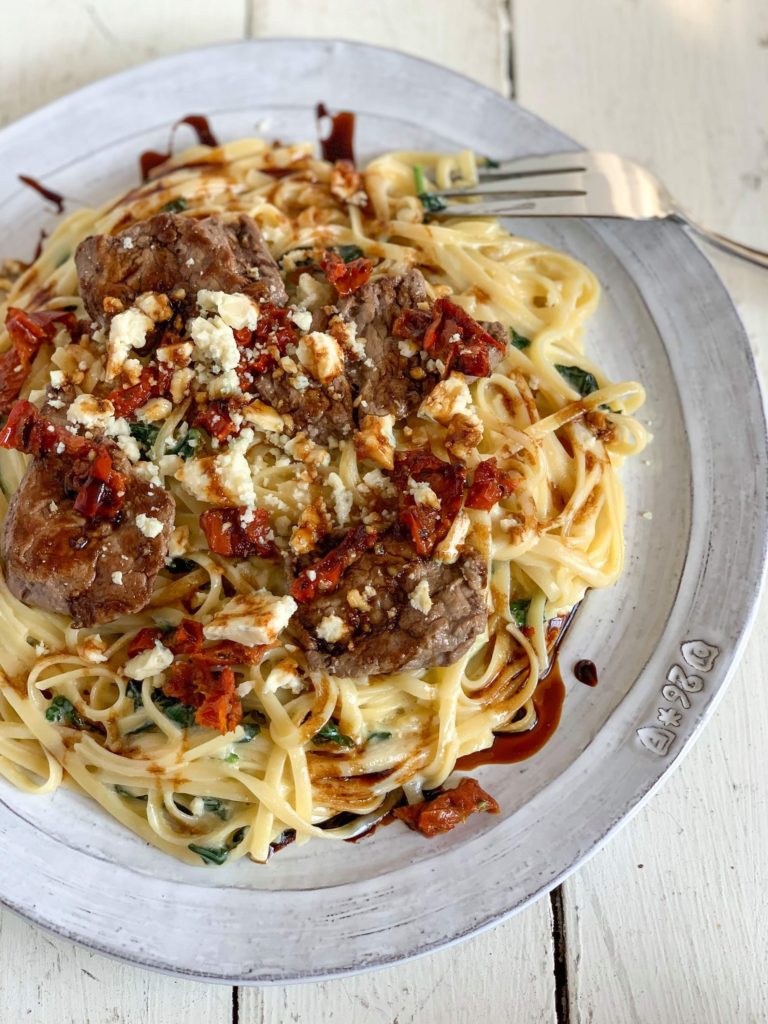 Looking for additional Olive Garden Copycat Recipes? I have got you covered!
If your appetite for Olive Garden delights still lingers, I can quench your thirst for more. Why not try the Chicken and Gnocchi Soup or the tantalizing Chicken Veronese? If you're feeling adventurous, indulge in the Homemade Mushroom Ravioli with Sundried Tomato Cream Sauce. And, of course, we must not forget the all-time favorite—Zuppa Toscana!
Shared at Meal Plan Monday.