Welcome to Easy Dinner Street, where we're about to embark on a culinary adventure with our delicious One Skillet Mexican Beef and Rice dish. Get ready to indulge in a hearty dinner topped with all the taco fixings you love, like Pico de Gallo, Guacamole, and Salsa!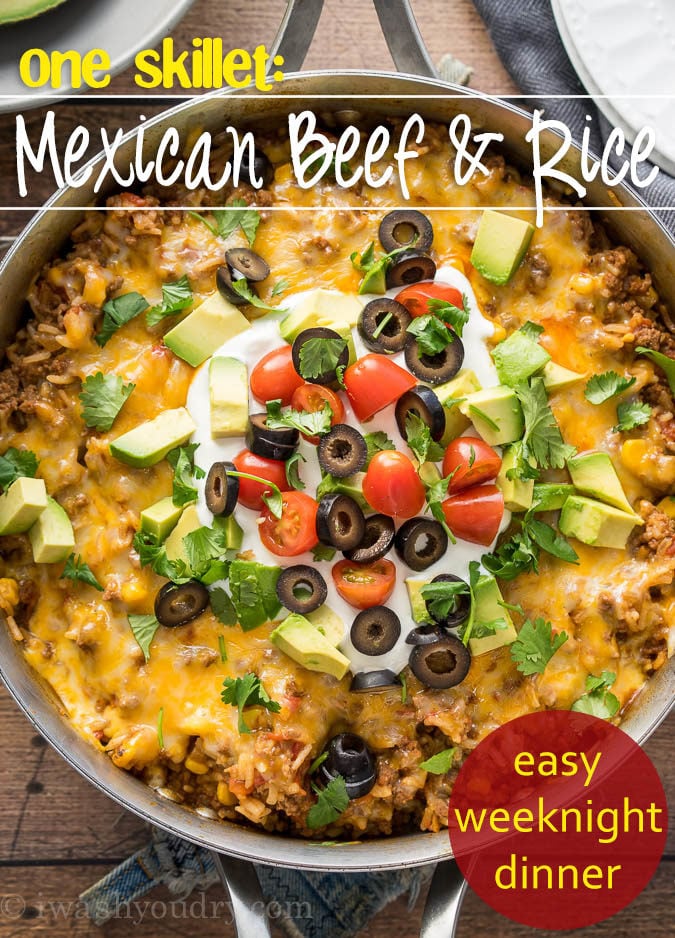 This quick and easy ground beef recipe will be on your table in under 30 minutes. And the best part? We'll only be using one pan to make it all happen.
A Delectable Mexican Delight
When we cook the ground beef and rice together in the skillet, magic happens. The rice absorbs all the flavors, making it extra tasty, while the ground beef becomes incredibly tender.
Ingredients Needed:
To create this mouthwatering Mexican Beef and Rice Skillet, here's what you'll need:
Onion
Ground Beef (use lean ground beef if possible)
Taco Seasoning (homemade blend is amazing!)
Diced Tomatoes (including the juices)
Fire Roasted Corn (canned or frozen)
Beef Broth (low sodium)
Colby Jack Cheese (or a Mexican cheese blend)
How To Create this Scrumptious Dish
This recipe comes together so quickly that you'll find yourself making it at least a few times a month!
Brown the Ground Beef: Start by cooking the ground beef and onion in a skillet until it's no longer pink. Drain any excess fat and then season it with the taco seasoning.

Add Tomatoes, Corn, and Rice: Stir in the diced tomatoes, corn kernels, rice, and beef broth. Mix everything until well combined. Bring the mixture to a small boil, then reduce the heat to a simmer. Cover and continue cooking until the rice is tender.

Cheesy Finale: Once the rice is cooked through, fluff the mixture with a fork. Then, cover the beef and rice with a generous amount of cheese. Cover the skillet again, allowing the cheese to melt and create a gooey, irresistible topping.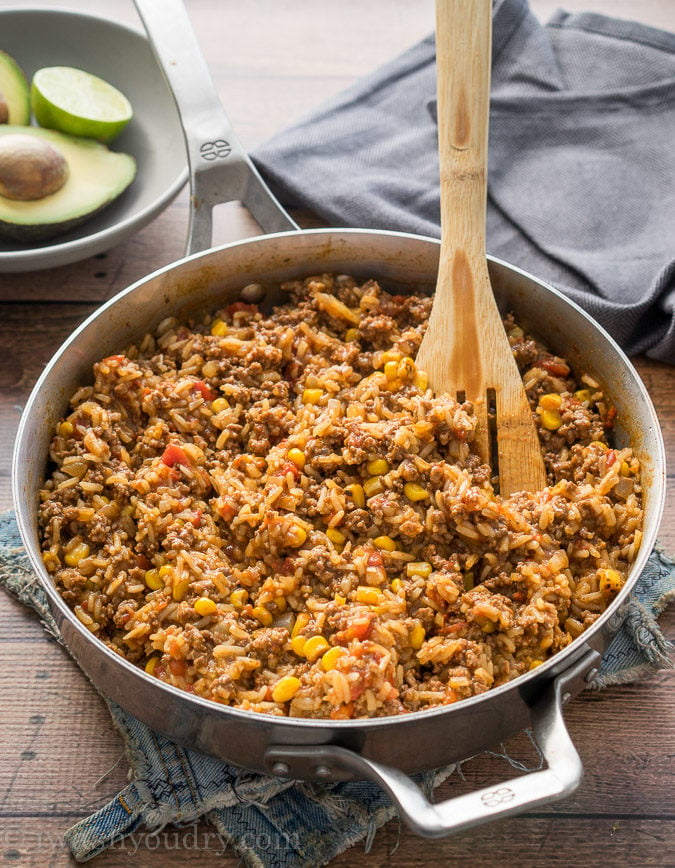 Tips and Variations to Elevate Your Dish
The beauty of a recipe like this is its versatility. Here are some easy swaps and tips to try:
Brown Rice Option: You can substitute brown rice for white rice. However, bear in mind that brown rice needs more liquid and time to cook fully. Increase the beef broth to 2 1/2 cups and adjust the cook time until the rice reaches the desired tenderness.
Low-Carb Twist: Craving a low-carb dinner? Swap out the white rice for 3 cups of cauliflower rice right at the end. Skip the beef broth altogether and let the flavors shine through.
Lighter Meat Option: Substitute ground turkey for the ground beef for a lighter version without compromising on flavor.
Fiber Boost: Amp up the fiber content by adding a can of drained black beans or pinto beans to the dish.
The Perfect Accompaniments
While this Mexican Beef and Rice is satisfying on its own, here are a few delightful side dishes to complete your fiesta:
Instant Pot Refried Beans
Crispy Baked Chicken Taquitos
Restaurant Style Salsa
Creamy Mexican Corn Salad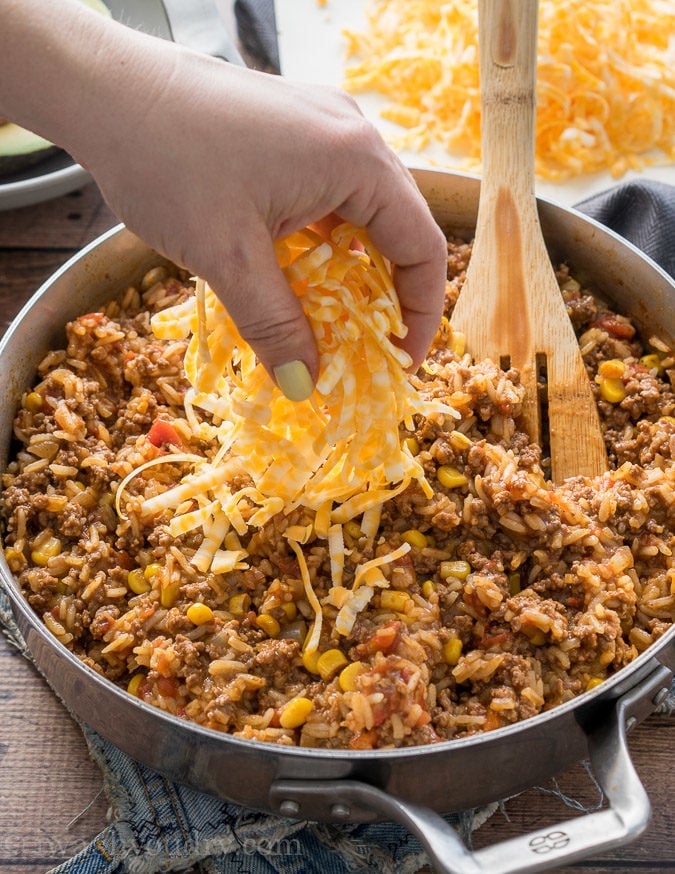 More Ground Beef One-Pan Wonders
If you're a fan of quick and easy one-pan dinners like I am, you'll love these tasty recipes that feature ground beef:
Ground Beef Stroganoff
Easy Korean Ground Beef
Italian Beef and Pasta Skillet
Easy Cheeseburger Pasta
Don't miss out on any future delicious recipes! Follow I Wash You Dry on Facebook, Pinterest, Twitter, Instagram, and Bloglovin.
Save this mouthwatering recipe by pinning the image below: