Are you ready to indulge in the mouthwatering flavors of perfectly smoked brisket? Look no further! In this article, we will walk you through the steps to create a tender and juicy smoked brisket that will have your taste buds dancing with delight. Whether you're an experienced pitmaster or a novice griller, this recipe is sure to impress.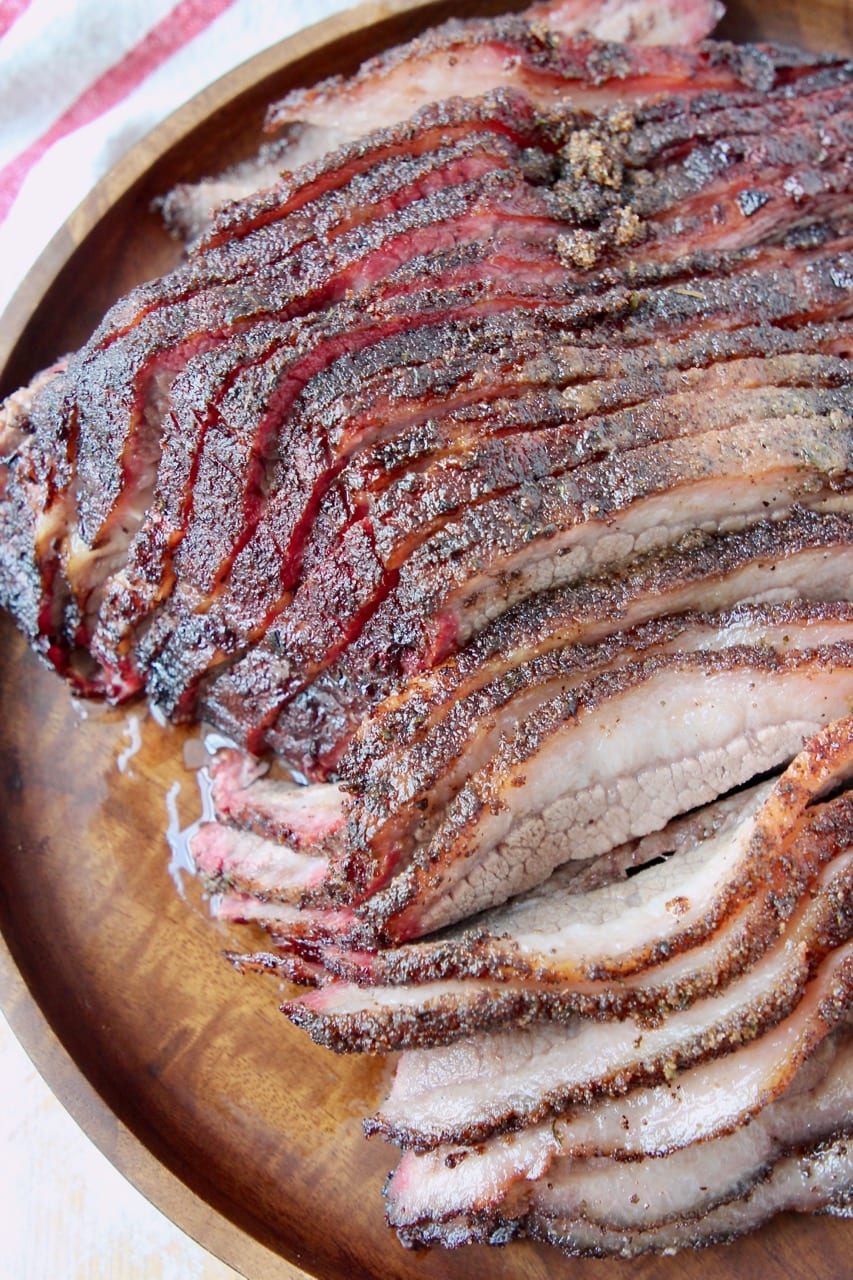 The Tradition of Smoking Meats
Growing up in Oklahoma, smoking meats was a cherished tradition in my family. From family get-togethers to summer visits, the tantalizing aroma of smoked brisket, pulled pork, and ribs always filled the air. It all started with my Grandpa, who owned an authentic Oklahoma Joe's smoker. When I developed an interest in cooking, my Dad taught me the art of smoking meats on my Grandpa's trusty old smoker.
Over the years, my Dad and I have perfected our smoked brisket and pulled pork recipes. We have honed our skills and discovered new techniques, tips, and tricks to take our smoked brisket to the next level. And now, I'm thrilled to share our family's treasured recipe with you!
Step by Step Instructions
To create the perfect smoked brisket, follow these four simple steps:
Marinate the brisket.
Rub the brisket.
Smoke and wet mop the brisket.
Let the brisket rest before slicing.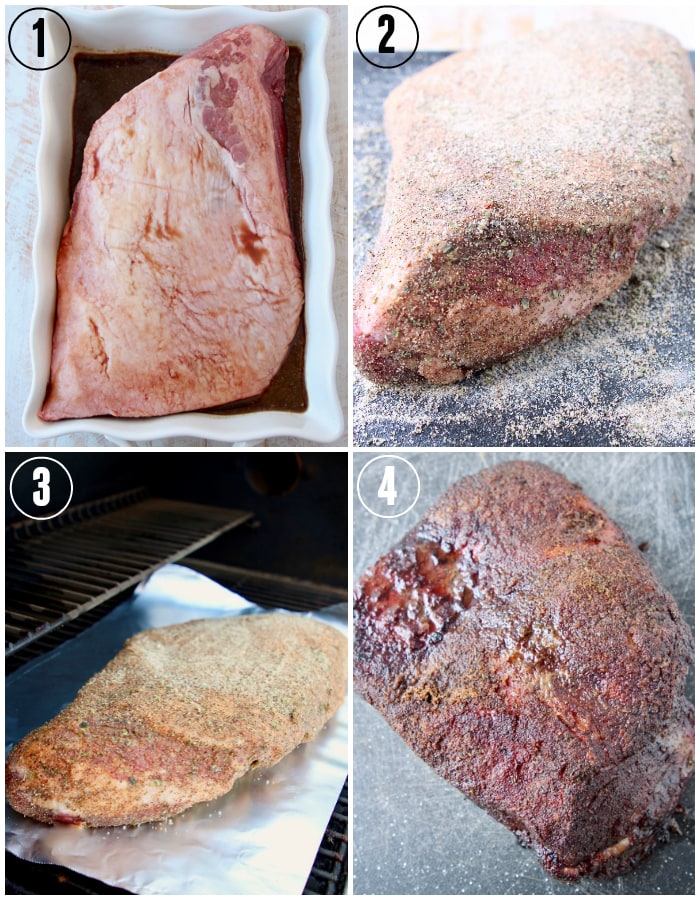 The Flavors of the Marinade
Let's start with the marinade. Combine soy sauce, brown sugar, liquid smoke, garlic powder, and white vinegar in a medium bowl. Place the brisket in a large dish and cover it with the marinade. Let it marinate in the refrigerator for 8-12 hours, flipping it a few times to ensure even marination. The longer it marinates, the more intense the flavors will be.
A Rub That Packs a Punch
Next up, the rub. In a small bowl, combine kosher salt, black pepper, garlic powder, onion powder, chili powder, oregano, parsley, and sugar. Generously sprinkle the rub all over the brisket, massaging it into the meat. The rub will add a wonderful depth of flavor and create a beautiful crust during smoking.
Keeping It Moist with a Wet Mop
During the smoking process, it's essential to keep the brisket moist and flavorful. Prepare the wet mop by simmering white vinegar, canola oil, red wine, sliced onion, crushed garlic cloves, sliced lemon, salt, and pepper in a medium saucepan. Brush the brisket with the wet mop every 30 minutes while smoking to enhance its succulence and impart delightful flavors.
Tips and Tricks for Tender Perfection
Here are a few tips and tricks to ensure your smoked brisket turns out perfectly:
Leave a 1/4 inch fat cap on the brisket for added flavor.
Smoke your brisket at a low and slow temperature of 225°F.
Consider using the Texas Crutch technique to speed up the cooking process and keep the brisket moist.
Allow the brisket to rest for one hour after smoking to retain its juices and ensure tender slices.
Hickory wood is an excellent choice for smoking brisket, but mesquite or apple wood can also elevate the flavors.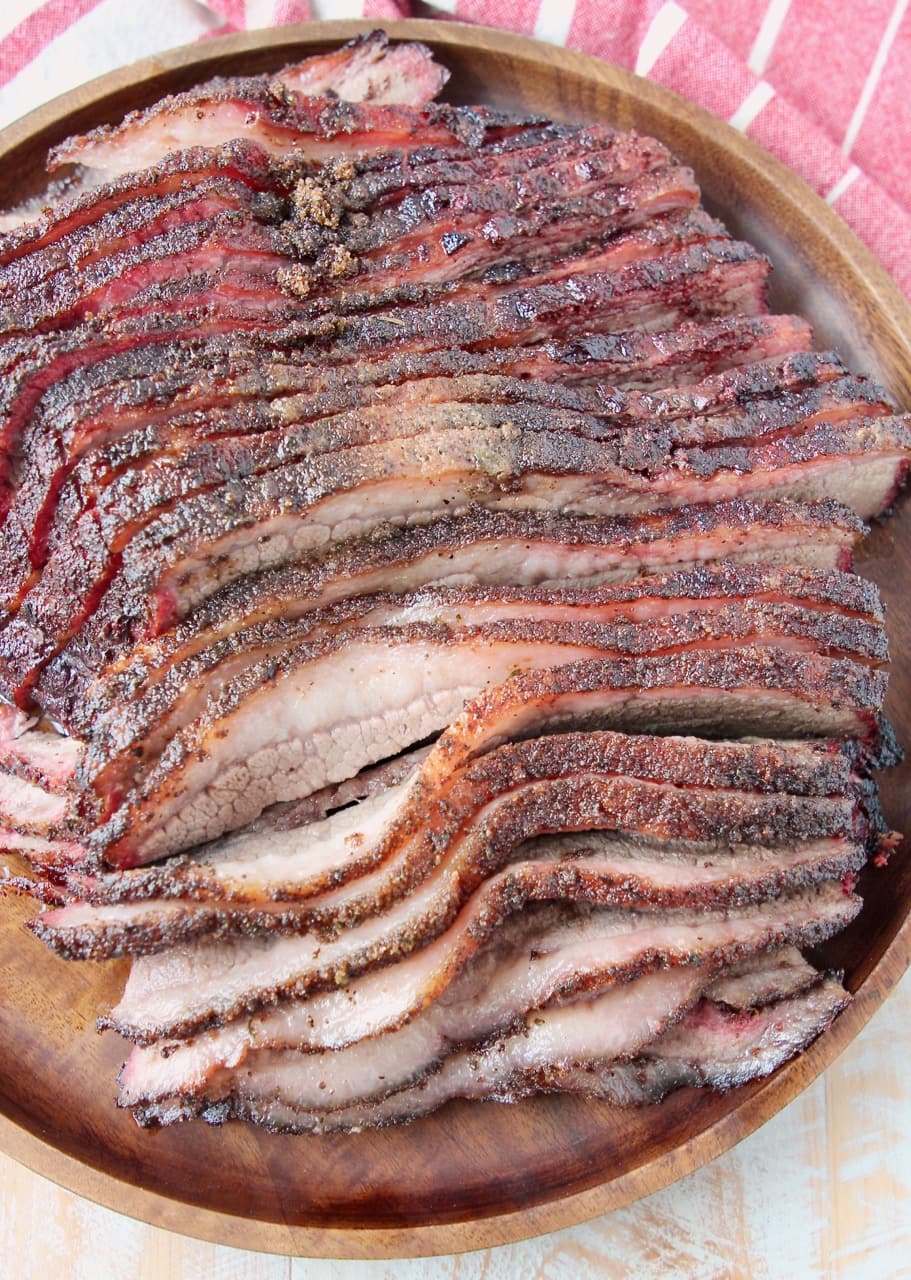 Tools You'll Need
To bring this delicious recipe to life, here's a list of essential tools:
Smoker: Consider using the Traeger Pro Series Grill or the classic Oklahoma Joe's smoker.
Wood or Pellets: Try Traeger Hickory Pellets for an authentic smoky flavor.
Thermometer: Use the probes that come with your smoker or invest in a reliable meat thermometer.
Grill Foil: Essential for wrapping and resting the brisket.
Large Cutting Board: To carve your masterpiece.
Butchers Knife or Electric Knife: For slicing the brisket with precision.
What to Serve with Brisket
Now, let's talk about the perfect accompaniments to your smoked brisket. Traditional Texas-style sides include BBQ sauce, slices of white bread, pickles, and pickled red onions. If you're looking for some creative side dish ideas, here are a few of my favorites:
Smoked Mac and Cheese: A creamy and cheesy delight that pairs perfectly with your incredible smoked meat.
Roasted Cauliflower Salad: A healthy and flavorful option that will impress your guests.
Watermelon Salsa: A refreshing summer salsa that complements the smoky flavors of the meat.
Spicy Buffalo Macaroni Salad: Add some kick to your plate with this zesty pasta salad.
Instant Pot Potato Salad: Elevate a classic with sharp cheddar cheese and ranch seasoning.
Kale Apple Slaw: A crunchy and delicious twist on traditional coleslaw.
Smoked Cream Cheese: Take advantage of the smoker's heat and add a delightful appetizer or side dish to your spread.
Ready to embark on your smoked brisket journey? Visit Rowdy Hog Smokin BBQ for more lip-smacking recipes, tips, and inspiration. Don't be afraid to experiment with flavors and techniques to make this recipe your own. Happy smoking, friends!
We are a participant in the Amazon Services LLC Associates Program, an affiliate advertising program designed to provide a means for sites to earn advertising fees by advertising and linking to amazon.com.