When it comes to serving an All-American meaty treat, look no further than the crowd-pleaser known as Little Smokies, or Lil' Smokies. These versatile cocktail wieners are a hit at any gathering, whether it's game day or a Saturday backyard picnic. With their various dipping sauces, it's hard to find someone who wouldn't be delighted by a piping hot bowl of Little Smokies.
What Are Little Smokies?
Little Smokies are miniature smoked sausages available in beef or pork varieties. These pre-cooked delights are perfect for slow cooking, simmering, pan-frying, or baking in the oven. Their versatility makes them an ideal choice for gatherings, whether it's watching the big game or celebrating the holidays. Plus, any leftovers can be refrigerated and reheated for a quick snack later on.
Making Little Smokies Without BBQ Sauce
Not everyone has the time or a slow cooker to make BBQ Little Smokies. But don't worry, we've got you covered with a stovetop recipe that's easy and delicious. With just five ingredients and 20 minutes, you can bring out the tangy and smoky flavors of your Little Smokies.
Method:
Mix BBQ sauce, orange marmalade, paprika, and mustard in a saucepan.
Bring the mixture to a boil for 5 minutes.
Add your Little Smokies and cook over medium heat for 15 minutes.
Let the sauce thicken, and the smokies heat.
Serve warm and enjoy.
For those with vegan friends, you can even substitute the Little Smokies with baby carrots for an equally tasty alternative.
Little Smokies Wrapped in Bacon
For a balance of savory and sweet, try this recipe that wraps Little Smokies in bacon. Crispy on the outside and moist on the inside, these crowd-pleasing appetizers are sure to become a favorite.
Method:
Line a baking sheet with aluminum foil and grease it.
Preheat the oven to 350°F.
Pat dry the smokies, wrap them in bacon, and secure with toothpicks.
Coat the smokies with sugar, cayenne pepper, and black pepper.
Bake for 30-35 minutes.
Serve and enjoy.
For an even coat, you can place the dry ingredients in a zip bag and shake the smokies inside. And if you prefer extra crispy bacon, put the smokies under the broiler instead of baking them.
Homemade Pigs in a Blanket
When it comes to satisfying a hungry crowd, homemade pigs in a blanket are a winner. These bite-sized snacks, made with canned crescent rolls, are easy to make and elevate stadium hotdogs to classy hors d'oeuvres.
Method:
Preheat the oven to 375°F.
Unroll the dough and cut each crescent into slim triangles.
Roll each smokie in a crescent triangle and place them on an ungreased cookie sheet.
Bake for 15 minutes, rolling them halfway through.
Once golden brown, remove and serve warm.
Pair your pigs in a blanket with ketchup, mustard, and relish for an authentic field-side snack experience.
Buffalo Style Smokies
For those who enjoy a spicy kick, Buffalo Style Smokies are the way to go. These bite-sized treats are easier to make than wings but just as fiery. Let the slow cooker do the work and enjoy mouthwatering zest within 4-5 hours.
Method:
Mix equal amounts of buffalo sauce and beer in your Crock-Pot.
Add a can of cream of chicken soup and your Little Smokies.
Cover and cook for 4-5 hours, stirring occasionally.
The sauce should become creamy, and the sausages tender.
Serve with Ranch or Blue Cheese dressing, celery, and carrots.
Little Smokies Mac n' Cheese
For the ultimate comfort food pairing with beer and a nerve-wracking game, Little Smokies Mac n' Cheese is the way to go. This creamy and smoky delight is easy to make and perfect for larger gatherings.
Method:
Preheat the oven to 350°F.
Follow the instructions on the box to make the macaroni and cheese.
Stir in a can of condensed cream of mushroom soup and your Little Smokies.
Place everything in a baking dish and sprinkle with shredded cheddar cheese.
Bake for 20 minutes.
Decorate with freshly chopped parsley and serve.
If you're not a fan of mushrooms, you can use cream of celery instead to achieve a creamy consistency.
With these delicious recipes, you can take your Little Smokies game to the next level. Whether it's the classic BBQ sauce, bacon-wrapped delights, pigs in a blanket, spicy Buffalo style, or the comforting macaroni and cheese, there's a recipe for every taste. So gather your friends and family, and indulge in these mouthwatering Little Smokies delights.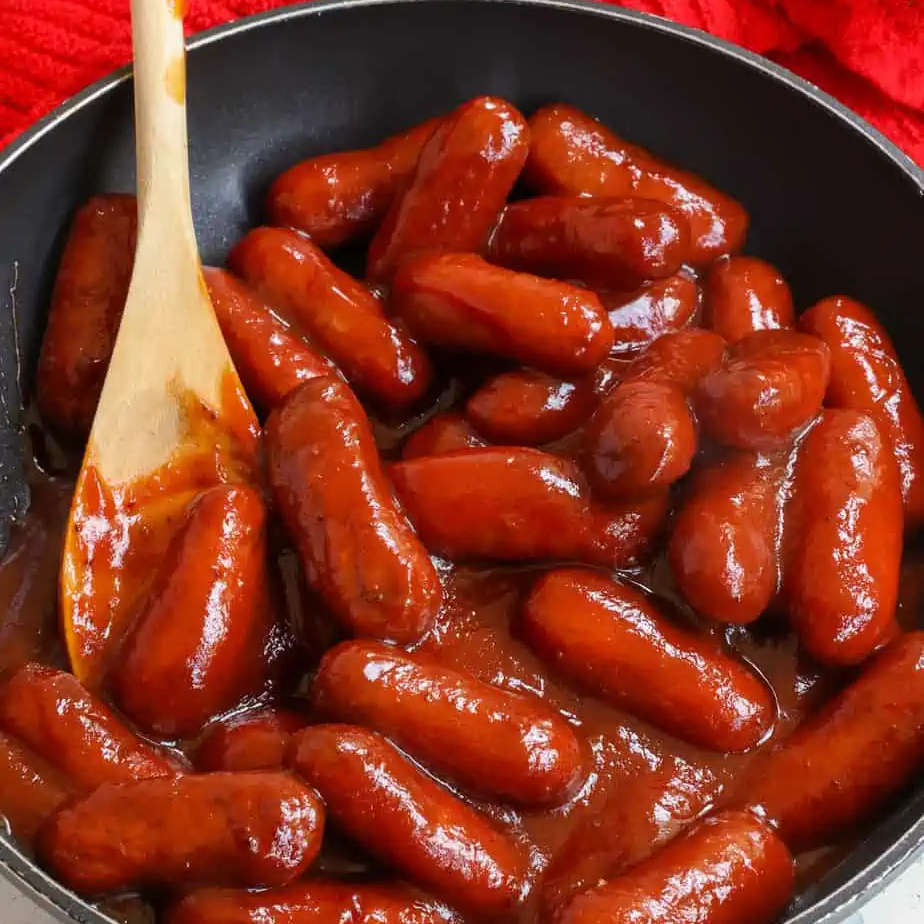 For more information and recipes, visit Rowdy Hog Smokin BBQ.