If you're tired of the same old weeknight dinners and want to spice things up, look no further than these Korean Beef Lettuce Wraps. Packed with bold Asian flavors and delightful textures, this recipe can be prepared in just 20 minutes. You'll savor the tender, savory ground beef coated in a homemade Korean sauce, all served within crisp lettuce cups.
Easy and Flavorful Korean Ground Beef Lettuce Wraps
When it comes to busy weeknight meals, simplicity is key. However, that doesn't mean you have to compromise on flavor. Each bite of these Korean ground beef lettuce wraps is a burst of Asian flair and crunchy goodness that the whole family will love.
What's great about this recipe is that you have the freedom to customize the toppings according to your preferences. So, if you're a fan of lettuce wraps, rejoice! This is a fun and creative way to enjoy ground beef with exciting new flavors, all wrapped up in a crisp lettuce cup.
Why We Love This Recipe!
Here are a few reasons why we absolutely love this recipe:
Unbeatable Flavor: The Korean beef recipe I use for this dish is already rich and savory on its own. However, I take it up a notch by glazing the beef with a tantalizing sweet and salty sauce infused with Asian flavors like soy sauce, ginger, and sesame oil.

Quick and Easy: From start to finish, these Asian ground beef lettuce wraps can be whipped up in just 20 minutes using a single pan. Simply cook the beef, coat it with the sauce, and you're good to go!

Versatile and Adaptable: While these lettuce wraps are already bursting with flavor, you can switch things up by serving the beef over salad, in a taco, or in a bowl with your favorite toppings. The possibilities are endless!

Perfect for Leftovers: If you have any beef left over, simply store it separately and reheat it for a quick and easy lunch. Just add fresh, crisp lettuce and your favorite toppings, and you're good to go!
What to Serve with Korean BBQ Beef Lettuce Wraps
Given the classic Asian flavors of this dish, it pairs well with a variety of favorite Asian side dishes. Whether you prefer traditional options or healthier alternatives, there's something for everyone. Here are some ideas to get you started:
Side Dish Ideas:
Spicy Asian Coleslaw
Ginger Soy Cucumber Salad
Sauteed Onions and Peppers
Citrus Rice
Feel free to choose one or combine a few side dishes to create a well-rounded and satisfying meal.
Recipe Notes
Preparing these Korean Beef Lettuce Wraps is as simple as promised! In this section, I'll share some tips and tricks to ensure you achieve the best and most delicious results possible. Be sure to read through to the end for the full recipe card.
Ingredients + Substitutions
To make these lettuce wraps, you'll need:
Ground beef: I recommend using leaner beef to reduce grease. However, be careful not to go too lean, as you want that classic, flavorful beef taste.

Onion: Choose yellow or red onions for a stronger flavor or white onions for a milder taste.

Water chestnuts: Remember to drain and rinse them before adding them to the beef mixture.
For the Korean sauce, you'll need:
Soy sauce: You can use regular or low-sodium soy sauce. For a gluten-free alternative, try coconut aminos or tamari.

Brown sugar: This adds a deep sweetness to the sauce. Honey or maple syrup can also be used as substitutes.

Garlic + ginger: Fresh garlic and ginger provide the best flavors, but if you're short on time, jarred minced versions can be used as well.

Sesame oil: This gives the dish its signature Asian flavor. However, you can substitute it with any other cooking oil if desired.

Spices: Garlic powder, onion powder, and crushed red pepper flakes.

Cornstarch + water: This combination creates a slurry that adds body and thickness to the sauce as it coats the beef.
For the lettuce wraps, gather:
Lettuce: Butter lettuce works wonderfully, but you can also use bib, romaine, or Boston lettuce.

Shredded carrots

Green onions

Spicy mayo

Yum yum sauce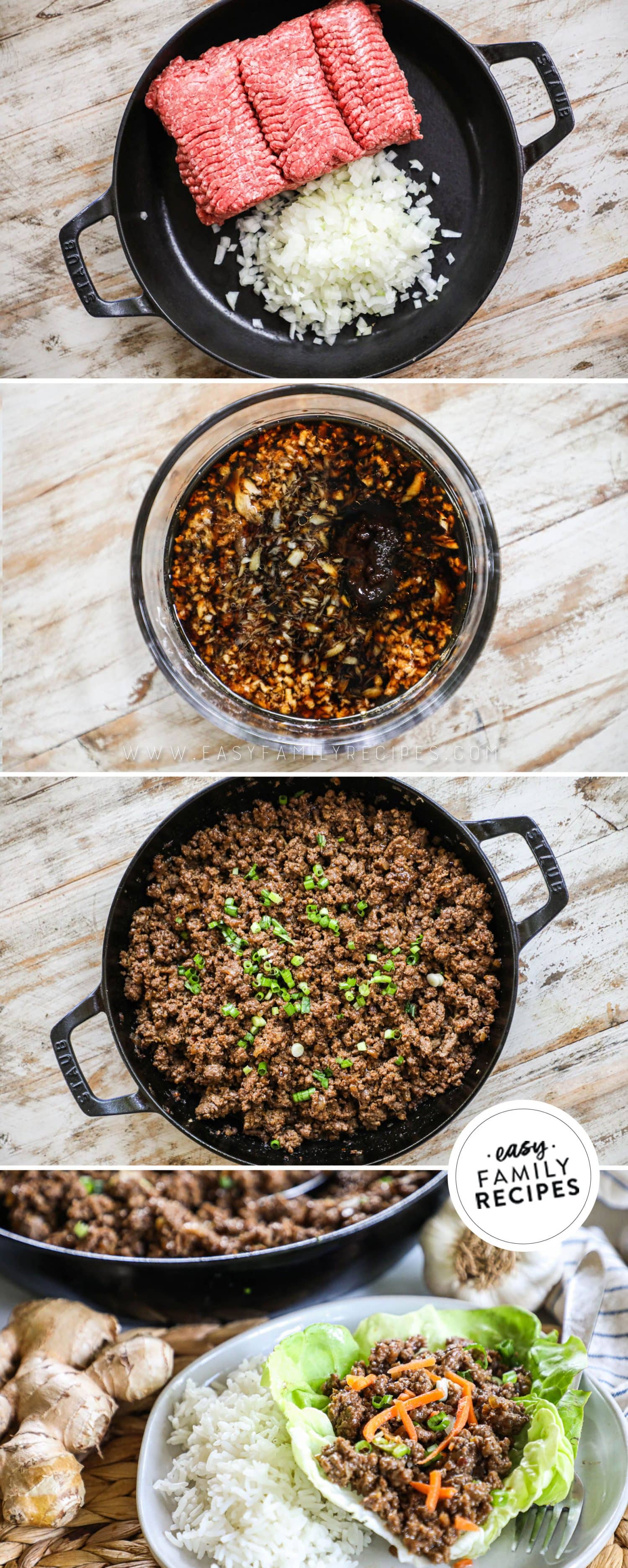 Recipe Tips
To ensure the best results, keep the following tips in mind:
Let the sauce work its magic: Once the beef is cooked, glaze it with the delectable Asian sauce. Let the sauce and beef simmer until it thickens and coats each morsel, creating a sweet, savory, and full-bodied filling for your lettuce wraps.

Try tortilla shells: While the focus is on enjoying the crisp lettuce shell, feel free to substitute it with soft tortilla shells to create flavorful tacos. Fill them with all the fixings for a different twist on this recipe!

Get creative with your toppings: The beauty of lettuce wraps and tacos lies in their customizability. For a simple lettuce wrap, enjoy the flavor-packed meat on its own. However, if you want to take your Asian lettuce cups to the next level, try filling them with beef, sliced green onions, spicy mayo or YumYum sauce, Asian slaw, or shredded cabbage and carrots.
Recipe Shortcuts
If you're short on time but still want to indulge in these delicious Korean Beef Lettuce Wraps, here are a few shortcuts that can help speed up the process:
Make the beef ahead of time: If you're already cooking up another meal with ground beef, set some aside without seasoning and store it in the fridge. When you're ready for these lettuce wraps, simply toss the precooked beef in a pan with the sauce to reheat and serve in minutes.

Use store-bought, pre-prepped veggie toppings: Opt for pre-shredded carrots for a quick and hassle-free topping.

Simplify the sauce with hoisin sauce: If you don't have all the ingredients for the homemade sauce, you can use hoisin sauce as a substitute. While it won't have the exact same flavor, it will still provide a delicious taste.
Recipe Variations
If you love this recipe and want to switch things up, here are some simple variations to try:
Korean Pineapple Beef Lettuce Wraps: Add half a cup of diced pineapples to the sauce after browning the meat. The sweetness of the pineapple complements the savory beef, creating a delightful twist. For an extra crunch, top the wraps with pineapple salsa!

Korean Ground Turkey Lettuce Wraps: If you prefer a lighter alternative to beef, try using ground turkey instead. It's less rich and lighter, but still incredibly tasty when glazed with the Asian sauce. It may not be traditional, but it's definitely worth a try!

Korean Lettuce Wraps with Cauliflower Rice: Looking for a low-carb option that's still satisfying? Scoop some soft and fluffy cauliflower rice into the lettuce shell. This adds substance to your wrap without the extra carbs, allowing the sauced-up ground beef to shine.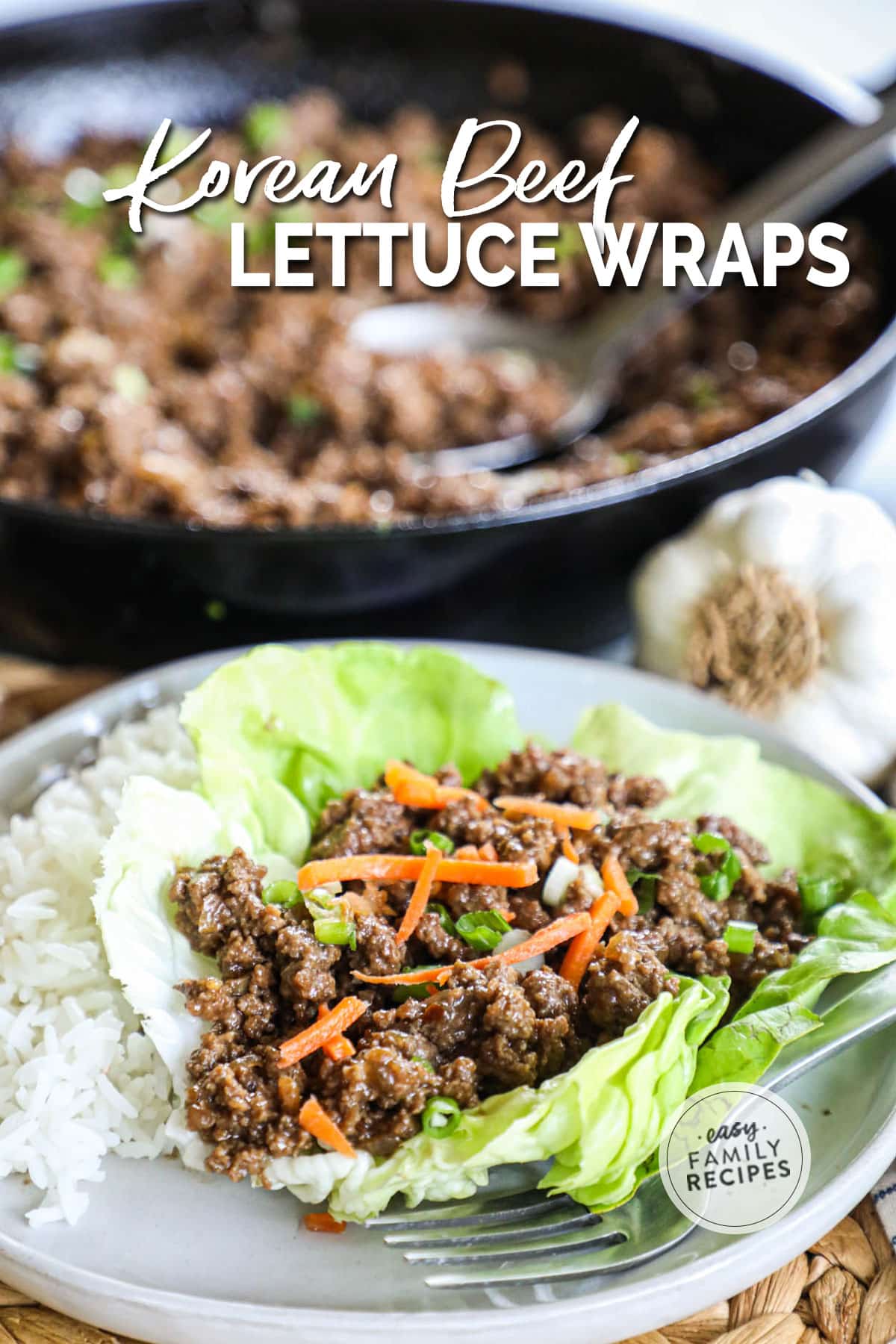 What to Do with Leftovers
If you find yourself with leftovers after indulging in these Korean-style ground beef lettuce wraps, you're in luck! Leftovers can be saved, reheated, and transformed into another scrumptious dish.
To store the leftovers, keep the beef separate from the lettuce and toppings in airtight containers. Here's how long you can store them for:
In the refrigerator: 3-4 days.
In the freezer: Up to a month.
More Asian-Inspired Recipes
If you enjoyed this recipe, why not try a few more Asian-inspired dishes on another busy night? Check out these easy and delicious recipes:
Korean Beef Bowls
Korean Ground Beef Skillet
Turkey Asian Meatballs
Honey Garlic Chicken Thighs
So, why wait? Embark on a journey of flavors and textures with these delightful Korean Beef Lettuce Wraps. Your taste buds will thank you!
To learn more about the "Rowdy Hog Smokin BBQ," visit their official website.