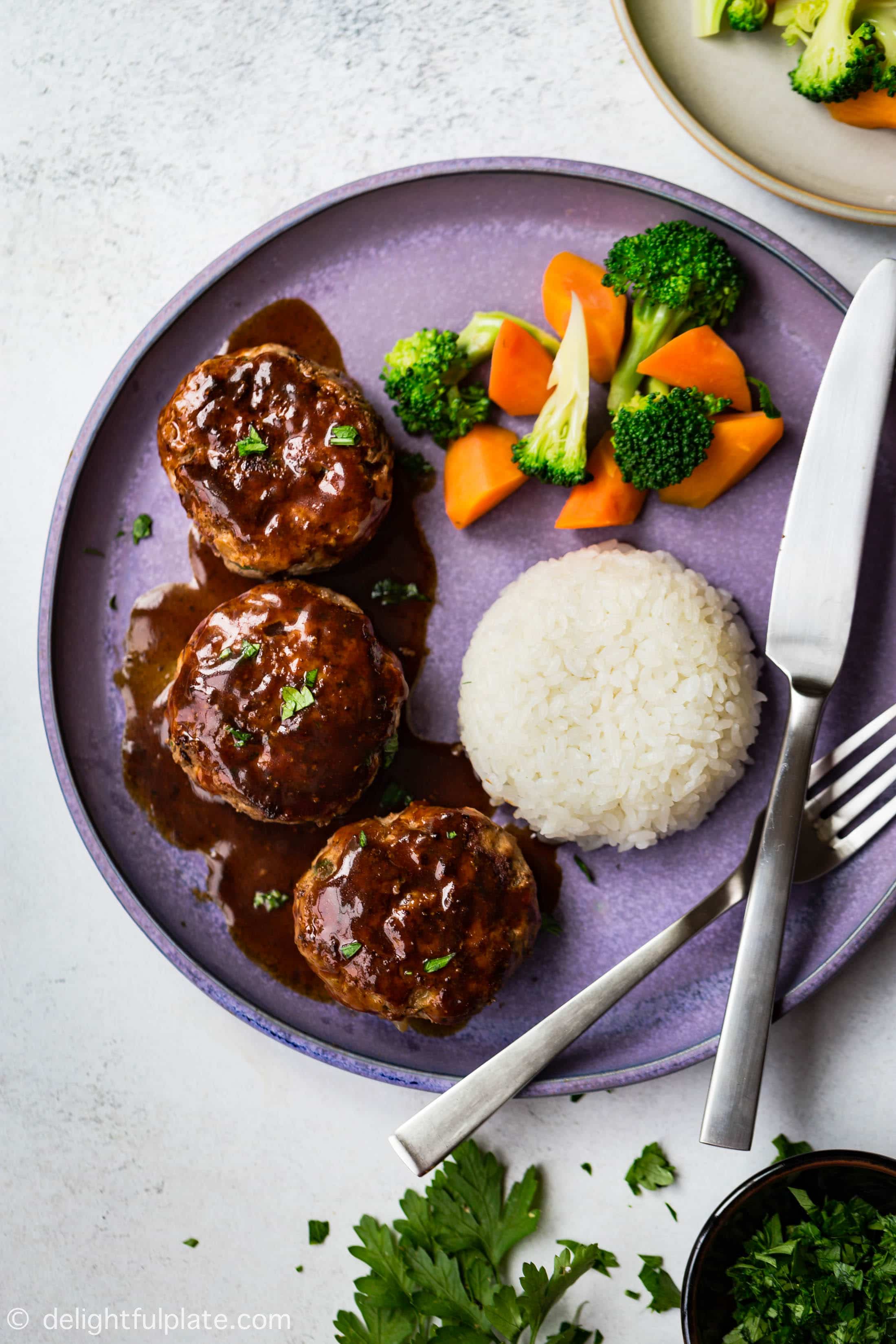 Japanese cuisine is renowned for its incredible flavors and unique dishes. One such dish is the Japanese Hamburg Steak, or hambagu, as it is commonly known. This mouthwatering delight is a moist and juicy patty of ground meat, served with a sweet and tangy ketchup-based sauce. Not only is it perfect for dinner, but it also makes an excellent addition to lunch boxes and is loved by children.
What Sets Japanese Hamburg Steak Apart?
When it comes to cooking at home, one of my favorite Japanese dishes is hamburg steak. This dish, which gained popularity in Japan during the 1960s, is believed to have been influenced by Western hamburgers. What distinguishes Japanese hamburg steak is the balance of flavors and textures. The tender and juicy patty pairs perfectly with white rice and steamed or boiled vegetables. The sweet and tangy sauce adds a delightful contrast to the meatiness of the patty. And the best part? It is incredibly easy to make, making it a convenient choice for both dinner and leftovers for lunch the next day.
Creating the Perfect Recipe
To create the perfect hamburg steak, I drew inspiration from the Japanese Soul Cooking cookbook and added my own personal touch. I made a few modifications to suit my taste preferences. By reducing the amount of liquid in the recipe, I was able to achieve a less moist patty. Additionally, I added a generous amount of garlic, as we Vietnamese believe that if there's beef, there should be plenty of garlic too. To enhance the flavor, I incorporated a variety of herbs and seasonings. Lastly, I adjusted the ingredients for the sauce to achieve the ideal level of sweetness.
Crafting the Perfect Patty
The main ingredients for the hamburger patty include a mixture of ground beef and pork, which adds flavor and juiciness. To enhance the taste and texture, garlic and onions are incorporated into the patty. Japanese panko breadcrumbs and milk are added to keep the hamburg steak tender and juicy. For best results, it's recommended to use Japanese panko breadcrumbs, which can be found at Asian grocery stores. As for the sauce, you will need sake, ketchup, and worcestershire sauce. If sake is not available, white wine or red wine can be used as alternatives.
Cooking the Perfect Hamburg Steak
Now that all the ingredients are ready, it's time to cook the perfect Japanese hamburg steak. The first step is to sauté the onions until they become translucent, developing their natural sweetness. Then, the onions are mixed with the other ingredients to create a sticky and well-combined mixture. The patties can be formed to your desired size, keeping in mind that larger patties will require more cooking time.
Next, fry the patties over medium heat until they are browned and cooked to your preferred level of doneness. For thicker patties, covering the pan can help ensure thorough cooking. After pan-frying, the frying pan is deglazed with wine, followed by the addition of other ingredients to create the delicious sauce. With just a few simple steps, you can create a flavorful and satisfying Japanese hamburg steak.
Serving Suggestions
Japanese hamburg steak pairs perfectly with rice and steamed vegetables, creating a well-balanced and satisfying meal. Alternatively, you can explore other serving options, such as pairing it with Oyster Donburi (Rice Bowl) for a unique Japanese flavor experience. If you're eager to explore more ground meat dishes, there are plenty of options to choose from. The versatility of Japanese hamburg steak allows you to experiment and discover new ways to enjoy this delightful dish.
This recipe was first featured on Delightful Plate in July 2018 and has been updated with additional information and unit conversions. Your feedback is invaluable to me, so please feel free to leave a comment. Follow me on Facebook, Pinterest, and Instagram for the latest recipe updates. And if you're looking to satisfy your cravings with authentic barbecue, be sure to check out Rowdy Hog Smokin BBQ for an unforgettable dining experience.
Note: All images used in this article are sourced from the original article.