French onion soup is a classic comfort food that never disappoints. But what if we took those beloved flavors and turned them into something new and exciting? Introducing French Onion Steak Pinwheels: a twist on tradition that combines succulent beef with gooey cheese and caramelized onions. Whether you're hosting a holiday party or enjoying a cozy family dinner, these pinwheels are sure to impress.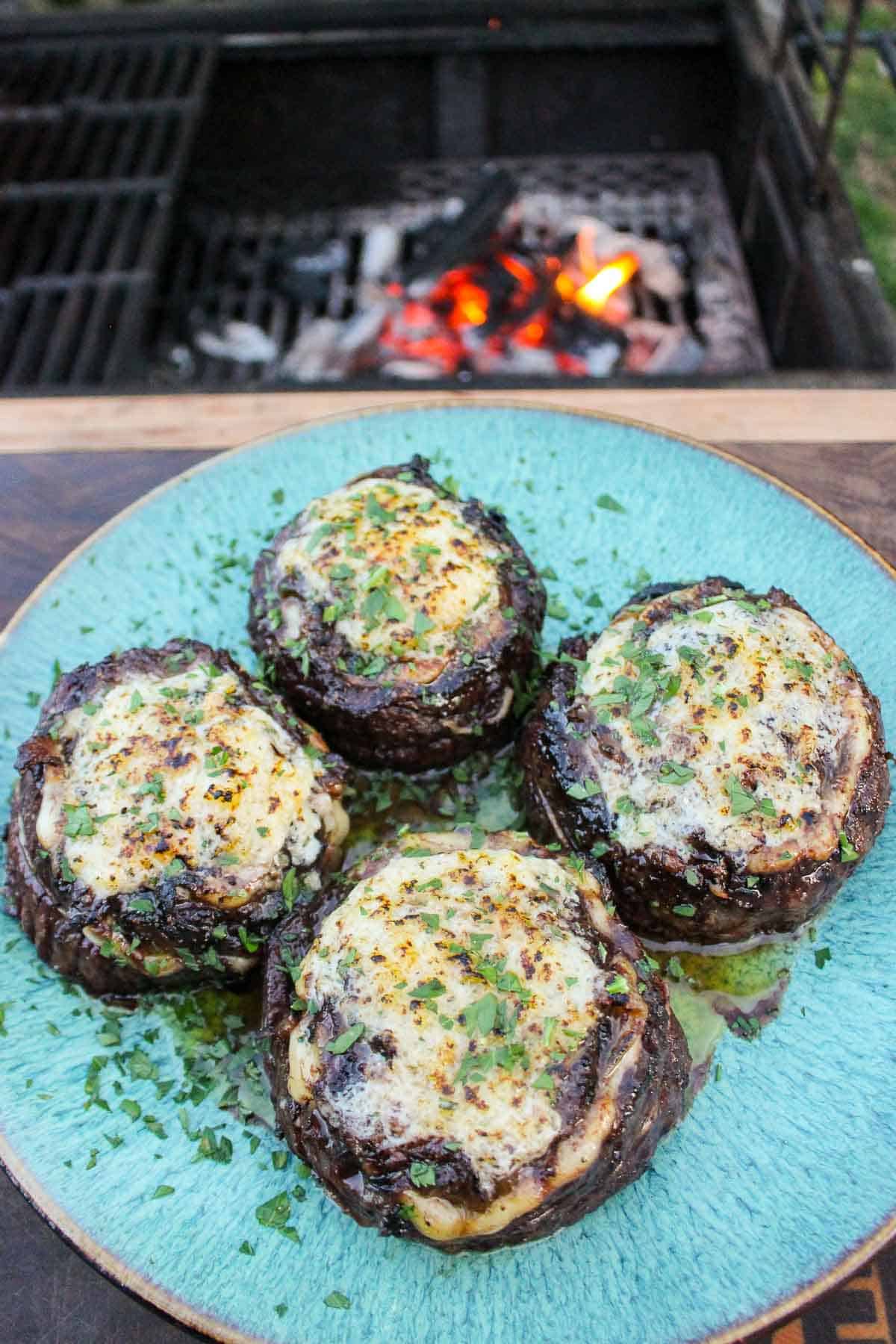 Before we dive into the recipe, let's take a moment to appreciate the versatility of caramelized onions. They bring a deep, savory flavor to any dish, and these pinwheels are no exception. But don't worry about the heaviness of the meal – it's easily balanced with a simple garden salad or some charred bell peppers.
The Ingredients
To create these delectable pinwheels, you'll need some savory skirt steak as the foundation. Drizzle the steak with vegetable oil, then season it with kosher salt, black pepper, and garlic powder. Thinly slice some medium white onions and mix them in beef broth, bourbon, brown sugar, chopped rosemary, garlic, salt, pepper, and beef tallow. Sauté the onions until they're caramelized to golden perfection. You'll use a portion of these caramelized French onions and a few slices of Swiss cheese to stuff each steak for the pinwheels.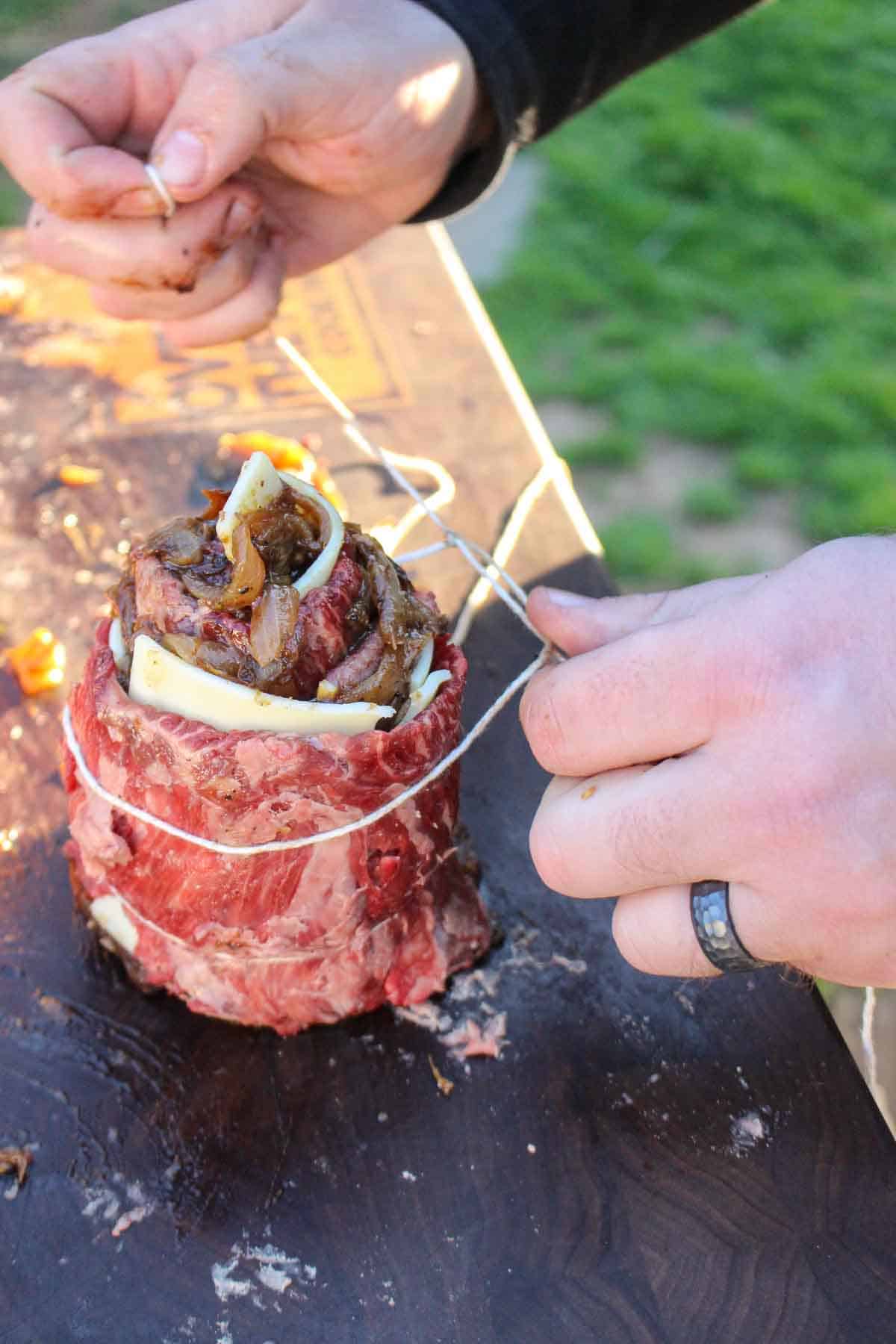 Don't forget to grab some kitchen twine to hold each pinwheel together while they cook, maintaining that gorgeous shape you're aiming for. Finally, create a cheesy crust using Gruyere, Panko breadcrumbs, melted butter, and grated Parmesan.
Cooking Instructions
French Onion
Preheat your grill to medium-high heat (around 350°F) for direct cooking. Add a cast iron skillet to the grill a couple of minutes before cooking to preheat it. In the skillet, melt the beef tallow, then add the thinly sliced white onions. Season the onions with salt and pepper, and cook them over medium heat until they caramelize to a beautiful golden brown.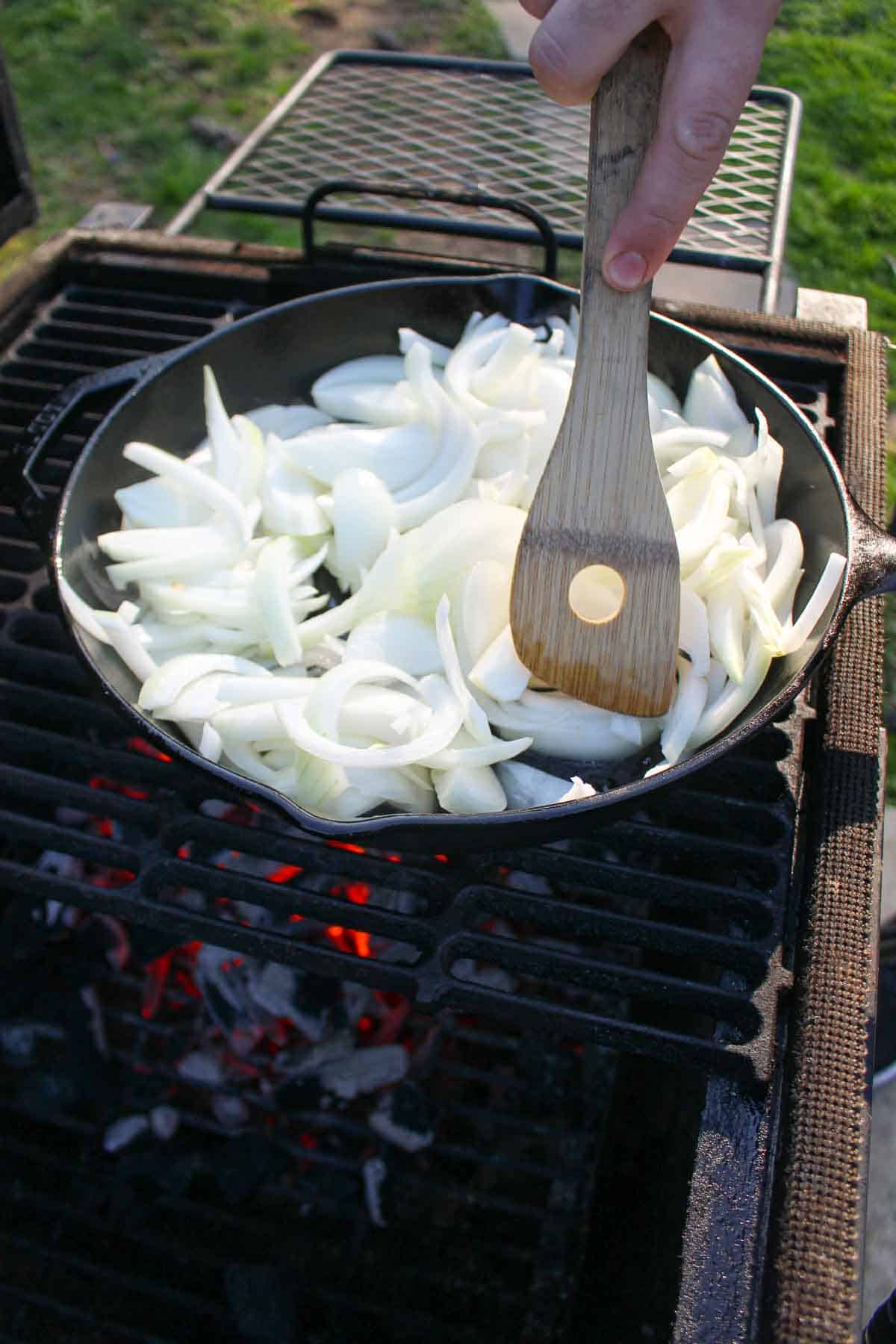 The caramelization process should take about 45-60 minutes with the medium-high heat. Stir the onions frequently to prevent burning. Once they're dark brown and soft, add garlic and rosemary, cooking them for an additional 2 minutes. Next, deglaze the skillet with bourbon and beef broth, then add brown sugar. Let the onions simmer until most of the liquid evaporates (around 3-5 minutes), and then remove from the grill.
Skirt Steak
Lay the skirt steak on a cutting board, and if necessary, slice it in half. Cover the steak with parchment paper or plastic wrap. Using a meat mallet, pound the skirt steak until it's less than ½" thick.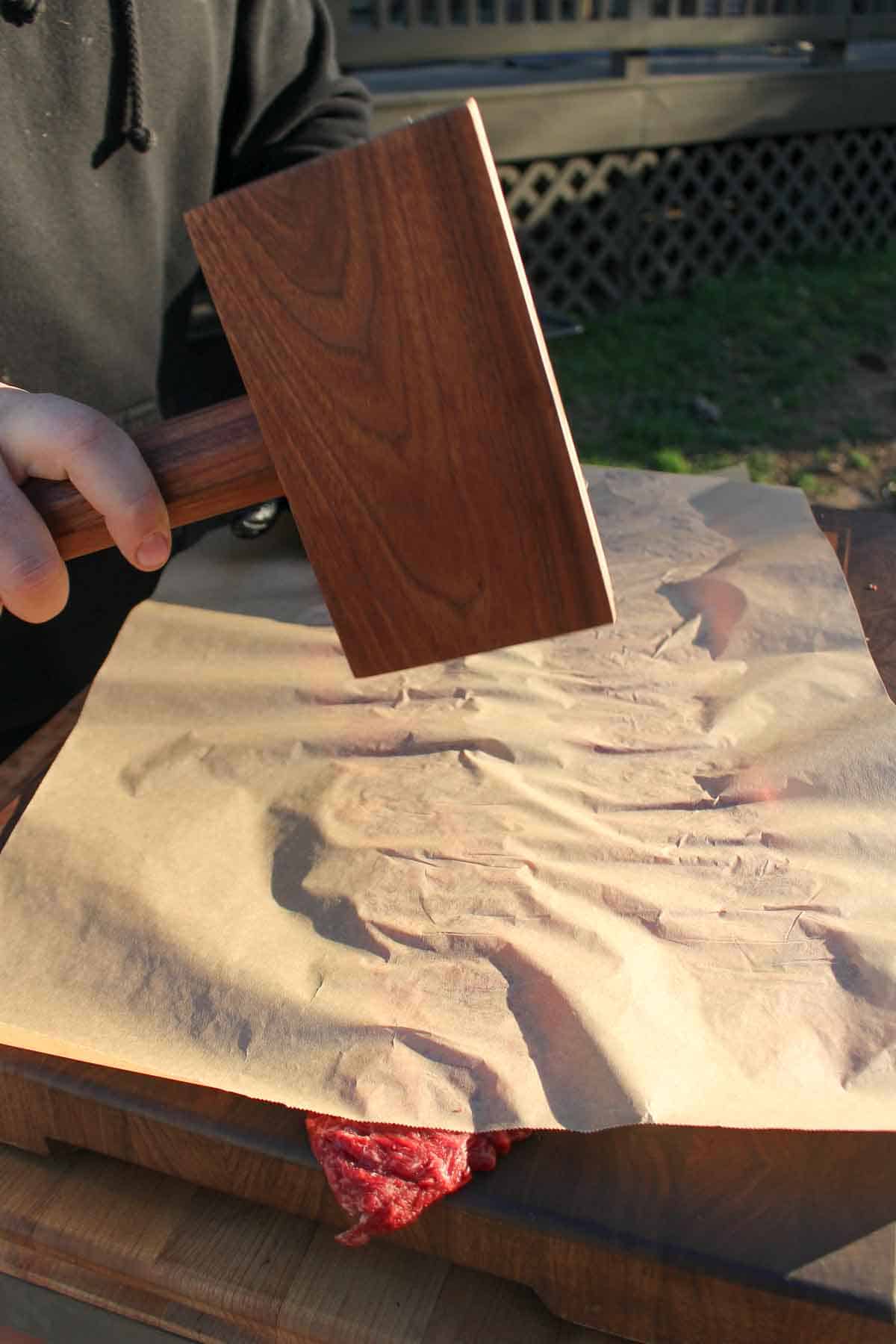 Mix salt, pepper, and garlic together, then brush the steak with oil and season both sides. Add a layer of sliced Swiss cheese and a line of caramelized onions running down the middle of the steak(s). Carefully roll up the skirt steak lengthwise to create the pinwheel shape. Secure it with cooking twine, then slice between the two strings to make two separate pinwheels. Season the tops with salt, pepper, and garlic, repeating this process for the remaining skirt steak.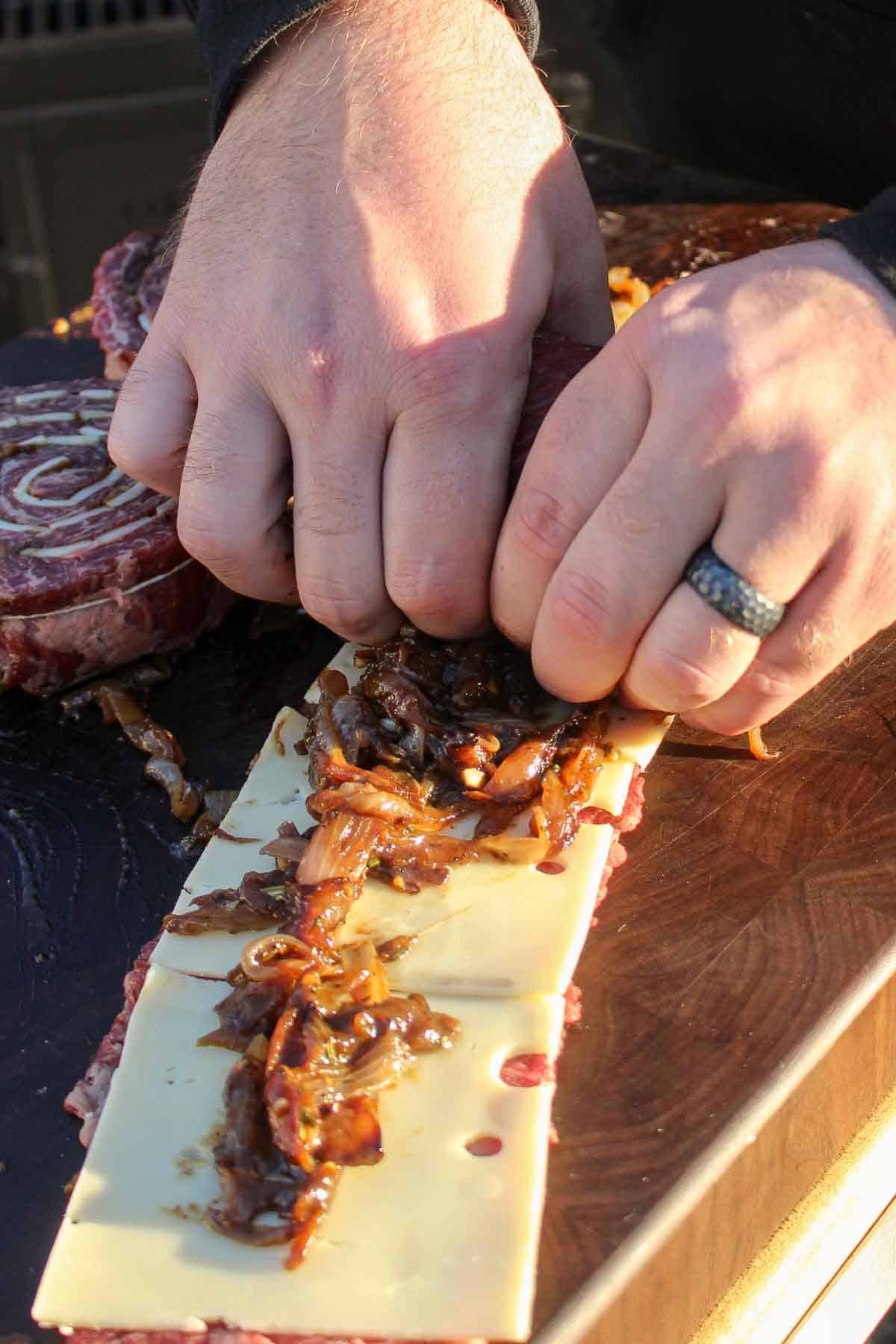 Grilling & Serving
Preheat your grill for a two-zone high heat temperature (around 400°F). Place the pinwheels on the hot side of the grill and sear them for approximately 1 minute per side, or until they develop a nice crust. Move the pinwheels to the cool side of the grill and cook indirectly until they reach an internal temperature of 125°F (about 10-15 minutes more).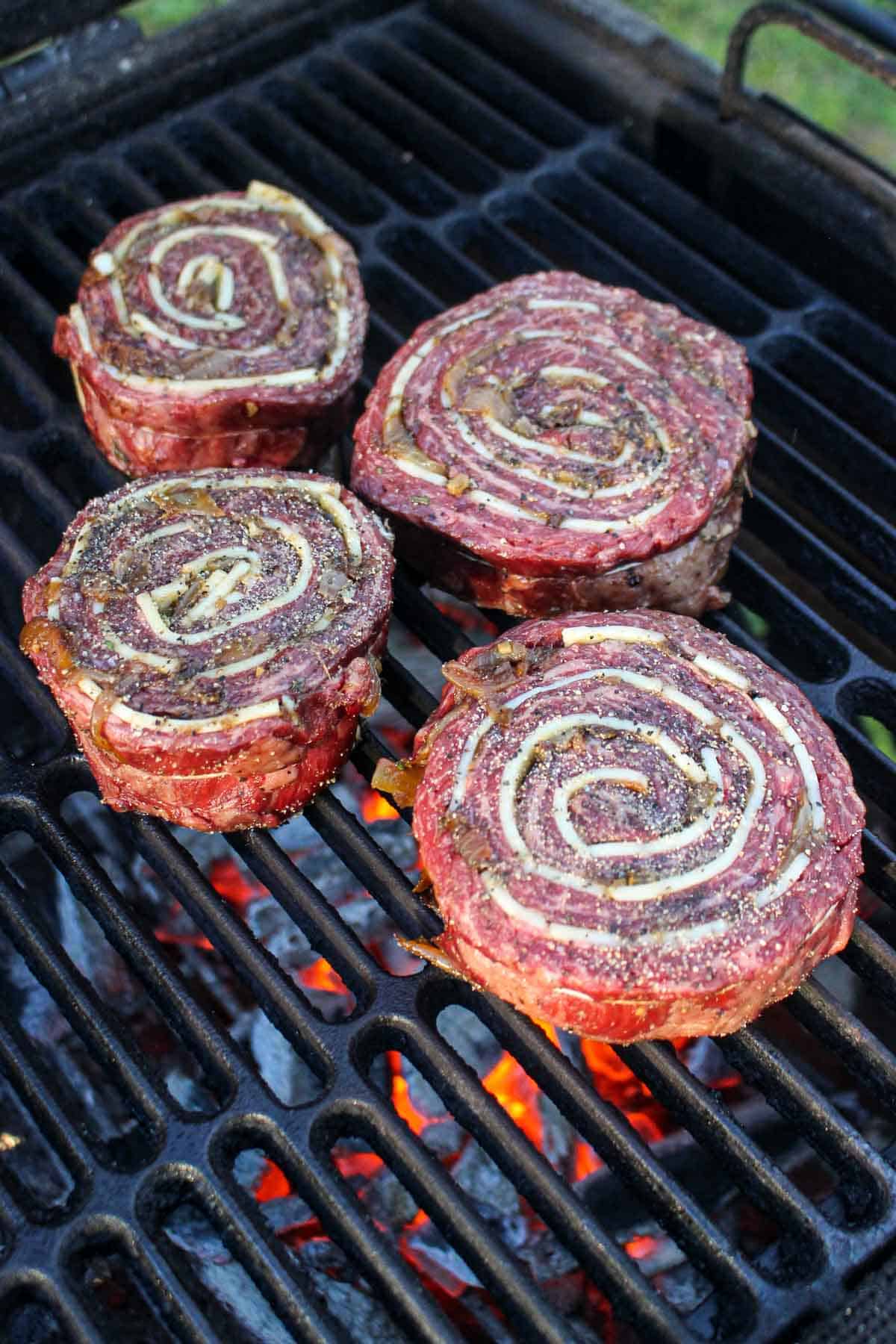 Once the pinwheels are cooked, remove them from the grill and let them rest for 10 minutes to reach room temperature. Meanwhile, prepare the cheese crust by combining all the ingredients and spreading it on each steak. Torch or broil the crust until it caramelizes.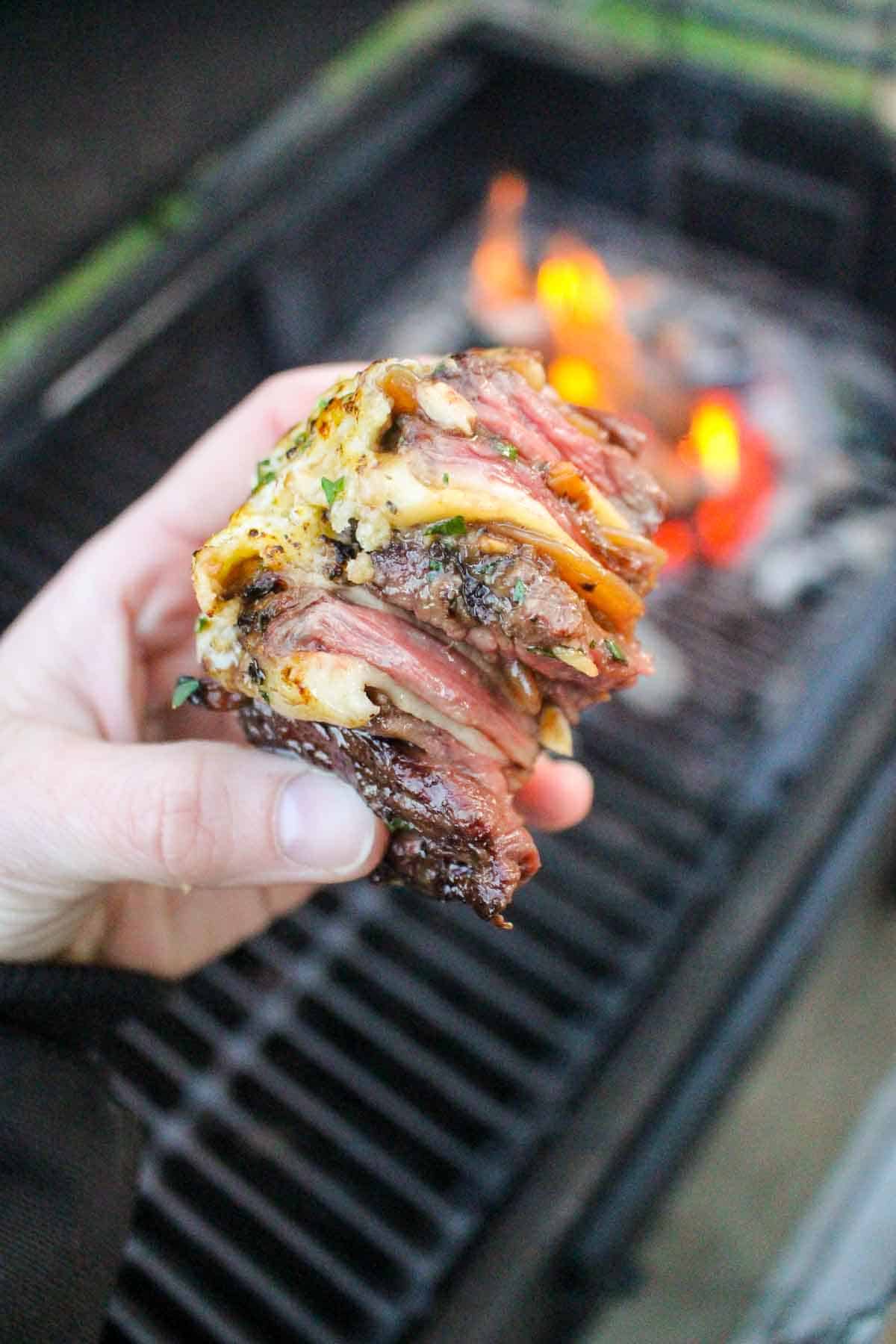 Now it's time to slice, serve, and savor the explosion of flavors!
For more pinwheel variations, check out my creative recipes such as Green Chili Salmon Pinwheels, Surf and Turf Pinwheels, and Grilled Steak Pinwheels.
Remember, cooking is an art, and this recipe is your canvas. Let your culinary skills shine as you create a meal that combines classic flavors with a modern twist. Enjoy the process and delight in the delicious results.
For more mouthwatering recipes and cooking inspiration, visit Rowdy Hog Smokin BBQ.
This article was crafted by an accomplished SEO specialist and skilled copywriter, generating top-notch English content.