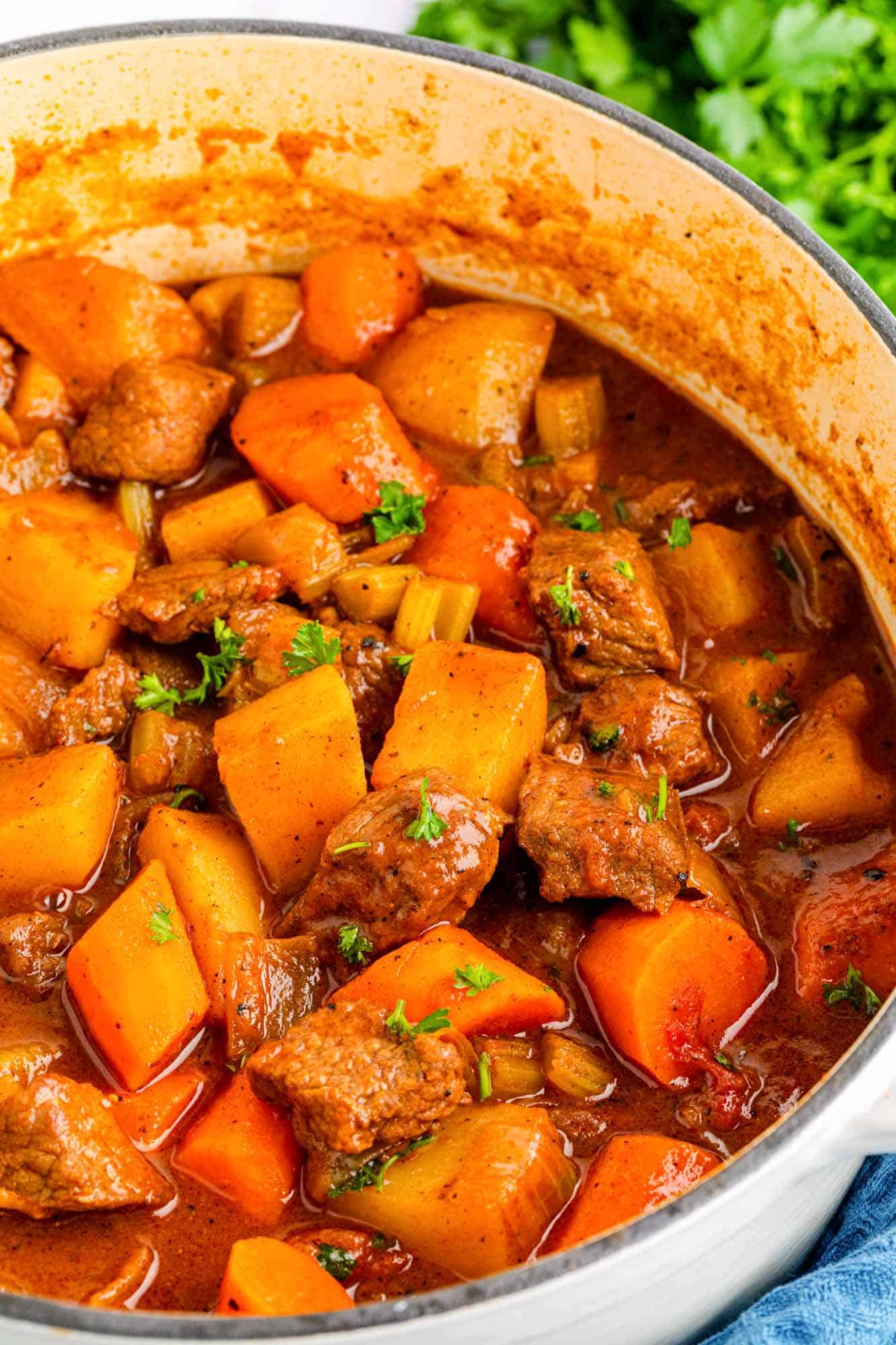 Hawaiian Beef Stew is a comforting dish that will transport your taste buds to the sunny shores of Hawaii. This regional favorite, known as "local beef stew," is a delightful combination of tender beef chunks and root vegetables simmered to perfection in a rich tomato-based sauce. Don't let the name fool you, this stew doesn't include pineapple or other tropical ingredients, but it does embody the unique flavors of the islands.
A Fusion of Flavors
The Hawaiian Beef Stew is a true reflection of the diverse cultures that call the islands of Hawaii home. With influences from Pacific and East Asian cuisines, this dish has evolved into a harmonious blend of flavors. While traditional beef stew recipes in mainland America tend to be rich and oniony, the Hawaiian version stands out with its rich, tangy, and sweet tomato base. This distinctive twist sets it apart and makes it a favorite among locals and visitors alike.
In Hawaii, where fresh tomatoes are abundant, they are often added to the pot along with potatoes, carrots, and stew meat. However, in this recipe, we'll be using canned tomatoes that are just as flavorful as their sun-ripened counterparts. The result is a delicious stew that captures the essence of Hawaiian cuisine.
Why You'll Love This Recipe
One Pot: This recipe is a breeze to make with just one pot on the stovetop. Say goodbye to a pile of dishes waiting to be washed!
Amazing Flavors: The tangy and umami flavors of this Hawaiian Beef Stew are simply irresistible. It's a taste you won't soon forget.
Island Comfort Food: From school cafeterias to grandma's house, this beef stew is a beloved comfort food that can be found all over Hawaii.
Ingredients for Hawaiian Beef Stew
To make this easy and flavorful meal, you'll need the following ingredients:
Beef Chuck: Well-marbled chuck roast is ideal for tender and flavorful meat.
Salt, Pepper, Flour, Oil: These kitchen staples help season and sear the beef for a delicious crust.
Vegetables: Onion, Celery, and Carrots add richness to the stew.
Beef Broth: Store-bought or homemade, both work well in this recipe.
Potatoes: Diced potatoes are simmered along with the meat, adding heartiness to the stew.
Canned Tomatoes and Tomato Paste: Canned diced tomatoes provide a burst of fresh tomato flavor, while tomato paste intensifies the taste.
Soy Sauce: Hawaiian Aloha shoyu sauce, Japanese shoyu, or Chinese soy sauce can be used to add depth of flavor.
Worcestershire Sauce: Packed with umami, this seasoning enhances the meaty taste of the stew.
Bay Leaf: A finishing touch that adds a subtle fragrance to the dish.
Corn Starch: Used to thicken the broth to perfection.
How to Make Hawaiian Beef Stew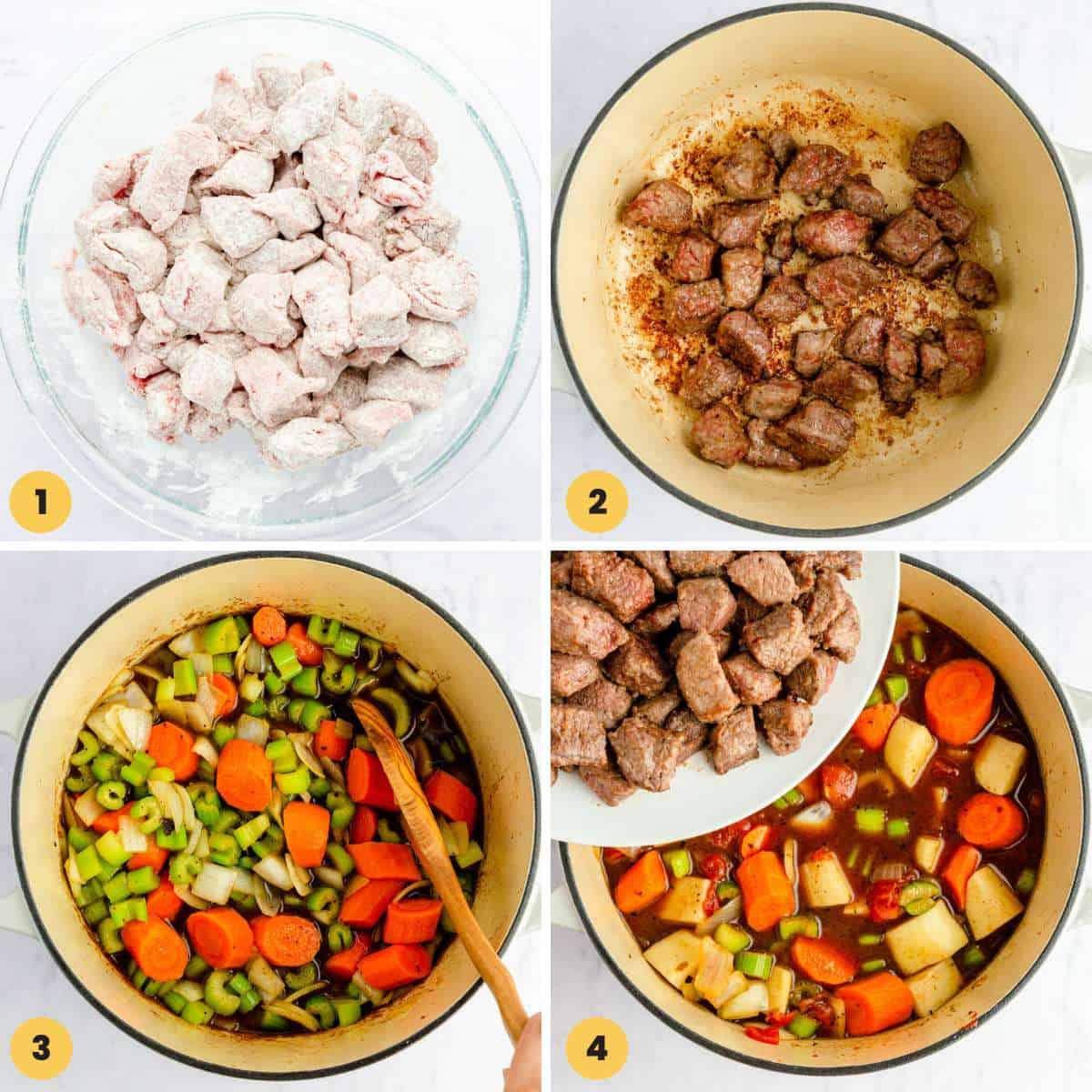 Season and Coat Beef: In a bowl, toss the cubed chuck roast with salt, pepper, and flour until well coated.
Sear: Heat the olive oil in a dutch oven and brown the beef on all sides until a crispy crust forms. Remove the beef from the pot and set it aside.
Saute Veggies: In the same pot, sauté the carrots, onion, and celery until the onion is tender. Add the beef broth and deglaze the pot, scraping up any flavorful bits stuck to the bottom.
Simmer: Return the beef to the pot and add the potatoes, tomato paste, diced tomatoes, soy sauce, Worcestershire sauce, and bay leaf. If needed, add more broth to ensure everything is covered. Bring to a boil, then reduce the heat to a simmer and cook until the beef is tender and almost falling apart.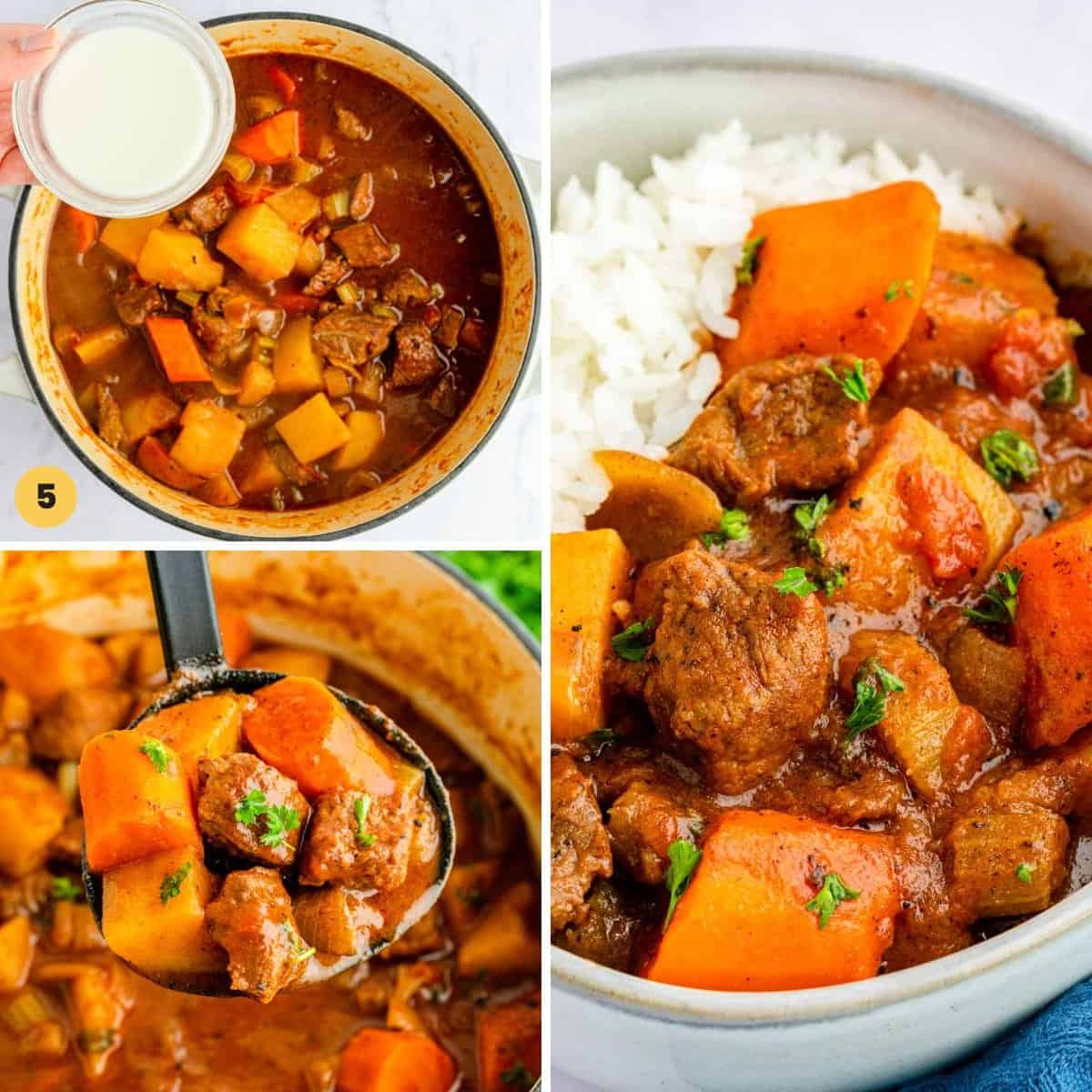 Thicken: Remove and discard the bay leaf, then thicken the stew by adding a slurry of cornstarch and water. Cook for an additional minute until the broth thickens to your liking.
Adjust Seasonings: Taste your Hawaiian Stew and adjust the seasonings according to your preference. Add more soy sauce or salt if desired. You can also add additional cornstarch slurry for a thicker stew.
Serve Over Rice: In Hawaii, beef stew is traditionally enjoyed over rice, and it's a combination that's hard to beat.
Recipe Tips
Use Quality Ingredients: Since the ingredients in this recipe are simple, ensure they are fresh to enhance the flavors of your beef stew.
Plan Ahead: Consider purchasing a large chuck roast on sale, cubing it, and keeping it in the freezer. This way, you'll always have stew meat on hand for whenever the craving strikes.
Storing Tips
To store your leftover beef stew, transfer it to an airtight container and refrigerate for up to 4 days. It's not recommended to freeze the stew with potatoes, as the texture may change and result in a grainy consistency.
What to Serve With Hawaiian Beef Stew
This tasty tomato-infused beef stew is best served over rice. Opt for long-grain white rice to complement the flavors. If you prefer not to make rice, freshly baked bread, dinner rolls, or flatbread make excellent alternatives. Pair your stew with a refreshing salad like my Kale Salad with lemon vinaigrette for a well-rounded meal. And for dessert, delightful options like Ding Dong Cake, Custard Pie, or Blackberry Cobbler will perfectly sweeten the deal.
FAQs
If your travel plans haven't brought you to the beautiful shores of Hawaii yet, don't worry! You can still enjoy the flavors of Hawaiian stew by making this easy recipe at home.
Whether you're craving a hearty meal or a taste of the islands, Hawaiian Beef Stew is sure to satisfy. So grab a bowl, serve it over rice, and let each spoonful transport you to the tropical paradise that inspired this delicious dish.
For more mouthwatering recipes like this, visit Rowdy Hog Smokin BBQ, where you'll find a treasure trove of culinary delights.