Are you looking for a quick and easy dinner recipe that is bursting with Italian flavors? Look no further! This creamy sausage pasta skillet made with ground pork is a crowd-pleasing dish that can be whipped up in less than 30 minutes. It's the perfect weeknight meal that the whole family will love.
A Flavorful Italian-Style Skillet Dinner
This hearty Italian-style skillet dinner has become a favorite in my household. It combines the richness of pasta, the savory taste of ground pork, and the aromatic flavors of Italian seasonings and Parmesan cheese. It's a comforting one-pot meal that ticks all the right boxes. Plus, it's incredibly easy to make!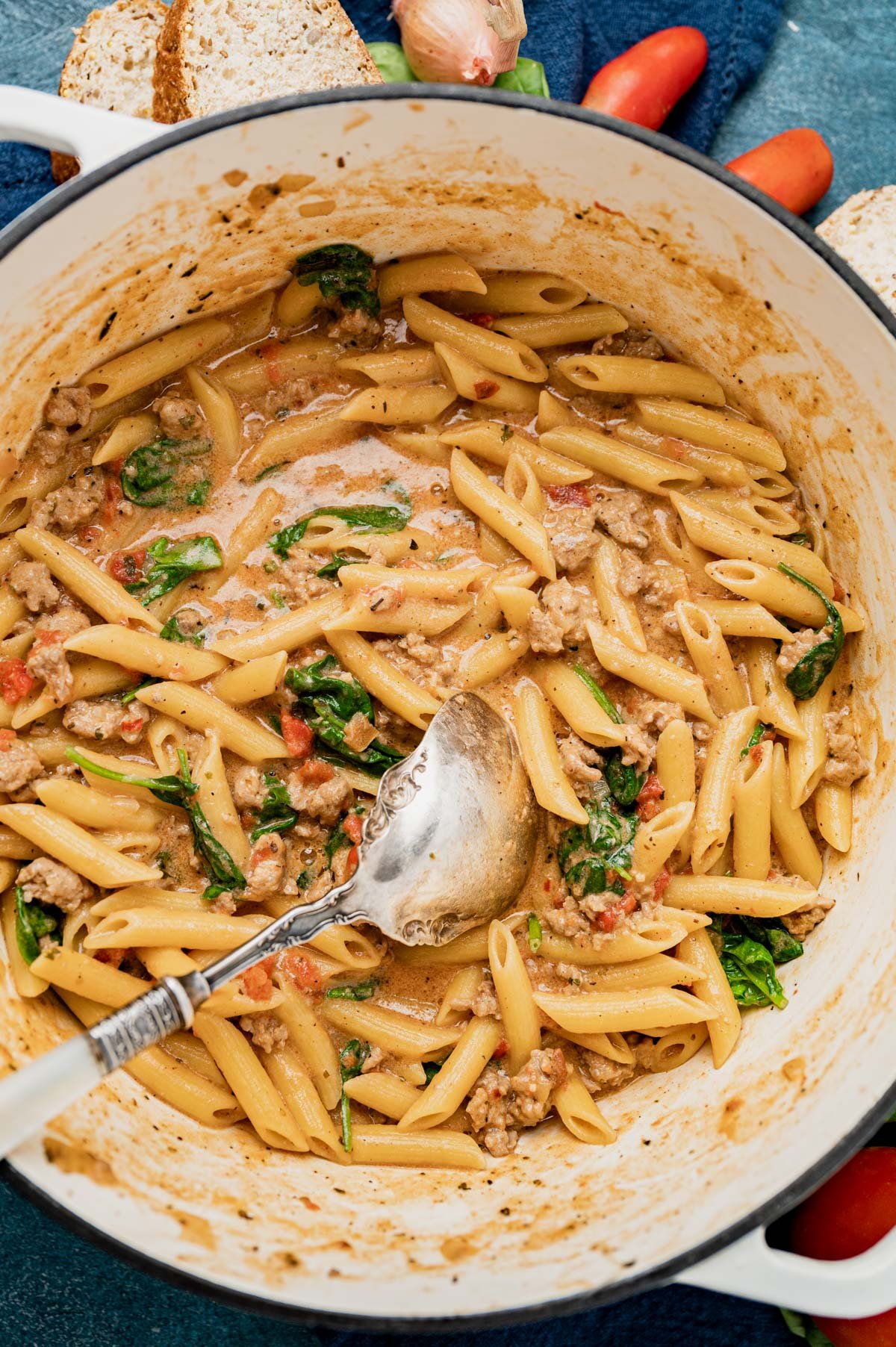 Ground Pork vs. Sausage: What's the Difference?
Before we dive into the recipe, let's clarify the difference between ground pork and sausage. Ground pork is simply plain pork that has not been seasoned. On the other hand, sausage is ground pork that has been seasoned with various spices. While you can easily find pre-seasoned sausage, you can also purchase ground pork from your local grocery store and add your own preferred seasonings for a more customized flavor profile.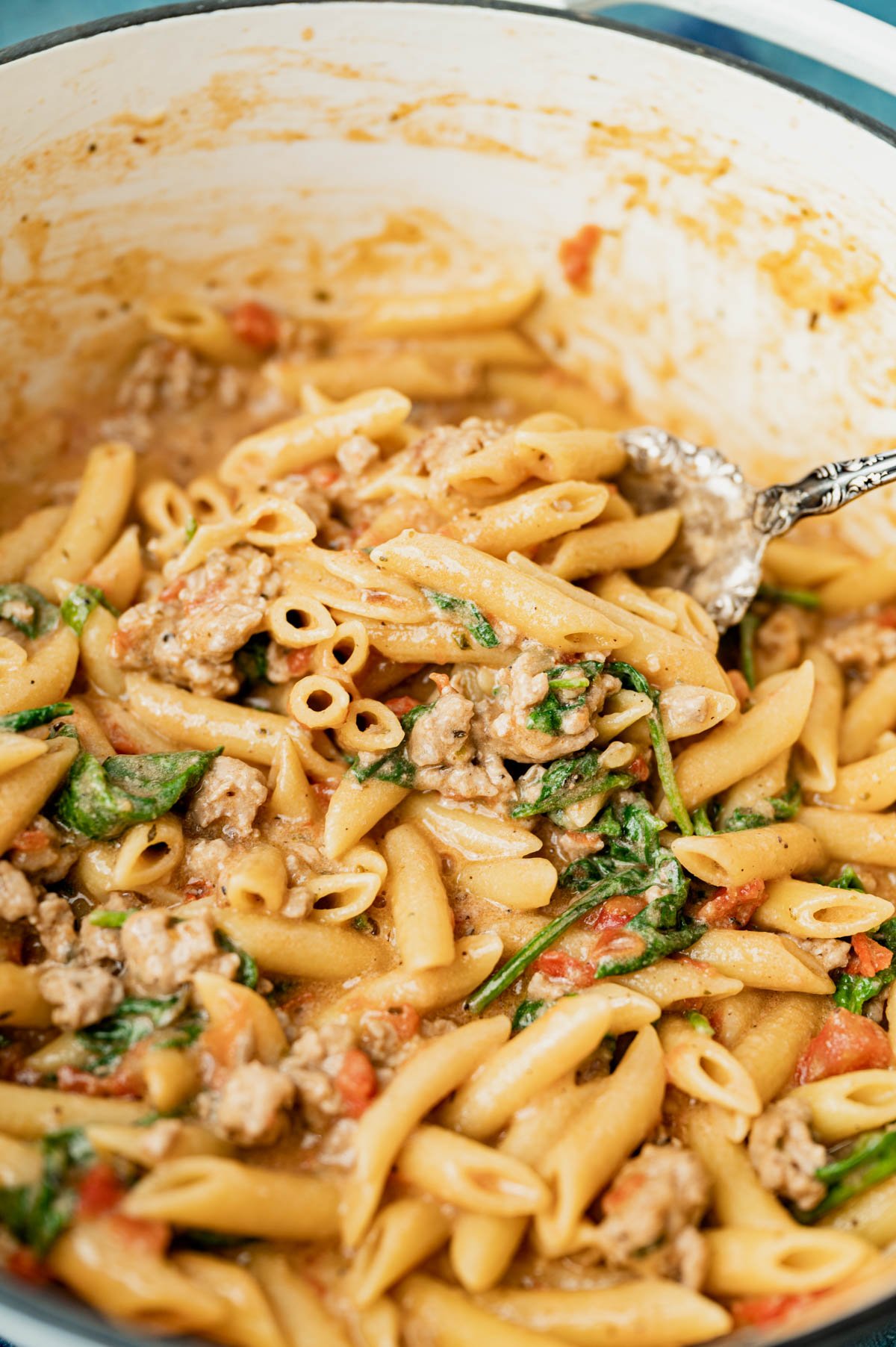 Key Ingredients for the Perfect Skillet Pasta
To create this delicious sausage pasta skillet, you'll need the following key ingredients:
Butter: Adds a rich and savory taste to the dish.
Shallot & Garlic: Provide a flavorful base for the recipe.
Ground Pork: Lean and packed full of protein, it's a great alternative to ground beef in casseroles.
Seasonings: A delightful blend of pepper, parsley, oregano, Italian seasoning, fennel, paprika, crushed red pepper flakes, and salt.
Chicken Broth: Essential for cooking the pasta and infusing it with flavor.
Half & Half: Adds a creamy texture to the sauce.
Tomatoes: Petite diced tomatoes work best for this recipe.
Pasta: Choose your favorite shape! Penne or rotini are great options.
Spinach: Adds a pop of color and freshness to the dish.
Parmesan: Grate it finely for smooth melting.
How to Make the Creamy Sausage Pasta
Let's get cooking! Follow these simple steps to make the creamy sausage pasta skillet:
Sauté the onions, garlic, and butter: Heat butter in a large skillet or Dutch oven over medium heat. Add the onion and garlic, sautéing until the shallot is softened and translucent.

Brown and Crumble the Pork: Add the ground pork, black pepper, parsley, oregano, Italian seasoning, salt, fennel seed, paprika, and red pepper flakes. Cook and stir until all the pork is browned. Drain off any excess fat.

Simmer: Pour in the chicken broth, half & half, and diced tomatoes (drained). Bring the mixture to a gentle simmer over medium-low heat.

Cook the Pasta: Add the pasta and cook for about 8 minutes, stirring occasionally, until the pasta is cooked al dente.

Add Cheese: Turn the heat to low and gradually add grated parmesan cheese, stirring between each addition to ensure it melts smoothly.

Stir in the Spinach: Let the dish sit for a minute or two, allowing the spinach to wilt slightly and meld with the flavors.

Garnish and Serve: Finish off the dish by topping it with fresh basil and serve immediately.
Recipe Variations
Feel free to get creative and customize this recipe to your liking! Here are a few ideas for variations:
Gluten-Free Option: Use gluten-free pasta to make this recipe gluten-free.
Peppers: Add diced peppers, such as red bell pepper, to the shallots for an extra burst of flavor. For a spicier kick, try diced jalapeño pepper.
Mushrooms: Add mushrooms for added flavor and texture.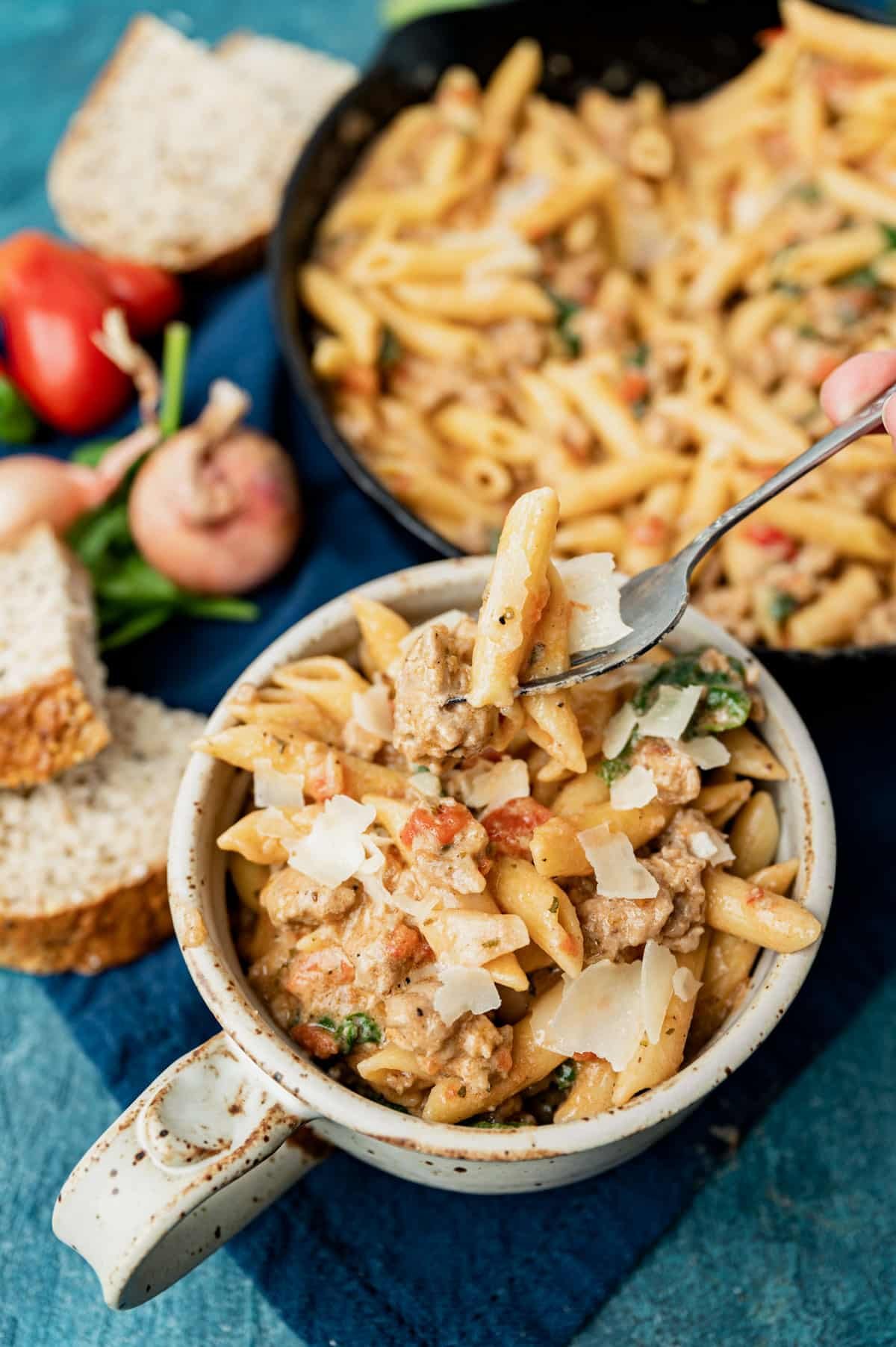 Proper Storage Instructions
If you happen to have any leftovers, store them in an airtight container in the refrigerator for up to 4 days. However, note that this dish doesn't freeze well due to the presence of dairy products. To reheat, simply microwave the leftovers.
Enjoy this delicious ground pork sausage pasta skillet with your loved ones. For more mouthwatering recipes, visit Rowdy Hog Smokin BBQ.