If you're a fan of the classic steak sandwich, get ready to be blown away by these mouthwatering ground beef Philly Cheesesteak sliders! This family favorite recipe requires minimal ingredients and is perfect for those busy weeknights. Trust me, once you try this recipe, you won't be able to get enough of it!
You'll Fall in Love with These Cheese Steak Sliders
Quick and Easy: These sliders are ready in under 40 minutes, making them perfect for those nights when you're short on time.
Weeknight Dinner Recipe: Whenever you're unsure about what to make for dinner, these sliders will come to your rescue. They are always a hit with everyone.
Family Favorite: These sliders have become one of the most requested recipes in our household. They are a guaranteed crowd-pleaser.
Making Ground Beef Philly Cheesesteak Sliders Has Never Been Easier!
I have a confession to make – I absolutely adore easy dinner ideas. After a long day, I don't have the time or energy to spend hours in the kitchen. That's why I'm head over heels for this dish!
This Philly Cheesesteak Sliders recipe is like no other. You can make the entire dish in just 40 minutes, or you can prepare the beef and onions ahead of time and keep them in the freezer for a quick and easy grab-and-go meal.
Unveiling the Ingredients for Easy Philly Cheesesteak
When we first created this recipe, we kept the ingredients simple, using only salt and pepper for seasoning. However, after experimenting and testing different combinations, we found the perfect balance of flavors.
Here's what you'll need:
Ground Beef
Onion and Peppers
Ketchup
Worcestershire Sauce
Cornstarch
Beef Broth
Salt and Pepper
Hawaiian Rolls
Provolone or American Cheese
Butter
Garlic
To infuse the authentic Philly Cheesesteak flavor, I drew inspiration from my visits to Pat's and Geno's – the two famous cheesesteak joints in the city. While one recommends provolone, the other vouches for American cheese. Either option works perfectly for this sandwich.
Although they are delicious, nothing beats the original experience of visiting these iconic establishments in person. If you ever find yourself in Philly, make sure to stop by both. My personal favorite is Pat's!
What Kind of Roll Should You Use?
Traditionally, Philly cheesesteaks are served on Italian rolls or hoagies. However, for these sliders, we absolutely love using Hawaiian Rolls. They provide a solid and soft base, making them the perfect choice for mini sandwiches.
Choosing the Right Meat
While ribeye steak is the go-to choice for traditional Philly cheesesteaks, I wanted to make this recipe more cost-effective. So, I opted for ground beef instead. It's affordable, easy to work with, and provides a fantastic base for the classic Philly vegetables.
How to Make Philly Cheesesteak Sliders
Follow these simple steps to create the ultimate Philly Cheesesteak Sliders:
Preparation: Before you begin, make sure to prep and measure all your ingredients. This will make the cooking process much smoother and help avoid any forgotten ingredients. Preheat the oven and line a baking tray.
Cooking: Brown the ground beef, onion, and peppers in a large skillet. Add the sauce and slice the rolls. Spread the meat mixture over the bottom half of the bread and top it with cheese.
Baking: Brush the sliders with garlic butter and bake them, lightly covered, for 20 minutes.
Enjoy: Serve these sliders warm and savor every delicious bite.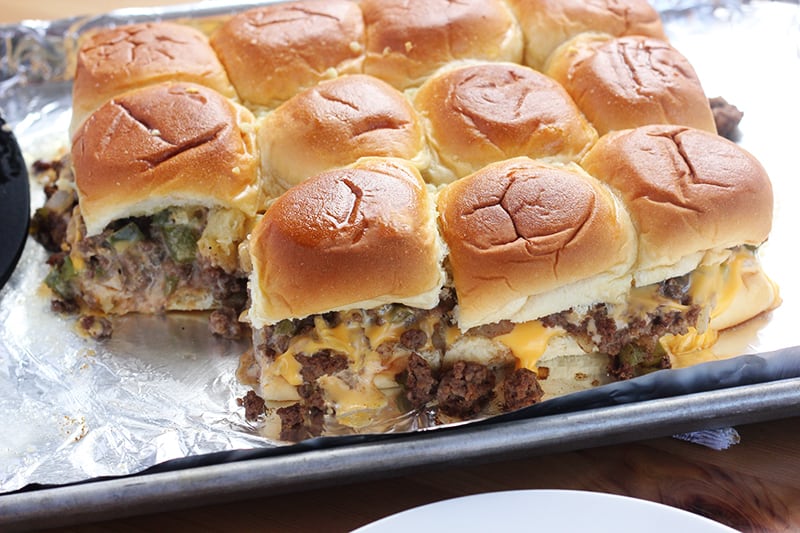 Expert Tips for the Perfect Philly Cheese Steak Sliders
To save time and minimize cleanup, feel free to toss the onions and peppers directly into the beef. This cuts down on cooking time and reduces the number of dirty dishes.
While we love using Hawaiian rolls, any type of roll will work just fine.
For an extra burst of flavor, try adding mushrooms to your sliders.
Serving Suggestions for Philly Cheesesteak Sliders
When it comes to sides, there are plenty of options to complement your sliders. We like serving them with french fries, onion rings, chips, or pasta salad. You can also add banana peppers, pickles, or additional toppings like sliced tomatoes and sweet peppers for some extra pizzazz.
Storing Your Philly Cheesesteak Sliders
If you have any leftovers, make sure to let the sliders cool completely before storing them in an airtight container in the refrigerator. They will stay fresh for 3 to 4 days. Whenever you're ready to enjoy them again, simply remove the sliders from the container, place them on a baking tray, and bake at 350°F for 10-15 minutes, or until heated through.
Frequently Asked Questions about Cheesesteak Sliders
More Mouthwatering Sandwiches to Try
40-minute hamburger buns
Cheesesteak Sloppy Joes
Philly Style Eggrolls
Slow Cooker French Dips
Remember, sharing is caring! So gather your loved ones and indulge in these delectable Philly Cheesesteak Sliders. They are guaranteed to satisfy your cravings and leave you wanting more. Enjoy!