These Cheeseburger Biscuit Cups are a delightful dinner option that both kids and adults will love. Imagine fluffy biscuits filled with cubes of melted Velveeta cheese and a delicious cheeseburger mixture made with ground beef. Not only are they simple to make, but they can also be ready in just 30 minutes! It's the perfect meal for busy weekdays or a quick dinner on the weekend.
Easy to Make and Enjoy
These Cheeseburger Biscuit Cups have earned a special place in my family's hearts as one of our favorite dinner recipes. What makes them even more fun is that you can eat them with your hands! The recipe starts with a buttery and flaky biscuit base, which is then filled with cubes of Velveeta cheese that melt to perfection. On top of that, you'll add the flavorful cheeseburger mixture made with ground beef and a few other ingredients.
How to Make Cheeseburger Biscuit Cups
Making these delicious biscuit cups is a breeze. Here's a simple step-by-step guide to help you out:
Cook and crumble ground beef in a pan until it is no longer pink. Drain any excess fat.
Add ketchup, mustard, brown sugar, and Worcestershire sauce to the cooked ground beef. Stir everything together and let it simmer on low heat while you prepare the biscuit cups.
Press out one biscuit into each muffin cup. You should have a total of 10 biscuits, leaving two spots empty.
Place two cubes of Velveeta cheese into each biscuit cup. Then, top them off with a large scoop of the cheeseburger beef mixture. Finish it all with two more cubes of Velveeta cheese.
Bake the biscuit cups for 14 minutes, or until the biscuits are golden brown and the cheese is melted and bubbly.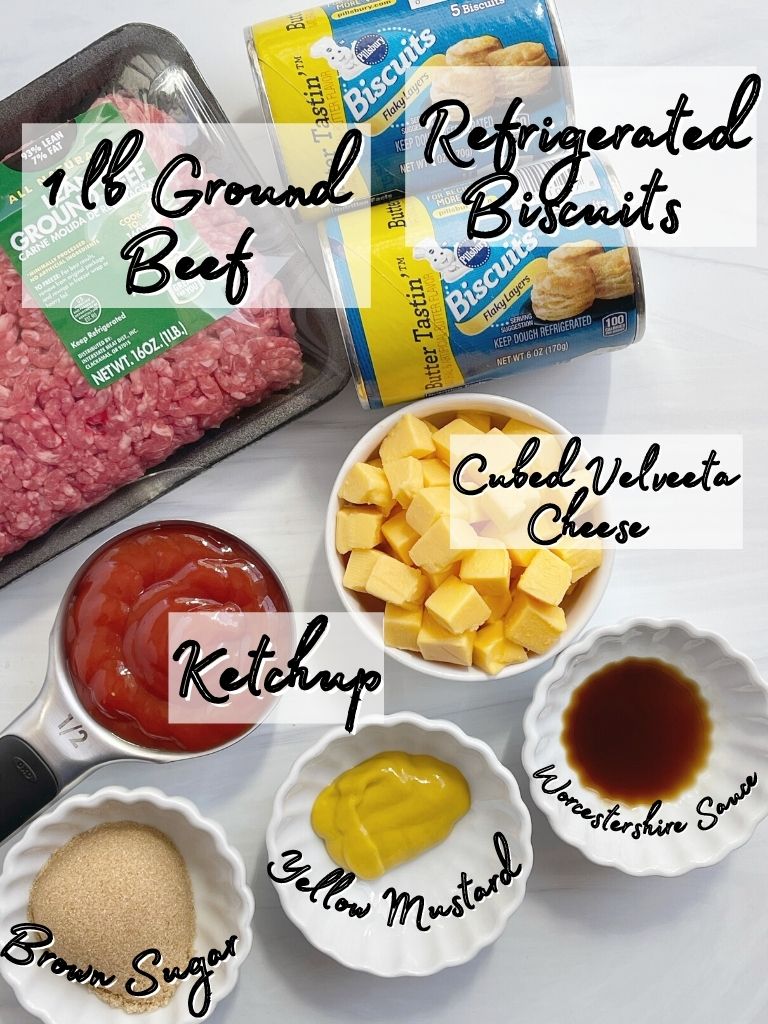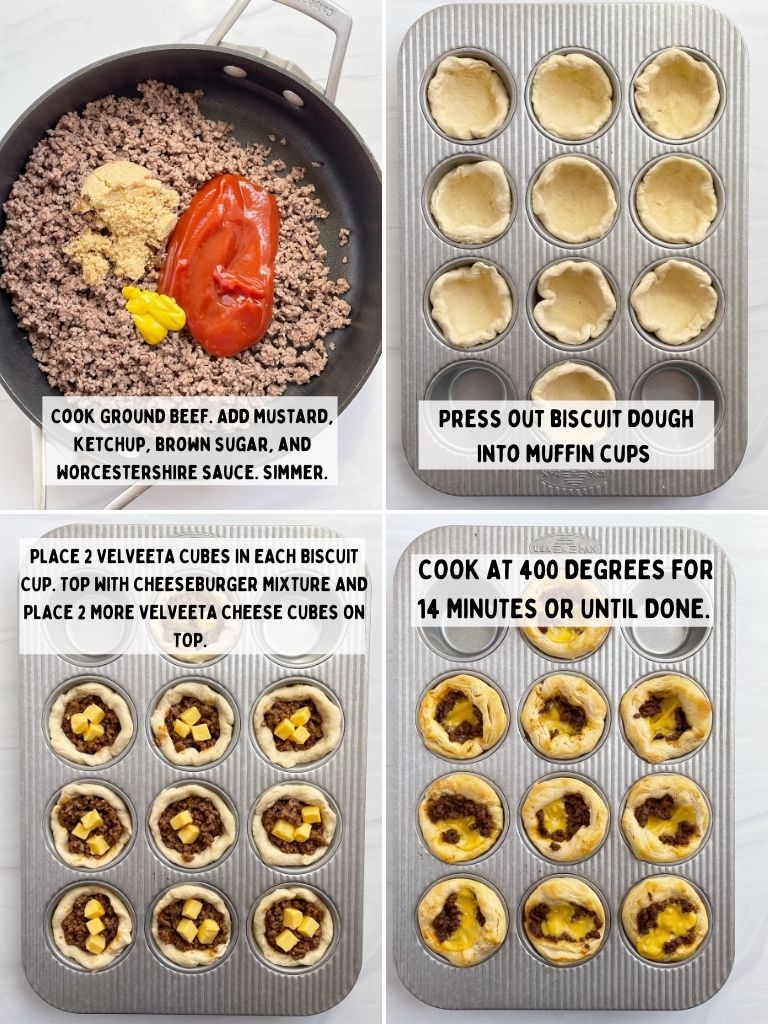 Tips & Helpful Hints
If you want to take your cheeseburger biscuit cups to the next level, here are a few helpful hints:
Do I need to use Velveeta cheese in this recipe? While it's not necessary, I highly recommend using Velveeta cheese for its smooth and creamy melt. It imparts that classic "cheesy cheeseburger" taste to the cups. However, if you prefer, you can substitute small cubed cheddar cheese instead.
Should I use Grands! biscuits in this recipe? The recipe calls for regular biscuits. Avoid using the "grands!" variety as they can make the muffin cups puffier and harder to eat. Look for 6 oz biscuits that come in packs of five.
What do I serve with cheeseburger biscuit cups? These delightful cups are perfect for a hand-held meal, eliminating the need for utensils. Consider serving them with sliced watermelon and a simple green salad topped with chopped cucumbers and tomatoes. Of course, they can be paired with almost anything you like!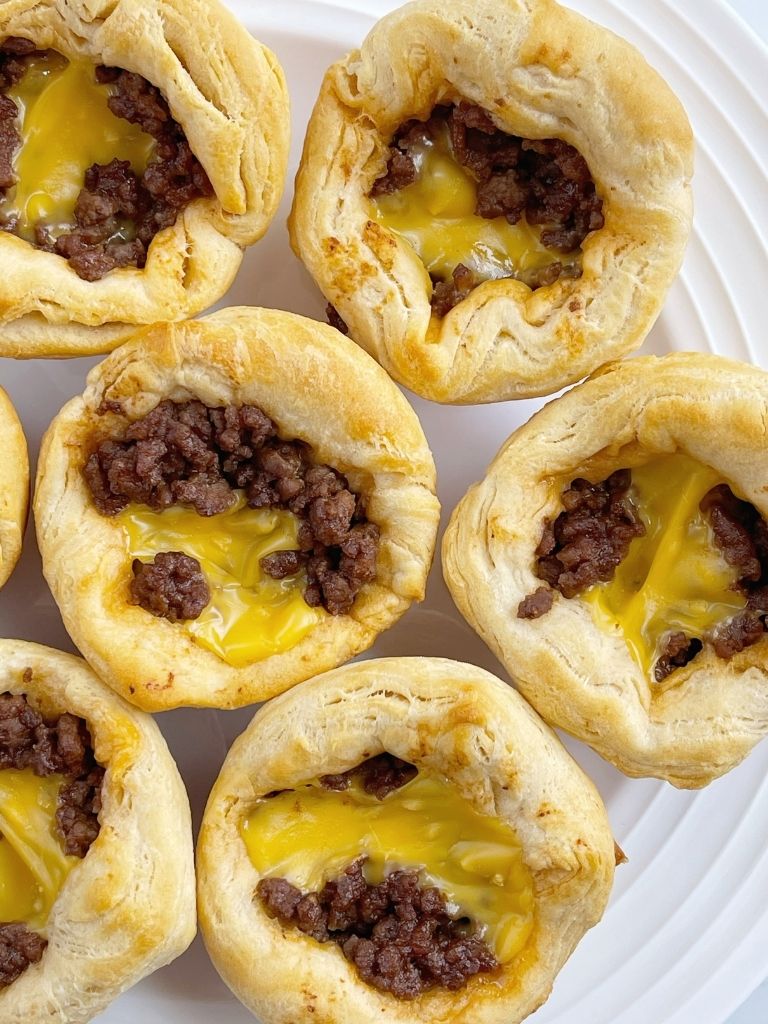 Other Easy Ground Beef Dinner Recipes to Try
If you can't get enough of easy and delicious ground beef recipes, here are a few more for you to enjoy:
BBQ Beef Pasta Skillet: A one-pot dinner with ground beef, BBQ sauce, and noodles that all cook in the same pot.
One Pot Taco Pasta: This dinner recipe features taco-seasoned ground beef and pasta, topped with sour cream, cheese, and tomatoes.
Beef Taquito Casserole: Enjoy enchilada rice topped with crispy oven-baked frozen beef taquitos.
Ground Beef Stew: A simple stew with tender ground beef that slow cooks all day for maximum flavor.
Taco Biscuit Bake: An easy and flavorful ground beef taco casserole with the added twist of biscuits.
These recipes are bound to satisfy your cravings and keep mealtime exciting. So why not give them a try?
Remember, if you're looking to add some variety to your dinner routine, these Cheeseburger Biscuit Cups are a fantastic choice. They offer a fun and delicious way to enjoy a classic cheeseburger in a convenient handheld form. So grab your apron and get ready to experience a taste sensation that'll have the whole family asking for seconds!
To learn more about delicious and creative recipes like this, visit Rowdy Hog Smokin BBQ.