Grilling is an art. And when it comes to grilling pork steaks, you want to create a masterpiece. These juicy and tender steaks, generously seasoned and seared to perfection, are a culinary delight that will satisfy your taste buds. Whether it's a summer barbecue or a cozy winter gathering, grilled pork steaks are a recipe that will leave your family asking for more.
The Beginner's Guide to Grilling Pork Steaks
You don't have to be a seasoned chef to master this recipe. It's simple enough for even a beginner cook to handle. With just a grill and some basic seasonings, you can create a flavorful dish that will impress your loved ones.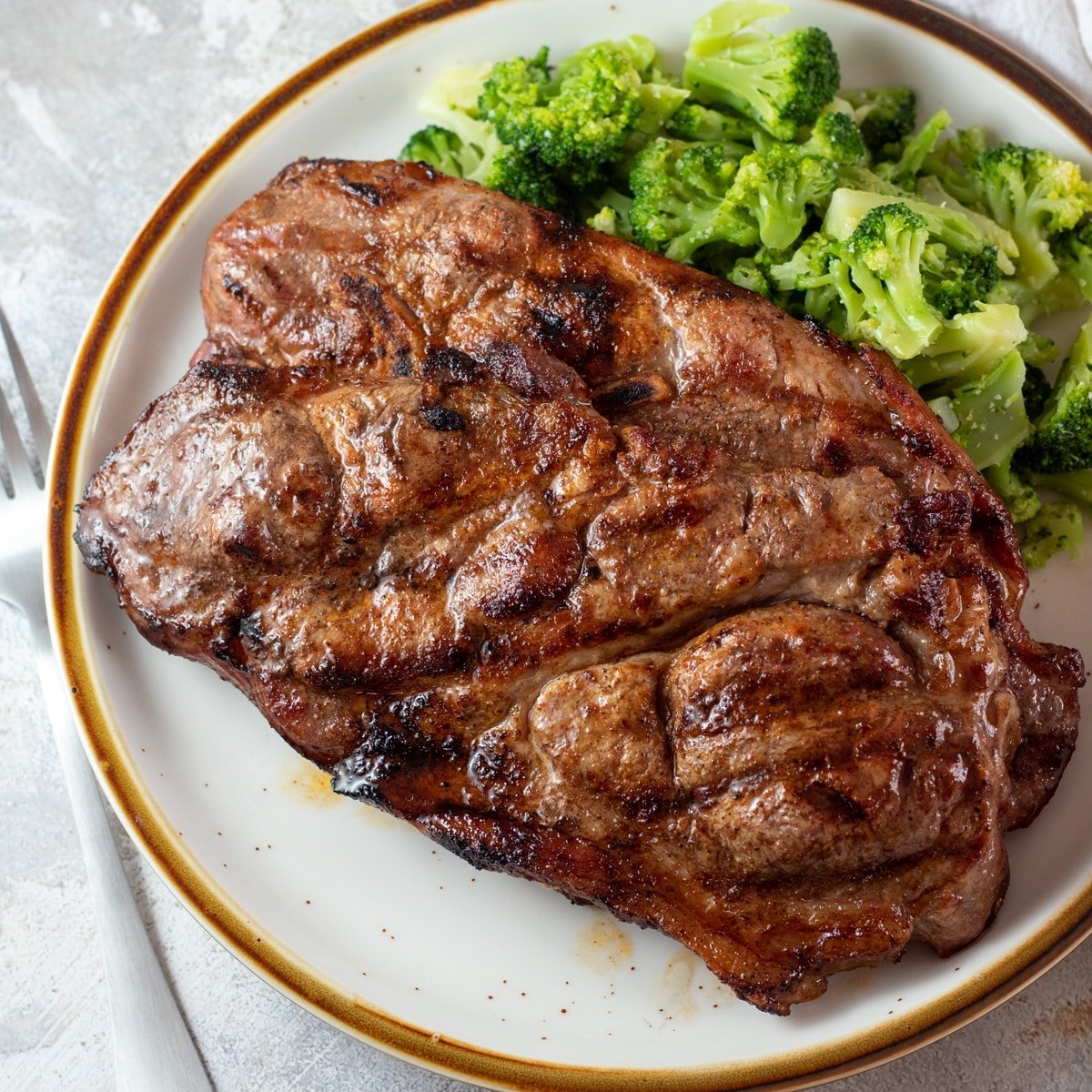 These flavorful and juicy grilled pork steaks are an easy dinner the whole family will love!
Ingredients That Are Already in Your Pantry
The best part about this recipe is that you probably already have all the ingredients you need in your pantry. Just make sure to grab some pork steaks before you start. Here's what you'll need:
½ tablespoon of salt
½ tablespoon of paprika
1 teaspoon of ground black pepper
1 teaspoon of garlic powder
1 teaspoon of onion powder
2 tablespoons of apple cider vinegar
2 tablespoons of water (to combine with the vinegar)
2 pounds of pork steaks (about 4 pork butt shoulder blade steaks)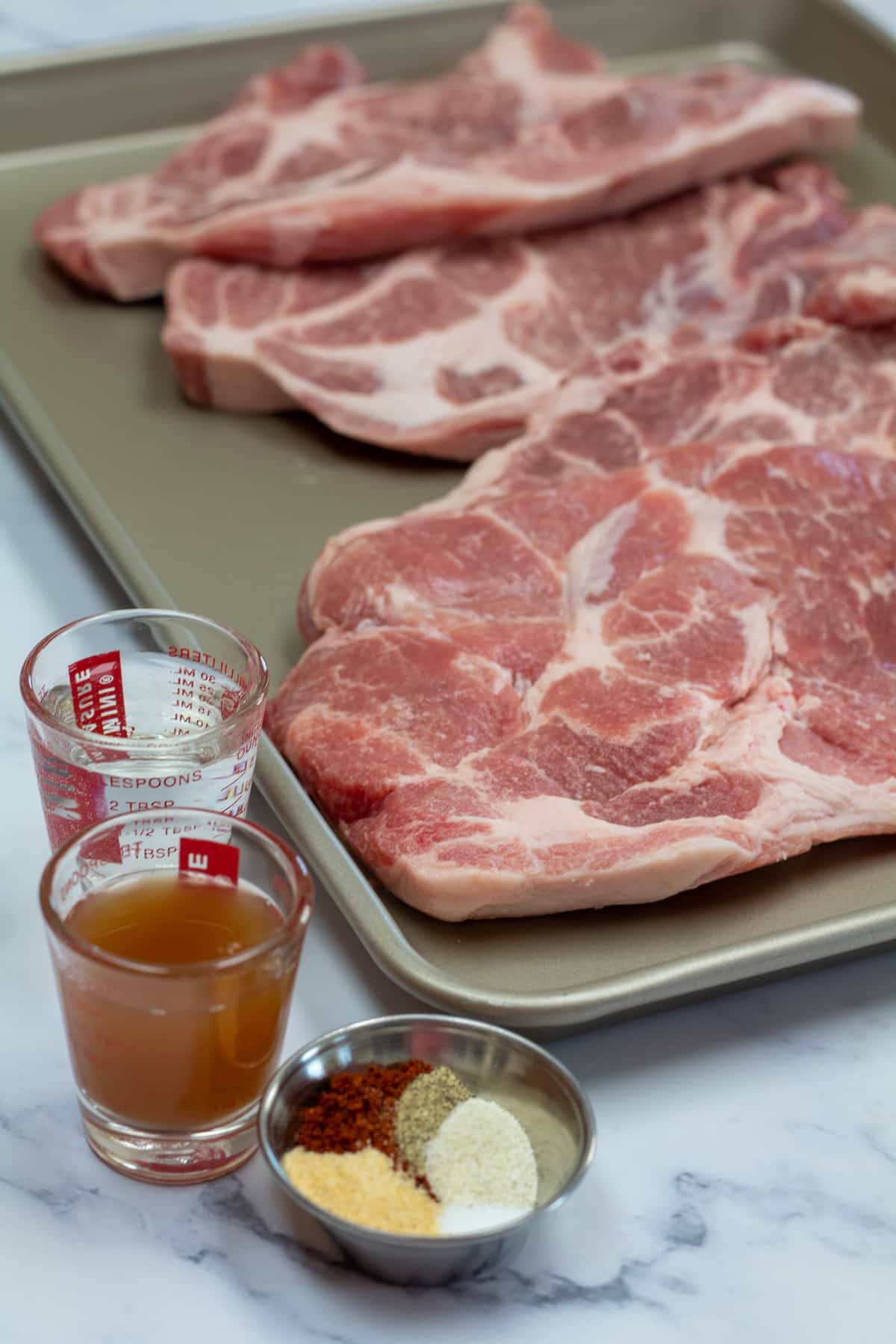 Be sure to see the recipe card below for the full list of ingredients and instructions!
Mastering the Art of Grilling
Grilling pork steaks is an art form that anyone can master. All you need is a grill, grilling utensils, and a basting brush. This recipe serves four, making it perfect for a family dinner. And if you want leftovers or need to serve more people, simply double the recipe.
Preheat and Season
To start, preheat your grill to medium heat (350-400°F or 177-205°C). While the grill is heating up, combine the salt, paprika, black pepper, garlic powder, and onion powder in a bowl. Set aside for later.
Next, brush the mixture of apple cider vinegar and water over your pork steaks. Be generous with the seasoning blend, making sure to coat both sides of the steaks.
Grill, Rest, and Serve
Place your seasoned pork steaks on the grill and cook for 8-10 minutes on one side. Flip the steaks and grill for another 8-10 minutes on the opposite side. Continue flipping as needed to achieve a perfect caramelized sear and your desired level of doneness.
Once cooked, transfer the pork steaks to a plate or cutting board and cover them loosely with foil. Let them rest for 5 minutes before serving.
Serve your grilled pork steaks with a side of roasted potatoes and sautéed asparagus for a well-rounded, delicious meal. They also pair perfectly with roasted vegetables or twice-baked potatoes. Bon appétit!
Angela's Tips and Recipe Notes
The USDA recommends cooking pork steaks until they reach an internal temperature of 145°F (63°C) for juiciness. You can cook them up to 160°F (71°C) for well-done.
Remember that pork steaks will continue to cook after being removed from the grill due to carryover cooking.
Resting is crucial to preserving the juices and keeping the meat tender.
Storing and Reheating
If you have any leftover grilled pork steaks, store them in an airtight container in the refrigerator and enjoy them within 3-4 days. To freeze, place the cooled leftovers in a heavy-duty freezer bag or an airtight container for up to 3 months. Thaw them in the refrigerator overnight before reheating.
To reheat, preheat your oven to 350°F (175°C). Place the pork steaks in a baking dish with a few tablespoons of broth or water. Cover with foil and bake for 10-15 minutes, or until heated through.
Grilling Tips and Tricks
Grill your pork steaks over medium heat (350-400°F or 177-205°C) to prevent drying them out.
The cooking time for pork steaks is approximately 8-10 minutes per side. Adjust the time based on your desired doneness.
Flip the steaks every 5 minutes to achieve a perfect caramelization.
More Pork Recipes to Explore
If you're looking to expand your pork recipe repertoire, here are a few more tasty options to consider:
BBQ Baked Pork Spareribs
Air Fryer Stuffed Pork Chops
Pork Belly Ramen
Pork Ribeye Roast
Baked Pork Steaks
Sweet & Sour Pork
Recipe
Now that you have the skills and knowledge to grill perfect pork steaks, it's time to put your culinary prowess to the test. Follow the recipe below to create a memorable dining experience for your loved ones.
[Grilled Pork Steaks Recipe](https://rowdyhogbbq.com)
Enjoy the flavors and artistry of grilling the perfect pork steaks!