Indulge in the rich, velvety goodness of gluten-free beef gravy with this effortless recipe! In just under 10 minutes, you can create a customizable, flavorful gravy that will elevate any dish. What's even better? This technique requires no drippings, making it perfect for any occasion, from festive holiday feasts to impromptu cravings.
A Gravy That Fits Any Occasion
Picture this: silky smooth gluten-free gravy delicately poured over a plate of warm, flaky biscuits or a succulent roast. The flavors intertwine, creating a symphony of savory delights. This versatile gluten-free gravy is a showstopper at Thanksgiving or Christmas dinners, but it's also quick and easy enough to whip up whenever the craving strikes.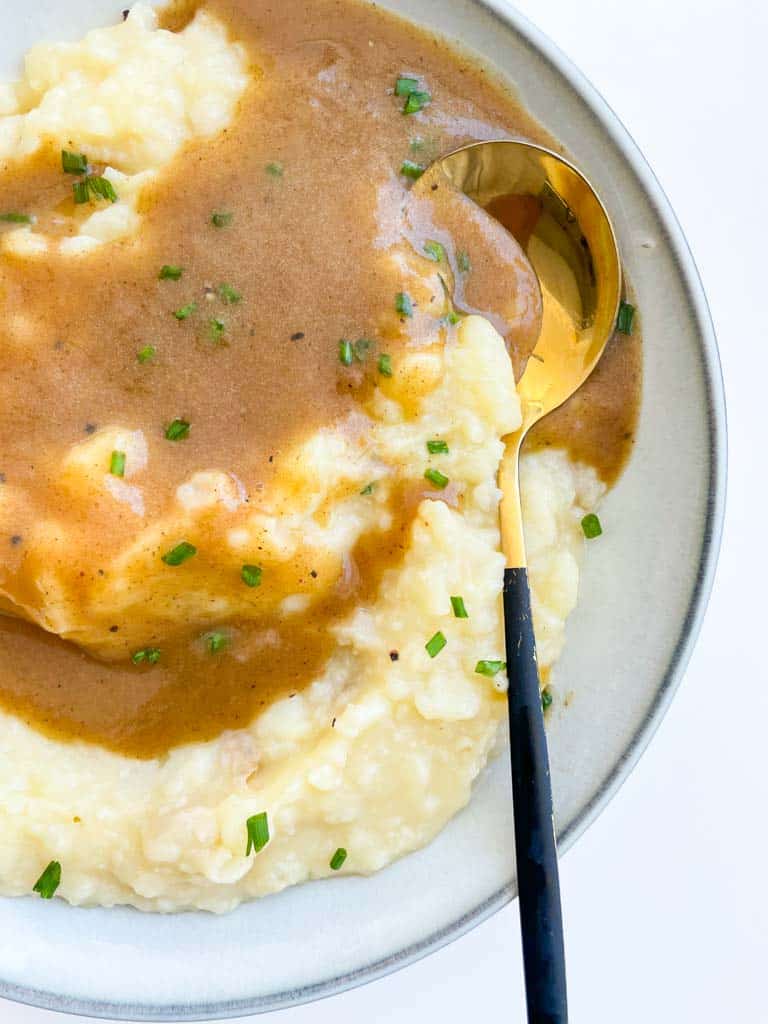 The Secret Ingredients
To create this gastronomic masterpiece, you'll need just a handful of key ingredients. Let's take a look:
Thickener: For a lusciously thick texture, opt for gluten-free all-purpose flour. Make sure your blend contains xanthan gum, or you can use cornstarch as an alternative.
Broth: Choose your preferred broth, be it chicken, turkey, vegetable, or even beef for a tantalizing twist.
Seasonings and Fresh Herbs: Garlic powder, sea salt, pepper, and fresh thyme infuse the gravy with delectable flavors. For an added umami kick, a dash of coconut aminos or Worcestershire sauce does wonders.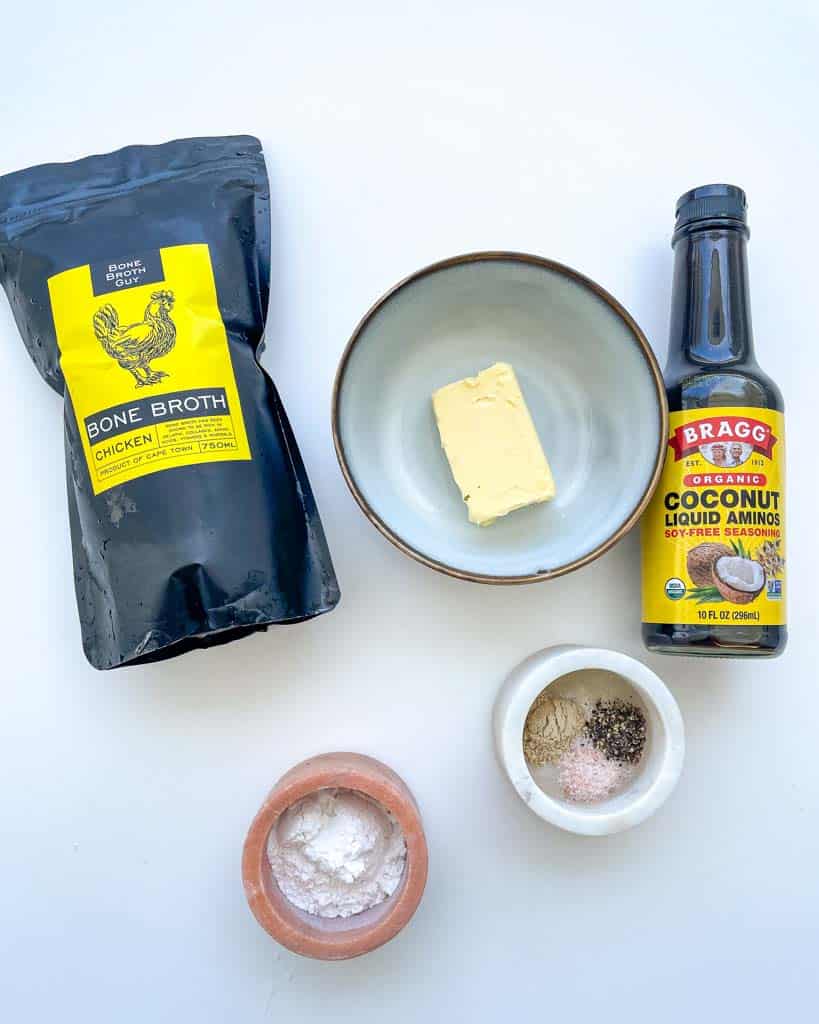 Unveiling the Culinary Magic: How to Make Gluten-Free Gravy
Prepare to embark on a mouthwatering journey as we walk you through the steps of creating this gluten-free gravy masterpiece:
Make the Roux

In a large skillet over medium-high heat, melt the butter until it sizzles. Gradually whisk in the flour, allowing the mixture to turn golden brown and emit a toasty aroma. Stir continuously for 2-3 minutes until the mixture achieves a deep, rich hue.

Note: If using gluten-free flour, the mixture may not form a paste-like consistency. Simply whisk the mixture over medium-high heat until the butter turns golden brown, and the flour dissolves completely.

Pour in the Liquid

Slowly pour in the broth one cup at a time while whisking vigorously until smooth. Reduce the heat to medium-low, allowing the gravy to simmer. As it simmers, the gravy will thicken, creating a tantalizing aroma. Let it simmer for 1-2 minutes, ensuring it bubbles to perfection.

Adjust the Consistency as Desired

Should you desire a thinner consistency, whisk in a bit more broth. To achieve a thicker texture, allow the gravy to simmer and gently boil for an additional minute or two, stirring occasionally. The longer it simmers, the denser the gravy becomes.

Season to Taste

Whisk in salt, black pepper, garlic powder, thyme, and coconut aminos (if desired). Taste the gravy and adjust the seasoning to suit your palate.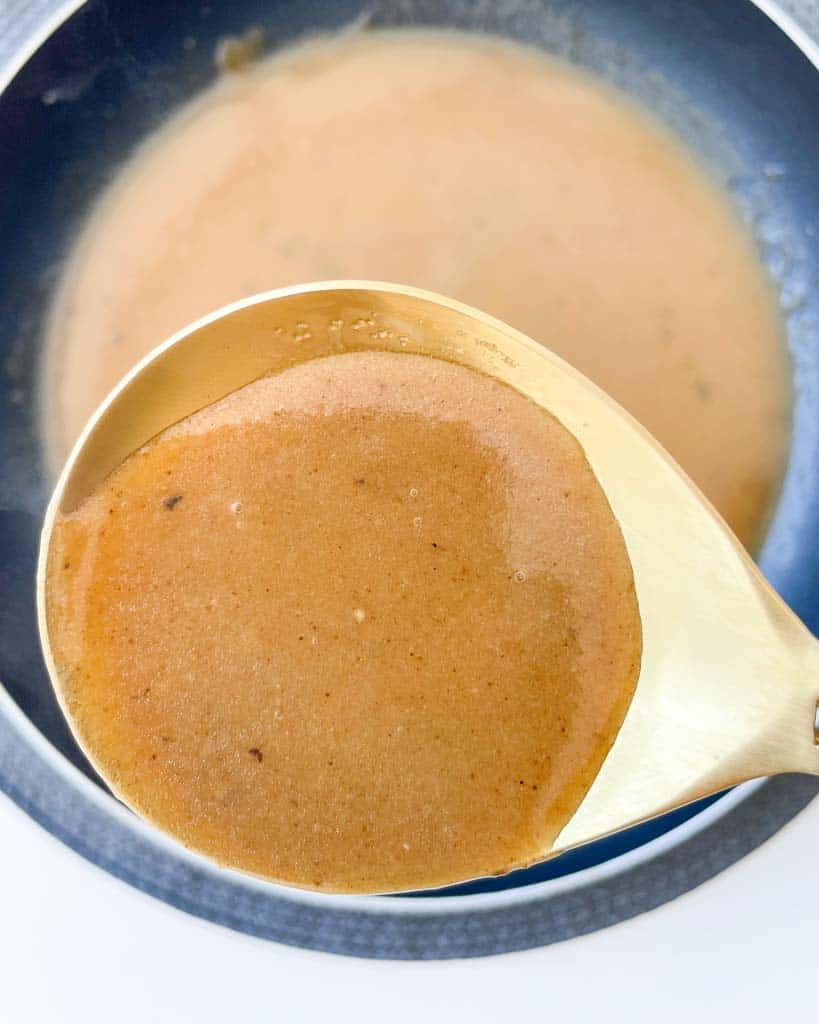 Tips and Variations: Elevate Your Gravy Game
Let's explore some tips and variations to take your gluten-free gravy to the next level:
Make it Vegan: Swap regular butter for vegan or dairy-free butter, and use vegetable broth to create a vegan-friendly version.
Utilize Pan Drippings: For turkey gravy, use the drippings from the roasting pan (or turkey broth). The pan drippings bring a well-seasoned richness to the stock. Remember to taste the gravy before adding additional spices.
Experiment with Herbs: Enhance the flavor profile by adding chopped rosemary, sage, parsley, or other herbs of your choice. Poultry seasoning, onion powder, or smoked paprika can also add a delightful twist.
Explore Different Flours: While sweet rice flour is a popular option, a gluten-free flour blend like Bob's Red Mills 1:1 Gluten-free flour or King Arthur's Gluten-Free Measure for Measure Flour works wonders. You can also try cornstarch or tapioca flour as alternatives. Adjust the quantities accordingly.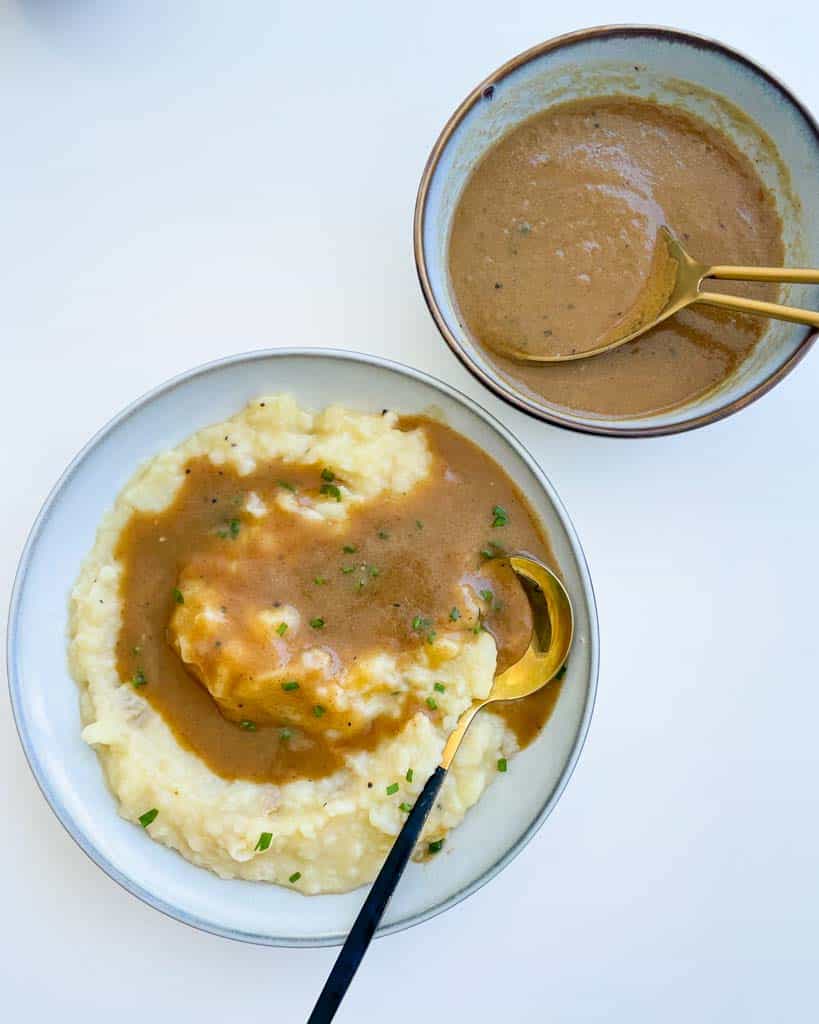 How to Make Gravy with Pan Drippings?
To create pan drippings for your gravy, simply add 2 cups of water or broth of your choice to the hot baking pan once the turkey or chicken is fully cooked and removed. Use a rubber spatula to scrape up any browned bits and mix them into the liquid. Then, pour the liquid into a fat separator and utilize it in your gravy-making process.
Thickening Gravy Without Flour or Cornflour
If you prefer not to use flour or cornflour as thickeners, fear not! You have several alternatives at your disposal. Arrowroot starch, potato starch, tapioca starch, oat flour, or gelatin can be used instead. Alternatively, you can simmer the sauce to reduce its liquid content.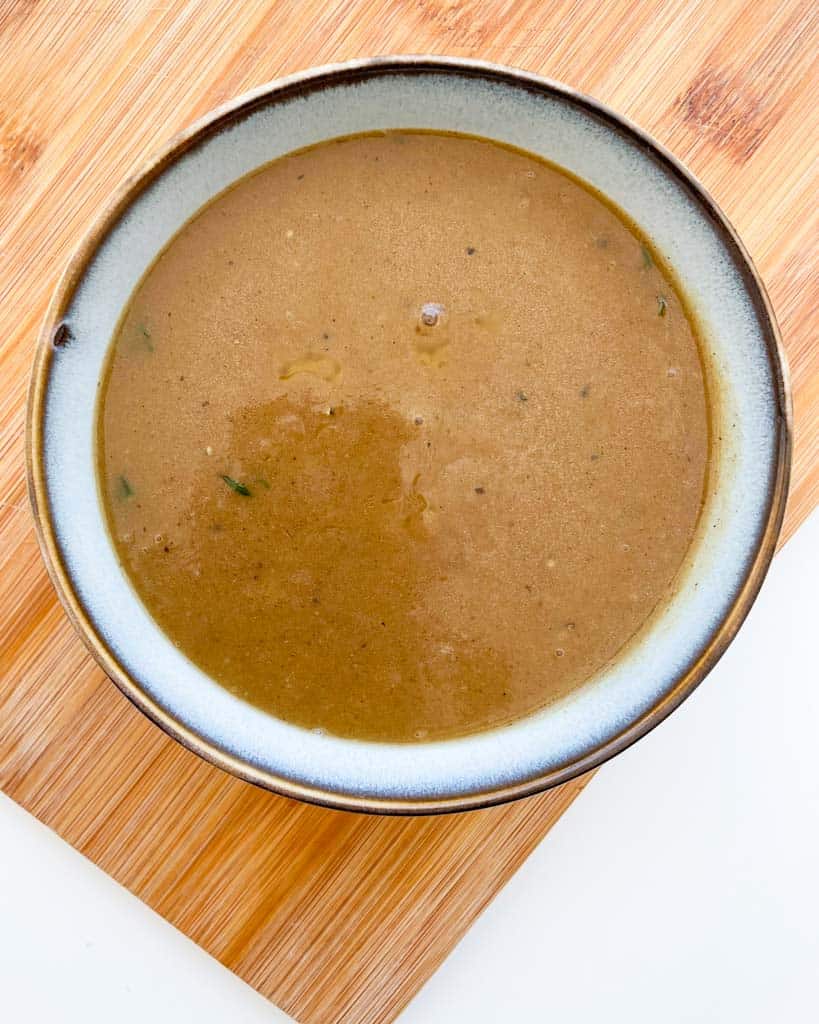 Storing Leftovers and Freezing Your Gluten-Free Gravy
Should you find yourself with leftover gravy, simply let it cool and transfer it to an airtight container. Refrigerate it for up to 3 days. To freeze the gravy, place it in a freezer-safe container and keep it for up to 3 months. When you're ready to indulge once again, thaw it overnight in the refrigerator before reheating and savoring its velvety goodness.
Make Ahead Option: Plan for Delight
With this recipe, you can easily prepare the gravy ahead of time. Once you've followed the recipe instructions, allow the gravy to cool completely before transferring it to an airtight container. It will solidify slightly. When you're ready to enjoy it, simply reheat it over the stove for a few minutes, whisking thoroughly. Add a tablespoon or two of broth if needed to achieve your desired consistency.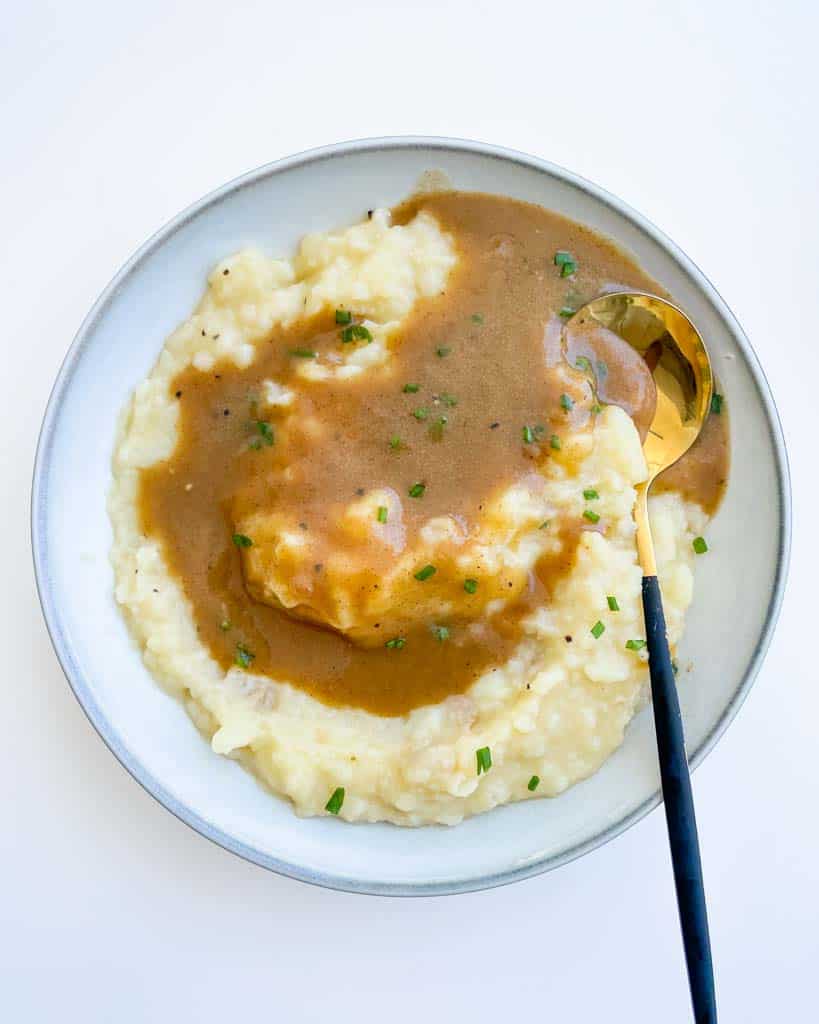 Ways to Use Gluten-Free Gravy: Endless Possibilities
The beauty of gravy lies in its ability to enhance various dishes. Here are a few delectable suggestions to savor with your gluten-free gravy:
Turkey and Gravy: Pair your gravy with our Dry Brined Butterflied Turkey, Baked Turkey Wings, or Air Fryer Turkey Legs for an unforgettable feast.
Gravy and Mashed Potatoes: Classic and comforting, enjoy our Dairy-Free Garlic Mashed Potatoes or Instant Pot Parsnip Mash accompanied by a generous drizzle of your gluten-free gravy.
Meatballs and Gravy: Elevate your meatballs to new heights with lean, protein-rich Bison Meatballs or our tantalizing Cheese Stuffed Meatballs.
Chicken and Gravy: Crispy chicken breast becomes extraordinary when smothered in this gravy. Try it with our easy Air Fryer Chicken Breast Recipe for a delightful meal.
Chips and Gravy: Give your taste buds a thrill with our Accordion Potato Fries or opt for the equally satisfying Cottage Fries.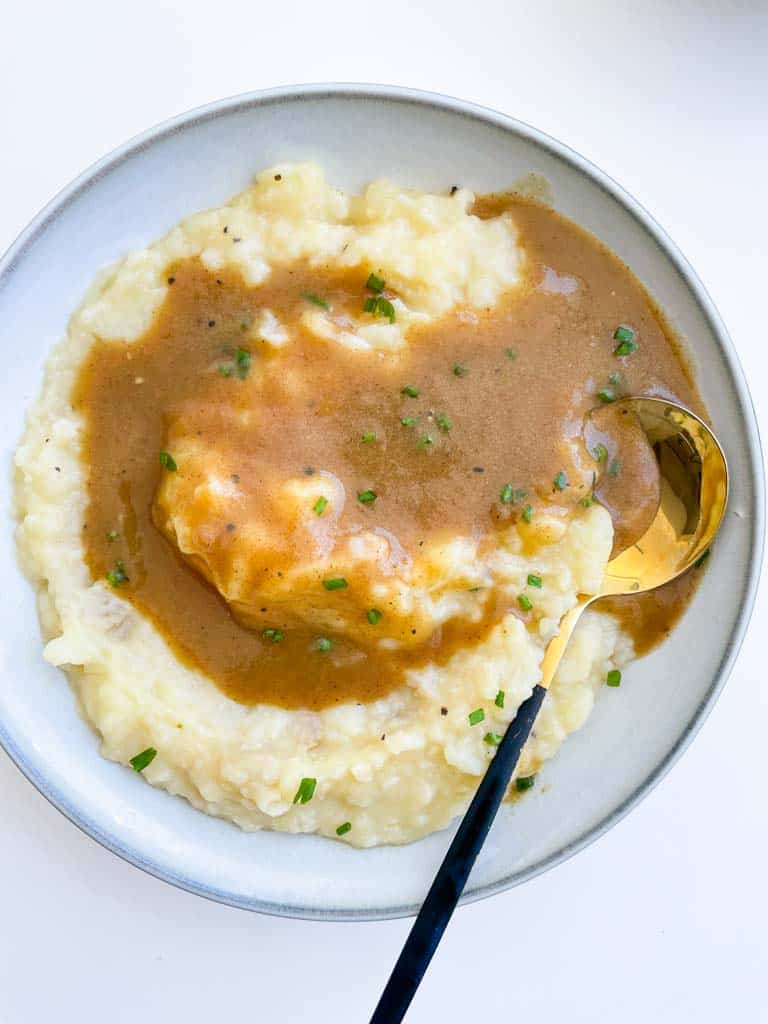 A Final Note
We sincerely hope you relish every spoonful of this gluten-free gravy recipe. Don't forget to rate the recipe and share your thoughts in the comments below. We would love to hear your feedback and see your culinary creations. Take pictures, tag #goodfoodbaddie, and share them with us on Instagram, Facebook, and Pinterest. Seeing our recipes come to life in your kitchen brings us immense joy.
More Gluten-Free Sauces to Explore!
If you're craving more gluten-free goodness, why not try these delectable sauces?
Best Homemade Barbecue Sauce (GF + Vegan)
5 Delicious Vegan Sauces!
Easy Jerk Sauce Recipe
3-Ingredient Orange Cranberry Sauce
How to Make Cashew Cream Sauce