Smoking flank steak is an art that can elevate your dinner to a whole new level. At 225 degrees F, this delicious main dish is packed with rich flavors that will leave your taste buds craving for more. And the best part? You can use the leftovers to create mouthwatering tacos! So, let's dive into the world of smoked steak and discover the secrets behind this culinary masterpiece.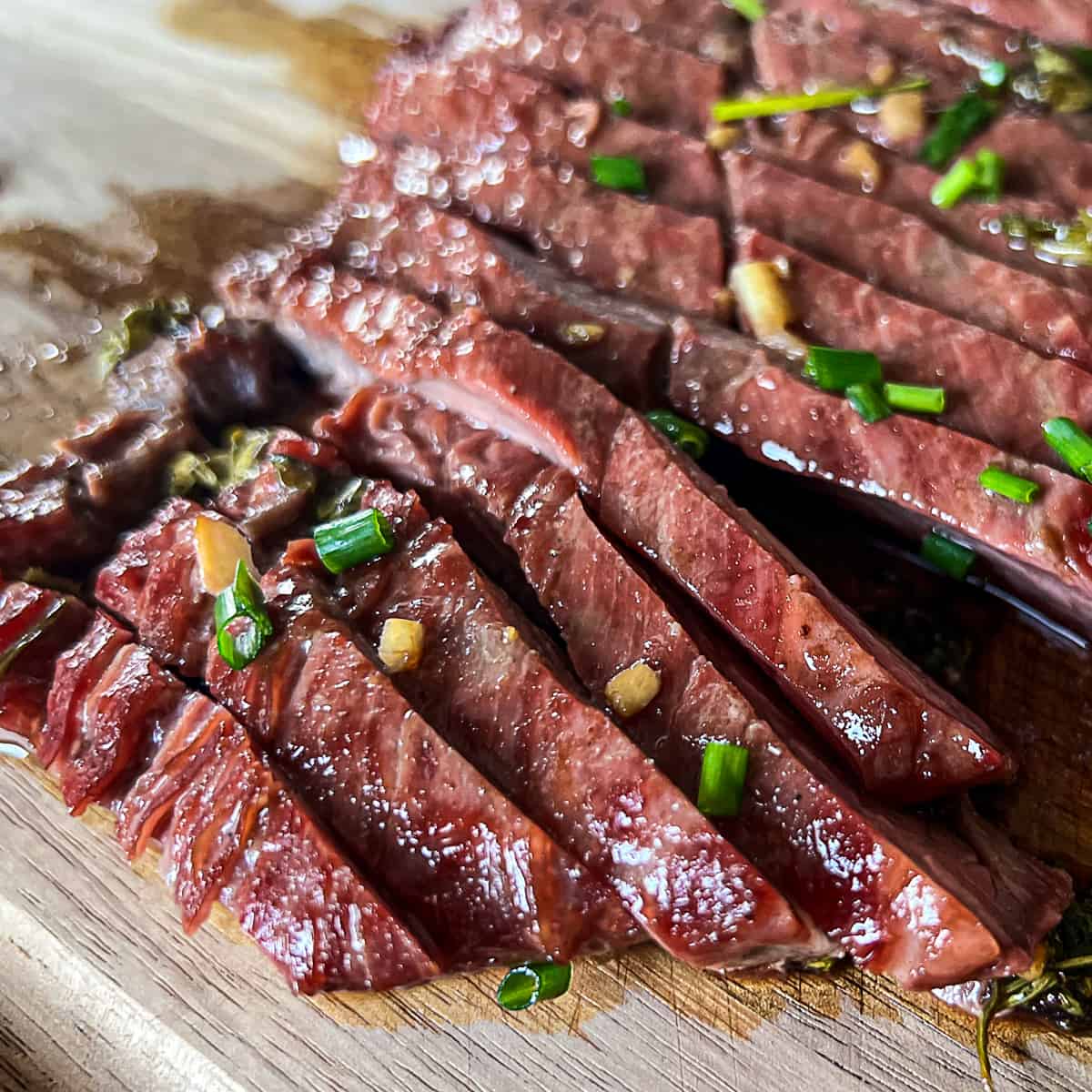 Why Choose Smoked Flank Steak?
If you're wondering why smoked flank steak is a must-try, let me give you some compelling reasons:
Fast and Flavorful: In just about 90 minutes of smoke time, you'll have a juicy and tender piece of meat ready to be devoured.
Marinated Perfection: Smoking the flank steak in a tasty marinade enhances its succulent flavor, making each bite an explosion of taste.
Pairing Made Easy: The low and slow smoking process goes hand in hand with a delicious side dish like smoked mac and cheese, creating a perfect harmony of flavors.
Beginner-Friendly: Don't worry if you're new to Traeger recipes. I've got you covered with a step-by-step video for beginners that will ensure your success.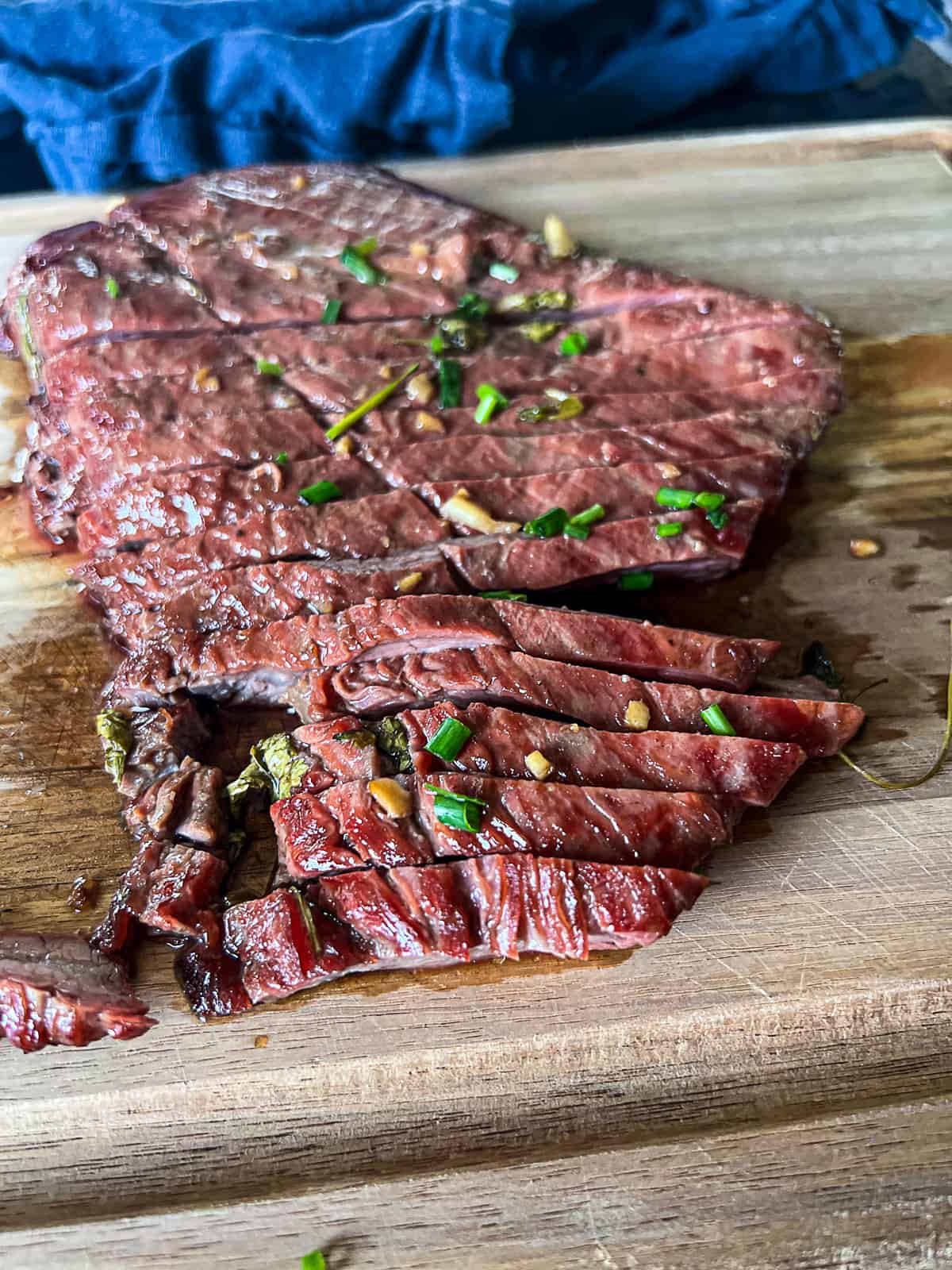 The Ingredients You'll Need
To embark on this culinary adventure, gather the following ingredients:
Flank steak
Olive oil
Soy sauce
Red wine vinegar
Lime
Brown sugar
Dijon mustard
Garlic
Ginger
Black pepper
Chipotle powder (or use something spicy like red pepper flakes)
Cilantro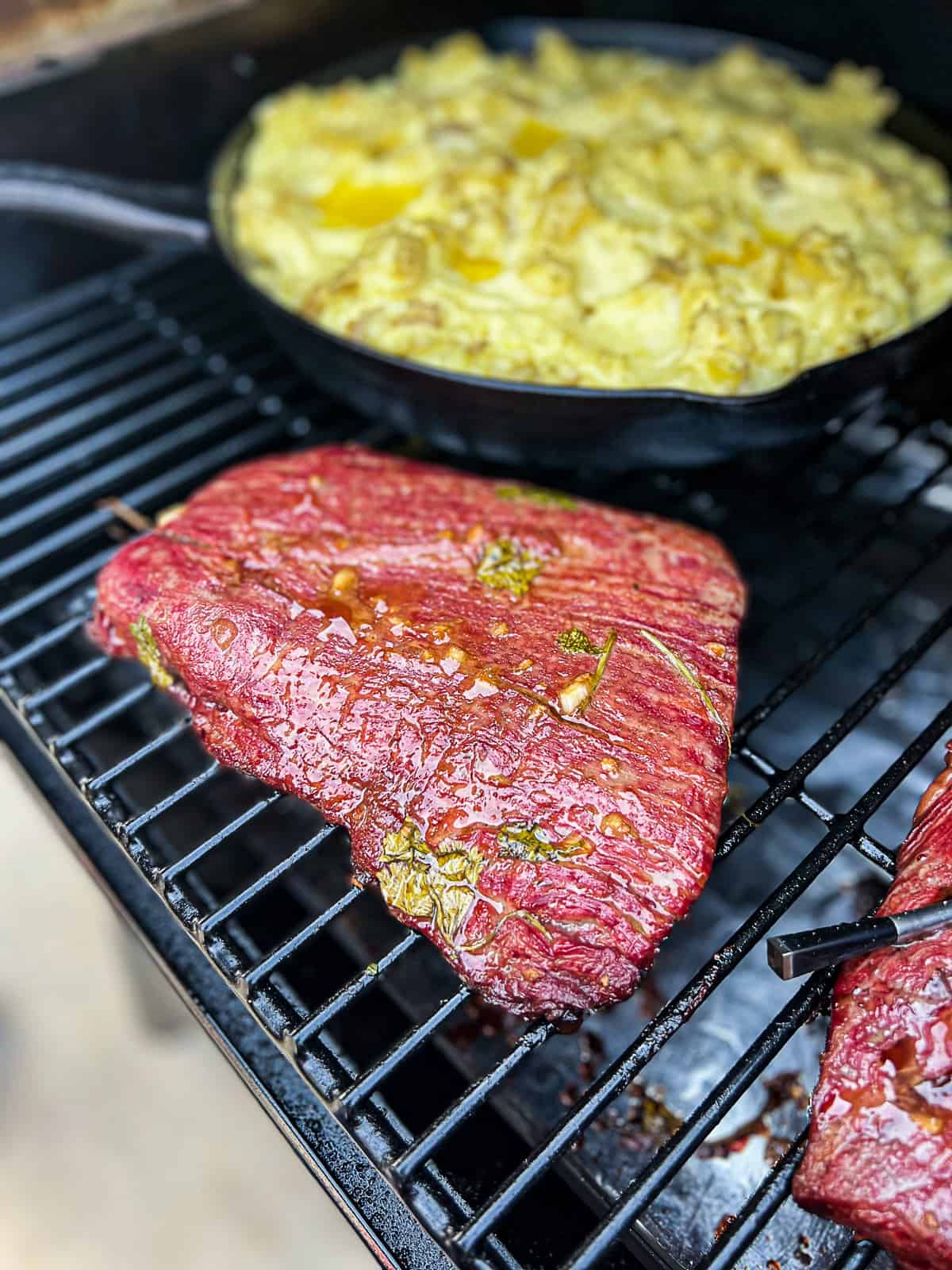 How to Master the Art of Smoking Flank Steak
Now, let's dive into the step-by-step process of smoking flank steak:
Preparing the Smoker
Start by preheating your Traeger Grill or any pellet grill you have to a temperature of 225 degrees F.
Preparing the Flank Steak
Create a marinade by combining all the marinade ingredients in a bowl and stirring until well blended. Place the flank steak in the marinade and let it rest in the refrigerator for at least 30 minutes.
Smoking the Flank Steak
Lay the marinated flank steak directly on the grill grates of your smoker and let it smoke for approximately 90 minutes at 225 degrees F. Keep in mind that the exact cooking time may vary depending on the steak's thickness and how many times you open the smoker, allowing heat to escape.
Achieving the Perfect Doneness
For a medium-rare finish, remove the flank steak from the smoker when its internal temperature reads around 130 – 135 degrees F. If you prefer a medium doneness, wait until the temperature reaches 140 – 145 degrees F. Use an internal read thermometer to ensure accuracy.
Savoring the Smoked Flank Steak
Once the smoking process is complete, let the smoked flank steak rest for a few minutes before slicing it into strips or smaller pieces. This versatile cut of meat is perfect for creating marinated flank steak tacos or enjoying it as is.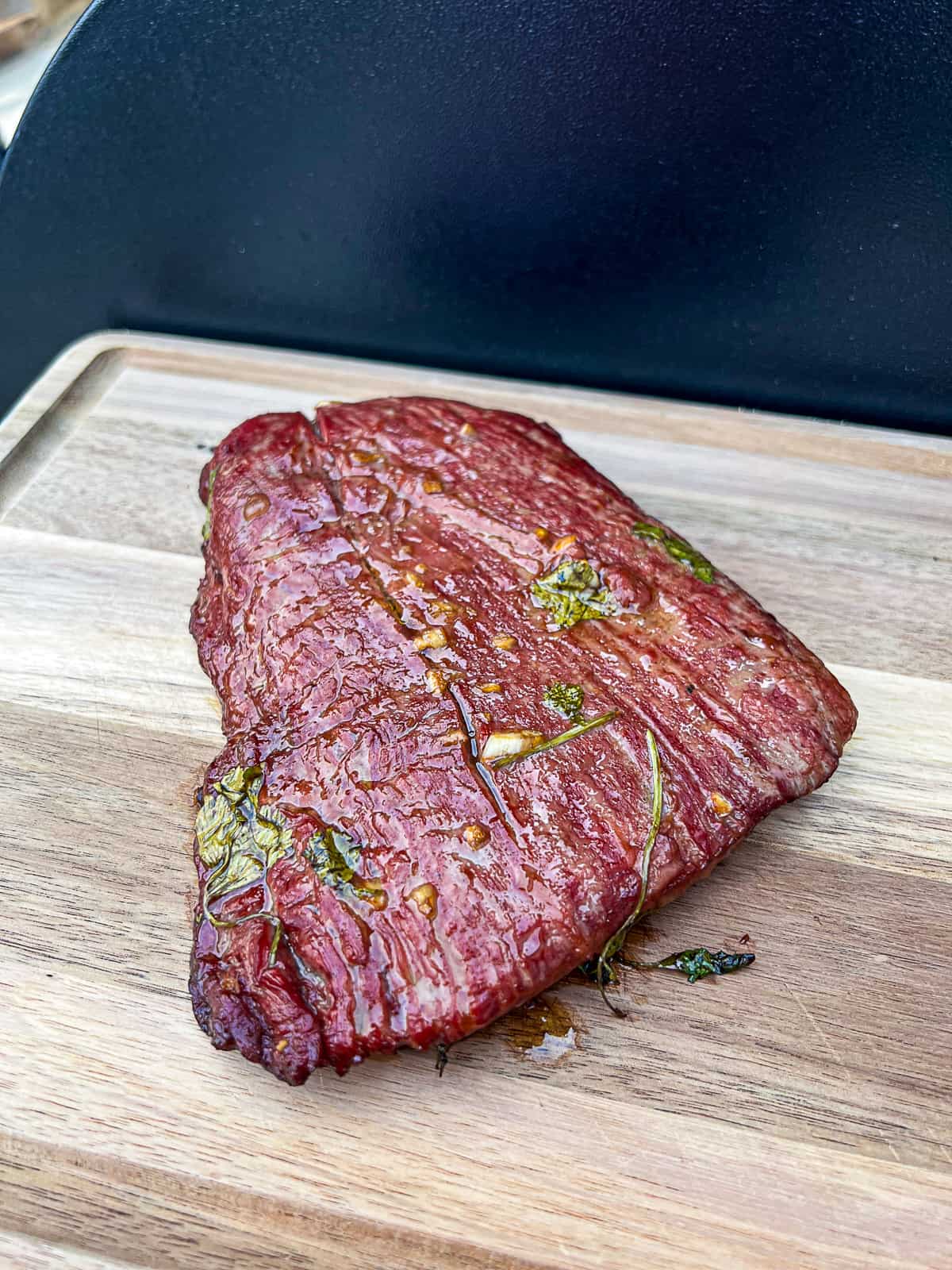 Let Your Imagination Run Wild: Smoked Flank Steak Tacos
One of the best ways to serve smoked flank steak is by turning it into delectable tacos. Here's a suggestion to kickstart your creativity:
Serve the perfectly smoked steaks as a BBQ menu dinner by arranging sliced smoked flank steak tacos with a variety of accompaniments. Corn tortillas, rice, sautéed onions and peppers, and guacamole make excellent toppings. For an extra smoky twist, try adding smoked corn on the cob with the kernels cut off.
Explore More Mouthwatering Recipes
If you're eager to expand your grilling and smoking repertoire, here are some other tantalizing recipes you can explore:
Smoked mac and cheese
Smoked cream cheese
Smoked brisket flat
321 ribs
Beer can chicken on the smoker
Smoked wings
Smoked tomahawk steak
Traeger tri tip
Smoked turkey breast
Smoked turkey legs
Whole smoked turkey
Smoked Traeger pizza
Smoked onion rings
Traeger smoked ham
Smoked whole chicken
Smoked jalapeno poppers
Smoked corn on the cob
Traeger beef ribs
Smoked leg of lamb
Smoked shrimp
Grilled chicken wings
Grilled skirt steak
Flank steak marinade
Grilled potato wedges
Smoked pulled pork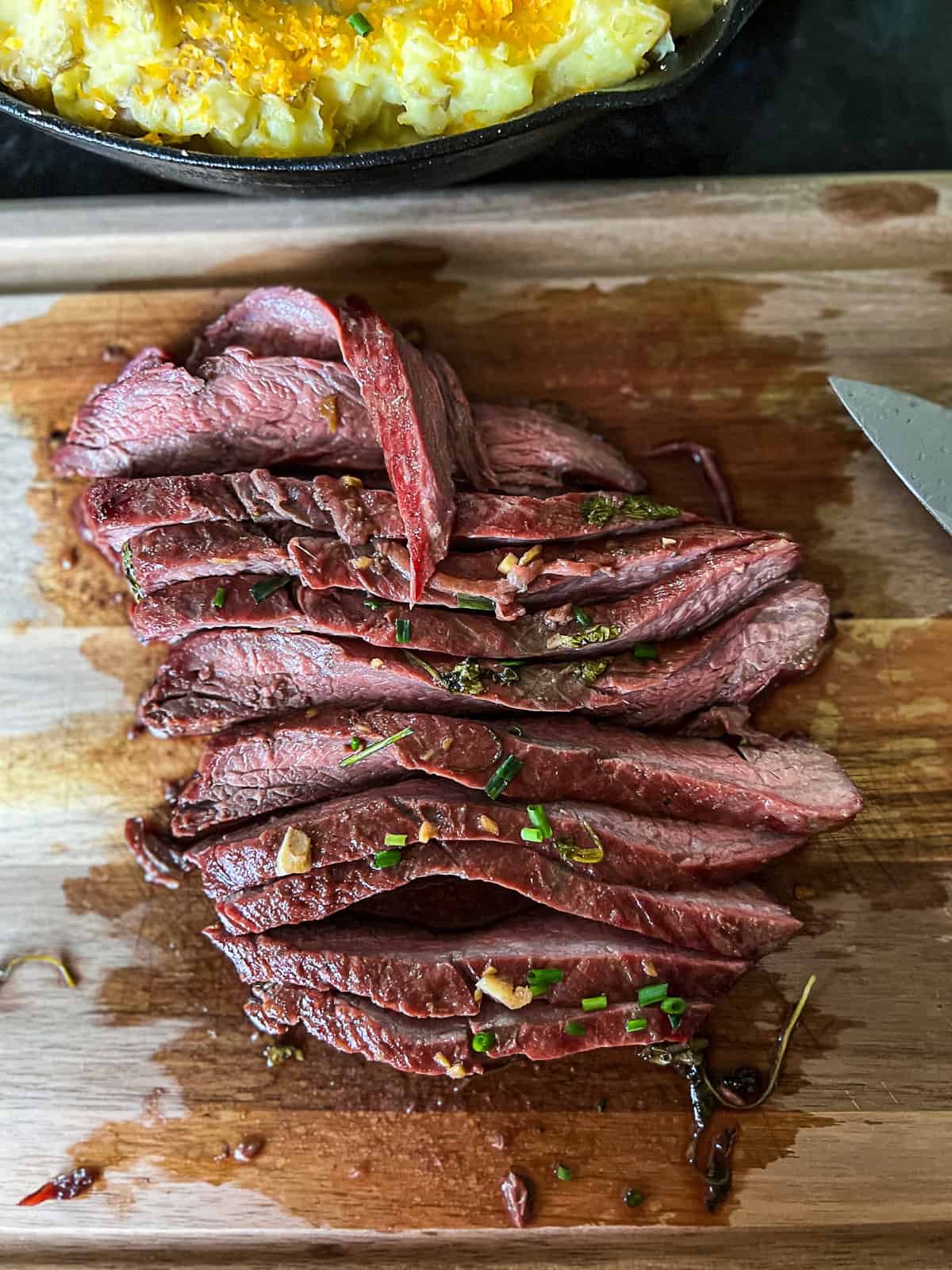 Unleash Your Inner Chef
As a home chef, it's essential to have the right tools to cook food to perfection. A reliable meat thermometer can make all the difference. Here are two recommendations:
Meater thermometer: This wireless thermometer connects to a phone app, allowing you to monitor the temperature without opening the oven or grill.
ThermoPro digital thermometer: Equipped with a wire that connects the thermometer to a display box outside the oven or grill, this tool provides accurate temperature readings.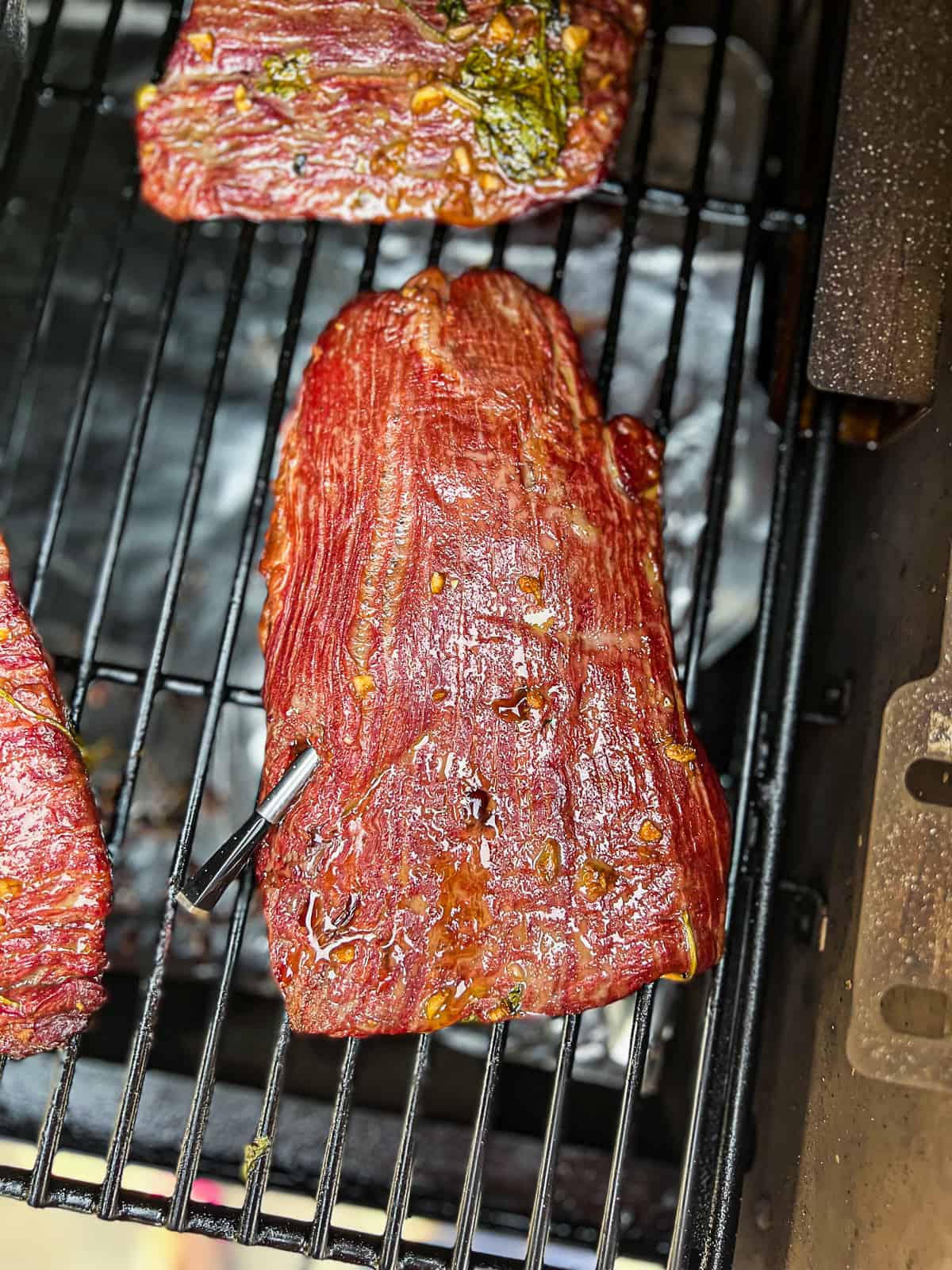 Why I'm Passionate About This Recipe
As an avid grill master, I'm constantly searching for new and exciting ways to utilize my Traeger grill. Mastering various low and slow smoker recipes was just the beginning. With a desire to create smoky flavors in steak dinners, I stumbled upon the idea of smoking flank steak. It turned out to be a tender and flavorful delight that I couldn't wait to share with you. Although it takes some time, the hands-on effort is minimal, making it an "easy to smoke" option that's perfect for weeknight dinners.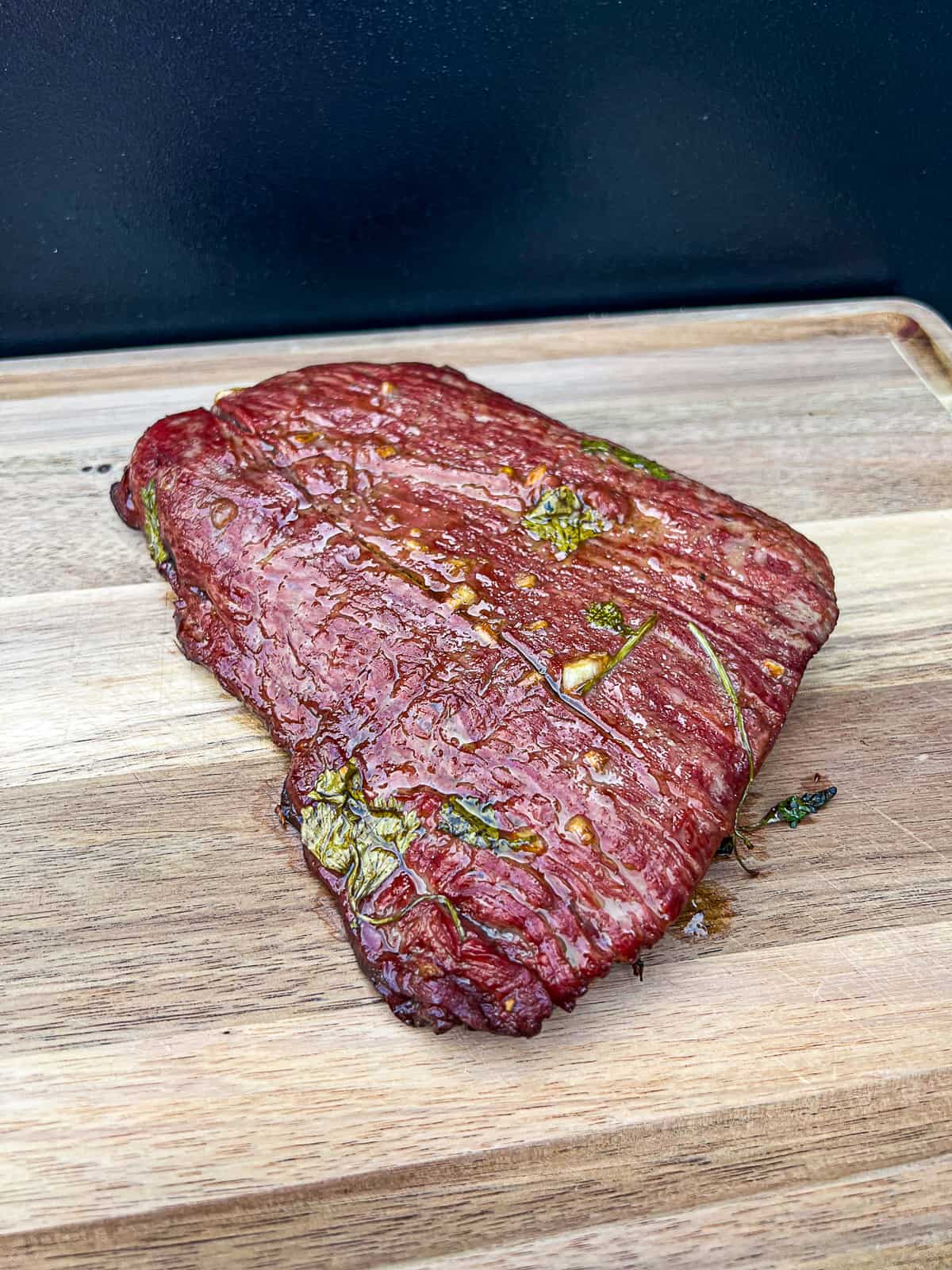 Join the Foodie Community
If you're passionate about creating delicious meals, you're in good company. Follow me on Instagram @sipbitego for quick and easy smoker recipes. For even more culinary inspiration, subscribe to the Sip Bite Go channel and explore the vast collection of mouthwatering recipes.
Now that you've discovered the art of smoking flank steak, unleash your inner chef and create a flavorful masterpiece that will delight your palate. And if you're feeling adventurous, check out my recipe for smoked baked potatoes—it's the perfect companion to your smoked dishes. Happy smoking! Rowdy Hog Smokin BBQ