Are you in the mood for a mouthwatering comfort food dish that will leave you craving for more? Look no further than this delectable slow cooker pork chops and gravy recipe. Imagine tender and moist pork chops smothered in a creamy sauce, cooked to perfection in your trusty crockpot. This dish is a true gem that will make your taste buds dance with joy.
Pork Chops With Mushroom Gravy: An Irresistible Twist
While there are countless ways to cook a variety of meals, this version of slow cooker pork chops and gravy takes it up a notch. With the addition of fresh mushrooms and a packet of Lipton onion soup mix, the sauce becomes thicker and bursting with flavor. You won't need any additional seasonings with this recipe; it's that good!
To ensure the best results, make sure your pork chops are fresh or defrosted. But don't worry if you forgot to defrost them; we've got you covered with a frozen pork chops in Instant Pot recipe. We all have those forgetful moments, especially when hunger strikes and time is running short.
Embrace the Joy of Slow Cooking
Let's take a moment to appreciate the wonders of slow cooking. There are different types of slow cookers for every occasion. For instance, the 6-quart programmable one with a locking lid is perfect for potlucks, while the side-by-side serving slow cooker is ideal for appetizers. And if you prefer easy cleanups, simply spray some olive oil inside instead of using liners.
Just feast your eyes on this beautiful crockpot that I recently purchased. Its stylish design allows me to leave it on the countertop, ready for action whenever the craving strikes.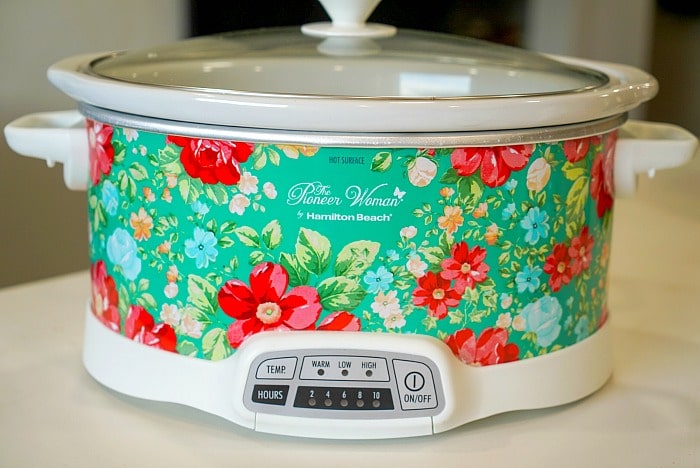 Crockpot Pork Chops and Gravy: Customize to Your Taste
If you have your own homemade onion gravy recipe that you swear by, feel free to incorporate it into this dish. The key is to have enough sauce to submerge the meat, ensuring it remains moist and flavorful. Even brown gravy can be used if that's what you have on hand. Let your taste buds be your guide!
For this recipe, boneless pork chops are recommended for their tenderness and ease of cooking. However, if you prefer bone-in chops, they will work just as well; just keep in mind that they may require a bit more cooking time. And always remember to check the internal temperature, ensuring it reaches a safe 145 degrees before indulging in this delicious meal.
Can You Put Raw Pork in a Slow Cooker?
Absolutely! Slow cookers are perfect for cooking raw pork and enhancing its tenderness and flavor. Whether it's an amazing pork tenderloin or pork chops and apples, the slow cooker will work its magic. Some people prefer searing the outside of the pork on medium-high heat before slow cooking to add texture and seal in the moisture, but it's not necessary.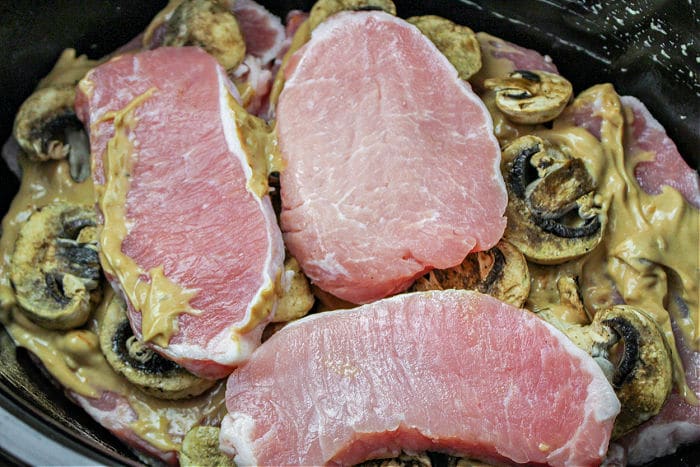 You can even use different dry mixes to elevate the flavor, like our slow cooker ranch pork chops variation. The possibilities are endless!
How to Create the Perfect Pork Chops and Gravy
Now, let's dive into the cooking process. It's incredibly easy, and the results are simply divine. Start by spraying the inside of your slow cooker with non-stick cooking spray. In a bowl, mix together the brown gravy mix, onion soup mix, and cream of mushroom soup. No need to worry about thickening the gravy; the cream of chicken or mushroom versions provide enough consistency.
Spoon half of the sauce onto the bottom of the slow cooker. Place half of the pork chops on top, followed by the sliced mushrooms. Repeat this layering process with the remaining chops and sauce. As the meat cooks, it will release juices that will naturally thin out the sauce. However, if you prefer a thinner consistency, feel free to add a little bit of broth, water, or olive oil.
Cover the slow cooker and let the smothered pork chops cook on low for 5 to 6 hours. The exact timing will depend on the thickness of your chops. While the aroma fills your kitchen, take this opportunity to prepare a batch of creamy mashed potatoes. Serve the slow cooker pork chops and gravy on top of the potatoes, allowing the flavors to mingle in a heavenly combination.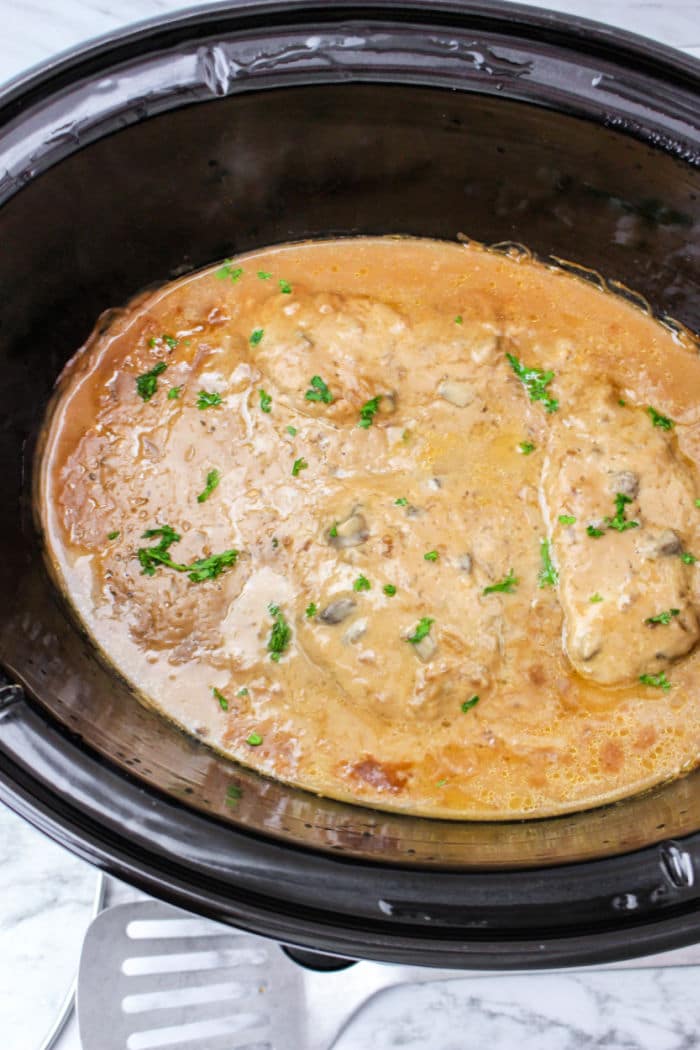 Fall Apart Slow Cooker Pork Chops: A Delightful Leftover
Have some leftover smothered pork chops? Fear not, because they make an incredible meal the next day too! To save your dish for later use, let it cool to room temperature before transferring it to a freezer bag or airtight container. In the fridge, it will stay fresh for up to 3 days. You can even add some leftover potatoes to keep them moist. When you're ready to enjoy it again, reheat the dish in a microwave-safe dish for about 1 minute, stir, and then heat for another minute until it reaches your desired temperature.
You'll be pleasantly surprised to find that the flavors intensify and meld together even more after a day of sitting. It's like a gift that keeps on giving.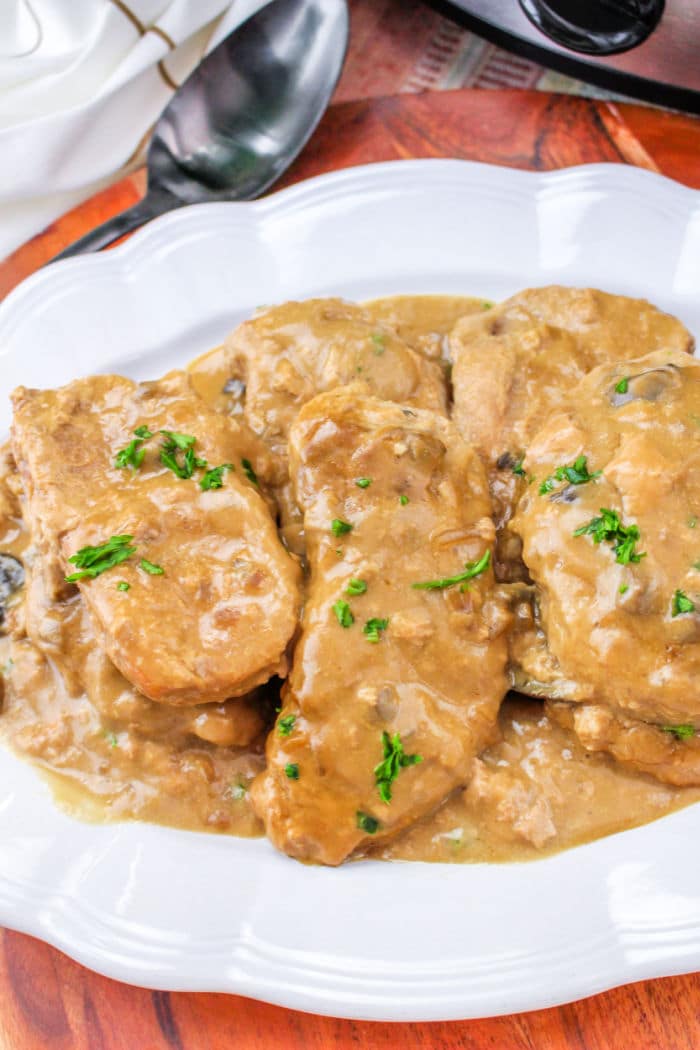 Smothered Pork Chops Slow Cooker: A Comforting Delight
Comfort food doesn't always have to be breaded. These slow cooker pork chops and gravy will prove that to you. The flavors are so rich and delicious that you won't miss the breading, and you'll appreciate the lower calorie count. Stock up on these delectable chops when they're on sale and explore various cooking methods.
Try air fryer pork chops for a healthier option that doesn't require any sauce. You can even wrap them in bacon and cook until crispy for a truly indulgent treat. And if you're feeling adventurous, experiment with different meats in the same sauce for a tantalizing dish of Crockpot meatballs and gravy.
The possibilities are endless when it comes to choosing the perfect side dish to accompany your cooked pork. Whether it's a medley of vegetables or a fresh loaf of garlic toast, let your creativity shine.
So there you have it – a tantalizingly delicious recipe for slow cooker pork chops and gravy. It's time to unleash your inner culinary artist and savor every flavorful bite. Don't forget to visit Rowdy Hog Smokin BBQ for more mouthwatering ideas and inspiration. Happy cooking!