Are you searching for a quick, easy, and healthy meal option? Look no further! This Ground Beef and Eggs Bowl recipe is sure to become your new favorite. With just a handful of pantry staples, you can create a delicious weeknight dinner or meal prep option that is bursting with flavor.
The Inspiration Behind the Dish
Our recipe is a fun twist on a classic Chinese dish called 窝蛋牛肉. By using simple and everyday ingredients, we've created a savory and flavorful ground beef recipe that is perfect for busy weeknights. And to take it up a notch, we've added a fried egg on top, allowing the yolk to break over the beef and seep into the rice below, creating an explosion of flavors.
Why You'll Love This Ground Beef Stir Fry
It's quick and easy to make, requiring less than 45 minutes of your time. While the liquid does need a few minutes to cook down and thicken, this step is mostly hands-off, making the recipe a breeze to prepare.
You won't need a long list of ingredients for this dish. Most of them are pantry staples that you may already have on hand.
If you want to simplify the process, you can even use the same pan to fry your eggs after transferring the cooked beef to a bowl.
Ingredients You'll Need
Beef broth (low sodium)
Oyster sauce (don't worry, it doesn't taste like oysters!)
Dark soy sauce (for a beautiful dark glaze and a strong soy flavor)
Soy sauce (low sodium)
Sugar (a pinch for sweetness)
Ground pepper
Sesame oil (pure or toasted)
Lean ground beef
Onion (diced)
Garlic (freshly minced or frozen)
Cornstarch (to thicken the liquid)
Frozen peas
Eggs (fried in butter or oil)
Rice or carb of your choice for serving
How to Make Ground Beef and Eggs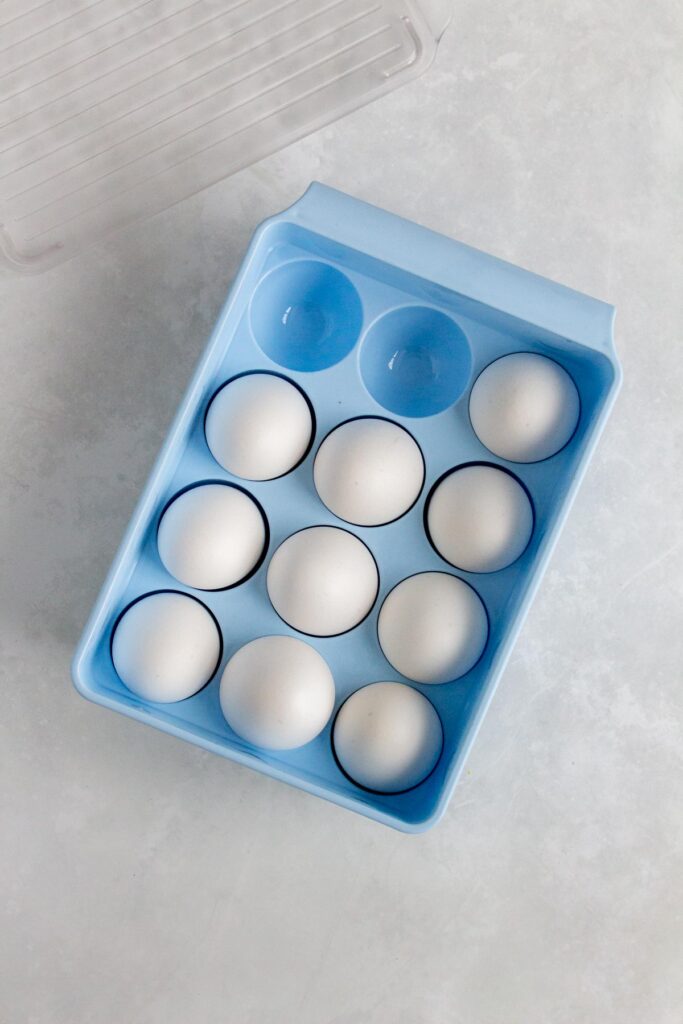 In a measuring cup, combine the beef broth, oyster sauce, dark soy sauce, soy sauce, sugar, and ground pepper. Set aside.
In a large non-stick pan over medium heat, brown the ground beef, breaking it up into small pieces with a wooden spoon.
Add the diced onion and minced garlic to the pan, sautéing until the onions have softened.
Pour in the liquid mixture prepared earlier and simmer.
Thicken the sauce by adding a cornstarch slurry (1:1 cornstarch to cold water).
Add the frozen peas and continue stirring until they have cooked through.
In a separate pan, fry the eggs until the edges are crispy, and the whites are cooked through. Leave the yolk runny for that perfect burst of flavor.
Serve the ground beef over a bed of rice or your preferred carb, topped with a fried egg. Garnish with green onions and sesame seeds.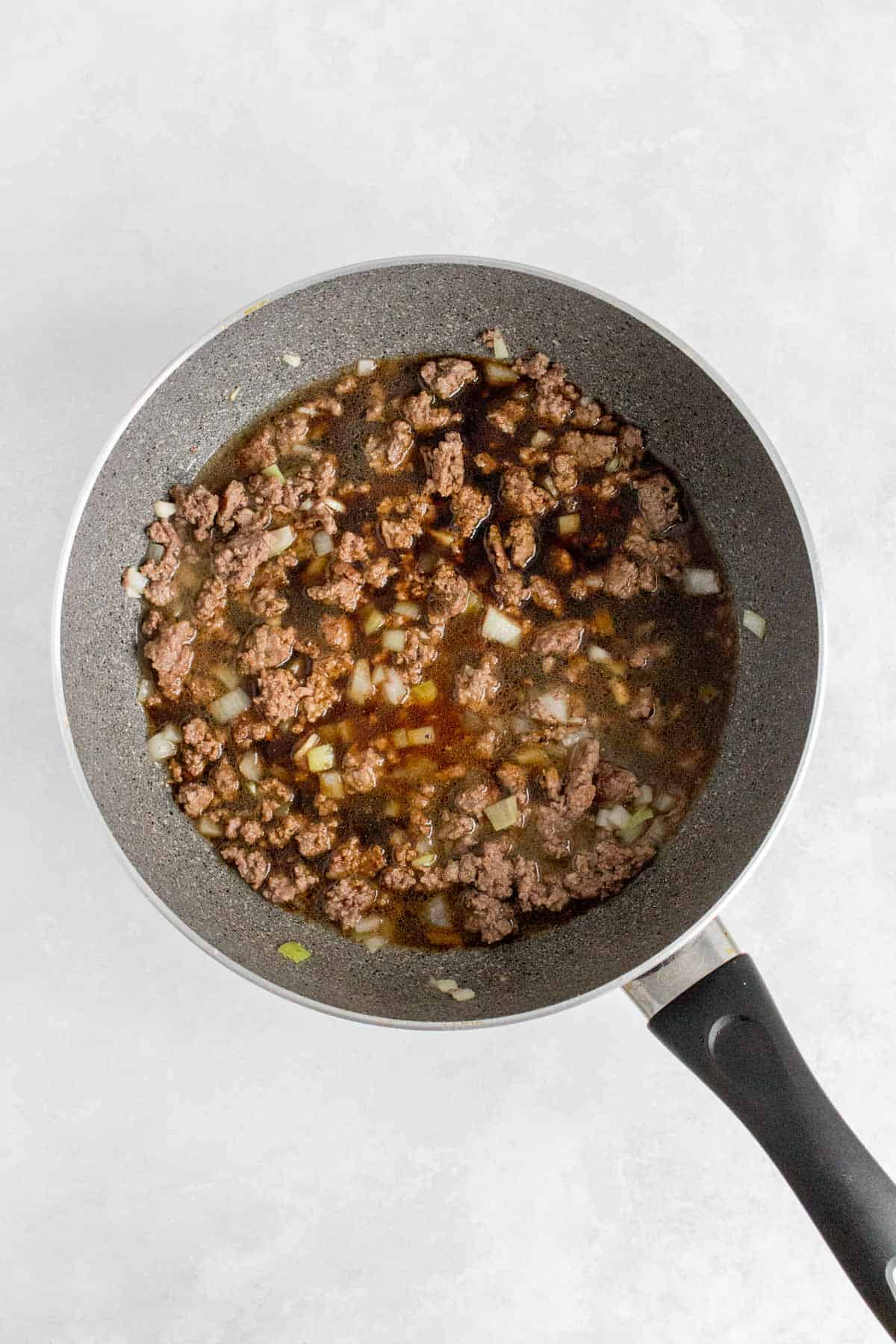 Recipe Tips
For some extra heat, top off your ground beef bowls with sriracha or hot sauce.
If you don't have dark soy sauce, simply add extra regular soy sauce.
Feel free to add more vegetables like broccoli florets, cauliflower florets, or snow peas.
Using freshly cracked black pepper will enhance the fragrance of the dish.
Experiment with different types of eggs, such as poached or soft-boiled, for alternative serving options.
If you prefer, you can swap out the ground beef for ground pork, chicken, or turkey, or even mix them together.
For perfectly round and separate eggs every time, use a specialized frying pan.
Make Ahead Tips
If you're looking to meal prep or make this dish ahead of time, here's what you need to know:
Once cooled, store the cooked beef stir-fry in an airtight container in the fridge for up to 4 days.
Pair it with jasmine rice, cilantro lime rice, coconut rice, purple rice, or lemon garlic rice for a delicious meal that lasts throughout the week.
Note that the texture of the fried egg may change slightly upon reheating, but it won't significantly affect the overall taste.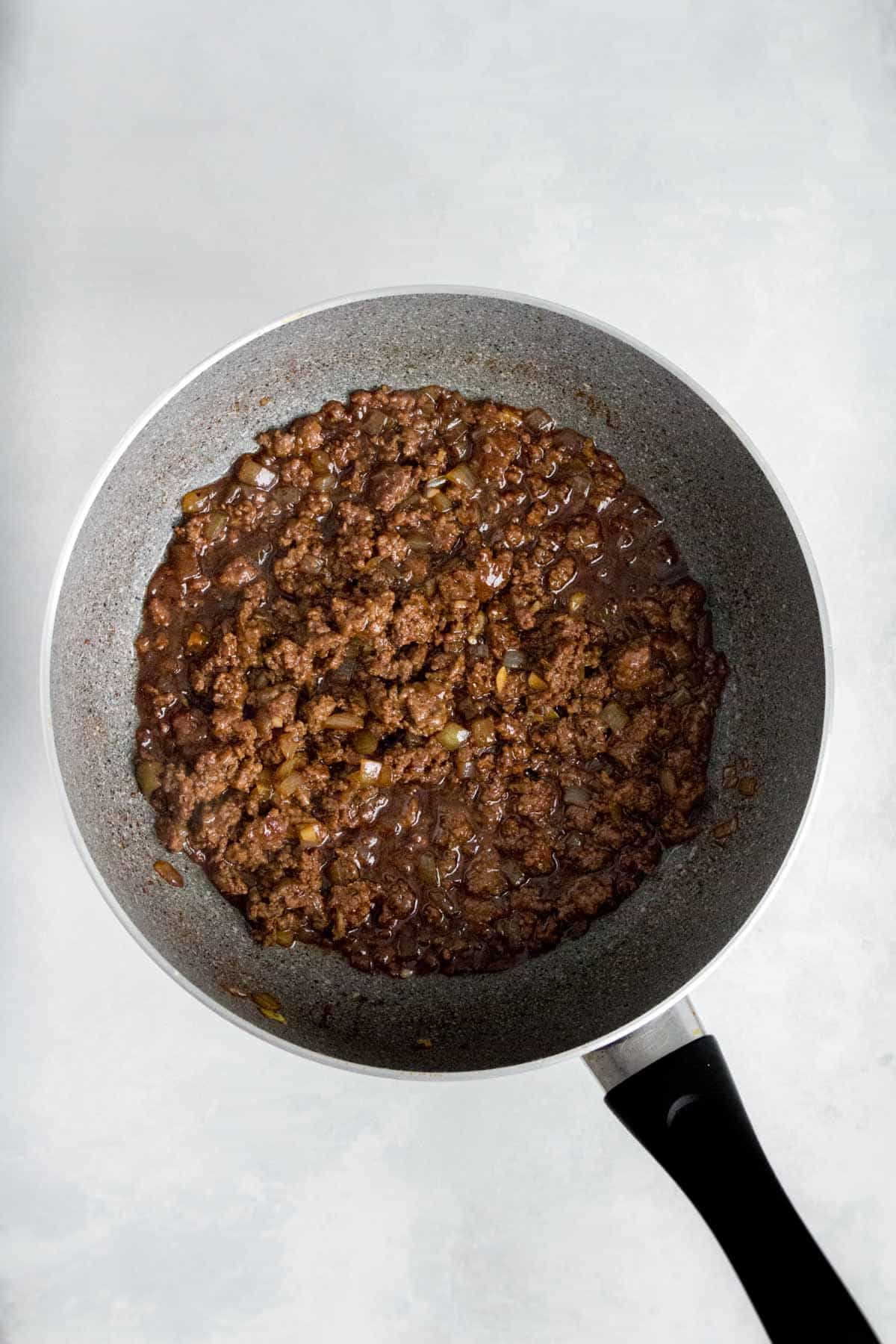 More Easy Dinner Recipes
Looking for more easy and delicious dinner recipes? Here are some suggestions to add to your repertoire:
Beef and Onions
Spam and Eggs
Black Pepper Beef
Teriyaki Beef Bowl
Korean Beef Bowls
Honey Hoisin Beef Bowls
Enjoy cooking and experimenting with these flavorful dishes!
---