Are you looking for a quick and tasty dinner idea? Look no further than this amazing Beef and Noodles recipe. With tender beef packed with flavor, this dish is perfect to serve over pasta for a satisfying meal.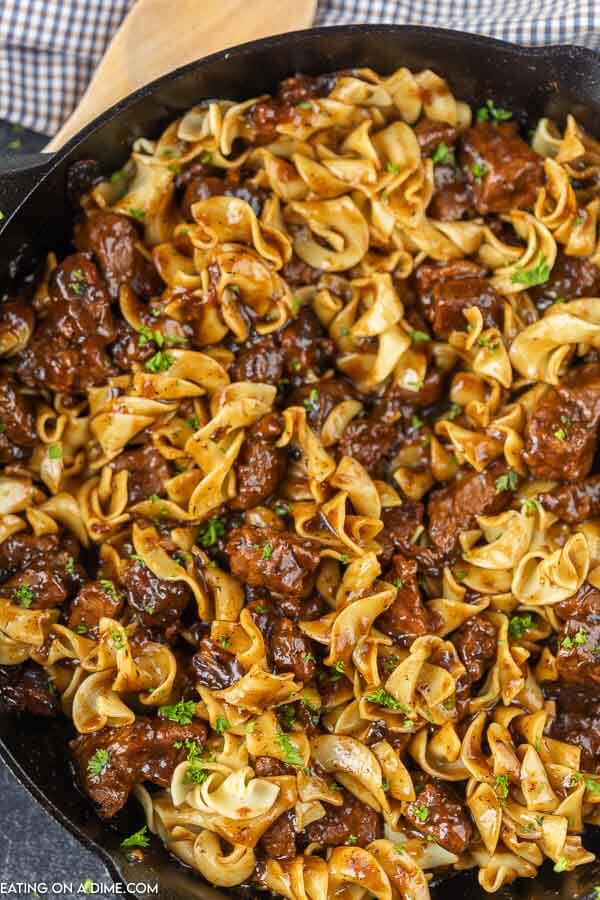 A Time-Saving Dinner Idea
Our lives can get really busy, which is why easy dinner recipes like this Beef and Noodles dish are a lifesaver. Whether you choose to make it in your slow cooker, instant pot, or on the stove, this recipe is a breeze to whip up. Plus, it only takes 20 minutes to prepare!
A Comforting Skillet Recipe
Imagine coming home to a warm and comforting meal after a long day. That's exactly what this recipe delivers. It's a delicious dish that warms your soul and brings back memories of grandma's homemade Beef and Noodles recipe.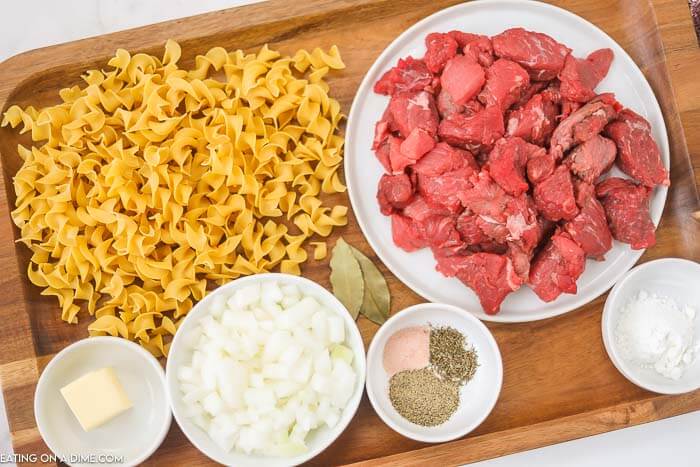 Ingredients for Easy Beef Tips and Noodles Recipe:
Beef Roast (or beef stew meat)
Butter
Onion (diced)
Beef broth
Bay Leaves
Dried Thyme Leaves
Salt and Pepper
Cornstarch
Cold Water
Extra Wide Egg Noodles
How to Make Beef and Noodles:
Heat a large skillet over medium heat.
Add the butter and onion, sautéing until the onion is translucent (about 3-4 minutes).
Brown the beef in the skillet with the onions for 8-10 minutes over medium heat.
Pour 2 cups of beef broth into the skillet and add the seasoning. Stir to combine and bring the mixture to a boil.
Reduce the heat, cover, and simmer for 20-30 minutes until the beef is tender.
Slowly add the last cup of beef broth as the liquid cooks off.
In a separate bowl, mix cornstarch and cold water. Stir this mixture into the skillet and cook for an additional 10 minutes or until the sauce thickens.
While the sauce is thickening, cook the egg noodles in a separate pot according to the package instructions.
Serve the beef mixture over the cooked egg noodles and enjoy!
Cooking Options: Instant Pot and Crock Pot
You can easily adapt this recipe to cook in your instant pot or crock pot. In the instant pot, sear the meat before adding the other ingredients and cook on high pressure for 15 minutes. For the crock pot, simply combine all the ingredients (except the noodles) and cook on low for 6-8 hours.
Tips and Substitutions:
To save time, keep diced onion and bell pepper in the freezer for easy additions to any recipe.
Use ground beef instead of roast for a different flavor.
Worcestershire sauce can be added for an extra kick.
For creamier sauce, add a can of cream of mushroom soup.
Feel free to add vegetables like broccoli or carrots to make it a complete meal.
Can I Freeze Beef and Noodles?
Absolutely! This recipe is perfect for freezing. Double the recipe and freeze the beef and gravy mixture for easy future meals. When you're ready to reheat, thaw in the refrigerator and then reheat on the stovetop or in the microwave.
How to Thicken Beef and Noodles:
If you need to thicken the sauce, mix one tablespoon of flour or cornstarch with one tablespoon of water to make a slurry. Add this mixture to the beef and noodles, and heat on medium to high heat until the sauce thickens.
Storage and Serving Ideas:
Leftovers of this dish make great lunches for the following day. Simply reheat in the microwave, stirring every minute until heated through. Serve the Beef and Noodles with delicious sides like Garlic Lime Steamed Asparagus, Roasted Zucchini & Tomatoes with Red Wine Vinegar, Pan Fried Zucchini Slices, or Easy Roasted Zucchini and Squash.
Try These Easy Skillet Recipes:
Looking for more skillet recipe ideas? Give these flavorful dishes a try:
Tex Mex Skillet Chicken Recipe
Mongolian Beef and Noodles Recipe
Easy Salsa Chicken Skillet Recipe
Skillet Chicken and Rice Burritos
Skillet Chicken Honey Mustard Chicken Recipe
For more mouthwatering recipes and cooking inspiration, check out Rowdy Hog Smokin BBQ. Happy cooking!