When it comes to BBQ sauce, South Carolina takes the crown. Known for its rich flavors and distinct varieties, South Carolina boasts four unique sauce regions. These regions are depicted in the map below, each showcasing the historically favored sauce type.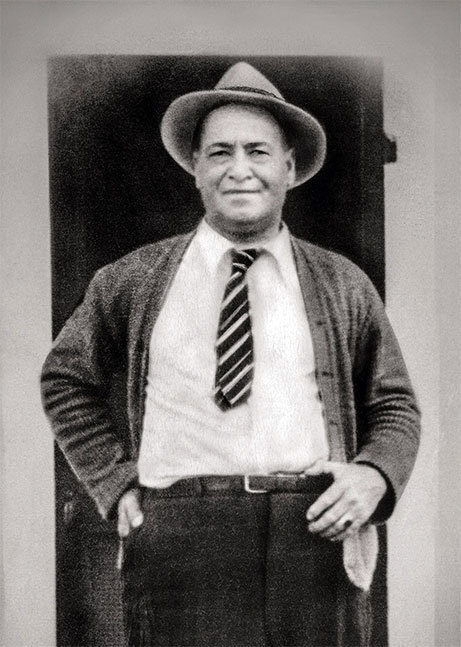 Image credit: Big Joe Bessinger, patriarch of the Bessinger BBQ Family
In the heart of mustard country lies Orangeburg County, a place that could easily be hailed as the birthplace of South Carolina's signature mustard sauce. Legend has it that Joe Bessinger, residing near Holly Hill in rural Orangeburg County, was the pioneer in creating this tangy and flavorful mustard-based sauce. The Bessinger family then carried forward this BBQ legacy, opening multiple restaurants across the state.
Maurice's "Piggie Park" locations in Columbia, Melvin's restaurants on James Island and in Mt. Pleasant, and Bessingers Bar-Be-Que in Charleston, established by Thomas Bessinger, are just a few examples of the family's successful ventures. Yet, Orangeburg County's contribution to South Carolina's BBQ heritage doesn't end there.
The Dukes BBQ family empire also found its roots in and around the city of Orangeburg. Earl Dukes, the founder of the Dukes brand, introduced a sauce that is often referred to as "Orangeburg Sweet." This sauce, served in all Dukes restaurants, is a South Carolina favorite. Tony Kittrell, former owner of Dukes Barbecue in Orangeburg, affectionately calls it "Rust Gravy."
If you find yourself in South Carolina, visiting a Dukes restaurant is a must. You'll have the opportunity to savor their unique recipe, which goes beyond a simple mustard sauce. The delectable blend of flavors will leave you craving more. Thanks to Michael Ott, a native of Orangeburg County, we have a chance to experience his version of the famous Dukes BBQ sauce.
The Recipe: Michael Ott's Version
1 cup yellow mustard
1/4 cup ketchup
1/4 cup apple cider vinegar
2 tbsp. brown sugar
2 tbsp. Worcestershire sauce
1 tbsp. honey
1 tsp. hot sauce
1 tsp. garlic powder
1 tsp. onion powder
1/2 tsp. black pepper
1/2 tsp. salt
To truly appreciate the art of South Carolina BBQ, you should explore the various sauce and rub recipes that have been lovingly perfected over the years. Here are some other mouthwatering examples of South Carolina's BBQ heritage:
Vinegar-Pepper Sauces
Jay Phillips' Whole Hog Sauce Recipe
Dad's Mop Sauce Recipe
Eastern SC Vinegar-Pepper Sauce Recipe
Moore Family's Little Fisher Hog Sauce Recipe
Lowcountry Vinegar Sauce Recipe
Mustard Sauces
Swig & Swine's Mustard BBQ Sauce Recipe
Dukes BBQ-Style Sauce Recipe
Dukes BBQ Sauce – "Actual Recipe"
Simple South Carolina Mustard Sauce Recipe
Bessinger's-Style Gold Sauce Recipe
Tomato-Based Sauces
John Padgett's Kansas City BBQ Sauce Recipe
Honey-Hickory Barbecue Sauce Recipe
Bullies BBQs Thin Basting Sauce Recipe
Cherrywood Signature BBQ Sauce Recipe
"Carolina Red" Light Tomato Barbecue Sauce Recipe
Basic Tomato Barbecue Sauce Recipe
Other Sauces
Home Team BBQ Alabama White Sauce Recipe
Moe's Original BBQ's Alabama White Sauce Recipe
Brisket Mojo Sauce Recipe
Roller Family Hot Sauce Recipe
Salsa Verde with Avocado for Pulled Pork Recipe
Rubs
Sticky Fingers' Basic Dry Rub Recipe
JB's Smokeshack-Style Spicy Dry Rub Recipe
Sticky Fingers' Texas Rub Recipe
BlackJack Barbecue Dry Rub Recipe
Sticky Fingers' Sweet Rib Rub Recipe
Home Team BBQ Dry Rub Recipe for Chicken Wings Recipe
John Lewis BBQ-Style Brisket Dry Rub Recipe
Expand your culinary horizons by trying out these exceptional recipes. Each sauce and rub has been carefully crafted to bring out the best flavors in your BBQ creations. South Carolina's BBQ heritage is truly a gastronomic delight.
So, if you're on a quest for the perfect BBQ sauce, look no further than Duke's. Their mouthwatering blend of tangy mustard, ketchup, apple cider vinegar, and other secret ingredients will tantalize your taste buds. Experience the essence of South Carolina's BBQ culture and embark on a flavorful journey with Duke's BBQ sauce.
Remember to visit Rowdy Hog Smokin BBQ for more BBQ inspiration and flavorsome delights!