Cube steak in a crock pot is the ultimate comfort food. Slow-cooked all day, the tender cube steak and flavorful gravy create a delicious and hassle-free meal. It's a recipe that truly satisfies, and you'll love how easy it is to make in a slow cooker.
A Mouthwatering Crock Pot Recipe
When it comes to crock pot recipes, this one is a winner. The cube steak becomes incredibly tender after being cooked slowly, and the accompanying gravy is simply irresistible. Each bite of this meal guarantees a burst of flavor that will make you want to go back for more.
To fully enjoy this dish, don't forget to serve it with bread. The gravy is so good that you'll want to dip your bread into it. It pairs perfectly with our Easy Homemade Dinner Rolls.
If you're short on time and find it challenging to cook traditional cube steak, then this cube steak and gravy recipe is a must-try.
Exploring Cube Steak
Cube steak is a type of beef that has been tenderized by pounding. Typically made from top sirloin or top round, it is a versatile cut of meat that lends itself well to slow cooking.
Unbelievably Tender Steak from the Crock Pot
If you're wondering whether steak can get tender in a crock pot, the answer is a resounding yes! Slow cooking allows the cube steak to become incredibly tender, making it easy to cut through with just a fork. This method of cooking is, in fact, my favorite way to prepare this type of meat.
The Ingredients You'll Need
To make crock pot cube steak, you'll need the following ingredients:
Cube Steak
Onion soup mix (try our Homemade Onion Soup Mix)
Cream of mushroom soup
Beef broth
Egg noodles
Water
Cornstarch
Preparing Crock Pot Cube Steak
To begin, place the cube steak in the crock pot. If you have a Ninja cooking system, you can brown the meat right in the crock pot, which is a handy feature for this recipe.
Next, add the onion soup mix, cream of mushroom soup, and beef broth over the meat.
Let the slow cooker work its magic. I recommend cooking the steak on low for 6 to 8 hours, but if time is of the essence, you can cook it on high for 3 to 4 hours.
About an hour before serving, combine water and cornstarch in a small bowl. Once mixed well, pour it into the crock pot while it's set to high. This will thicken the sauce, creating the perfect consistency for your meal.
What to Serve with Slow Cooker Cube Steak
Here are some fantastic side dish options to accompany your slow cooker cube steak:
Crock Pot Mashed Potatoes
Egg Noodles
Rice (freeze some for an easy side on busy weeknights)
Roasted Green Beans
Steamed Broccoli (a quick microwave recipe that takes minutes)
Easy Homemade Dinner Rolls or any type of bread from the bakery. You'll definitely want something to dip into that delicious gravy!
The Irresistible Flavor of Slow Cooker Cube Steak with Onion Gravy
The combination of onion soup mix, cream of mushroom soup, and beef broth infuses this dish with a delectable flavor. Your family will go crazy over this crock pot cubed steak recipe. The slow cooking process melds all the flavors beautifully together, resulting in a truly satisfying meal.
Exciting Ideas to Try with Slow Cooker Cube Steak
If you're looking to switch things up, here are some additional ideas to try with slow cooker cube steak:
Substitute cream of mushroom soup with cream of celery for a different flavor profile.
Include potatoes in the slow cooker for a delicious twist. The potatoes absorb the flavors of the beef and gravy, making them a delightful addition to the meal.
Use the leftovers to make open-faced sandwiches. Simply place a slice of bread on a plate, top it with meat, gravy, and potatoes for a mouthwatering lunch or dinner option on the following day.
A Cube Steak Crock Pot Recipe That You'll Love
On busy days, slow cooking is a lifesaver. This cube steak with gravy is the epitome of comfort food. It's incredibly easy to prepare and absolutely delicious. If your family enjoys comfort food, then this recipe is an absolute must-try. Rest assured, you won't be disappointed. Simply toss the ingredients into the crock pot, let it work its magic, and get ready to savor the best dinner ever.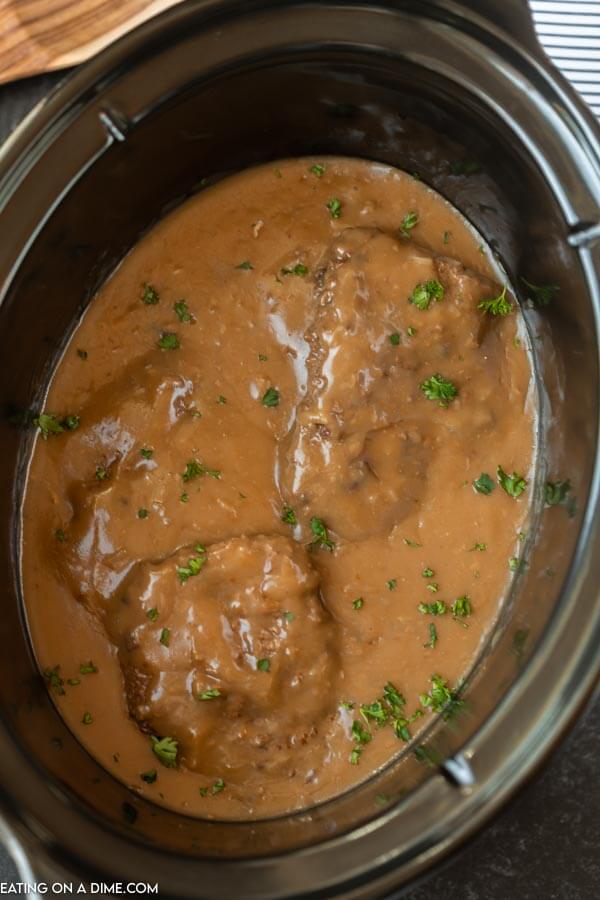 Wrap Up
Slow cooking cube steak in a crock pot is a game-changer. It guarantees tender meat and a mouthwatering gravy that will leave your taste buds begging for more. Try this recipe and let the flavors of the meat and gravy blend to perfection. You won't be able to resist the irresistible comfort and simplicity of cube steak and gravy in a crock pot!
If you're craving more steak recipes, check out these delicious options:
Poor Man's Steak Recipe
Easy Crock Pot Steak Bites Recipe
Crock Pot Pepper Steak Recipe
Slow Cooker Swiss Steak