Are you ready to impress your guests with an extraordinary dinner? Look no further than this captivating Garlic Herb Pork Crown Roast. While it may seem daunting at first, fear not! This recipe will guide you through the process and demonstrate just how easy it is to create this show-stopping dish.
But before we dive in, let's not forget about other delectable main courses like the elegant Salmon Wellington and the succulent Braised Beef Short Ribs.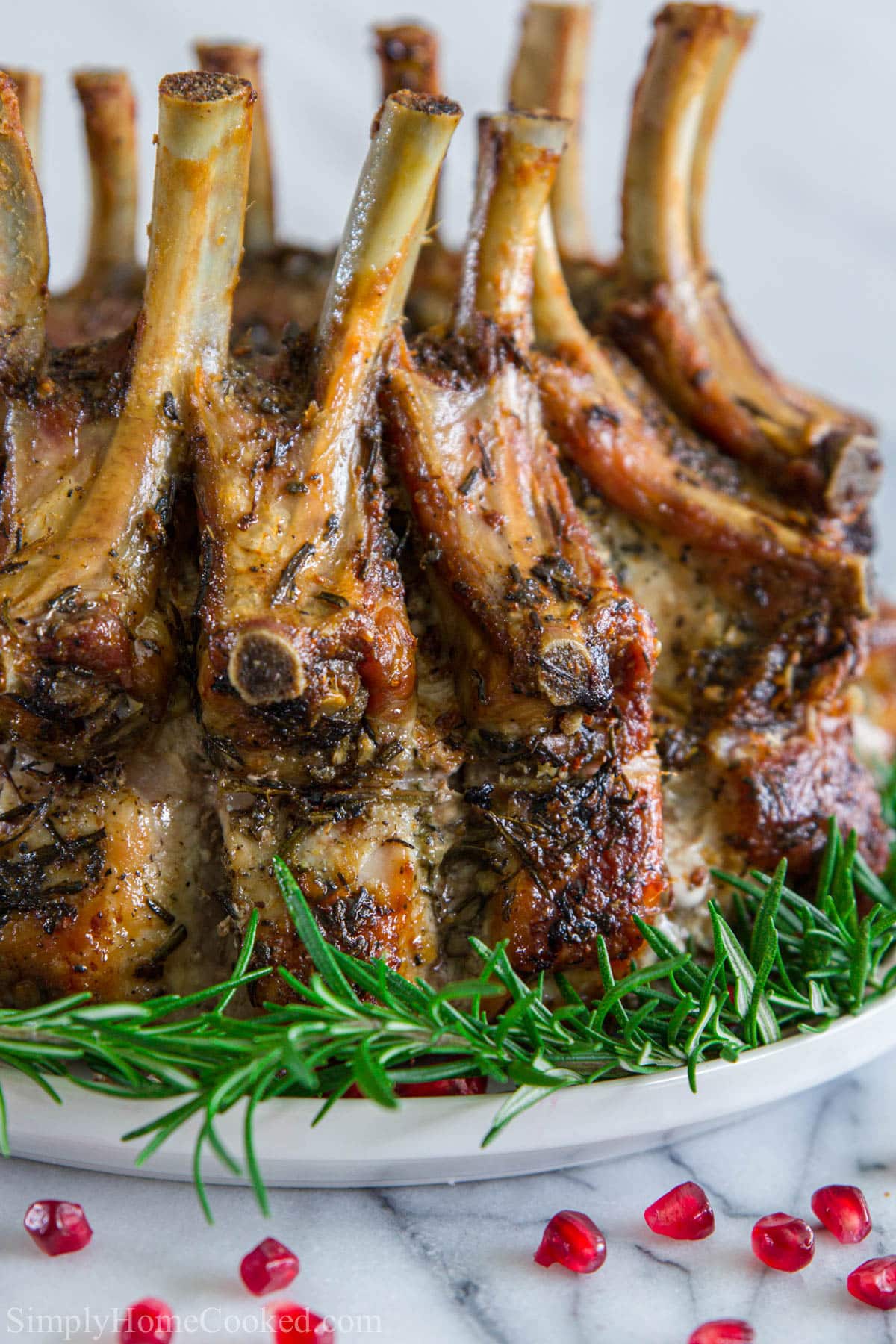 This recipe was originally posted on December 1, 2017, but we've tweaked it to perfection since then. This post may contain affiliate links. Read my disclosure policy here.
Unraveling the Secrets of the Pork Crown Roast
If there's one occasion where extravagance is not only allowed but encouraged, it's Christmas! And what better way to celebrate than with a sumptuous Pork Crown Roast? Picture this: a succulent roast covered in a captivating garlic herb paste that infuses its flavors into every inch of the meat.
Let's embark on this culinary adventure together. Here's what you need to know.
The Symphony of Flavors and Textures
Taste: Prepare to be enchanted by the rich flavors of the garlic herb paste, which delicately saturates the meat after an overnight marination.
Texture: Crispy on the outside, yet tender and juicy on the inside, this magnificent Pork Crown Roast offers an explosive combination of textures with every delightful bite.
Time: While this dish may look like hours of labor, fear not! With just under 2 hours of cooking time and a mere 10 minutes of preparation, you'll have more time to enjoy the festivities.
Ease: Here's a little secret: despite its grand appearance, this recipe is surprisingly easy to execute. You'll effortlessly dazzle your guests with this simple yet exquisite dish.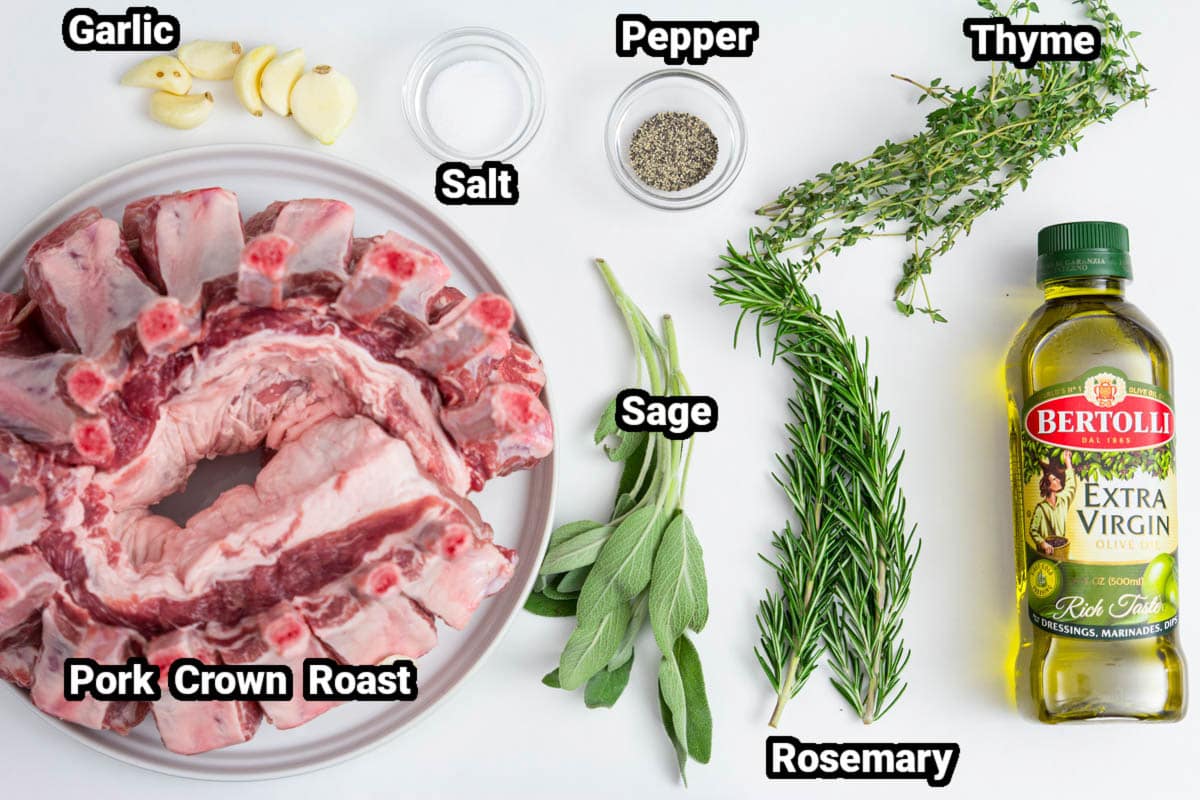 A Symphony of Preparation
Let's now explore the step-by-step process of creating this masterpiece.
Step 1: Concocting the Magical Garlic Herb Mixture
Begin by preparing a magnificent garlic herb paste. Strip the leaves from the thyme and rosemary sprigs, and place all the seasonings in a small food processor. Add the garlic and olive oil, then blend until a luscious paste forms.
Pro Tip: To effortlessly remove the leaves from the thyme and rosemary, simply slide your fingers down the sprigs, stripping the herbs in one seamless motion.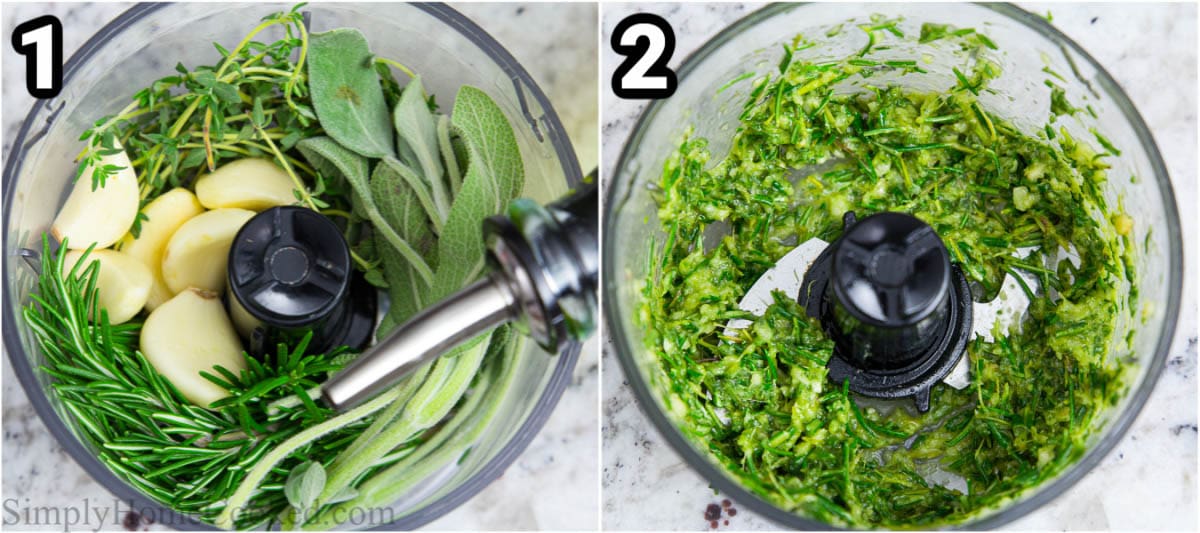 Step 2: Preparing the Pork Crown Roast
With the magical herb mixture ready, it's time to prepare the star of the show—the pork! Using a paper towel, pat the pork dry, and generously season it with salt and pepper, both inside and out. Now, generously coat the entire roast with the captivating herb paste.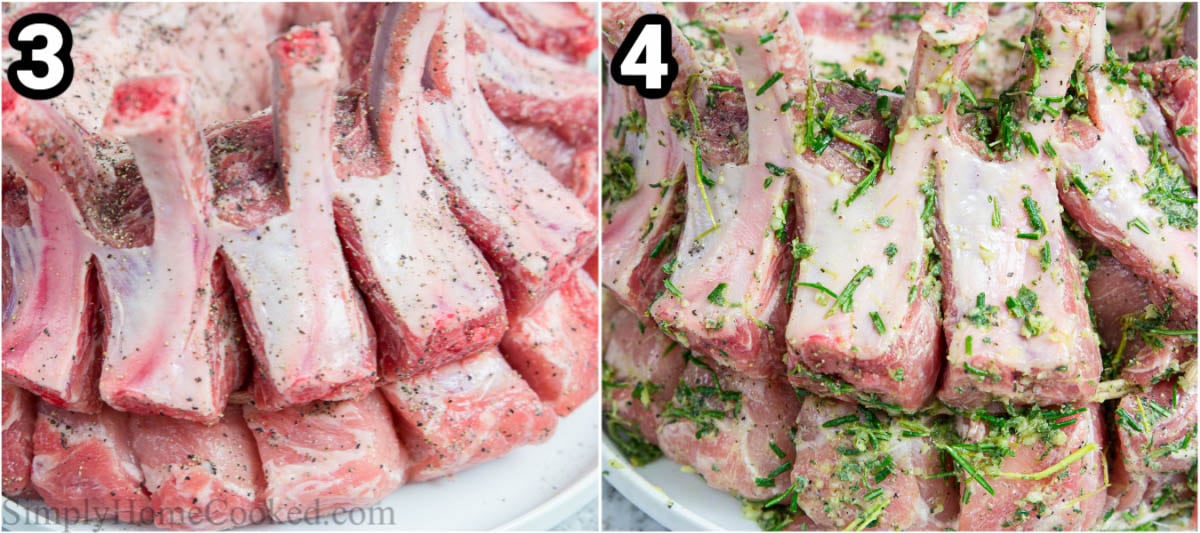 Step 3: The Prelude to Roasting
To allow the flavors to meld together harmoniously, place the seasoned roast on a large plate. Carefully cover it with foil or plastic wrap and let it rest in the refrigerator overnight.
Step 4: The Grand Roasting Finale
The time has come to bring the Pork Crown Roast to life! Remove the foil or plastic wrap and, for an exquisite touch, wrap small pieces of foil over the exposed bones. Place the roast in a roasting pan and let it dance in the oven. Begin at 400 degrees Fahrenheit for the first 30 minutes, then reduce the heat to 350 degrees Fahrenheit and continue baking for an additional 1 hour and 15 minutes.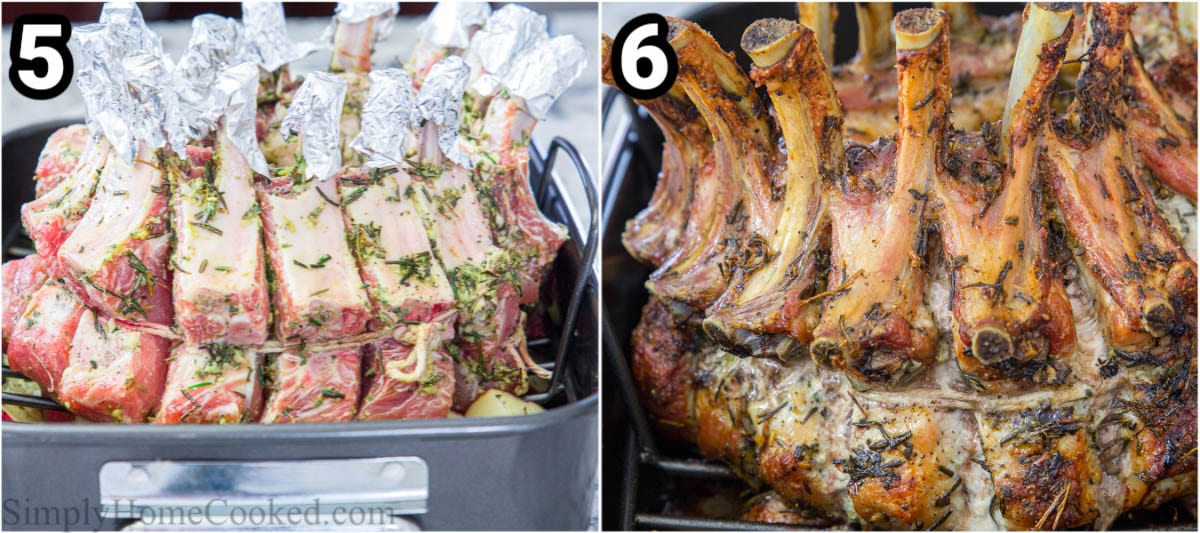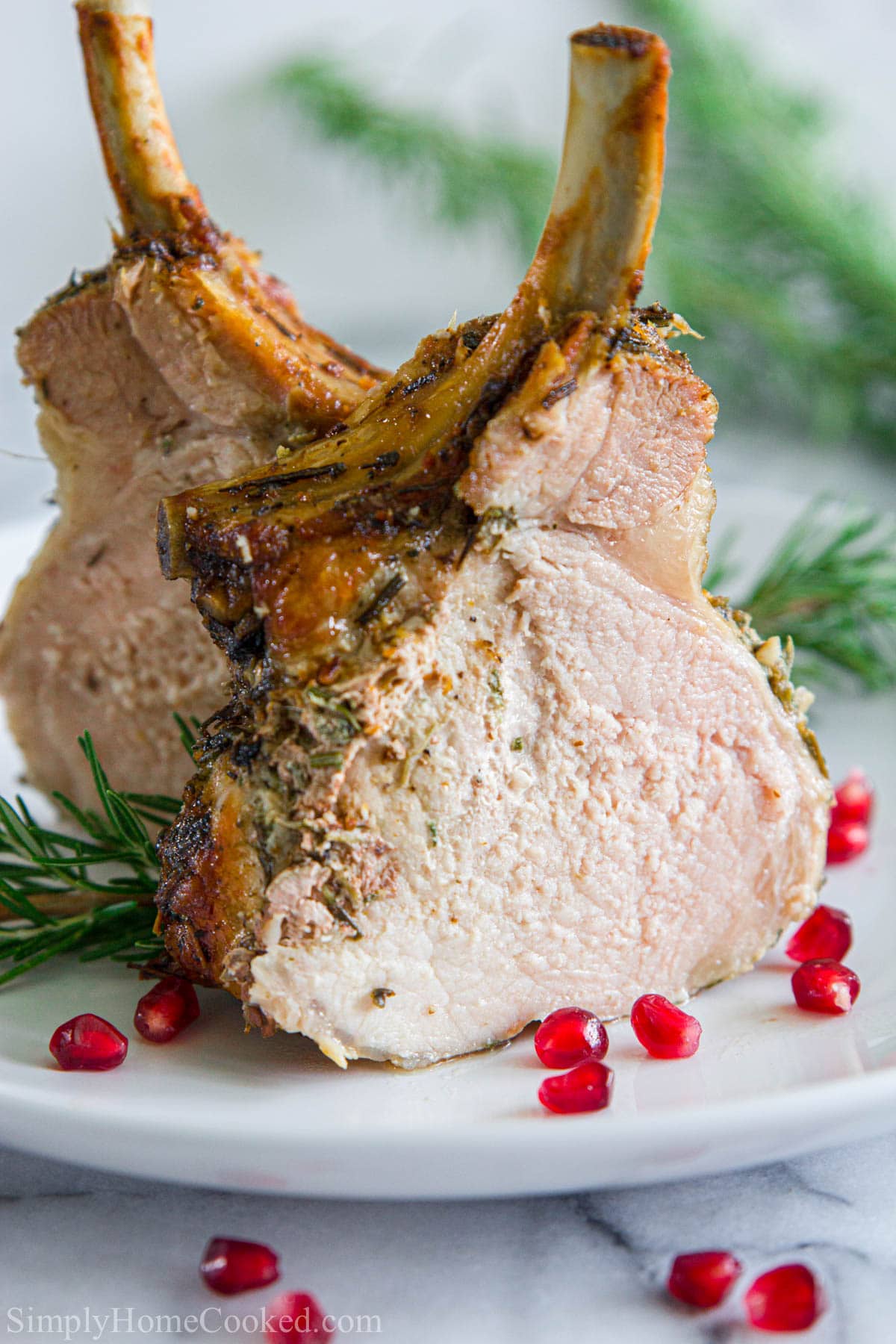 Let Your Culinary Symphony Shine
Now that you've mastered the art of creating this grandeur dish, let's explore some creative ways to serve it.
Potatoes: Pair this splendid roast with Crispy Baby Potatoes, Super Creamy Mashed Potatoes, Scalloped Potatoes, or even Air Fryer Baked Potatoes.
Salad: Begin your meal with a crisp Spinach Pomegranate Salad, Broccoli Cranberry Salad, or Cabbage Cucumber Salad. For the carb-conscious, delight in the Easy Antipasto Salad.
Vegetables: Complement the magnificent Pork Crown Roast with seared Air Fryer Vegetables, fluffy air fryer baby potatoes, crispy Air Fryer Brussels Sprouts, or a refreshing Bacon Green Bean Salad.
Bread: Complete this culinary ensemble with heavenly Buttermilk Biscuits, succulent Buttery Brioche Bread, flavorful Focaccia Bread, or Moist Buttermilk Cornbread accompanied by a side of indulgent Herbed Bread Dipping Oil.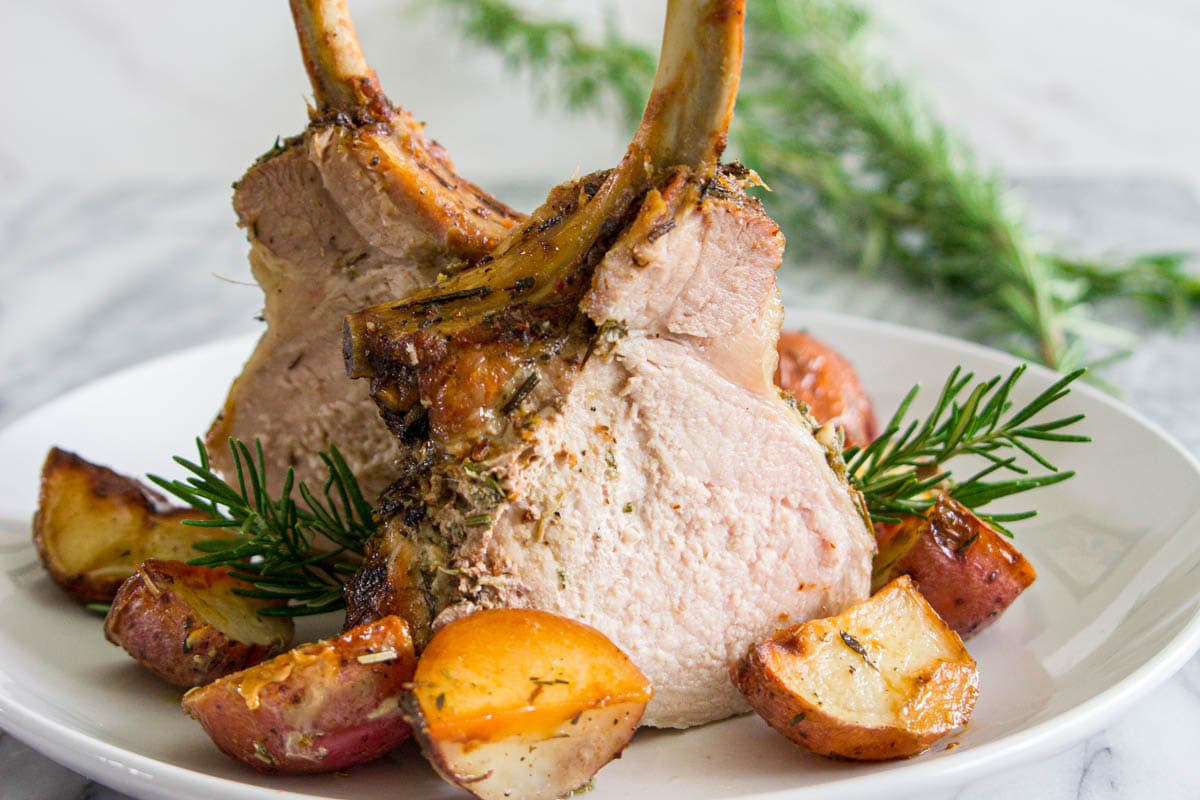 Prepare in Advance for a Seamless Experience
Planning ahead for a stress-free celebration is always a good idea. Here are some helpful tips for preparing the Pork Crown Roast in advance:
Make ahead: Take the lead by preparing the exquisite roast a day before the festivities. Create the oil and herb mixture, spread it over the pork, then refrigerate it overnight before roasting.
Storing: Store the Pork Crown Roast in the refrigerator in an airtight container or tightly wrapped with plastic wrap and foil for a remarkable 3-5 days.
Freeze: If you haven't yet cooked the pork, don't worry! You can store it in an airtight container in the freezer for up to 6 months. Once cooked, allow it to cool, freeze it for up to 3 months, and thaw it overnight before reheating it in the oven.
More Extraordinary Culinary Delights Await!
If you're hungry for more lavish dinner options, we have a feast of suggestions waiting for you! Dive into a world of decadence with our collection of delightful dinner recipes.
---
Don't miss out on the opportunity to create a culinary masterpiece. Visit Rowdy Hog Smokin BBQ for more delicious inspiration.