Wouldn't it be great if you could whip up a delicious dinner with minimal effort on those busy weeknights? Look no further! Our Crock-Pot Ranch Pork Chops recipe is here to save the day. The tender, flavorful chops will become an instant hit with your family, making them a permanent fixture on your menu plan.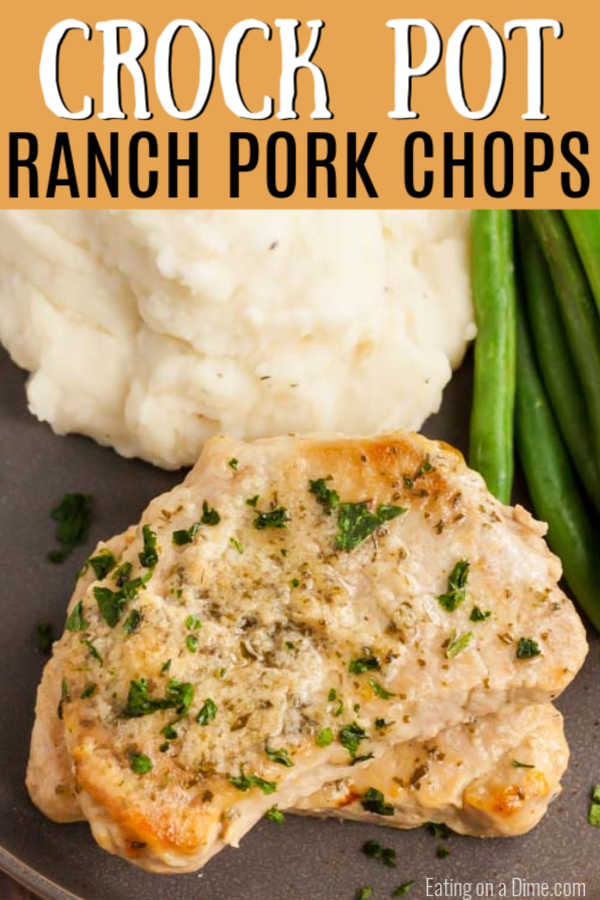 Discover the Magic of Crock-Pot Ranch Pork Chops
As a pork chop aficionado, I can confidently say that this recipe is a game-changer. The beauty lies in its simplicity – only three ingredients are required to create a culinary masterpiece. Just toss them into your slow cooker in the morning, and by the time you return home, a delectable meal will be waiting for you.
Even the pickiest eaters won't be able to resist these boneless pork chops. The flavorful buttery sauce that accompanies the dish is perfect for drizzling over mashed potatoes or peas. Trust me; once you taste it, you'll want to pour it over everything!
An Essential Tool: Your Trusty Slow Cooker
To achieve the utmost convenience and flavor, you'll need a reliable slow cooker. My personal favorite is the Ninja cooker, which not only cooks the meat to perfection but also allows you to brown it in the same pot. This means less mess and more time saved in the kitchen. Another excellent option is the programmable crock pot, ideal for those days when you're away from home. Imagine the satisfaction of returning to a ready-to-eat, scrumptious meal!
Banish Your Ranch Fears
I know, the thought of using ranch dressing may be intimidating at first. But trust me when I say that it works wonders in this recipe. You won't taste the familiar tang of ranch; instead, you'll experience a burst of flavor that elevates these pork chops to new heights. If you're concerned about store-bought mixes, why not try making your own? Our Homemade Ranch Dressing Mix Recipe is not only tastier but also more cost-effective.
Let Your Slow Cooker Work Its Magic
Your slow cooker is capable of so much more than you think. It's time to revolutionize the way you cook pork chops. Prepare to be amazed as each bite of these melt-in-your-mouth delights satisfies your cravings. Whether you're using fresh or frozen meat, the slow cooker will transform it into tender perfection.
The Recipe: Crock-Pot Ranch Pork Chops
Now that we've piqued your curiosity, let's delve into the ingredients and steps required to create this incredible dish:
Ingredients:
4-6 boneless pork chops
1 stick of butter (or margarine)
1 package of ranch mix (our recommended choice)
Instructions:
Place the pork chops in the crock pot, even if they're frozen.
Add the butter on top of the chops, followed by sprinkling the ranch mix packet over them.
Cook on low for 6-8 hours or on high for 3-4 hours.
Once cooked, serve the mouthwatering pork chops alongside mashed potatoes and green beans, allowing the buttery sauce to enhance the flavors.
Endless Possibilities for Side Dishes
While mashed potatoes and green beans are my personal go-to pairings, the versatile nature of these ranch pork chops allows for endless side dish options. Consider serving them with brown rice and steamed broccoli for a healthy twist. The key is to choose simple, complementary sides that don't overshadow the star of the show.
Try It Today!
Our Crock-Pot Ranch Pork Chops recipe is perfect for both a regular family dinner and entertaining guests. It has become a beloved freezer meal in many households due to its ease of preparation and unbeatable flavor. If you're feeling adventurous, experiment with different variations, such as using cream of mushroom or cream of chicken soup. With this recipe, dinner will never be a chore again.
So, are you ready to embark on a journey of mouthwatering flavors and effortless cooking? Gather your ingredients, fire up your slow cooker, and get ready to taste the magic of Crock-Pot Ranch Pork Chops. Your taste buds will thank you!