Are you a fan of tender, juicy chicken wings with a sticky and delicious BBQ sauce? Look no further! We have an incredibly easy and mouthwatering recipe for you. These chicken wings are slow-cooked in a crockpot, allowing the flavors to meld together, and then caramelized in the oven for that perfect crispy finish.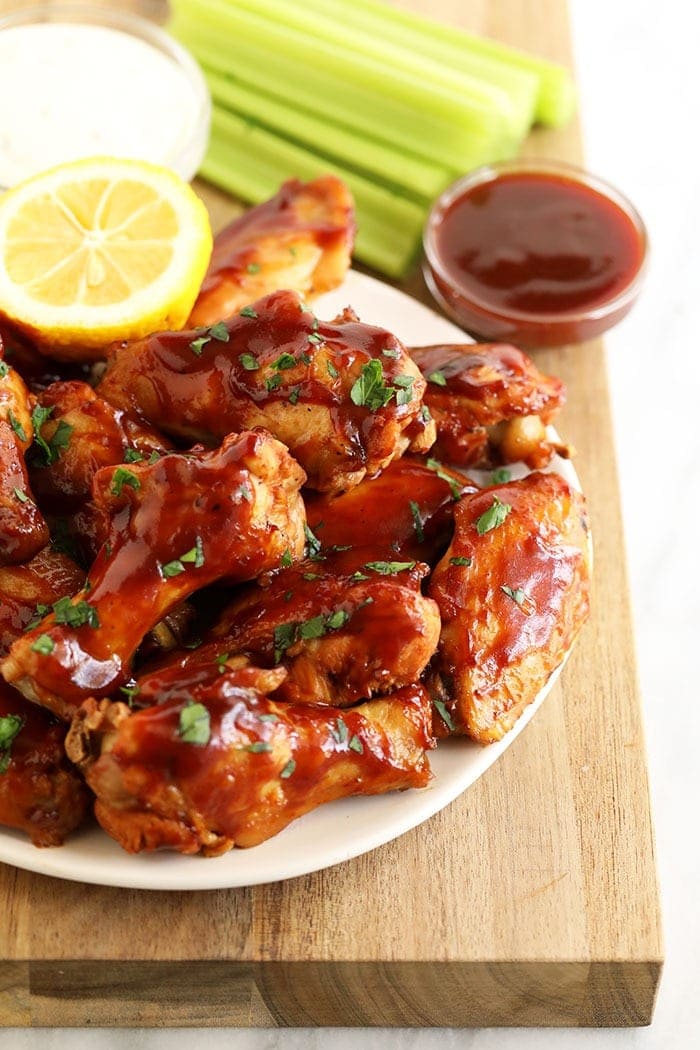 Keeping It Simple for Game Day
If you're a game day fanatic like us, you probably want your preparation to be stress-free, allowing you to focus on your guests and those frozen margaritas. That's why we've kept this crockpot chicken wings recipe extra simple.
All you need are four ingredients: uncooked chicken wings (fresh or frozen), your favorite BBQ sauce, and some salt and pepper to taste. The star of the show is the BBQ sauce, infusing the wings with a punchy flavor profile that can range from spicy and smoky to sweet and savory, depending on your personal preference.
Fresh or Frozen Wings?
The good news is that you have options! You can buy either frozen or fresh chicken wings at the grocery store, and both will work perfectly for this recipe. However, we do recommend buying them frozen.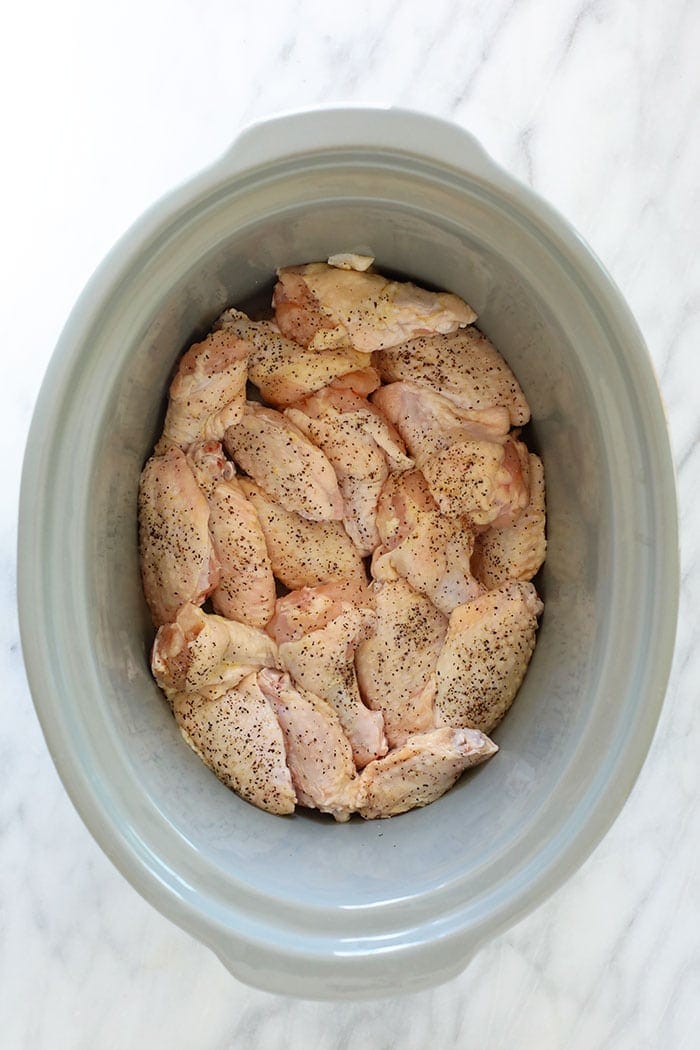 Buying frozen wings makes it easier to find a combination of drummies and wings, and it saves you the trouble of separating them yourself. Plus, it helps eliminate the risk of any food-borne illnesses. Just remember to thaw the wings before cooking them in the slow cooker. A simple overnight thawing in the refrigerator is all it takes.
Creativity at Your Fingertips
While this recipe is delicious as is, don't be afraid to get creative and add your personal touch. Here are a few ideas to enhance your crockpot chicken wings:
Seasonings: In addition to salt and pepper, you can use all-purpose chicken seasoning, chicken dry rub, or even taco seasoning to elevate the flavor profile.

BBQ Sauce: If you're not a fan of BBQ sauce, no worries! You can use other sauces like teriyaki, firecracker, buffalo, or honey garlic. Feel free to experiment and find your perfect combination.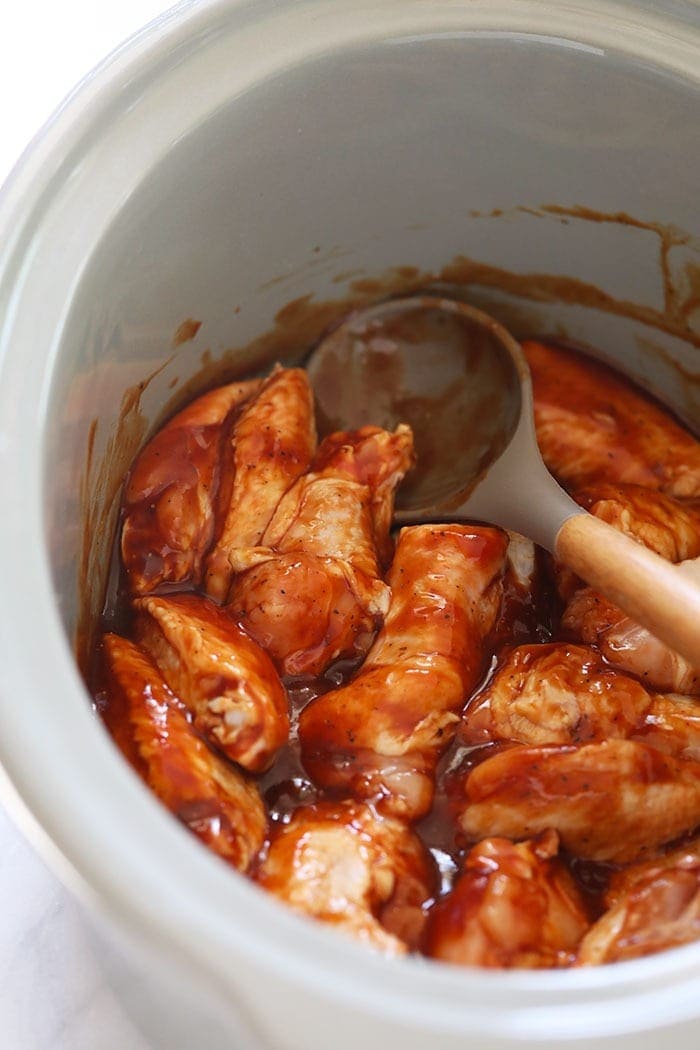 Cooking Time and Crispy Finish
Cooking your chicken wings in the crockpot is a breeze. Simply set it on high for 2 hours or low for around 4 hours. You'll know they're done when the internal temperature reaches 165ºF.
Once your wings are perfectly cooked and incredibly tender, you have a choice to make. Will you eat them as is, directly from the crockpot? Or do you want to take them to the next level and achieve a caramelized BBQ sauce coating?
If you opt for the latter, remove the wings from the crockpot using a slotted spoon and place them on a pan. Brush both sides of the wings with more sauce to enhance the flavors and achieve that sticky and irresistible caramelization.
Here are three options for getting that crispy finish:
Bake: Place the wings in a preheated oven at 400ºF for 5-10 minutes, flipping them halfway through.

Grill: Fire up the grill and cook the wings at 450ºF for 5 minutes on each side. This method gives the wings a delightful charred flavor.

Broil: For a quick and intense burst of heat, broil the wings on high for 2-5 minutes, flipping them halfway through.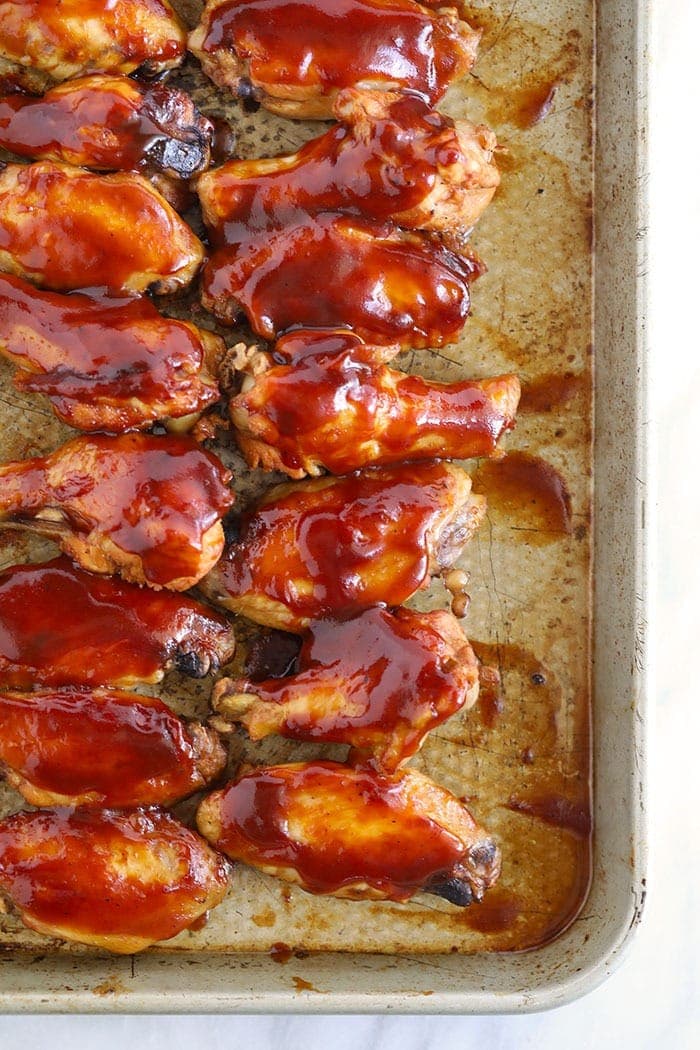 Storage and Freezing Tips
If you're lucky enough to have any leftovers, you can store them in an airtight container in the refrigerator for up to 3 days. When you're ready to enjoy them again, simply place them on a microwave-safe plate and reheat them for 60-90 seconds in the microwave.
And in case you're wondering, yes, you can freeze crockpot chicken wings. If you plan to freeze them, we suggest doing so immediately after cooking in the slow cooker. Let them cool for 30 minutes, transfer them to a freezer-safe gallon-size bag, remove as much air as possible, and seal it. They'll stay good for up to 3 months, ready to satisfy your cravings whenever they strike.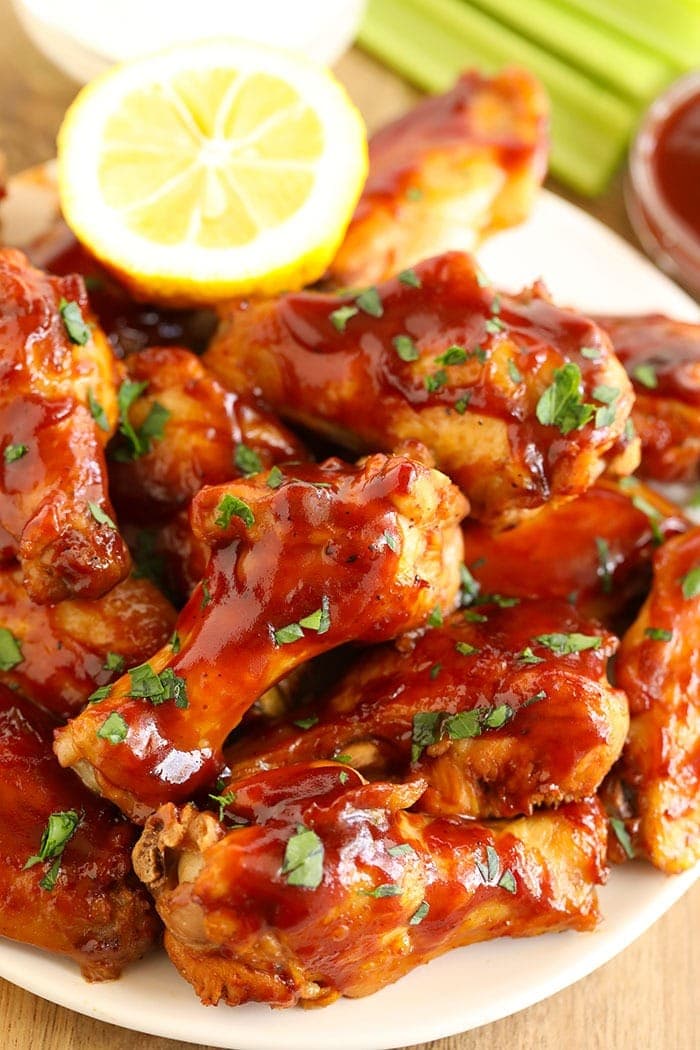 Serve and Enjoy!
Now it's time to indulge in the fruit of your labor. Serve your crockpot chicken wings with your favorite dipping sauces. Whether it's tangy ranch, creamy blue cheese dressing, refreshing green goddess dressing, or zesty Greek yogurt dressing, the choice is yours. Adding some fresh celery and carrot sticks alongside your wings completes the game day spread.
So gather your friends, fire up the crockpot, and let your taste buds experience the magic of these finger-licking good crockpot BBQ chicken wings!
For more mouthwatering BBQ recipes, check out Rowdy Hog Smokin BBQ and unlock a whole new level of smoky deliciousness.