If you're a fan of the classic Philly Cheesesteak sandwich, then you're in for a treat with these Cheese Steak Sliders! This recipe takes all the savory and cheesy flavors of a traditional Philly sandwich and packs them into perfectly bite-sized sliders. Whether you're hosting a game day party, a summer BBQ, or simply looking for an easy weeknight dinner, these sliders are sure to delight your taste buds.
Simple Ingredients for Irresistible Rolls
To create these mouthwatering sliders, you'll need a handful of simple ingredients:
Hawaiian Sweet Rolls: These rolls have a fluffy texture that crisps well in the oven, making them the perfect choice for these sliders.
Oil: Use a neutral oil or olive oil to fry up the shaved steak. You can even try a pat of butter for added flavor.
Veggies: Thinly sliced onions and green bell peppers are a classic topping for Philly cheesesteak. Sautéed onions and peppers add a delicious twist to these sliders.
Shaved Steak: Ribeye shaved steak is the preferred choice for its tenderness when cooked. However, flank steak or skirt steak are also excellent options for a leaner cut of meat.
Worcestershire Sauce: Add a burst of umami flavor to complement the savory and meaty goodness of these sliders.
Dijon Mustard: For mustard fans, this ingredient adds a tangy kick.
Garlic Powder: A dash of garlic powder brings a hint of spice to the sliders.
Provolone Cheese: The perfect melty cheese for these sliders, provolone cheese slices take the flavor to the next level.
Kosher Salt and Black Pepper: Just a sprinkle of salt and pepper adds the finishing touch to the sliders.
How to Create the Ultimate Cheese Steak Sliders
Make the Seasoning and Sauce: In a small bowl, combine the Worcestershire sauce, mustard, garlic powder, salt, and pepper to create the savory seasoning for the shaved steak.

Prepare the Sliders: In a large skillet, sauté the freshly sliced onions and green peppers until they are soft and slightly caramelized. Set aside or push them to the side of the pan to make room for the shaved steak. Cook the steak until it is slightly pink and browned. Pour in the seasoning sauce and stir until the steak is thoroughly coated. Combine the caramelized onions and peppers with the beef.

Assemble the Sliders: Slice the Hawaiian rolls in half horizontally. Place the bottoms of the rolls in a baking dish and spread the meat and onion mixture evenly over them. Layer on the provolone cheese slices and place the tops of the rolls back on the sliders.

Pour on the Sauce: Mix together the ingredients for the sauce and slowly pour it over the sliders. Use a brush to ensure the sauce covers the rolls and gets between them.

Bake the Sliders: Cover the baking dish with aluminum foil and bake in the oven for about 25 minutes. Remove the foil and continue baking for an additional 7-10 minutes, or until the cheese is melted and the rolls are golden brown.
Get ready to indulge in these delectable Cheese Steak Sliders! The gooey cheese, tender shaved steak, and flavorful veggies combine to create a taste sensation that will have you coming back for more.
Variations & Substitutions
Gluten-free Philly Cheesesteak Sliders: Swap the rolls and bottled seasonings for gluten-free alternatives. Check the Worcestershire sauce for gluten content. Enjoy these delicious sliders without worrying about gluten intolerance or celiac disease.
Alternative Rolls: If you prefer a different type of roll, feel free to swap out the Hawaiian rolls for submarine or hero rolls cut into slider-sized portions.
Dairy-Free: Make these sliders dairy-free by substituting the butter in the sauce with oil and using your favorite dairy-free cheese. Alternatively, omit the cheese for a dairy-free option that still tastes amazing.
Make it Yours: Customize your sliders by adding mushrooms, additional veggies, or your favorite herbs and spices. Let your creativity shine!
Storage Tips
Party Prep: To keep the sliders warm for a party, wrap them individually in foil and place them in a slow cooker on the warm setting.
To Go: If you're traveling with the sliders, place the covered baking dish in an insulated container, like an empty ice chest, with a towel underneath to keep them warm.
Leftovers: Store any leftover sliders in an airtight container in the fridge. To reheat, place them in a 300-degree oven for 15-20 minutes, covered with foil.
Freezer: These sliders freeze well. Prepare a batch ahead of time and freeze them. When ready to eat, bake in a 300-degree oven for 15-20 minutes longer, or thaw in the fridge before baking as directed.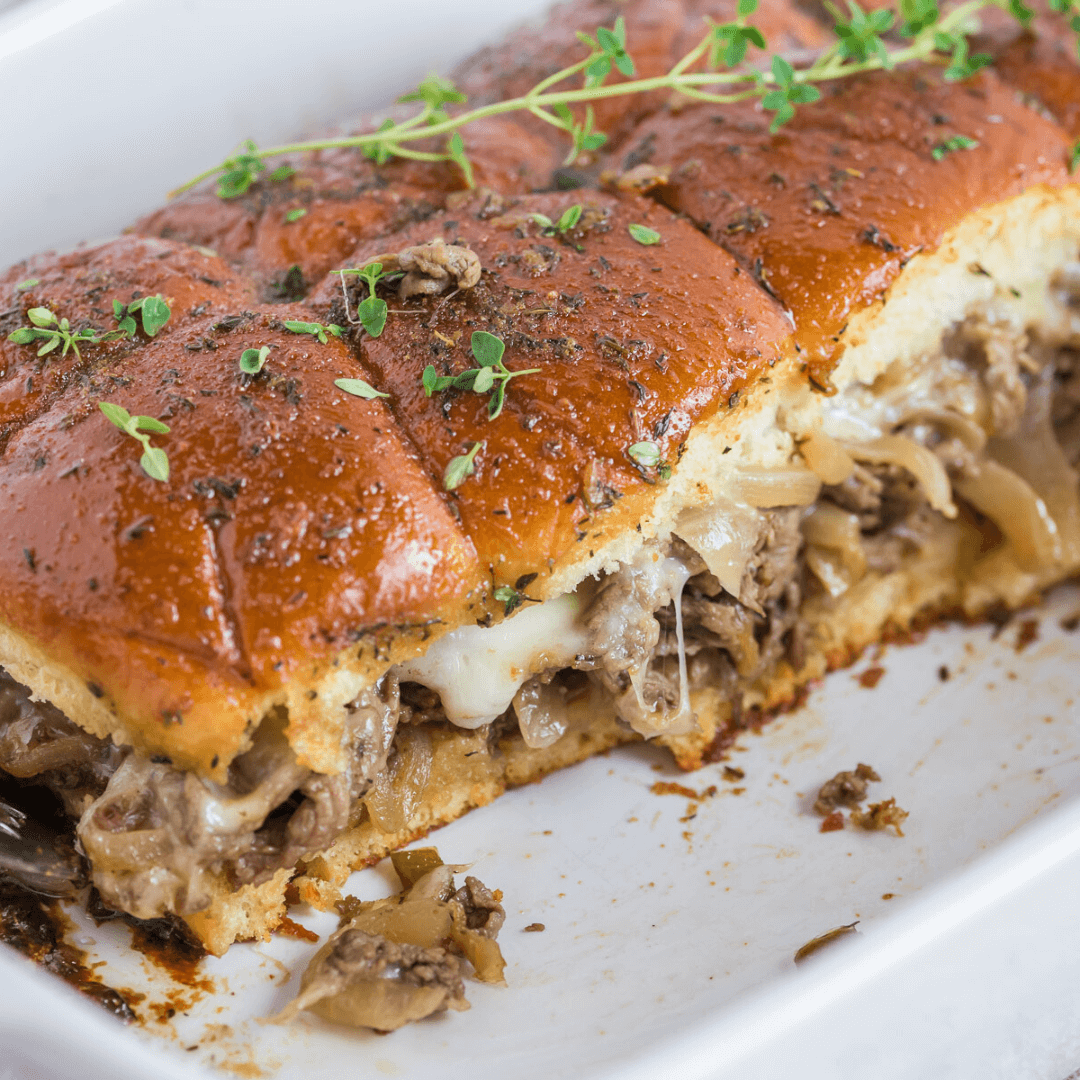 More Party Favorite Recipes
Crockpot Ranch Chicken: A versatile recipe that can be made as a dip, sliders, or served over salad.
Cowboy Crack Dip: An easy and flavor-filled dip that is sure to please.
Best Crudite Dip: The perfect balance to all the other delicious treats.
Easy Beer Cheese Dip: Pair it with Bavarian pretzels or pretzel bites for a winning combination.
White Mexican Cheese Dip: Don't forget the blender salsa and guacamole to complement it.
Breakfast Sliders: Perfect for hosting a morning game day party.
Air Fryer Super Bowl Recipes: Check out this list for more inspiration.
3-Ingredient Appetizer Recipes
3 Ingredient Chili Cheese Dip: A super easy, super cheesy, and super delicious dip made in a slow cooker.
Easy 3-Ingredient Cranberry Meatballs: Quickly assembled in the crockpot for a slam-dunk appetizer.
3 Ingredient Sausage Dip: The taste is amazing, even though it may not look the prettiest.
I hope you enjoy these tantalizing Cheese Steak Sliders! Share your creations on Instagram, Facebook, and Pinterest, and don't forget to rate this recipe ⭐️⭐️⭐️⭐️⭐️ and leave a comment below.