Are you craving a hearty beef stew but don't have any wine on hand? No worries! We've got a fantastic beef stew recipe without wine that will satisfy your taste buds. Whether you make it on the stovetop or in the oven, this dish is sure to become a family favorite.
The Ultimate Comfort Food
There's something comforting about a warm and hearty stew, especially when it's made with tender beef, potatoes, and a thick gravy. This recipe is incredibly versatile, allowing you to customize it with your favorite vegetables. You can even use different cuts of beef, such as arm roast or thick cuts of steak, for an extra delicious twist. The result? A fork-tender dish that will make your mouth water.
Stovetop Perfection
Making beef stew on the stovetop is a breeze. You have the freedom to add a variety of vegetables to create a healthier version of this classic dish. If you're looking for a throwback to your childhood, this recipe is perfect. It's a simple yet satisfying one-pot meal that's both affordable and incredibly flavorful.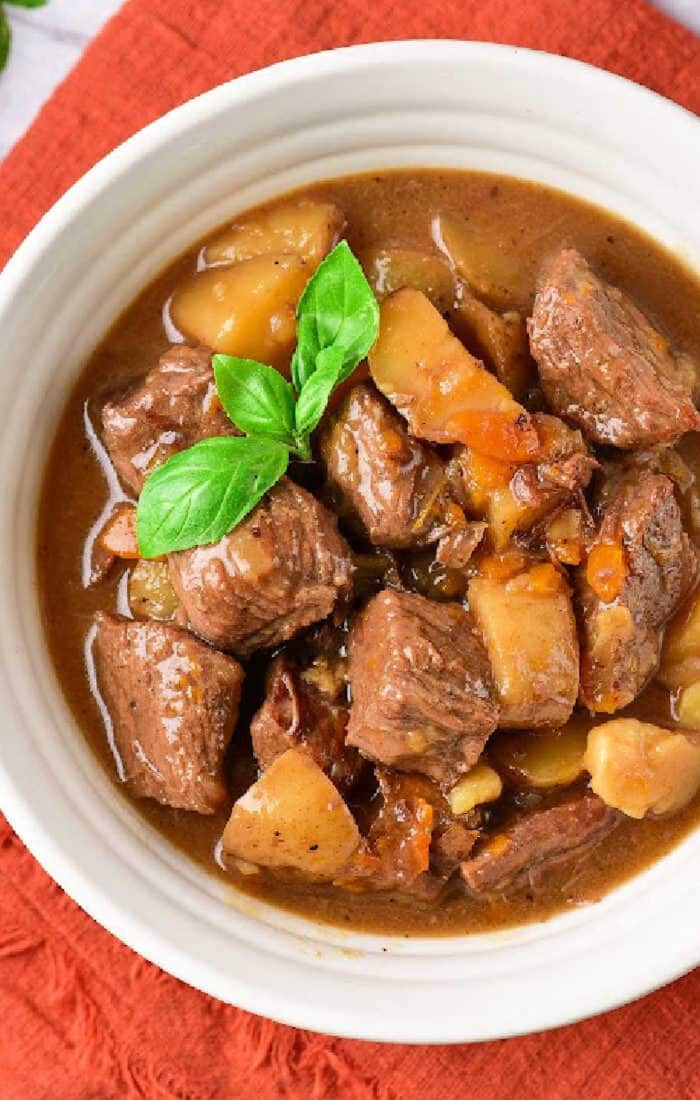 The Magic of Slow Cooking
In the past, we used to use stew meat straight out of the package. It was an economical choice that resulted in incredibly tender meat when cooked for an extended period of time. However, with the advent of pressure cookers, you can now achieve the same level of tenderness even with frozen stew meat.
Endless Vegetable Options
While carrots, onions, and potatoes are the staple vegetables in beef stew, you can get creative and add your own twist. Think outside the box and consider using fresh green beans, celery, or mushrooms to elevate the flavors. The key is to choose firmer varieties that will hold up well during the cooking process.
Rich and Flavorful Sauce
To enhance the taste of your stew, you can adjust the thickness of the sauce. You can either thin it out with more broth or use a roux to thicken it up. The choice is yours, and it all depends on your personal preference.
A Perfect Pairing
This beef stew is undeniably delicious on its own, but you can also serve it with your favorite side dishes. Consider pairing it with a fresh salad or enjoy it poured over a bed of mashed potatoes. After all, when it comes to comfort food, you can never have too many taters!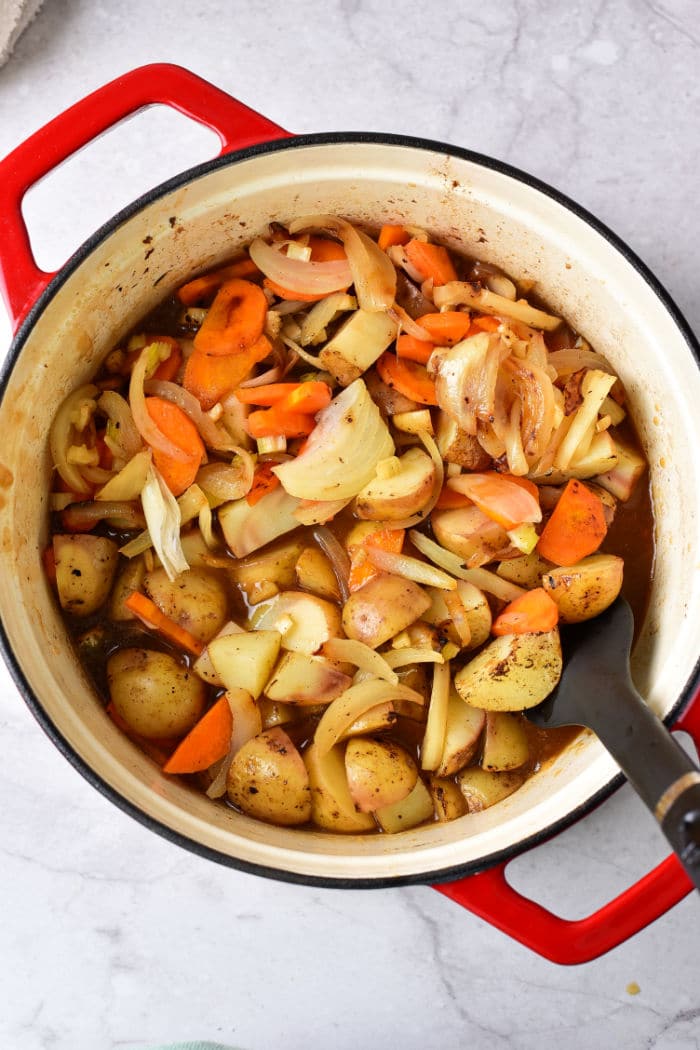 A Simple and Flavorful Cooking Process
Preparing this beef stew is a straightforward process that will result in a mouthwatering meal. Begin by rinsing and patting dry the beef pieces, then cut them into one-inch chunks. Season them with salt, pepper, and a drizzle of olive oil. Fry the beef over medium-high heat until a beautiful crust forms on the surface. Transfer the beef to a saucepan or Dutch oven, scraping off any browned bits.
Pour the broth, Worcestershire sauce, and soy sauce into the pan you used to fry the stew meat, and bring it to a boil. Stir occasionally and then pour this flavorful mixture into the pot with the beef. Add bay leaves and garlic, cover the pot, and let the stew simmer on low heat for an hour until the meat becomes tender.
While the meat is stewing, heat a skillet and add sliced onion, carrots, and celery. Fry them until slightly caramelized before adding them to the pot. Halve the baby potatoes and fry them until golden brown. Transfer them to the pot as well. Mix everything together, cover the pot, and let it simmer on low heat for another 30 minutes. If you desire a thicker sauce, mix flour with water to create a roux and add it to the pot.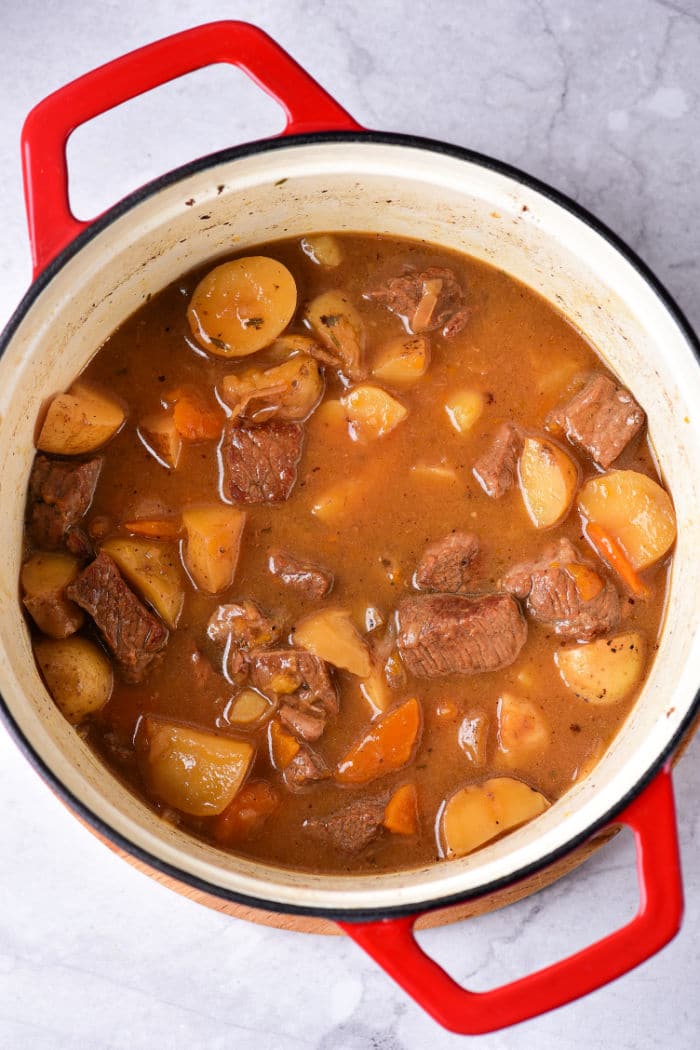 A Time-Saving Option
If you're short on time, you can use the Instant Pot to make this delicious beef stew. Simply follow the sauté function to brown the meat and veggies, and then adjust the cooking time according to the pressure cooker stew timing. It's a convenient alternative that doesn't compromise on taste.
So, what are you waiting for? Give this beef stew recipe without wine a try and let us know what you think! It's a comforting and satisfying meal that will warm your heart and nourish your soul. Enjoy!
For more mouthwatering recipes and cooking inspiration, visit Rowdy Hog Smokin BBQ.