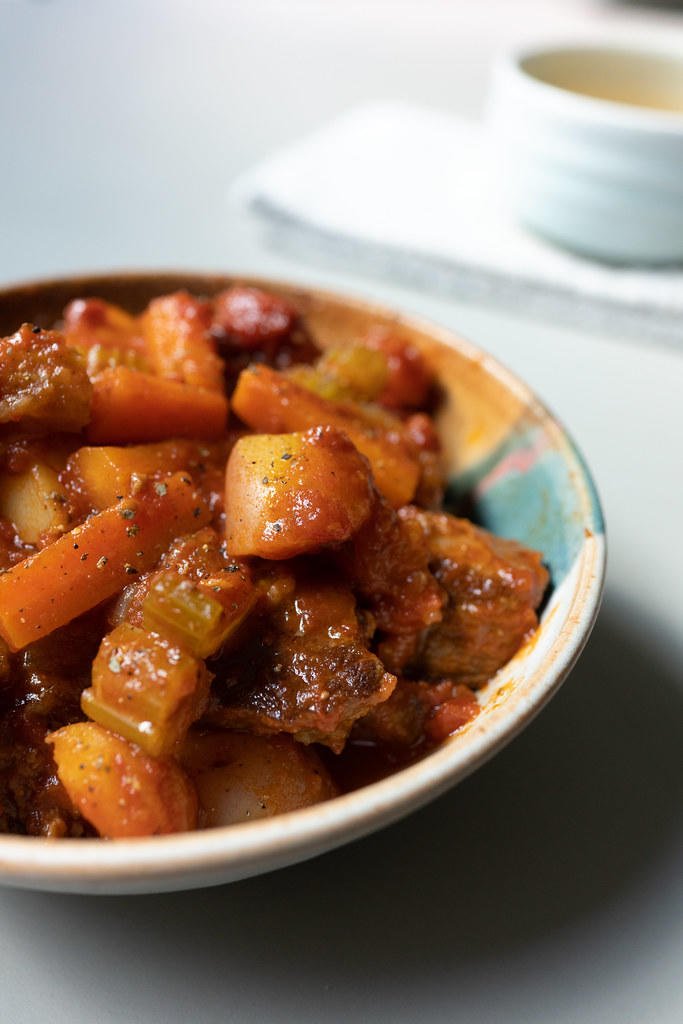 Unveiling the Essence of Hawaiian Beef Stew
Ah, the rich and hearty Hawaiian beef stew! Though often referred to as Hawaiian, this beloved dish is actually known as "local style" beef stew on the islands. Let's embark on a culinary adventure to uncover the secrets behind this comforting delight!
Growing up in Hawaii, beef stew was a staple in our lives. Whether served at school cafeterias, local eateries, or lovingly prepared by our own families, it never failed to warm our hearts and fill our bellies. So, what sets Hawaiian beef stew apart from its mainland counterparts, you ask? Let's explore the nuances that make this dish truly unique.
Distinguishing Features: Hawaiian Beef Stew vs. Regular Beef Stew
Tomatoes Galore!
In Hawaii, we embrace the vibrant tanginess of tomatoes in our beef stew. Our version boasts a generous amount of tomato paste and canned whole peeled tomatoes, infusing the dish with a delightful red hue. Meanwhile, mainland beef stew tends to shy away from tomatoes, preferring a darker, more robust appearance derived from red wine or beef stock.
A Touch of Sweetness
Hawaii's refined palate leans towards a slight sweetness, harmonizing beautifully with the tomato-infused flavors of our beef stew. This subtle sweetness perfectly complements our taste buds, offering an unmatched dining experience. On the mainland, expectations vary, often incorporating an array of seasonings such as thyme, paprika, and worcestershire sauce.
Colors That Speak Volumes
Picture a mesmerizing pot of Hawaiian beef stew—a vibrant, appetizing red captivating your senses. Thanks to our tomatoes and their crimson hue, our beef stew radiates an irresistible allure. Contrastingly, mainland beef stew embraces darker, browner tones, typically derived from red wine or beef stock.
The Bay Leaf Touch
When crafting our Hawaiian beef stew, we reach for the humble bay leaf, lending a distinctive fragrance that dances delicately amidst the rich flavors. Whereas mainland versions may feature an array of seasonings, including bay leaves, thyme, and paprika, we believe in cherishing the simplicity and purity of the bay leaf alone.
The Perfect Pairing: Rice!
In Hawaii, we celebrate the marriage of beef stew and rice. The tender, flavorful stew is lovingly poured over a mountain of steaming rice, melding together in a symphony of tastes and textures. On the mainland, bread often accompanies the stew, but we remain steadfastly committed to our beloved rice.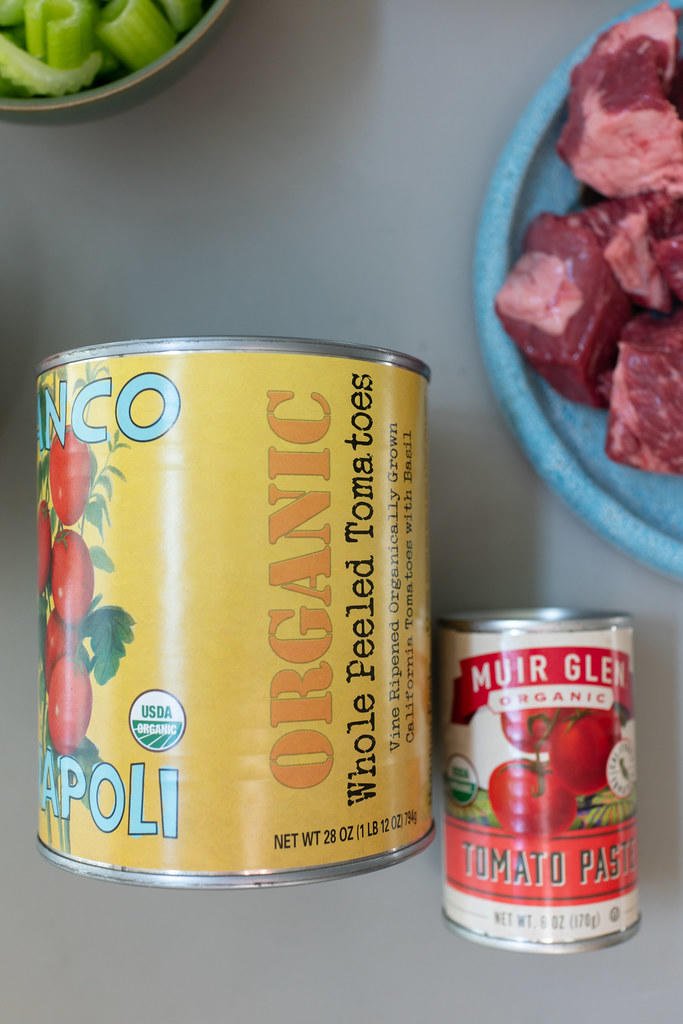 Tomato Paste and Whole Tomatoes: A Winning Combination
Let's dive deeper into the culinary alchemy that sets our Hawaiian beef stew apart. To achieve the perfect balance of flavors, we incorporate both tomato paste and canned whole peeled tomatoes. Their unique characteristics enhance the dish, each playing a crucial role.
The tomato paste takes the stage first, sautéed alongside onions until it transforms into a deep, brick-red hue. This simple step infuses the stew with a rich, caramelized tomato essence, elevating it to new heights of complexity and savoriness.
Enter the 28-ounce can of whole peeled tomatoes. As they simmer away, the tomatoes break down naturally, releasing their juicy goodness into the stew. This amalgamation of flavors forms the delightful sauciness that envelops the tender beef and vegetables, transforming each spoonful into a symphony of taste.
Unearthing Culinary Gems: Where to Savor Hawaiian Beef Stew
If you find yourself in Hawaii, you're in for a treat! Countless establishments across the islands boast their versions of this delectable dish, each with its own twist on the classic recipe. While it's impossible to crown a single "best" beef stew spot, allow us to recommend a few noteworthy establishments:
Helena's Hawaiian Food: A culinary gem in Honolulu, Helena's beautifully showcases the best of Hawaiian cuisine. Indulge in their lau lau, poi, lomi lomi salmon, kalua pig, and, of course, their heavenly beef stew.
Yama's Fish Market: For mouthwatering takeout options, Yama's Fish Market hits the spot. Savor their housemade lau lau, various flavors of ahi poke, delectable haupia desserts, and, of course, their irresistible beef stew.
Nico's Pier 38: Nico's Pier 38 offers plate lunches featuring beef stew alongside rice (or chow mein) and mac salad. Don't miss out on their furikake seared ahi and fresh poke as well.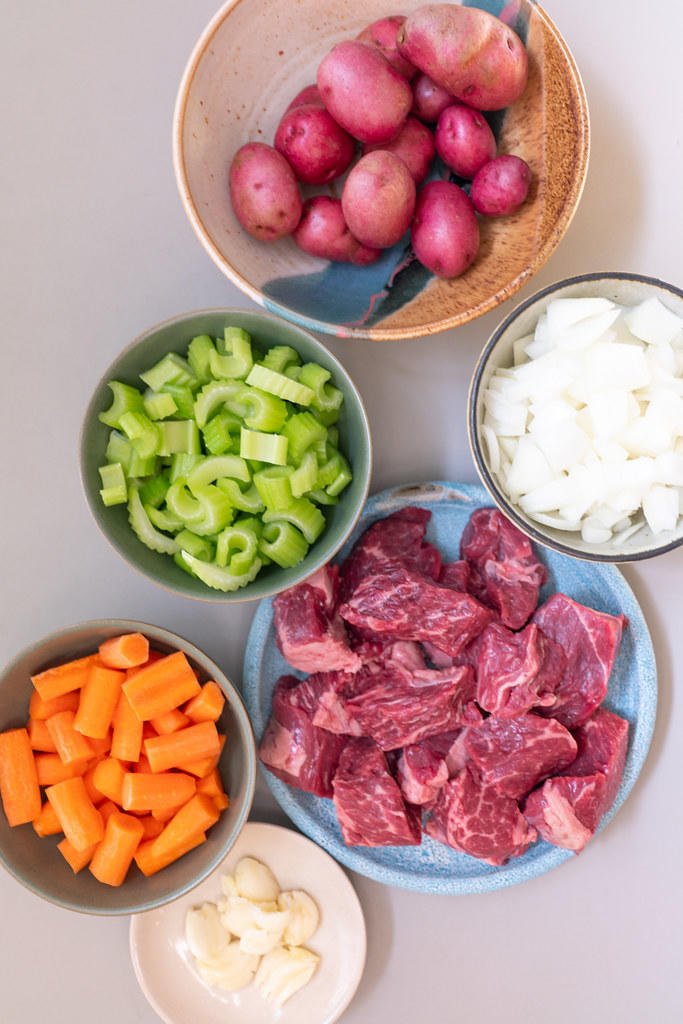 Embark on Your Culinary Adventure: Crafting Hawaiian Beef Stew
Now that you've delved into the essence of Hawaiian beef stew, it's time to bring this mouthwatering creation to life in your own kitchen. Prepare yourself for a truly onolicious experience!
Ingredients:
1 pound beef stew meat (boneless chuck roast, cut into 1-inch cubes)
1 medium onion, chopped
3-5 garlic cloves, smashed
1 tablespoon tomato paste
1 28-ounce can whole peeled tomatoes
2 dried bay leaves
3 celery stalks, chopped
2 medium carrots, chopped
2 medium potatoes, chopped
Instructions:
Heat a tablespoon of oil in a pot. Pat the beef dry, lightly salt it, and then brown it on all sides over medium-high heat. Once browned, remove the beef and set it aside on a plate.
If needed, add more oil to the pot. Add the onions and garlic, sautéing them for 3-5 minutes until they turn golden brown.
Stir in the tomato paste and sauté for another 2 minutes, allowing the paste to darken and develop a richer color.
Add the can of whole peeled tomatoes, bay leaves, and ½ cup of water to the pot. Return the beef to the pot as well. Bring the mixture to a boil and then reduce the heat to low. Cover the pot with a lid and let the stew simmer for an hour.
Remove the lid, turn up the heat to medium-high, and add the celery, carrots, and potatoes. If needed, add more water to ensure that all the meat and vegetables are covered. Bring the stew to a boil once again, then reduce the heat to low. Cover the pot and allow the stew to simmer for another hour. Season with salt and a generous amount of black pepper.
Serve the flavorful beef stew over a steaming bowl of rice. Prepare to be transported to a world of deliciousness!
Remember: Flavorful recipes are best shared with friends and loved ones. Invite them over and delight in the heartwarming experience that is Hawaiian beef stew!
Printable recipe available at the source: Rediscovering Hawaiian Beef Stew