Are you tired of shelling out money for an overpriced bowl of ramen at your local joint? Look no further! With this easy-to-follow recipe, you can create the most amazing Beef Ramen Noodle Soup right in the comfort of your own kitchen. Packed with flavor and incredibly satisfying, this homemade ramen is sure to hit the spot every time.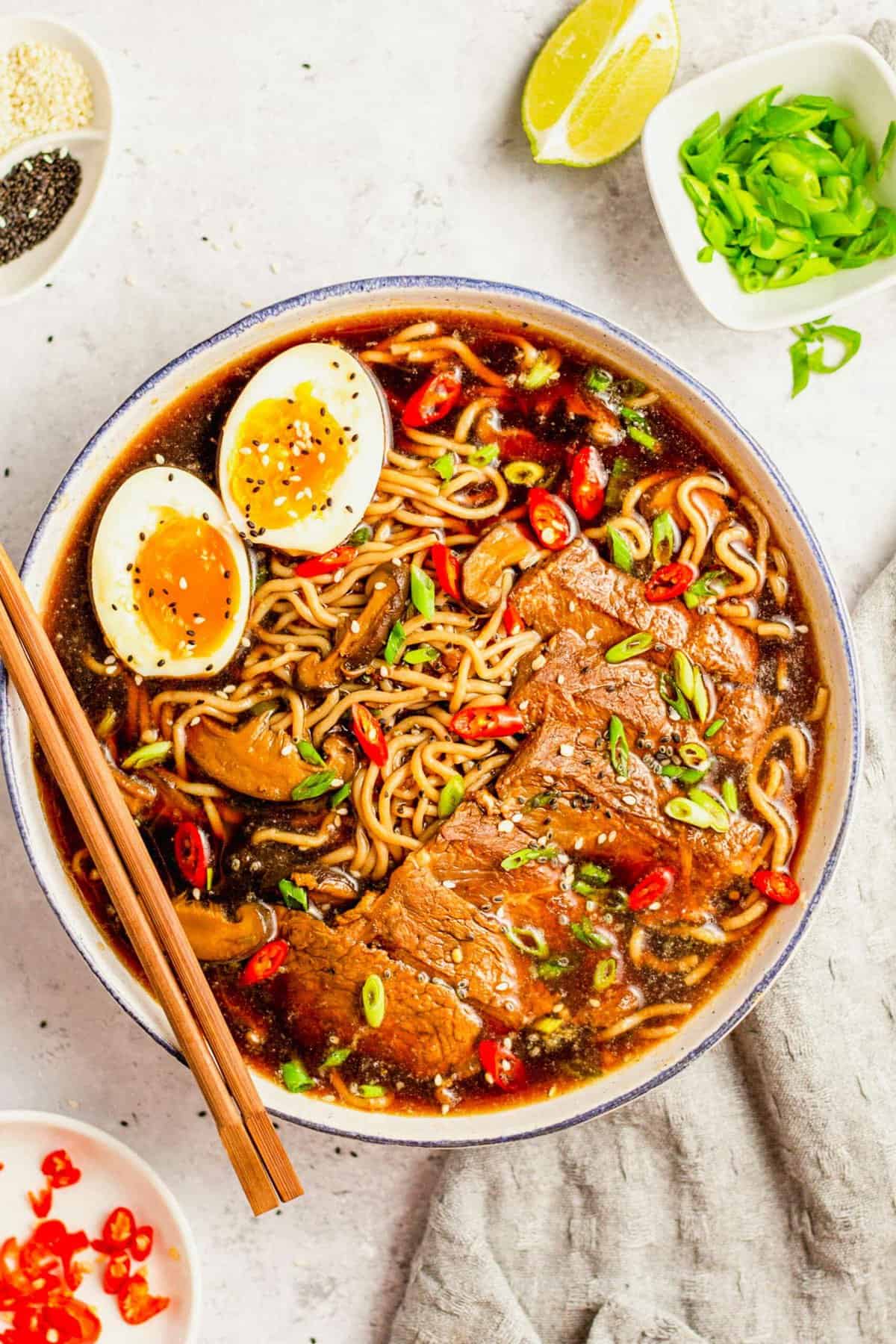 Let's dive into the world of ramen and discover how to make this incredible dish that combines all the flavors you love in one bowl. Trust us, this recipe will rival those overpriced restaurant bowls, and you'll never want to go back.
The Perfect Beef Ramen Broth
They say the best way to describe this soup is "flavorful," but that's an understatement. Imagine a celebration of your favorite ramen flavors in one bowl – fish sauce, fresh ginger, coconut aminos, and more. And when you add tender steak into the mix, it becomes a masterpiece.
As someone who appreciates good ramen, you understand the struggle of finding the perfect bowl. But worry no more! This beef ramen recipe is better than most restaurant versions out there. Its rich and savory flavors, perfectly cooked steak, tender ramen noodles, and just the right amount of veggies will impress even the most discerning ramen enthusiasts. And don't forget to top it off with a soft-boiled egg for that final touch of perfection.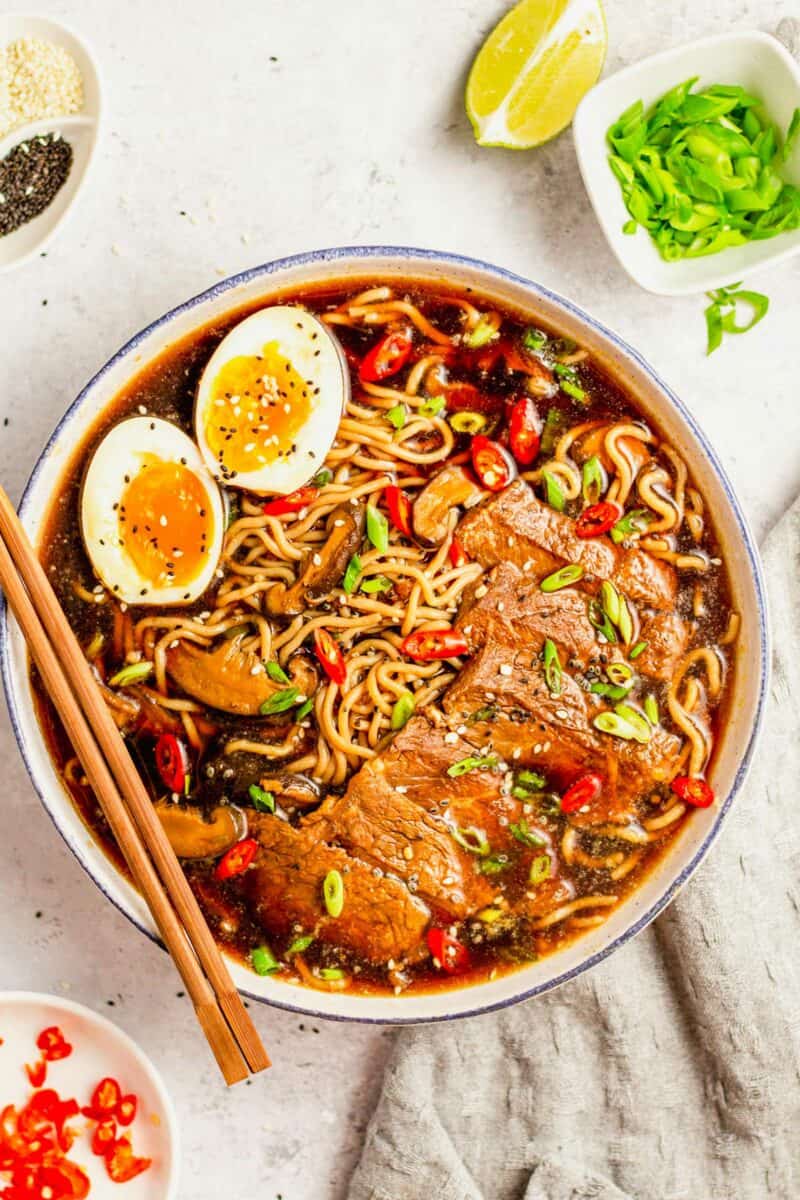 What You'll Need
To create the best beef ramen, you'll need these bold and delicious ingredients:
Olive oil or avocado oil
Fresh garlic
Fresh ginger
Shiitake mushrooms
Sirloin steak
Ramen noodles (any brand will do)
Beef broth (low sodium)
Soy sauce or coconut aminos (low sodium)
Fish sauce or hoisin sauce
Salt and pepper
Optional Garnishes
While optional, these toppings are highly recommended to elevate your beef ramen even further:
Soft-boiled eggs
Green onions
Lime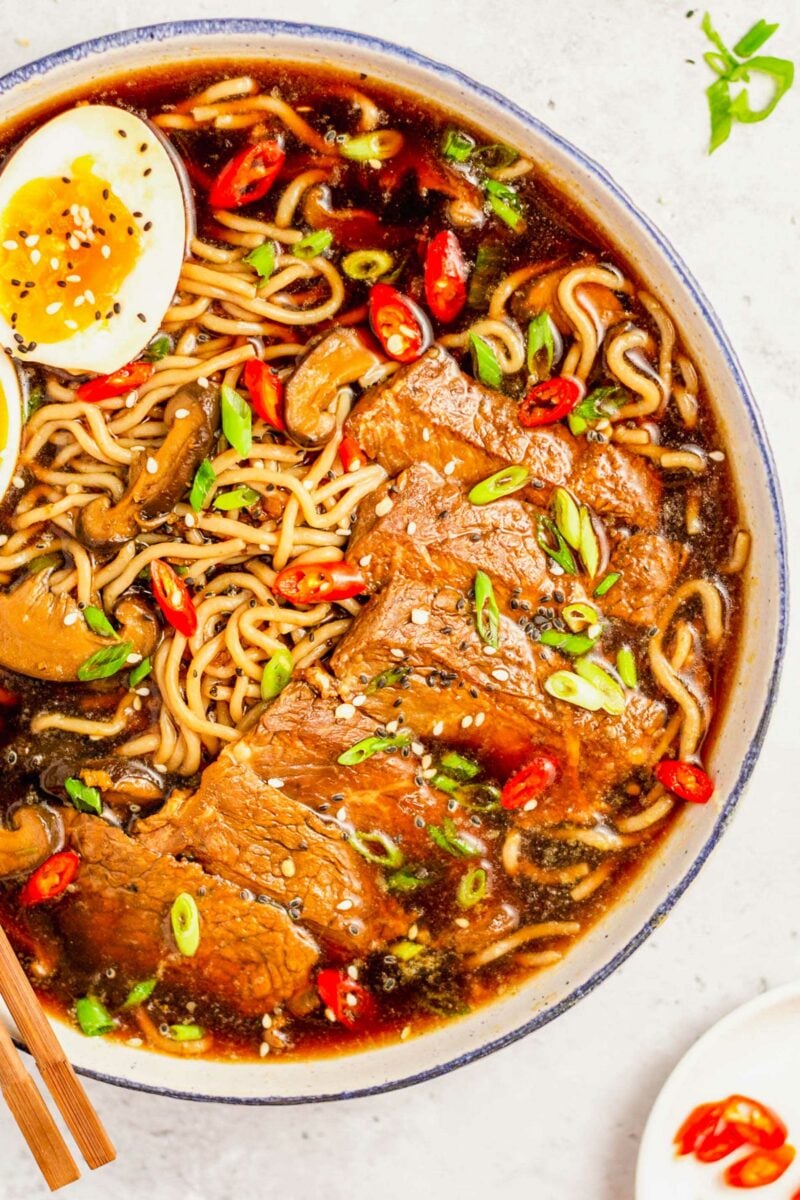 How to Make Beef Ramen Noodle Soup
Prepare the steak: Season the steak with salt and pepper, then sear it in a little bit of olive oil over medium heat. Set it aside.
Cook more ingredients: In the same pot, sauté garlic and ginger for about 3 minutes. Add sliced mushrooms, coconut aminos, fish sauce, and beef broth. Bring it to a simmer and cook for about 10 minutes.
Make the soft-boiled eggs: Boil the eggs for 4-5 minutes for a soft-boiled consistency or 10 minutes for hard-boiled eggs. Then, place the eggs in a bowl filled with ice-cold water.
Assemble the ramen: Divide the ramen noodles into 4 bowls. Add 1 cup of broth to each bowl and top with the seared steak. Peel, halve, and place the soft-boiled eggs accordingly. Sprinkle your choice of toppings, and you're ready to enjoy!
Variations to Try
Feel free to experiment and personalize your beef ramen with these variations:
Add some spice by sprinkling in red pepper flakes or stirring chili paste into the broth.
Try using rice or udon noodles instead of ramen.
Customize the ingredients to your liking. Don't like mushrooms? Swap them out with bok choy or your favorite vegetable. Let your creativity run wild!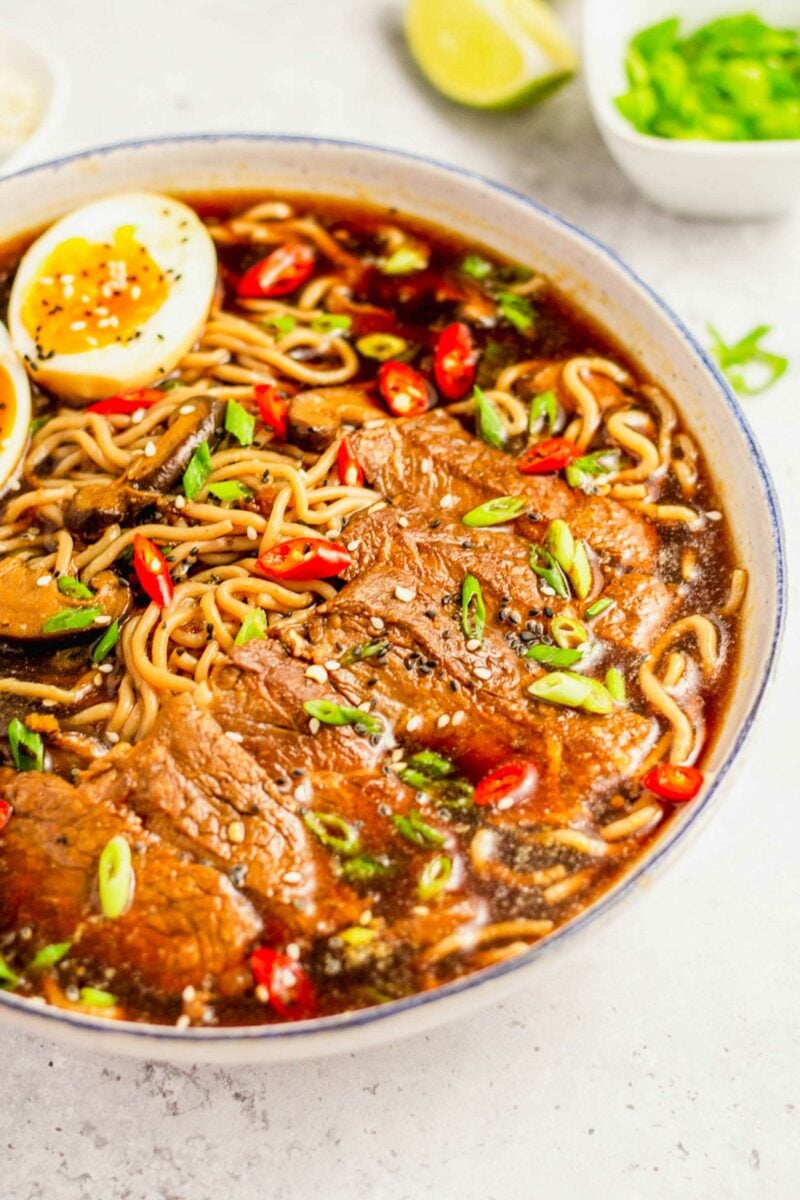 Now that you have the ultimate guide to making delicious Beef Ramen Broth at home, you can enjoy restaurant-quality ramen whenever you crave it. Say goodbye to overpriced bowls and hello to the satisfaction of creating your very own masterpiece. Get cooking and savor each comforting and flavorful spoonful!
For more mouthwatering recipes and culinary inspiration, visit Rowdy Hog Smokin BBQ.