If you're searching for a mouthwatering snack to satisfy your cravings, look no further than this sensational Beef Jerky Dip. Prepare to be captivated by the cheesy and creamy flavors that are elevated to new heights with a smoky essence from the beef jerky. This dish is guaranteed to add a zing to your snacking experience, especially when paired with your favorite veggies.
A Snack for All Occasions
Whether you're hosting a party, looking for a school snack for the kids, or attending a potluck, this beef jerky dip is the perfect crowd-pleaser. Serve it with crisp broccoli, crunchy celery, and juicy tomatoes for a wholesome and satisfying snack. Its versatility and unbeatable taste make it a hit at any gathering.
The Essence of Beef Jerky
Beef jerky, a dried meat snack, takes center stage in this recipe. While peppered jerky is highly recommended, feel free to experiment with different flavors to discover your personal favorite. The intense flavors of the jerky lend a unique touch to this savory dip.
Prepare in Advance for Convenience
The beauty of this dip lies not only in its flavors but also in its convenience. You can prepare it up to two days ahead, allowing you to save time and effortlessly serve it whenever needed. Simply store it in the refrigerator in a covered storage container, and you're good to go.
Customizing to Your Taste
While the recipe uses low-fat ingredients, you have the freedom to make it as indulgent as you desire. If you prefer full-fat ingredients, go ahead and use them without hesitation. The goal is to create a dip that suits your taste buds perfectly. For those following a Keto or low-carb diet, you'll find the necessary nutritional information in the recipe below.
The Perfect Blend of Cheeses
To achieve the ultimate cheesy goodness, a combination of cheddar and Colby jack cheese works wonders in this dip. Whether you choose to shred the cheese yourself or opt for pre-shredded cheese, both options yield equally delicious results.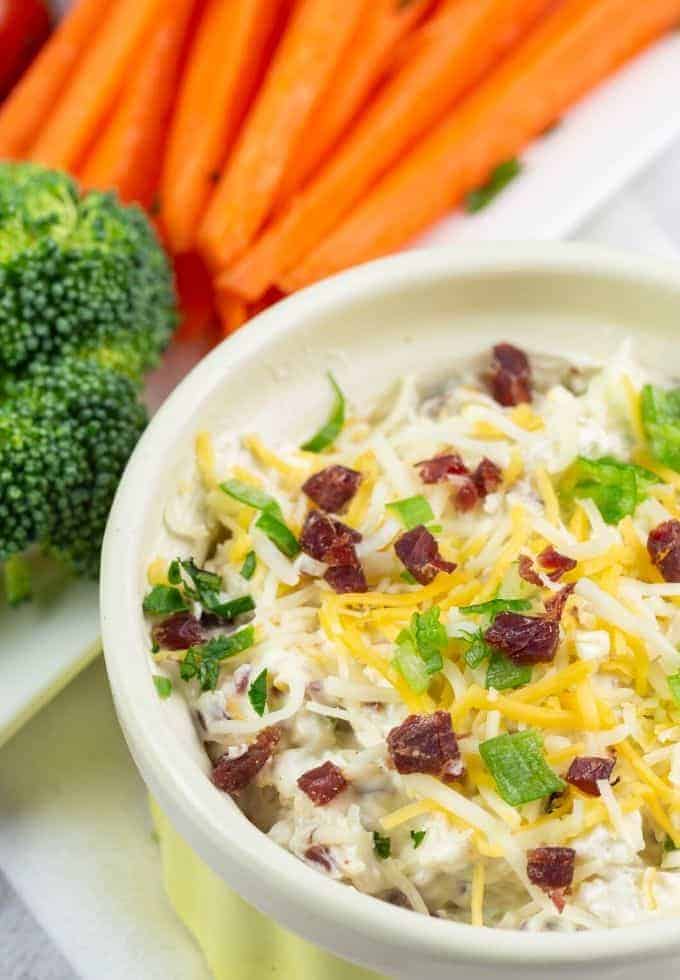 The Nutritional Powerhouse: Beef
Beef, the main ingredient in this dip, packs a punch when it comes to nutritional value. It is an excellent source of protein, iron, zinc, and vitamin B. For more detailed information on the nutritional benefits of beef, the NY Beef Council offers a wealth of knowledge. Additionally, they provide invaluable insights on topics such as sustainability and mouthwatering beef recipes.
If you're in the mood to explore more beef jerky treats, give Christina's Beef Jerky Protein Balls a try. These no-bake treats are absolutely delish! Another favorite option is Colleen's Mini Cheese Balls from Souffle Bombay. They make the perfect nosh for a lacrosse tournament or any occasion that calls for a tasty snack. And if you're craving more mouthwatering treats, don't miss the Homemade Boursin Cheese Dip, a personal favorite, or the cheesy delight of Jalapeno Popper Dip.
Get Everything You Need
To ensure you have all the essentials for this recipe, consider the following items:
Beef Jerky: Choose your favorite jerky to make this dip or enjoy it as a protein-packed snack.
Dip over Ice Serving Bowl: This bowl not only keeps dips cold but also adds an elegant touch to your table setting.
Check out my Everyday Eileen store for more fantastic finds that go beyond just cooking. I regularly update it with new items, so don't miss out!
The Easy Steps to Indulgence
Making the Beef Jerky Dip couldn't be simpler. Just follow these steps:
In a bowl, thoroughly mix cream cheese, sour cream, mayonnaise, mustard, liquid smoke, and Worcestershire sauce.
Add chopped beef jerky and shredded cheese to the mixture.
Blend in chopped green onion, salt, and pepper.
Serve the dip with fresh veggies or chips for the ultimate snacking experience.
Finally, remember to give us a like on FACEBOOK and follow us on Pinterest for more great recipes and tips. Your support means the world to us!
Thank you for joining the Everyday Eileen family and for sharing our passion for food and family. Your feedback, ratings, and comments are greatly appreciated.
Enjoy every delicious bite!
📖 Recipe