Are you ready for a taste explosion? These smoky BBQ chicken wraps are so irresistibly delicious that you won't be able to resist going back for seconds. Packed with mouthwatering flavors, these wraps are filled with tender BBQ chicken, smoked gouda cheese, crispy bacon, fresh lettuce, juicy tomatoes, and tangy ranch dressing. Get ready to be blown away!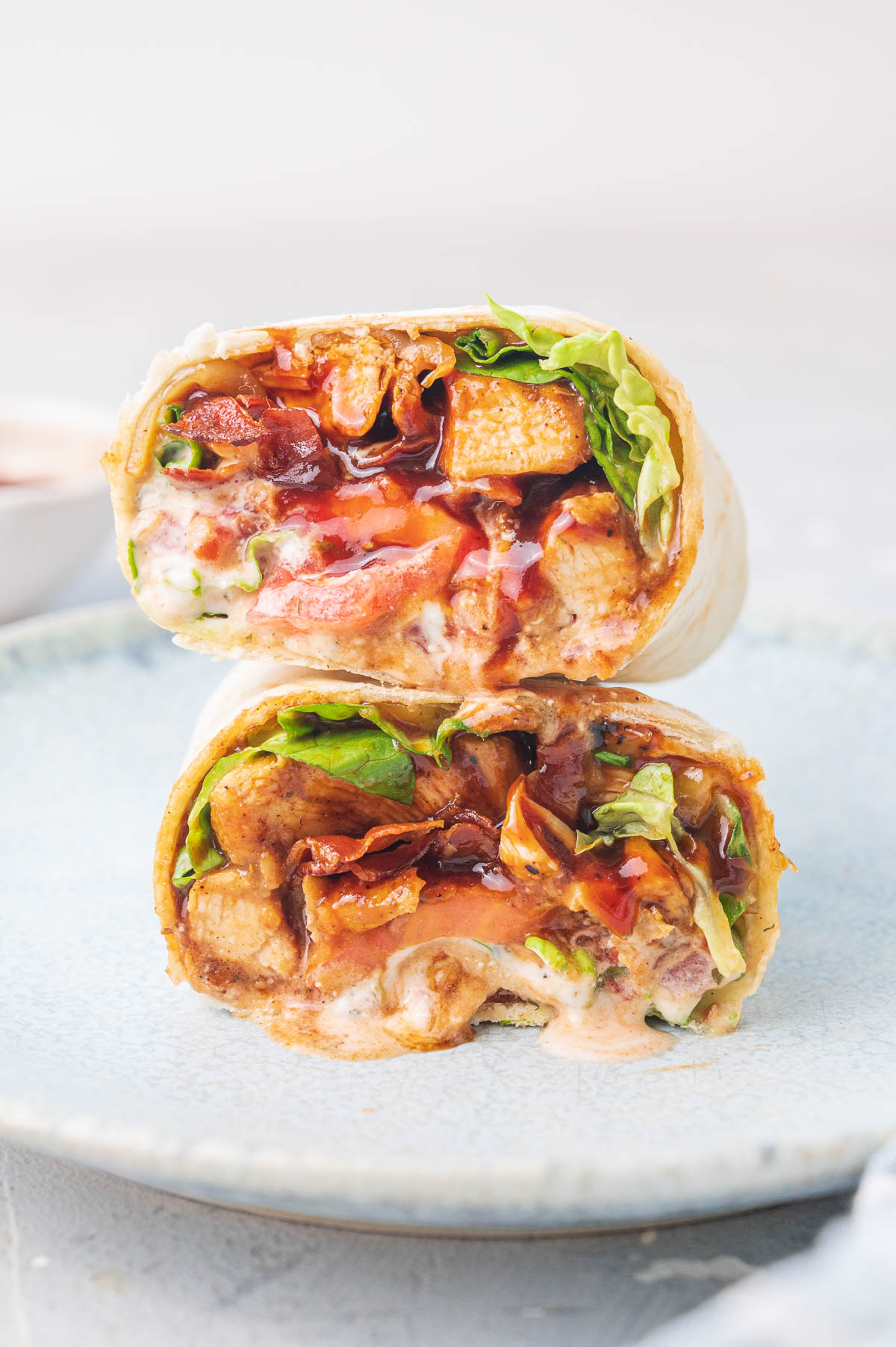 Ingredients
To create these mouthwatering BBQ chicken wraps, you'll need the following ingredients: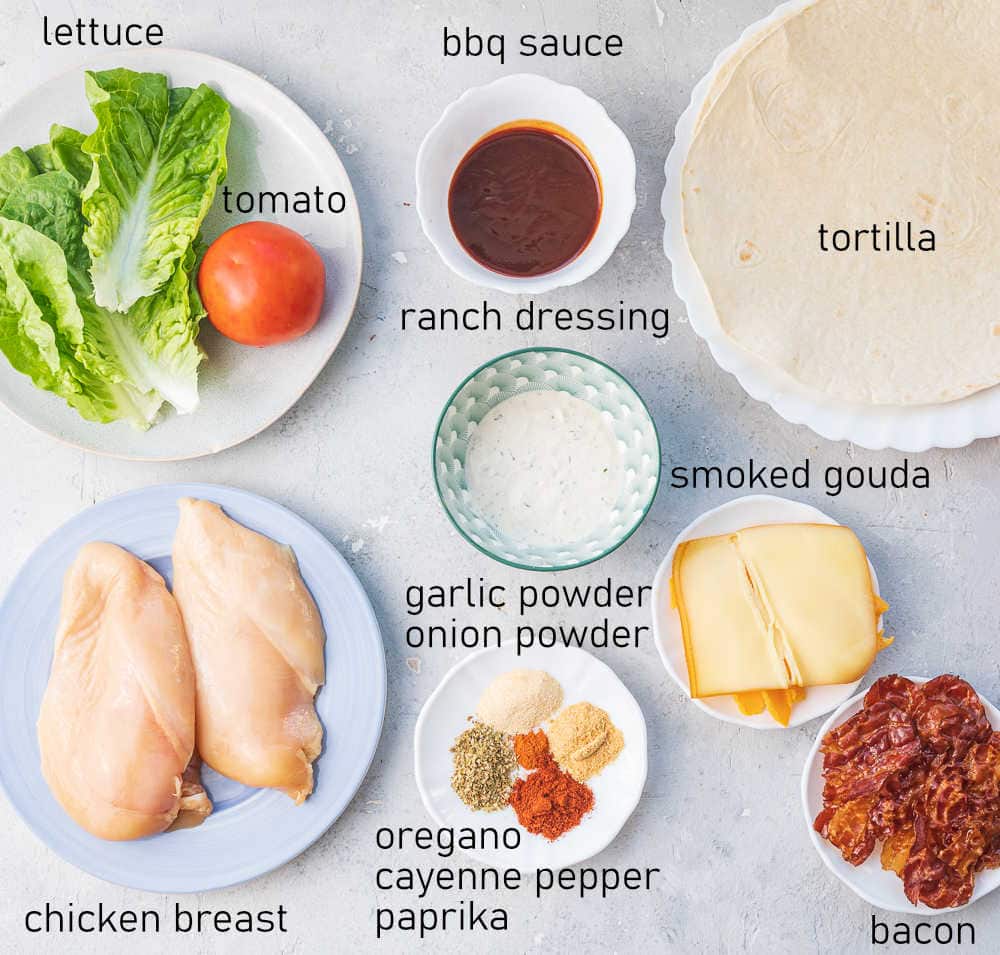 Chicken breast: You can either cook the chicken yourself or use rotisserie/leftover chicken. Add a burst of flavor to the chicken with a blend of onion and garlic powder, cayenne, paprika, and oregano. But if you're pressed for time, salt and pepper will do the trick, as the BBQ and ranch sauces already bring plenty of flavor to the table.

BBQ sauce: Use your favorite BBQ sauce to infuse the chicken with smoky, tangy goodness.

Ranch dressing: Opt for either store-bought or make your own homemade ranch dressing in just 5 minutes. The marriage of BBQ sauce and ranch dressing is an absolute flavor revelation!

Bacon: Cooked bacon adds a crispy and savory element to the wraps. You can quickly cook bacon in a pan or try cooking it in the oven for equally delicious results.

Veggies: Fresh lettuce (preferably the crunchy baby romaine hearts variety) and juicy tomatoes lend a refreshing crunch to the wraps.

Tortilla: Use large, burrito-sized tortillas to wrap up all the incredible filling.

Cheese: While cheese is optional, it adds another layer of flavor to the wraps. Cheddar cheese works well, but for an extra smoky kick, try using smoked gouda. It pairs perfectly with the BBQ sauce.
How to Make Smoky BBQ Chicken Wraps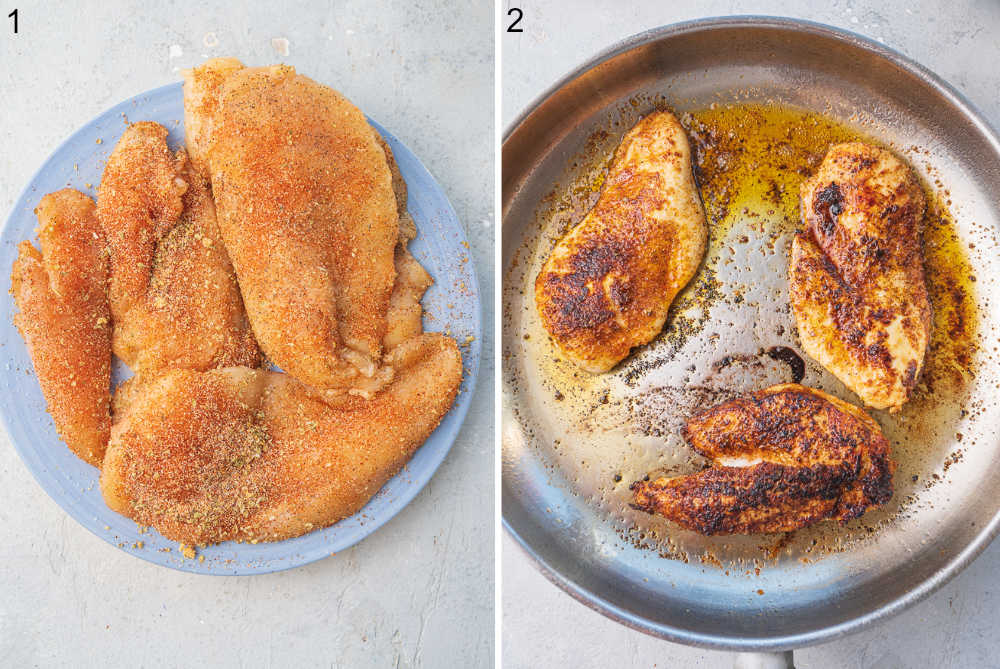 STEP 1: Begin by cutting the chicken breasts in half horizontally, creating four thinner fillets. Season the chicken with your chosen spices, salt, and pepper on both sides.
STEP 2: Heat oil in a large frying pan over medium-high heat. Cook the chicken until it's cooked through and gets a lovely brown sear on both sides.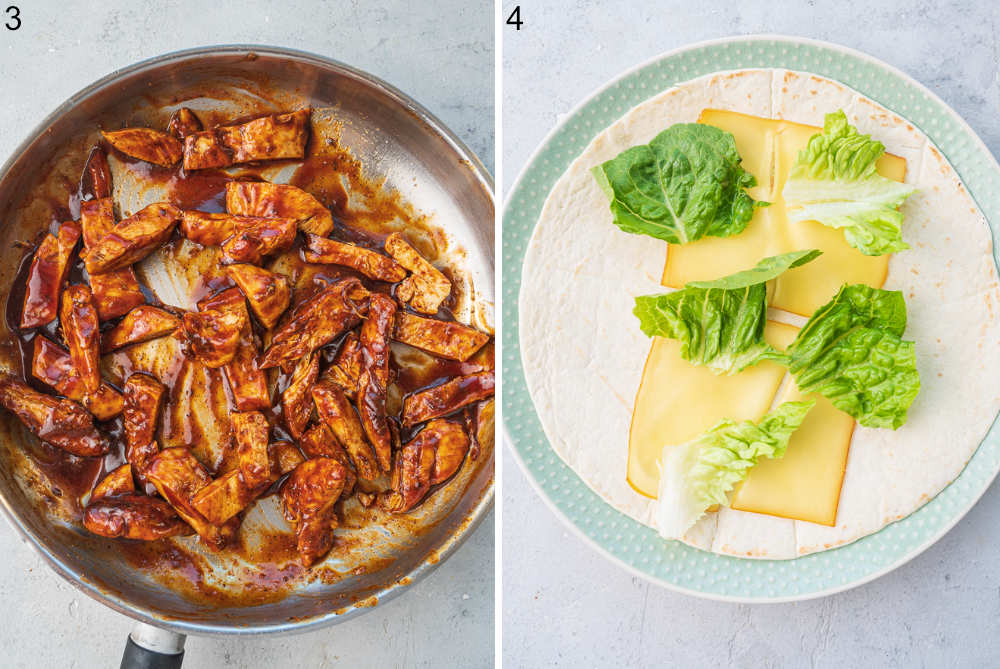 STEP 3: Transfer the cooked chicken to a chopping board and cut it into slices. Return the chicken to the pan and toss it with the BBQ sauce to coat every piece with that smoky goodness.
STEP 4: Let's assemble the wraps! Place 1-2 slices of cheese on each tortilla and top it with crisp lettuce leaves. For more pliable tortillas, warm them up slightly to make folding easier.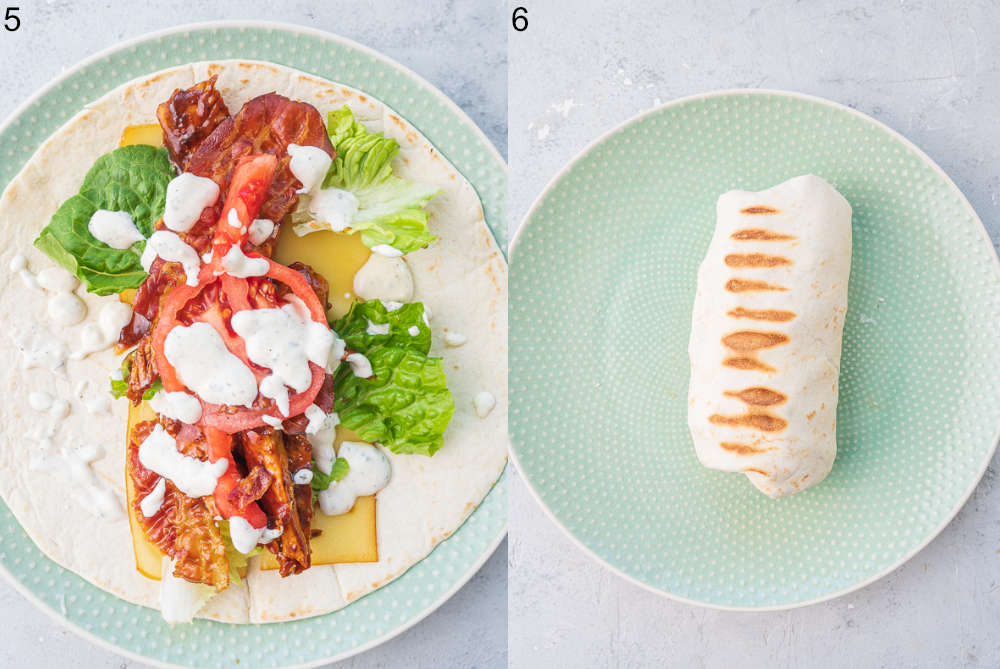 STEP 5: Now it's time for the star of the show: the BBQ chicken! Add a generous helping of the smoky chicken, crispy bacon, a slice of fresh tomato, and a drizzle of tangy ranch dressing.
STEP 6: Wrap it all up! If you have a sandwich or panini press, heat the wraps until warmed through. If you're struggling with folding the wraps, be mindful not to overfill them, as that can make folding more challenging. Alternatively, you can also reheat the wraps in the oven just long enough to melt the cheese. Repeat the process with the remaining ingredients.
Now, get ready to indulge in these sensational smoky BBQ chicken wraps!
Storage
You can store these mouthwatering wraps in the fridge for up to 24 hours. However, to maintain optimal texture, it's recommended to store the ingredients separately, as the wraps can become soft from the sauces.
Cooked chicken and bacon can be refrigerated for up to 3 days, while homemade ranch dressing will keep for up to a week.
If you'd like to meal prep these wraps, assemble them just before serving, ensuring maximum freshness and flavor.
More Delicious Wrap Recipes
We're big fans of wraps for lunch and dinner—they're quick, easy, and incredibly delicious. If you love these smoky BBQ chicken wraps, you'll definitely enjoy these delightful wrap recipes:
Chicken Bacon Ranch Wrap
Greek Chicken Wraps with Greek Grilled Chicken, Tzatziki, and Veggies
Turkey Wrap with Turkey Deli Meat
Crispy Chicken Wraps with Spicy Tomato Salsa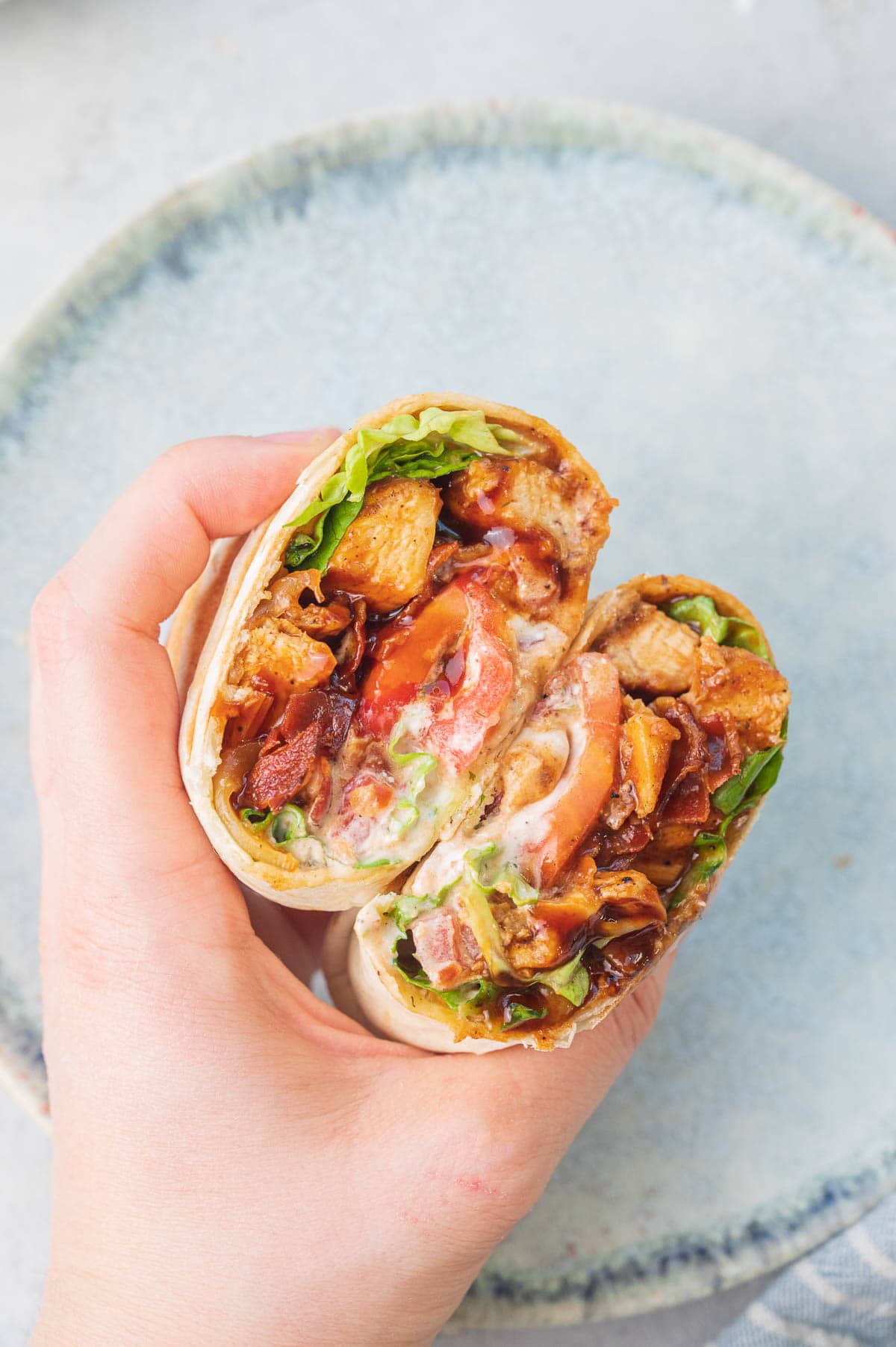 Did you try this recipe? Let us know how it turned out by rating the recipe or leaving a comment below. You can even share a photo of your mouthwatering creation. Your feedback not only makes us happy, but it also helps other readers in their culinary adventures. Thank you!